Be inspired and challenged by the stories of other men and women who made the journey home to the Catholic Church.
Explore Stories by Denomination or Religious Background
Members of the CHNetwork share so many inspiring conversion stories. Here are some of the very best. Choose a denominational or religious background to meet some of our members and hear their stories.
Explore the Latest Stories
Jenni Kern grew up a dyed-in-the-wool Calvinist.  She even considered carrying tulips down the aisle at her wedding in honor of John Calvin's 5 point T.U.L.I.P. doctrine!  Her husband felt…
Sr. Maria Theotokos's dad was an Episcopal priest, but after her parents divorced, she grew up largely agnostic.  She started dating an atheist, and became somewhat immersed in that position,…
Kendra Clark became serious about her Mormon faith as a student at BYU, and was drawn in particular to the figure of Jesus Christ.  This fascination eventually caused her to…
Visit Full Conversion Story Archive
Explore Stories by Show or Project
The Journey Home Program
Hosted by CHNetwork President & Founder, Marcus Grodi
Every week for over 20 years, men and women from varied Christian (and even non-Christian) backgrounds have been joining CHNetwork president and founder Marcus Grodi on EWTN's The Journey Home Program to share their faith journeys. Though their points of origin and the details of their stories differ widely, their journeys ultimately led them to embrace the fullness of the Catholic Church.
Watch The Journey Home
Written Stories & the CHNewsletter
For nearly 25 years members of the Coming Home Network have been sharing their written conversion testimonies via our CHNewsletter. Explore our online archive and read how the Holy Spirit moved each of us to seek the Body of Christ and the unity for which He prayed.
Read Stories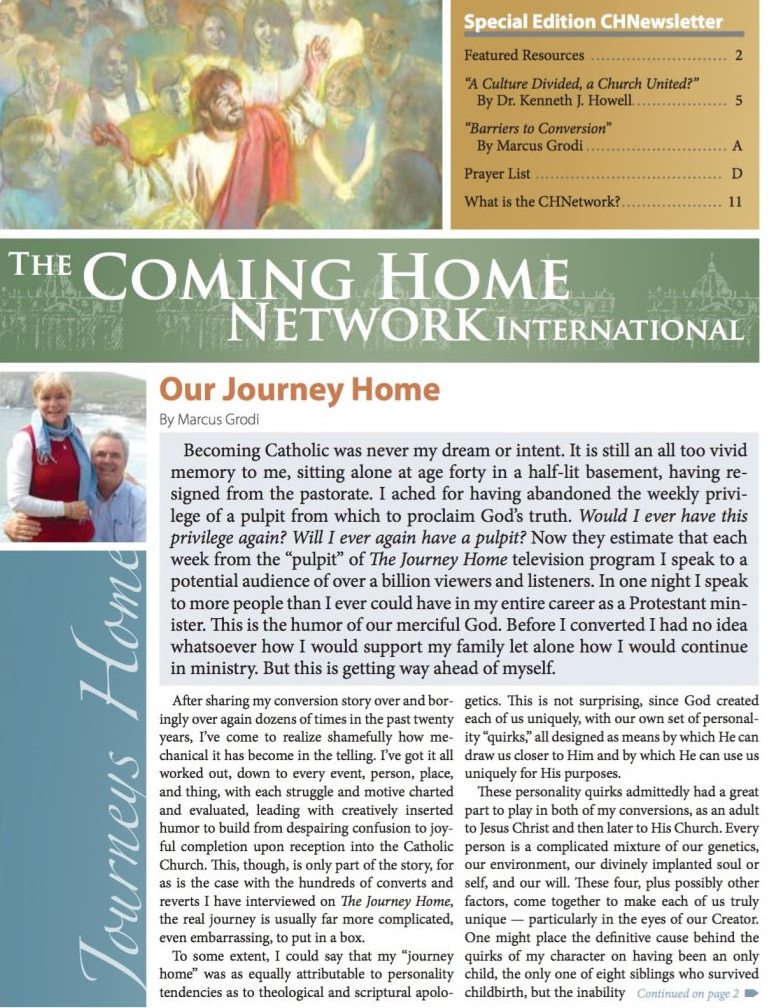 Short, Shareable Video Testimonies
Signposts
Signposts is a series of short interviews with Catholic converts about how the original came to know Jesus and the many ways he led them to the Catholic Church.
Watch Signposts
Published by the Coming Home Network
Journeys Home & Other Print Resources
Journeys Home 1 & 2, available now from The Coming Home Network, contain the stories of men and women who, having surrendered their lives to Jesus Christ, heard a call to follow Him more deeply into full communion with His Catholic Church. Contributors include Marcus Grodi, Fr. Dwight Longenecker, Steve Ray, Dr. Peter Kreeft, David Anders, and many more. These and other great books are available for purchase in our online store or wherever fine Catholic books are sold.
Purchase Books