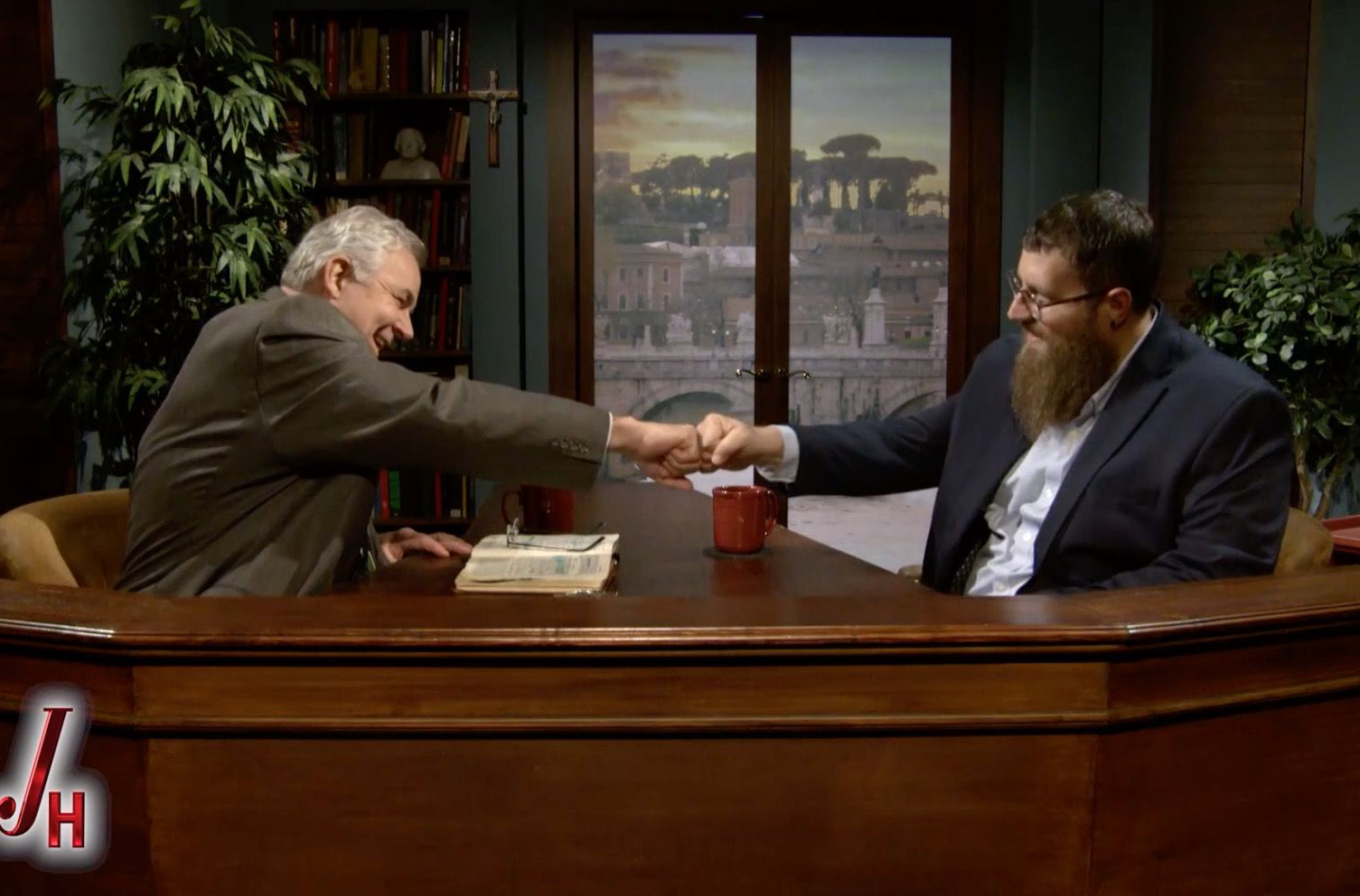 For many of us, 2020 was a challenging year in just about every way imaginable. Nevertheless, we were still able to kick off the 24th season of EWTN's The Journey Home, and despite all the production curveballs thrown at us by COVID-19, we were still able to share some amazing conversion stories.  It's never an exact science, but according to site visits, social media activity and your feedback, here were the most popular Journey Home episodes from 2020:
*****
10. Dr. John Bergsma, former Christian Reformed Church minister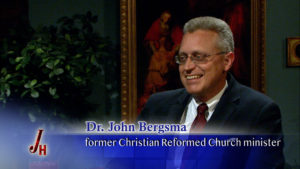 Dr. John Bergsma returned to the program for the first time since 2008 to share updates to his journey from being the son of a Christian Reformed Church Navy chaplain to becoming an acclaimed Catholic Bible scholar. He shared with Marcus how questions of Christian unity, the interpretation of Scripture, and the sacraments played into his family's entry into the Catholic Church, and discusses how the Bible makes more sense to him now as a Catholic than it did even when he was a Reformed pastor who held to the doctrine of sola Scriptura. Watch Dr. Bergsma's episode.
*****
9. Allison Dreher, former Baptist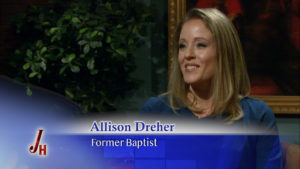 Allison Dreher accepted Christ as a young girl in the Baptist congregation her dad pastored, and was baptized a couple of times growing up. However, as she got into her adolescent years, she developed an eating disorder that drove her to extensive treatment, and deeply affected her relationship with God. When she met her future husband, who was Catholic, she was determined at first to prove him wrong, but then reluctantly joined the Church herself. It wasn't until she discovered Pope St. John Paul II's Theology of the Body that she began to truly fall in love with her Catholic faith, and became excited to share it. Watch Allison's episode.
*****
8. Bishop Scott McCaig, former Presbyterian and Anglican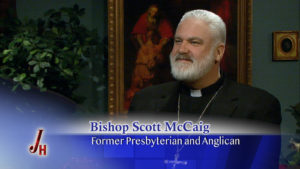 Bishop Scott McCaig had Presbyterian roots, but didn't think about faith much growing up. However, as a young adult, questions about God began to stir in his mind and heart. He explored lots of different possibilities, but the historical case for Jesus, as well as for the Catholic Church, were ultimately convincing to him. While working with NET Ministries, he discerned a call to the priesthood, joining the Companions of the Cross and eventually becoming their superior. And in 2016, he received the news that he'd been appointed by the Holy Father to be the bishop of the Roman Catholic Military Ordinariate of Canada. Watch Bishop McCaig's episode.
*****
7. Dr. Ryan "Bud" Marr, former Evangelical Protestant
Dr. Ryan "Bud" Marr grew up in a series of Evangelical Protestant communities, but was bothered by the divisions he saw between so many Christians who all took the Bible as their primary authority. While studying at Duke Divinity school, he encountered a religious sister who introduced him to the Rosary, and that was one step in a process that would lead Bud toward a more historic understanding of Christianity. When he discovered St. John Henry Newman, it helped answer a lot of questions he'd been wrestling with about authority, and history, leading Bud to the conviction that he needed to enter into full communion with the Catholic Church. Watch Bud's episode.
*****
6. Dr. Alicia Thompson, former Agnostic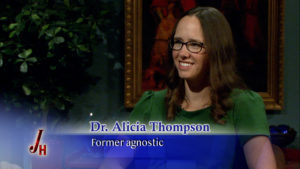 Dr. Alicia Thompson wasn't raised with any kind of religious formation, but when she went to med school to train to be an OB/GYN, she felt an increasing sense of conscience, especially when had to make a decision about whether or not to learn how to perform abortions. That, along with questions about her own self-worth, led her to become more curious about faith, and eventually have a born-again experience at a Baptist service. Still hungry for more, she kept praying and exploring, and her questions led her to the Catechism of the Catholic Church, which had direct answers for so many of the questions she'd been wrestling with her whole life. Watch Dr. Thompson's episode.
*****
5. Deacon Peter Grodi, Lifelong Catholic
On this special episode of The Journey Home, Marcus Grodi interviewed his son Peter, at the time a transitional deacon for the Diocese of Toledo, about his discernment process. Deacon Peter shared how he came to love Scripture at a young age, and some of the key moments in his young adulthood that helped open him up to follow God's call to the seminary. The episode also features clips of Deacon Peter on the set of The Journey Home as a kid, and was filmed just a couple of weeks before his ordination to the priesthood in June 2020! More recently, Fr. Peter has been joining his brother JonMarc for our Deep in Christ web series. Watch the episode.
*****
4. Rachelle Parker, former Church of Christ
Rachelle Parker was raised in a Church of Christ denomination that didn't use musical instruments in worship because they weren't mentioned in the New Testament. She learned to love Jesus in that environment, and when she met her husband, a cradle Catholic, they began attending her church together. However, when their family moved, Rachelle had a difficult time finding a new church home, and for the first time she realized just how deep and significant the divisions in Christianity were. She finally decided to give Catholicism a fair shake, and when she did, she realized she was on her way to her true spiritual home. Watch Rachelle's episode
*****
3. Dr. Jonathan Fuqua, former Evangelical Protestant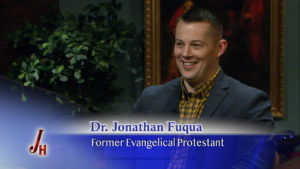 Dr. Jonathan Fuqua's family took him to Oneness Pentecostal churches when he was young, but they eventually transitioned to the more mainstream Assemblies of God as he entered his teenage years. When he met serious, thoughtful Evangelical Christians in college, it began to broaden his view of Christianity beyond his Pentecostal roots. When that broadening led him to a study of Church history and philosophy, doors seemed to open everywhere around him. And all of those doors seemed to be leading him to a very particular place: the Catholic Church. Watch Dr.  Fuqua's episode.
*****
2. Keith Nester, former Methodist pastor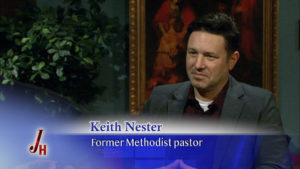 Keith Nester was a pastor's kid who tried not to follow in his father's footsteps, but ended up in youth ministry anyway. While seeking a graphic designer for his youth group's logo, Keith met a Catholic who was serious about his faith, and it caused him to ask questions about Catholicism that he'd never pondered before. After nearly two decades of soul searching and a few providential encounters, Keith finally discerned that the time had come for him to overcome his fears, resign his ministry, and enter the Catholic Church. Watch Keith's episode.
*****
1. Dr. Scott Hahn on our 23rd Anniversary Special
Dr. Scott Hahn joined Marcus Grodi for a special episode celebrating the 23rd anniversary of The Journey Home on EWTN. They reflected on their time together as seminary students at Gordon-Conwell, their careers as Presbyterian pastors, and their call to enter the Catholic Church. Scott and Marcus also pondered their legacies, not only as evangelists sharing the Catholic faith with television and book audiences, but also as husbands and fathers hoping to live the beauty and truth of the faith in their own homes amidst the challenges of an ever-changing world. We were able to share some great old photos and clips of Scott and Marcus in this episode! Watch the anniversary special.
*****
As always, a special thanks to everyone who has provided the prayers, encouragement and support to make possible our work of assisting people on the journey to Catholicism and sharing their stories with the world, via The Journey Home on EWTN, and through articles, written testimonies, and short videos. 2020 was a challenging year, but we're all still here, and looking forward to continuing the journey in 2021!
Of course, there were dozens of other incredible episodes this year that didn't make it into the Top 10 list – please share your favorites in the comments below!
View the Top 10 episodes from previous years: 2016 – 2017 – 2018 – 2019