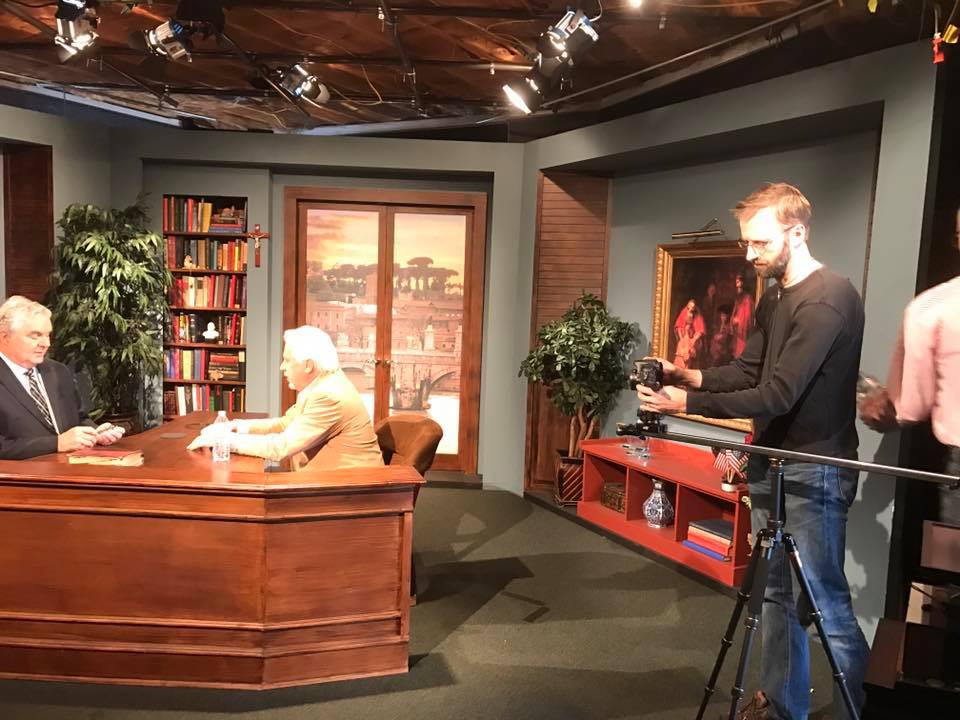 This September saw the beginning of the 20th season of EWTN's The Journey Home program. Hosted by the President and Founder of the Coming Home Network Marcus Grodi and produced in the CHNetwork Studio, The Journey Home program remains an important complement to the mission of our apostolate and is one of the main avenues by which people on the journey to Catholicism first reach out to us for help.
So many wonderful guests joined the program in the past year, but these, in order of popularity, were the most viewed and shared episodes of 2016:
*****
10. Bishop John Barres – Son of Former Brethren Ministers
Bishop Barres' parents met while studying for Protestant ministry at Yale Divinity, and after their conversion rubbed elbows with some of the greatest Catholic minds of the 20th century.  He was baptized by Archbishop Fulton Sheen and introduced via his parents to the likes of Fr. John Hardon, Frank Sheed, and many others along the way.  A standout basketball player at Princeton, Bishop Barres went on to follow a call to the priesthood and at the time of this taping was in charge of the Diocese of Allentown, PA.  A couple of months after this episode aired, Bishop Barres was named by Pope Francis as the new ordinary for the Diocese of Rockville Center, NY.  Congratulations, Bishop Barres!
9. Rose Sweet – Healing After Divorce
One of the biggest reasons people hesitate to follow God's call into full communion with the Catholic Church is because they feel that their failed marriages disqualify them from ever receiving the sacraments again.  Rose Sweet, who has authored a number of resources for divorced Catholics, joined Marcus to address some of the misconceptions people have about Church teaching on marriage.  An extremely helpful episode for those who see their marital history as an impediment to becoming Catholic.
8. Kathleen Fowle – Former Non-Denominational Chaplain
Franciscan spirituality marked a great deal of Kathleen's journey, especially when it came to identifying with the poor.  Her passion for service and love of music led her into numerous encounters with Catholics along the way, and she found herself drawn more and more to the Church founded by Christ Himself.  Since Kathleen is a recording artist, we were also able to share some of her music in this episode and received numerous requests for it as a result!  Find her recordings at kathleenfowle.com.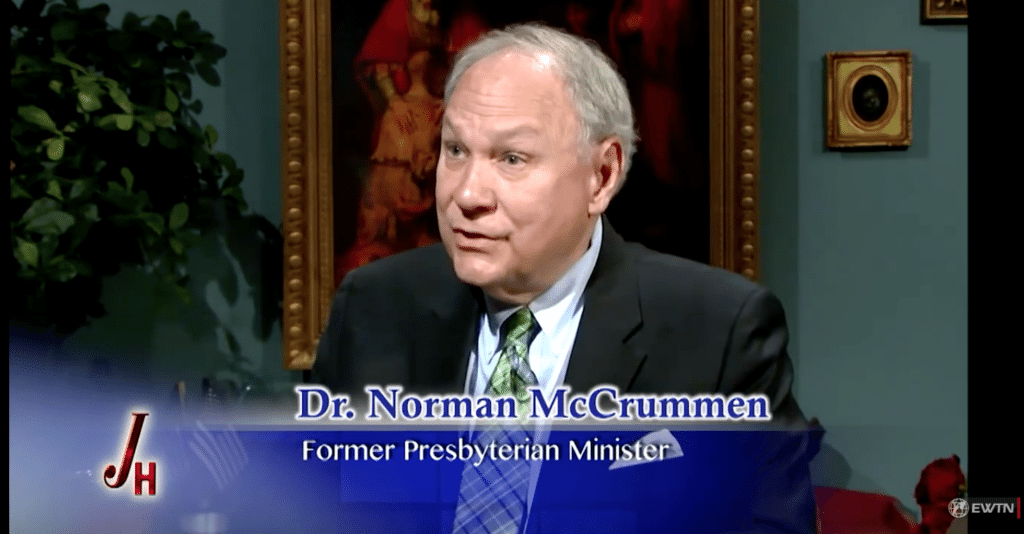 7. Dr. Norman McCrummen – Former Presbyterian Minister
Dr. McCrummen had joined Marcus on the program before in 2014, but revisited The Journey Home this past January to discuss his wife, Nancy, and her journey of faith to the Catholic Church, as well as her struggle with Alzheimer's.  Their story is a great encouragement to caregivers and any whose marriages have weathered the storms of illness.
6. Ernie Freeman – Former Assemblies of God Pastor
Some of Ernie's toughest questions about his own faith occurred to him when he was standing behind the pulpit, addressing his own congregation.  Was he really teaching them the proper interpretation of the Scriptures?  He was also haunted by the fact that many of the members of his Assemblies of God flock were themselves baptized Catholics who had left the faith.  Ernie's pursuit of truth finally led him to resign his parish and seek entry into the Catholic Church.
5. Michael Goodwin – Former Evangelical Christian
Michael was raised with a strong Christian foundation by his Evangelical parents.  In his formation to become an Army Chaplain, he began to notice that there seemed to be some gaps in his understanding of Church history.  Exploring these and addressing questions of sacramental theology and the nature of Christian authority led him to become Catholic.  He is currently studying for the priesthood in the Diocese of Grand Rapids, MI.
4. Dr. Jeffrey Morrow – Jewish Atheist Turned Catholic Christian
Jeff Morrow, who teaches at Seton Hall's Immaculate Conception Seminary, shared with Marcus his journey from unbelief to belief.  Being an inquisitive person who asked a lot of hard questions about the nature of reality, he finally came to the conclusion that atheism actually requires more faith than a lot of theistic worldviews.  Morrow is an expert on Old Testament theology and the thought of Pope Emeritus Benedict XVI.
3. Rod Bennett – Former Baptist and Evangelical
On the heels of his latest book, The Apostasy that Wasn't: The Extraordinary Story of the Unbreakable Early Church from Catholic Answers, Rod brought his winning sense of humor and expert understanding of early Christianity back to the program.  Citing the Fathers of the Church, and even more recent theologians like John Wesley and Cardinal John Henry Newman, Rod's entertaining take on historical theology ("Tertullian was a grouchy old man," "St Athanasius is the Frodo Baggins of my book") Rod made Church history a lot of fun for us.
2. Steve Ray – A Baptist Looks at Mary
Popular apologist and pilgrimage guide Steve Ray returned to The Journey Home this February to focus specifically on the struggles he had as a Baptist coming to terms with what the Catholic Church teaches about the role of Mary in salvation history.  In his typical clear, concise, and even humorous way, Steve helps bust some of the most common myths that non-Catholics, and even cradle Catholics, have about the Mother of God.
1. Renee Hendrix – Neonatal Nurse, Former Baptist
It's hard to explain the incredible level of response we received to Renee's episode.  Her moving story of a life spent working in the Neonatal Intensive Care Unit struck a chord with a number of our viewers, and even with Kleenex, who featured Renee in an internet ad last year.  Renee's first experience of Catholicism came from working with Catholic families who had lost children, and it caused her to ask herself what it would mean to her if Jesus was really present in the Eucharist.  Her conversion story, combined with her testimony as a breast cancer survivor, makes Renee's episode a particularly powerful one.
*****
Thank you to everyone who has provided the prayers, encouragement and support to make possible our work of assisting people on the journey to Catholicism and sharing their stories with the world.  We still feel like we've only scratched the surface of the stories that are out there!
Did you have any favorite Journey Home episodes from 2016 that didn't make this year's Top Ten list?  Please share in the comments below!