A network of inquirers, converts, and reverts to the Catholic Church, as well as life-long Catholics, all on a journey of continual conversion to Jesus Christ.
Join & Get the CHNewsletter
Learn More
CHNetwork Staff & Advisors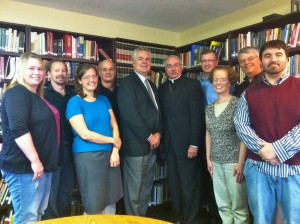 Staff
Marcus Grodi (former Presbyterian pastor), President/Founder
Kevin Lowry (former Presbyterian), Chief Operating Officer
Kenneth Howell, M.Div., Ph.D. (former Presbyterian pastor), Resident Theologian
Jim Anderson (former Lutheran), Manager of Primary Members
Scott Scholten (former Presbyterian), Director of Studio/Media
Ann Moore, Financial Coordinator
Bill Bateson (former Mormon), IT/Facilities Coordinator
Mary Clare Piecynski, Publications and Laity Coordinator
JonMarc Grodi, Manager of Outreach
Seth Paine (former Evangelical), Developer of Web and New Media
Wendy Hart (former United Methodist), Financial Assistant
Board of Directors
Marcus Grodi (former Presbyterian pastor)
Dr Charles Feicht (revert from Evangelicalism)
Dr Robert Geiger (revert)
Bruce Sullivan (former Church of Christ minister)
Spiritual Advisors
Most Rev. Raymond L. Burke, Prefect of Apostolic Signatura
Most Rev. Robert J. Baker, S.T.D., Bishop of Birmingham, AL
Msgr. Frank P. Lane
Fr. Charles P. Connor
Fr. David M. Dye
Fr. Donald E. Franks
Fr. Benedict Groeschel, C.F.R.
Fr. John McClosky, III, S.T.D.
Fr. Mitch Pacwa, S.J.
Fr. Jay Scott Newman
Fr. Ed Sylvia
Deacon Dominic Cerrato
Advisors
Marilyn Grodi (former Presbyterian)
Scott Hahn, Ph.D. (former Presbyterian)
Kimberly Hahn (former Presbyterian)
Thomas Howard, Ph.D. (former Anglican)
Kenneth Howell, M.Div., Ph.D. (former Presbyterian pastor)
Karl Keating, Catholic Answers
Patrick Madrid, Envoy Magazine
Jeffrey Ziegler (former Presbyterian)
Marty and Kristine Franklin (former Protestant missionaries)
Steve Wood (former Presbyterian pastor)