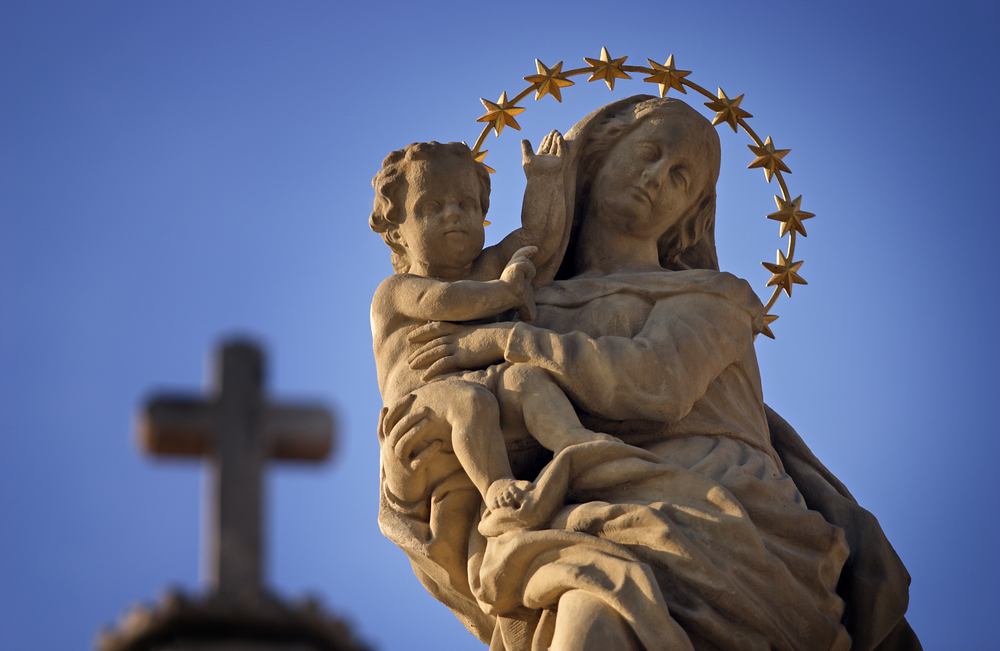 This article is part of an ongoing series. Read Part I
As stated earlier, the New Testament says very little about Mary. Once again, drawing from my Jewish background, I was able to see clearly, even from the few texts regarding Mary, why she was the most unique and wonderful being ever created by God. I would like to comment briefly on three events mentioned in the Gospels of St. Luke and St. John: the Annunciation, the Visitation and Mary at the foot of the Cross.
The Annunciation
To whom else except Mary was the following ever said?
"Hail, full of grace, the Lord is with you!" (Luke 1:28 RSV-CE)
God chose to redeem the world by being born of a woman. Yet His coming into the world and our redemption depended on Mary freely saying:
"I am the handmaid of the Lord, let what you have said be done to Me." (Luke 1:38)
This young Jewish woman, like all her people, anxiously awaited the Messiah. But it is important to understand that no Jew thought the Messiah would be God in the form of man and be born of a virgin. Jews, including Mary and Joseph, did not identify the prophecy in Isaiah 7:14 with the birth of the Messiah. Only after the Holy Spirit came upon her did Mary probably first understand the following prophecy cited by St. Matthew:
"Now all this took place to fulfill the words spoken by the Lord through the prophet: the virgin shall conceive and give birth to a son and they will call him Immanuel, a name which means 'God-is-with-us.'" (Matthew 1:22–23)
Mary, although full of grace, could not have fully comprehended at that moment her future destiny. Yet she unconditionally trusted in God and totally committed herself to His will. And it was from Mary that our Lord Jesus took His Flesh and Blood, since He had no human father.
The Visitation
Immediately after Jesus' conception, Mary goes to visit and assist her cousin Elizabeth, who is in her sixth month of pregnancy. St. Luke, in his Gospel, gives us a vivid account of the arrival at Elizabeth's house (Luke 1:39–58).
Now as soon as Elizabeth heard Mary's greeting, the child leapt in her womb and Elizabeth was filled with the Holy Spirit. She gave a loud cry and said, "Of all women you are the most blessed, and blessed is the fruit of your womb. Why should I be honored with a visit from the mother of my Lord." (Luke 1:41–43)
After Elizabeth's greeting, Mary responds with her song of thanksgiving, often called the "Magnificat," after the initial word in Latin.
And Mary said:

'My soul proclaims the greatness of the Lord, [1 Samuel 2:1]

My spirit exults in God My Savior; [Isaiah 61:10]

because He has looked upon His lowly handmaid. [1 Samuel 1:11; Psalm 113:7; Zephaniah 3:12]

Yes, from this day forward all generations will call Me blessed,

for the Almighty has done great things for Me [Psalm 71:19; 126:2f]

Holy is His name [Psalm 111:9]

His mercy reaches from age to age for those who fear Him. [Exodus 20:6; Psalms 85:9 and 103:17]

He has shown the power of His arm, [Psalm 98:1; Isaiah 40:10]

He has routed the proud heart. [Job 5:12; Psalms 33:10 and 138:6]

He has pulled down princes from their thrones and exalted the lowly. [Job 5:11; Psalm 75:8]

The hungry He has filled with good things, [Exodus 34:29]

the rich He sent empty away. [1 Samuel 2:5; Psalms 34:10f and 107:9]

He has come to the help of Israel His servant, [Isaiah 41:9] mindful of

His mercy — [Psalm 98:3; Jeremiah 31:20]

according to the promise He made to our ancestors — of His mercy

to Abraham and to his descendants for ever [Genesis 13:15 and 22:18; Psalm 132:11]
Mary's song of praise brings together the major themes of Old Testament piety as shown by the references given next to the text. Obviously our Blessed Mother was well-versed in Jewish tradition and had an intimate knowledge of the Psalms, the Prophets, and other Old Testament writings. The Magnificat totally encompasses the faith and hope of Israel. Yet one phrase is new and can be considered unique:
"Yes, from this day forward all generations will call me blessed.…" (Luke 1:48)
"This day" refers to the unique and altogether singular event of the Incarnation of the Son of God, an event neither expected nor even imagined by any Jew. In the Magnificat, Mary proclaims the significance of the Incarnation for herself and for all generations, past and future. Mary, even in her great humility, must have recognized what significance this great event had for her in particular, in order for all generations henceforth to call her blessed. Should not the New Israel to come, the Church, have greater reverence for her than the Old Israel had for things it regarded sacred and holy? If I believe Jesus is not only the expected Jewish Messiah but also my God, the only answer I can give is a resounding "yes" and "amen."
Mary at the Foot of the Cross
While our Lord was dying on the cross, He pronounced the following:
Seeing His Mother there with the disciple whom He loved, Jesus said to His Mother, 'Woman, this is Your son.' In turn He said to the disciple, 'This is your Mother.'" (John 19:26–27)
At such a moment Jesus was not concerned about who would take care of His Mother. I cannot even imagine any religious Jew (especially Jesus), if he had brothers and sisters, ever insulting them by telling a non-relative to take care of their mother after he died. Jesus' words conveyed a "sign" of the spiritual Motherhood of Mary, the new Eve and Mother of the faithful and indeed all humanity. St. John is mystically the representative of the human race, called to be spiritual children of Mary. This can be seen from Scripture; it is what the Catholic and Orthodox Churches have always believed and taught.
Up next: Why Devotion to Mary? A Jewish Convert's Perspective, Part III