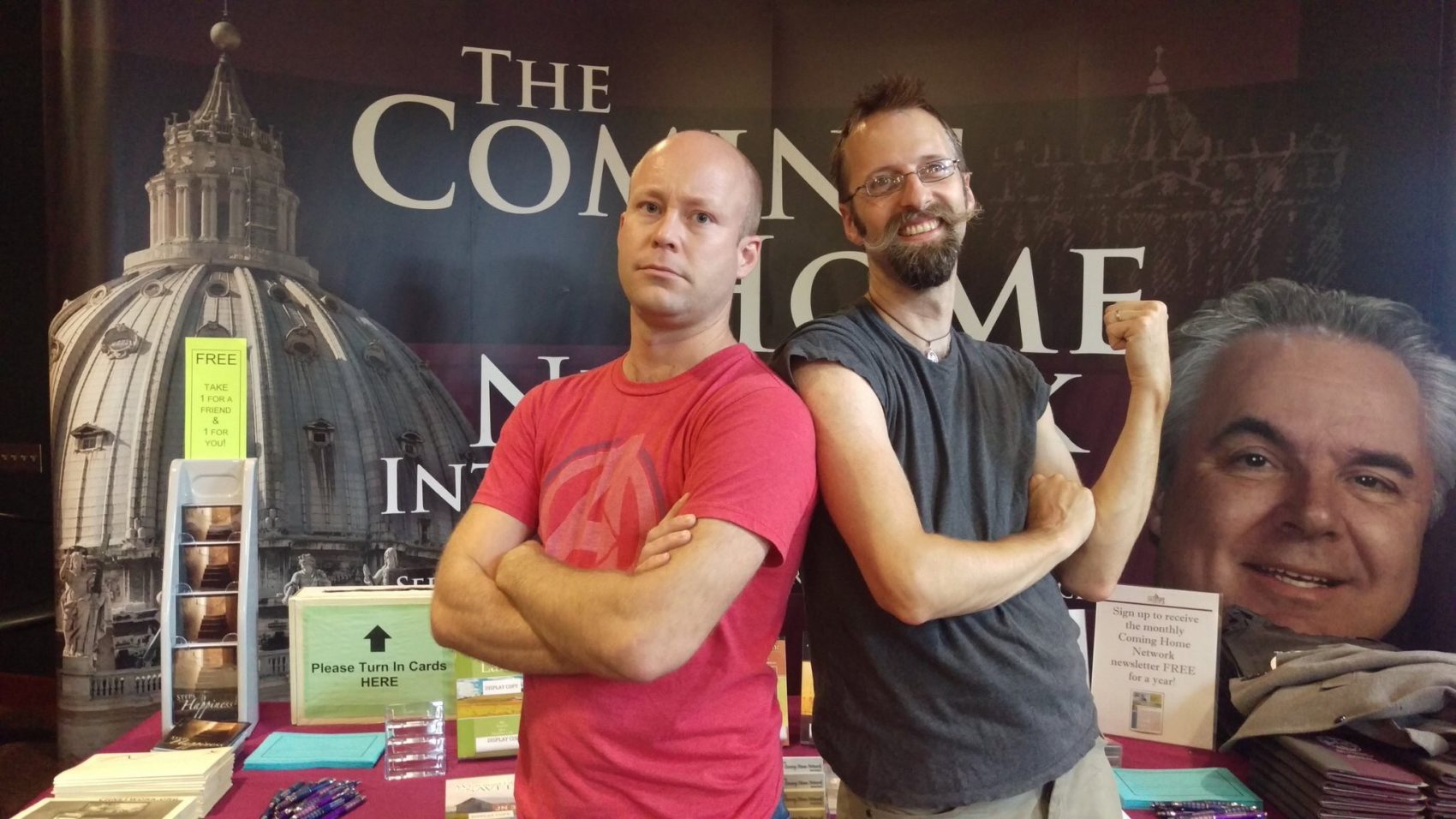 It was a busy week, as hundreds of thousands of youth converged on Krakow for World Youth Day, and closer to home, we at the Coming Home Network gathered with the nation's top Catholic apologists at the Defending the Faith Conference at Franciscan University in Steubenville, OH.  Here's a rundown:
*****
We revisited Magdalena Pala's written reversion story– she was a child in Poland when John Paul II was elected to the papacy.  Divine Mercy was what brought her back to the faith after she drifted away in her young adulthood.  You can bet she's watching World Youth Day in Krakow closely!
In a first, mother and son Denise and Tim Mergen visited The Journey Home.  Denise shared how her involvement with post-abortive ministry was her gateway into the Catholic Church, while her son Tim talked about his background as an Air Force fighter pilot before becoming a Catholic seminarian.
Tim Staples joined Marcus Grodi on our Deep in Scripture podcast to tackle the two biggest questions that have historically divided Christians: what is the relationship between faith and works, and does the Bible teach human free will or predestination?
For #ThrowbackThursday, we dug up a July 2000 visit to The Journey Home by Catholic Answers veteran Apologist Jimmy Akin- it's weird seeing him with a beard this short!
And asked our CHNetwork Community: What saints were companions on your journey into the Catholic Church?
*****
Elsewhere, around the web…
Wall Street Journal editorial writer Sohrab Ahmadi used the horrifying news of the murder of French priest Fr. Jacques Hamel as an opportunity to announce his conversion to Catholicism.
In his acceptance speech, newly inducted baseball hall-of-famer Mike Piazza called his Catholic faith "the greatest gift a mother could give a child."
In light of the Democratic and Republican National Conventions, ChurchPop looked at the lives of four politicians who became saints.
Humanae Vitae, Pope Paul VI's prophetic encyclical on human sexuality, turned 48.
And Sr. Theresa Noble looked at three Catholic devotional practices that might appeal to people who refer to themselves as "spiritual but not religious."
*****
More exciting things to come next week- we're taking lots of pictures and videos, and collecting lots of stories at the Franciscan University Defending the Faith Conference– can't wait to share!