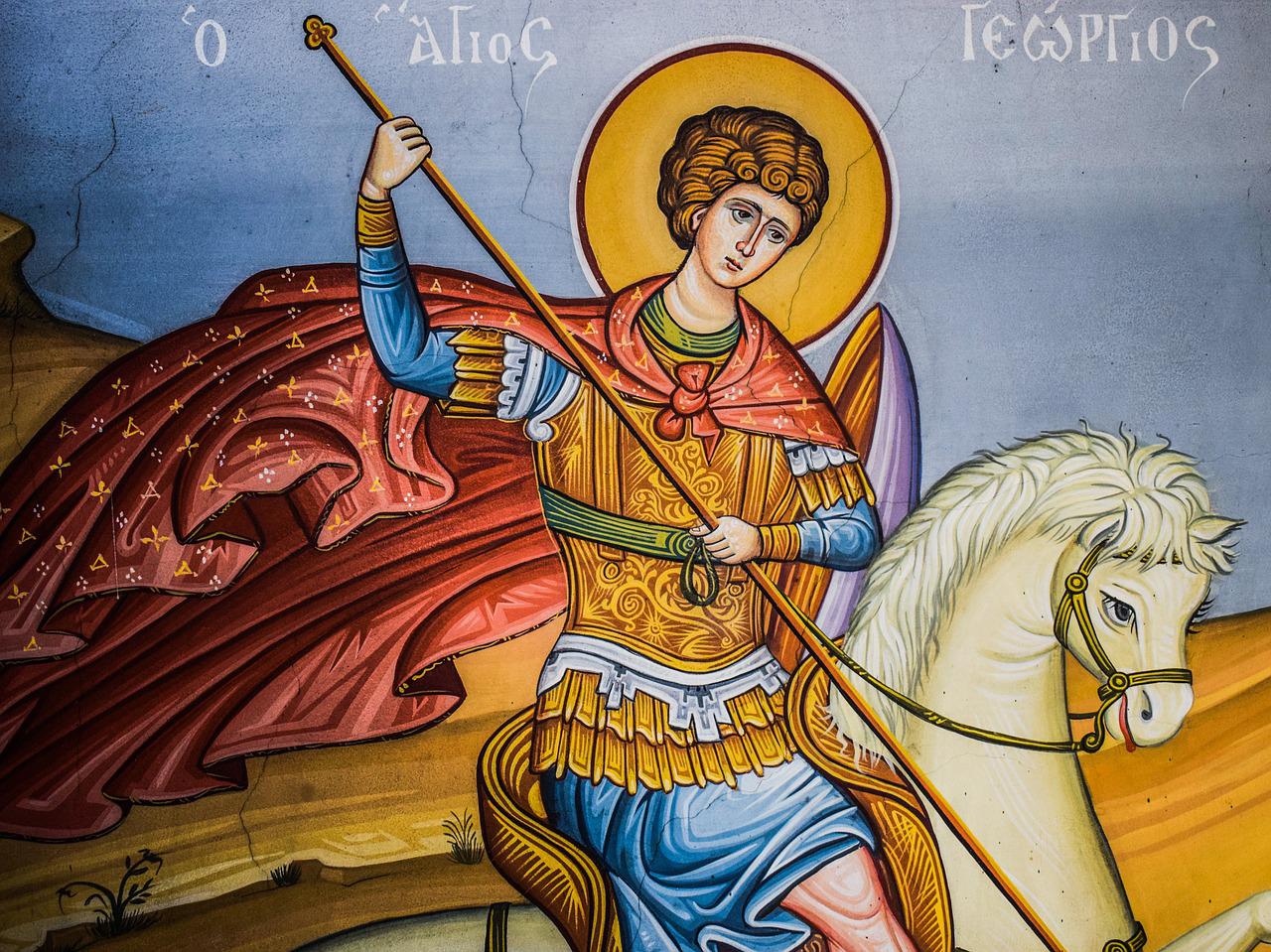 Early Years
The pilgrimage of faith which brought me home to Catholicism began in 1909. That year, my father's parents, Rudolph and Zdenka Souta, immigrated to this country from Czechoslovakia. At that time, Czechoslovakia was under the rule of the Austro-Hungarian Empire. Though he never shared what accounted for it, my grandfather had a deep resentment towards the Catholic Church because of its relationship with the Empire, and he did not practice the Catholic Faith. Years later, I learned that my grandmother, in her own private life, continued to practice her Catholic faith. My mother's parents immigrated to the USA after World War I. They met in Chicago and were married in the Catholic Church. My mother was raised in the Catholic Faith. After her marriage to my father, she, like my paternal grandmother, continued to practice her Catholic faith privately. After mother passed into eternal life, I found her well-worn rosary at the bottom of her purse.
When my mother wanted to raise me and my sister Helene in the Christian faith, my father consented to it but told my mother, "Not the Catholic Church." My parents were married in Warren Park Presbyterian Church. This was the neighborhood church, and it also was the sponsor for our Cub Scout and Boy Scout dens and troops. Mother joined the congregation, and I became a Cub Scout. Though my father did not join, he participated in activities associated with scouting and worshiped with us at Christmas and Easter. My father also enjoyed helping me with my Sunday school craft projects. My mother's extended family was Catholic. Growing up, I went with my parents to Catholic Masses for various members of that extended family, for First Communions, Confirmations, and funerals. My mother's maid of honor was a devout Catholic, and today, her son is a priest. I was also told that we have a relative who is a Catholic religious sister. Sadly, we lost contact with her. Those Catholic Masses for family members created precious childhood memories which I still look back on today: the smell of the incense, the ringing of the bells at the Eucharist, kneeling in prayer, the statues of Mary, Joseph and the saints, the crucifix behind the altar, and the tabernacle. These experiences became seeds for my conversion.
Christ's Gift of the Eucharist Begins Calling to Me
Communion was very formative in my faith pilgrimage, even before I became Catholic. One of my childhood memories was the somber looks on people's faces as they received communion. "Cookie," an elder in the church, always smiled as he distributed communion. I asked him one time why he smiled. He told me, "This is not a funeral. It is a celebration of love. I smile because Jesus loves me, and Jesus loves you." As I prepared for the reception of my first communion in the Presbyterian Church, I promised myself that I would smile because Jesus loves me. That communion took place after a near-death experience. Four months prior to this celebration, I fell 36 feet off a cliff and landed in a shallow creek. Literally, five feet to my left and five feet to my right were rocks the size of an altar. Years later, on a retreat, I had a vision of a hand guiding me down as I fell that day and helping me land perfectly in the center of the space between those rocks. When I received communion that first day, I not only smiled, but tears ran down my face. In my heart, I knew that Jesus is real, and that, somehow, he was there with me during that incident.
In 1964, I attended the National Boy Scout Jamboree in Valley Forge, Pennsylvania. I still have the Good News Bible given to me by Chaplain Beatty. I remember sharing the story of my first Communion with him. In 1967, we met again at the World Scout Jamboree in Couer d'Alene, Idaho. While participating in a "worldwide" scouting communion service, I felt the first stirrings of a call to ministry. I shared this with Chaplain Beatty, who told me he would pray for me. Following high school, I attended Carthage College in Kenosha, Wisconsin. It was a time of social and political unrest. We not only went to class, but we also participated in protests outside of campus. My Lutheran college had a weekly prayer service, with communion on Monday and Friday. Wednesday was chapel, with a mixture of worship services and presentations. We also had regular gatherings with the campus chaplains and professors, some for discussion and others for prayer.
During this time, communion was the North Star for my faith pilgrimage. Communion was a quiet oasis amid the chaos and confusion of my world. It gifted me with peace of mind, heart, and soul and taught me about forgiveness, reconciliation, healing, and love. It gave me hope. These worship services were a time of great grace. I still remember a message shared by one of our chaplains: "The evening sun is the crucifixion; the morning sun is the resurrection." That message was my first primer on how to sanctify one's entire day.
I eventually married, and that first marriage was blessed with two beautiful children, Justin and Darcy. Due to unforeseen circumstances, the marriage ended, and we were divorced.
I came under the care of my local parish and was formally enrolled in the Presbytery of Chicago as a candidate for ordained ministry. Off I went to Louisville Presbyterian Theological Seminary. Before leaving home, my paternal grandmother gave me two gifts, a rosary and a crucifix, which she had brought with her from Czechoslovakia in 1909. The smile on her face as she handed them to me is permanently etched in my memories. Grandma's smile told me that she had continued to practice her Catholic Faith. Yes, I still have that rosary and crucifix! I also have not forgotten what Grandma told me that day: "Pray every day. Pray. Do not forget to pray!"Before leaving home, my paternal grandmother gave me two gifts, a rosary and a crucifix, which she had brought with her from Czechoslovakia in 1909. Click To Tweet
The Lord's Supper had found its place in my faith pilgrimage. And I wondered, Where would I go for weekly communion? The Lord used one of his many spiritual 2×4's and opened the door for my first student field-placement by my seminary with St. Matthew Episcopal Church. I served there at Sunday mass, and there was also a weekly prayer service with communion. When my field placement was over, I continued to worship there. But after ordination as a Presbyterian minister, I wondered if my practice of weekly communion would continue, given that the Presbyterian practice was not so frequent. Thankfully, I formed friendships with Episcopalian priests who invited me to their weekly prayer services, which included communion. The infrequent Presbyterian celebration of the Lord's Supper was a spiritual burden for me. I had many conversations about this common practice in Presbyterian congregations, and no one could tell me why communion was not celebrated more often. I had many conversations with Episcopal and Catholic colleagues in ministry during that time. These priests shared that the celebration of the Sacrament of Holy Communion complemented the celebration of the Word. The two were meant to go together. This became a lived reality for me when I was called to serve a community church, whose affiliations included Presbyterians, Methodists, and Episcopalians.
In 1980, there was an ecumenical movement called COCU (Consultation on Church Union). In the small village in Union Springs, NY, the Presbyterians, Methodists, and Episcopalian churches came together and formed what was called a "Union Church." The membership retained membership in their respective denominations. As rewarding as it was, it was also challenging to learn theology, worship, and polity for each of the denominations. It was part of my role, as their pastor, to be abreast of these areas.
I was the celebrant for Sunday mass with our Episcopalian members. I began to understand more and more what I had been told: that celebration of the Word and the celebration of Eucharist are complementary and are meant to go together. I grew spiritually while preaching and celebrating the Lord's Supper with this ecumenical group. In fact, I would characterize my journey as a Presbyterian minister as an ecumenical journey. This part of my faith journey provided me with wonderful relationships with Episcopalian and Catholic priests. I often met with them for study and prayer.
While serving that congregation of combined membership, I was enrolled as a community clergy in the Episcopal Diocese and given permission to serve mass for Episcopalian members in our parish. For mass, I used the Episcopal Book of Common Prayer. I also used this prayer book for Advent, Christmas, Lent, and Easter services. Since I was part of the local clergy, one unique opportunity came when I was invited to the ordination mass for the new Episcopal bishop. Seated as I was behind the bishop's family, it was a memorable experience.
I left parish ministry to attend graduate school and obtained a master's in social work. My ministry was now in community mental health, serving persons with mental illness and addictions, especially persons with a history of trauma and abuse. The stories people shared with me challenged me to truly understand the nature of reconciliation, forgiveness, and healing. What helped me to navigate these challenges and serve the needs of the clients was my participation in communion. I understood more and more that the heart of the Eucharist is Our Lord's mercy, a truth brought home so aptly in St. Faustina's diary, Divine Mercy in my Soul.
The Gift of the Blessed Virgin Mary Begins Convincing Me
There is another gift that Christ gave me: the Blessed Mother Mary. In 2005, I was at a craft show sponsored by pilgrims from Jerusalem. A beautiful rosary caught my eye. I bought it. As I held the rosary I had purchased, I remembered praying the Rosary with Brother Jeremy and with the Benedictine sisters at St. Meinrad Archabbey. During those days at Louisville Seminary, I met Brother Jeremy from St. Meinrad Archabbey in Indiana. Brother Jeremy had shared with us that day that the saints pray for us. I learned about the life of St. Francis of Assisi. His prayer, "Make Me an Instrument of Your Peace," became the prayer that guided my formation in ministry. I had the opportunity to spend more weekends at St. Meinrad Archabbey, and many more seeds were planted. At my ordination as a Presbyterian minister, following the laying on of hands and the ordination prayer, I prayed the Prayer of St. Francis. Years later, I chose this saint for my Confirmation as a Catholic. As I held the Jerusalem rosary (the one I had bought at the craft show), I thought back to these events.was at a craft show sponsored by pilgrims from Jerusalem. A beautiful rosary caught my eye. I bought it. As I held the rosary I had purchased, I remembered praying the Rosary with Brother Jeremy and with the Benedictine sisters at St.… Click To Tweet
On a visit to a member from Addison Presbyterian Church, I observed that she had a rosary with her prayer book. Betty invited me to pray the Rosary with her and told me that Mary was her spiritual mother. Following that visit, I did some reading on the Rosary and on Mary. Both still had not found a permanent place in my faith pilgrimage, but I realize now that it was a definite start.On a visit to a member from Addison Presbyterian Church, I observed that she had a rosary with her prayer book. Betty invited me to pray the Rosary with her and told me that Mary was her spiritual mother. Click To Tweet
In 2006, I went on a retreat at The Cenacle in Illinois. Sister Rita was my retreat director. I often share with folks that she had a "spiritual scalpel." I found myself in prayer before the statue of Our Lady of Grace. Sister Rita gave me a primer for praying the Rosary and introduced me to other Marian prayers. One of the blessings of that retreat was that Mary found a home in my heart. Sister Rita also introduced me to the practice of Eucharistic Adoration. At The Cenacle, I purchased a book, Spiritual Writings on Mary, annotated & explained. Occasionally, I began to pray the Rosary and to pray two prayers from this book: A Priest's Prayer of Self-Dedication to Mary and Prayer to Our Lady of Cumbermere.
After that retreat, I realized that Mother Mary's spouse, the Holy Spirit, had been silently accompanying me on my faith pilgrimage, from work as a pastor, to the visits to St. Meinrad Archabbey, to finding the Jerusalem rosary, to my retreat at The Cenacle. God had one more way to draw my heart to the Catholic Church.
Coming Home
In 2006, I met my wife Mary. Mary is a "cradle member" of St. George Catholic Church in Chicago. When we met, I had a part-time ministry with Addison Presbyterian Church, which is very close to St. George. On Saturdays, I would attend Mass with Mary, and on Sundays, she went with me to Addison. I developed friendships with the priests and deacons at St. George. Through these conversations, seeds that had been planted earlier in my life began to germinate. I read two books which helped to guide me home: James Carroll's Practicing Catholic: an exhilarating journey for all those who wish to reclaim their faith and Scott and Kimberly Hahn's Rome Sweet Home: our journey to Catholicism.
I left the Presbyterian Church, went through RCIA in 2012, and was welcomed home at the Easter Vigil in 2013. In 2015, I began the formation journey for the diaconate and was ordained a permanent deacon in May 2019. I was ordained on Mother's Day weekend. My first Mass as a deacon was the Saturday Vigil Mass. In my homily, I shared the story of how Blessed Mary had found a home in my heart. I also shared this from Pope Francis: "We need Mary's tender gaze; her maternal gaze, which knows us better than anyone else; her gaze full of compassion and care.… Let us never tire of knocking at God's door. Every day, through Mary, let us carry our entire life to God's heart. Knock at the door of God's heart." Before the final blessing, my cousin, Father Mike Knotec, shared a story with the congregation. It was a conversation from our childhood about Mother Mary. He told me about the Blessed Mother, and then I told him that I had a mother, and her name was Helen. Father Mike shared with us that his prayers for me were answered, and that he was thankful to know that his cousin now had a spiritual mother, Blessed Mother Mary, who walks with him daily.
More on my call: At St. George Church, I was blessed with a friendship with Father Ken and Deacon Pete. With so many of my discoveries about the saints and Mary, I sought their counsel as I prayerfully discerned coming home to the Catholic Church. I also made close friendships with parishioners at St. George, but the Holy Spirit was working in a big way through Fr. Ken and Deacon Pete. These fellow Catholic Christians helped me realize that I still had a calling to ministry. I was involved, while still a Presbyterian minister, in helping form the men's group at St. George. There were many conversations with these men who encouraged me to consider a ministry as a permanent deacon. There were many folks who continually told me that they were praying for me to become Catholic and to become a deacon. After coming into the church, I met with Fr. Ken and our Vicariate Bishop, Bishop Wpych. Through this conversation, I was encouraged to discern a calling to become a permanent deacon. For the next two years, my discernment continued. One day, I was praying in Holy Family Chapel and received an affirmation for this call to ministry. After conversations with my wife Mary, Fr. Ken, and Deacon Pete, I contacted Deacon Bob Puhala, the Diocesan Director for the Office of the Diaconate. Following enrollment, I began the formation process.
During formation for the diaconate, there was a steady spiritual diet of praying the Rosary. I was introduced to Fr. Michael Gaitley's book on Marian Consecration: 33 Days to Morning Glory. His book accompanied me on my journey through Advent, and I made my consecration to Mary. Then Fr. Gaitley's book 33 Days to Merciful Love accompanied me on my journey through Lent, when I made my consecration to Merciful Love.
I am thankful for my ministry as a permanent deacon. I enjoy serving at Mass and preaching; facilitating a Marian Fellowship Group and a weekly Bible study; serving communion to patients at South Suburban Hospital; serving communion at Porter Place Memory Care Nursing Home; and serving as a part-time on-call chaplain at Northwestern Palos Hospital. I continue to work part-time at Catholic Charities as a counselor.
*****
Most Holy Virgin Mary, perfect disciple of Jesus, I come to dedicate my life and ministry to your Immaculate Heart. I desire to abandon myself to the will of Jesus, your son, and walk in faith with you, my Mother. To you I consecrate my life as (insert vocation). I give you every gift I possess of nature and of grace, my body and my soul, all that I own and everything I do. Pray for me that the Holy Spirit may visit me with his many gifts. Pray for me, that by faith I may know the power of Christ and by love make him present in the world. Amen.