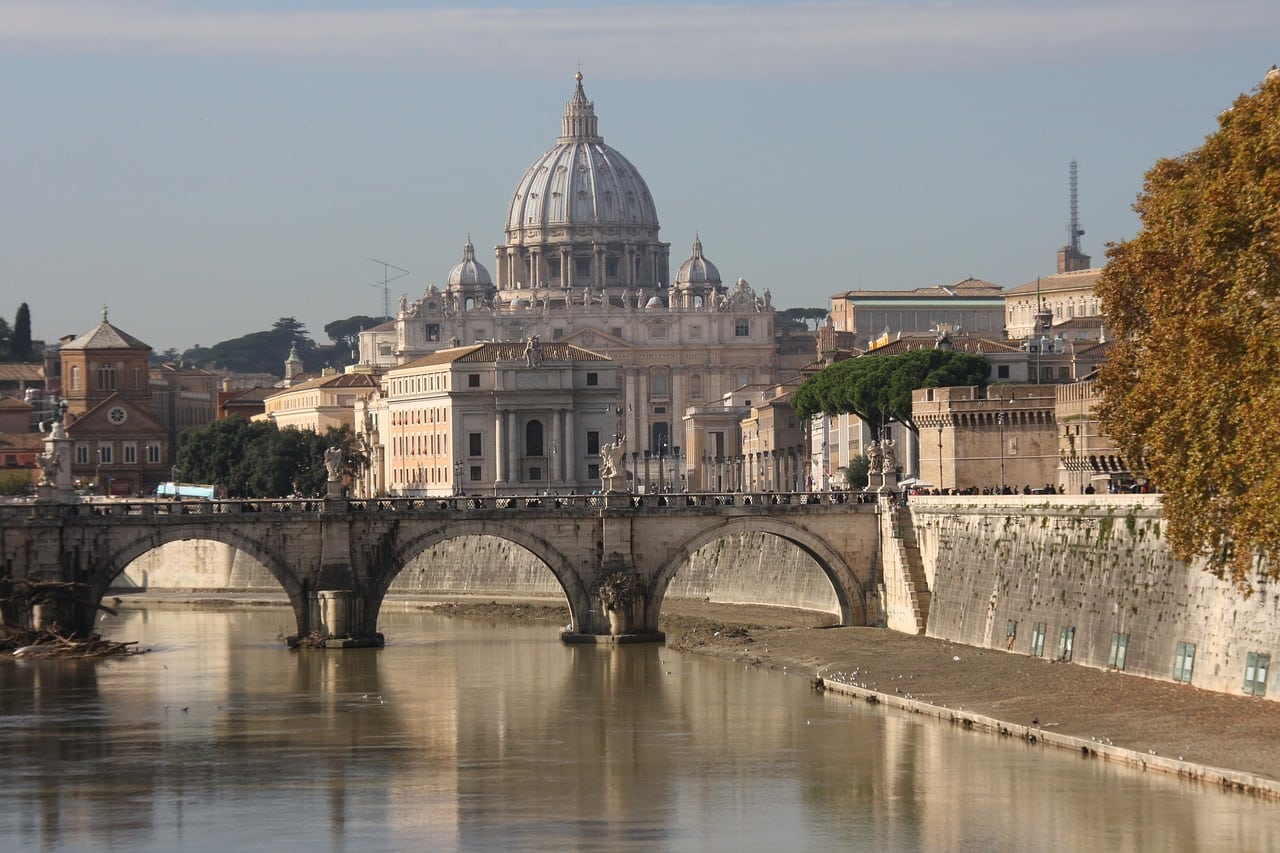 The story of my conversion to Catholicism really goes back to my childhood. My father's family is Chicago Italian and of course that meant Roman Catholic. I was born during Vatican II in 1963 and baptized in the Catholic faith. My paternal grandfather ("Papa Lou") would become a great influence on my faith as I grew up. He made it a priority to get to Mass every week, and, though he didn't talk like an evangelist, no one who knew him would have questioned his faith. My mother, however, was not Catholic, so when my family moved to Wisconsin, we joined a neighborhood Protestant congregation that both my parents were comfortable with, and I was raised Lutheran. I still have fond memories of the Lutheran pastor and the people there.
Having been baptized as a Catholic, I suppose I'm technically more of a "revert" than a convert. In fact, everyone around me always emphasized the similarities between the Lutheran denomination and Catholicism, so I grew up with a healthy respect for the Catholic Church, but also with only a very basic (and often uninformed) knowledge of what Catholicism was. After I was confirmed, I was told that I was now spiritually an adult and able to make my own decisions about my faith. So I left. Like many youth, I suppose, I was bored with my congregation. However, I must say that the Lutherans gave me an appreciation for singing the great hymns (some of which taught me more theology than all the catechism classes put together), but I felt that there should be more to the faith than what I was experiencing in that congregation. I eventually joined another Protestant denomination — the United Methodists — partly because it was where my high school girlfriend belonged. I was also attracted to what they called "pluralism," which, as I understood it, amounted to a license to believe and do anything I wanted without accountability to a higher authority. This sounded pretty good to a young guy in high school and college.
Evangelical Enthusiasm
In college, I got involved with Campus Crusade for Christ and became a Fundamentalist. I had a conversion experience in the context of a neighborhood Bible study when I was younger, so this seemed like a continuation of that kind of enthusiasm. Bless their hearts, they meant well, but I could never get on board with their style of evangelism: just walking up to someone you don't know with the "Four Spiritual Laws" booklet in hand, sharing the faith with the hope of extracting the "sinner's prayer" from the poor soul. On the other hand, the deep reverence I have for the Scriptures is a legacy of that time in my life, and so I have to assume that God was at work in me, in and through Campus Crusade.
It was a strange mix in those days, because while I was hanging out and playing guitar with the Campus Crusade crowd during the week, on Sunday mornings I went to the campus Methodist congregation, where I helped out the music leader by playing bass guitar. The Methodists tend to be theologically liberal, especially in Minnesota where I went to college. Thus, I bounced back and forth between the conservative approach of the parachurch organization and the liberalism of a mainline Protestant denomination. The result was that I learned to speak both languages and get along with people in both camps. In the end, the experience planted the seeds of a passion for ecumenical dialogue and the conviction that the truth is not to be found at either extreme, but in the "center of gravity." In other words, the truest expression of the Christian faith is not in Fundamentalism on the right or in extreme liberalism on the left, but in the ancient and historic Church that occupies the center.
I graduated from college in 1985, and, after trying to find my way in the world for a year, I decided to go to seminary. I figured, why not study the most important topic there is — God! I was very naïve, however, and assumed that one seminary was just like another. After all, they all study the same Bible, right? By the grace of God, I ended up at Fuller Theological Seminary in Pasadena, California, which was an interdenominational Evangelical Protestant seminary. I consider my time at Fuller to be my great awakening to the many treasures of the Christian faith, especially the Church Fathers. I learned the tools of biblical exegesis, studied under professors who were both brilliant and spiritual, and grew in my faith by leaps and bounds. It was at Fuller that I went from being a Fundamentalist to an Evangelical — and yes, there is a difference! It was also at Fuller that I discovered the difference between a Reformed ("Calvinist") approach and an "Arminian" approach to salvation. It seemed that many of the people at Fuller were more Calvinist than Calvin was (of course, as a scholar, I now know that they were really just more Augustinian than Augustine was — can I get an "Amen"?). This meant that their understanding of God's providence and even their outlook on life leaned toward a kind of determinism that said, "If you're one of God's elect (and they all assumed they were), then God will take care of everything for you." They assumed that God is going to do what God is going to do, and that left little room for human free will. The problem, as I saw it, is that this approach didn't adequately explain human sin. I would come to find out later that the Methodist (Wesleyan/Arminian) approach is not far from the Catholic (Thomist) approach. It turns out that, theologically speaking, I was a Catholic all along.
Reverend Salmon: Swimming Upstream
When I graduated from seminary with a master of divinity degree, I ended up on the path toward ordination (in part, because I didn't know what else to do with my new diploma). I was still somewhat naïve regarding the extremes of theological liberalism in the Methodist Church, and I was still a bit "holier than thou." Thus, I had no idea that the next decade of my life would be an exercise in swimming upstream.
I was ordained and accepted an appointment as an associate pastor of a congregation of about a thousand members in south central Minnesota. After two years of butting heads with the senior pastor there, I was moved to what they call a "three point charge": two small churches of my own and part-time responsibility as a youth minister at a third (larger) church, all along the beautiful Mississippi Valley at the border of southern Minnesota and Wisconsin. Two years there eventually and inevitably burned me out, and I decided to go back to school to get a Ph.D. I finally felt like I knew what my calling was. As a pastor, while many of my colleagues visited the people of their congregation all week and then wrote a sermon on Saturday, my routine was to work on my sermon from Monday to Thursday, and then on Fridays drag myself outside and force myself to visit a few people. The hospital visits were the hardest, as I felt I had nothing to offer people. I often struggled just to make conversation. I felt I was gifted in the teaching parts of ministry, but not in the pastoral parts; therefore, I decided I was going to teach. I requested and received an appointment to attend Garrett-Evangelical Theological Seminary, the United Methodist Seminary on the campus of Northwestern University in Evanston, Illinois. It was there that I completed a Ph.D. in Patristics, the history and theology of the early Church.
All Roads Really Do Lead to Rome
It was my study of the Church Fathers that ignited within me the dormant flame of Catholicism. As many others who have gone before me found, one cannot study the history of the early Church without realizing that many Protestant doctrines — sola scriptura, for example — were an invention of the Protestant Reformation and do not actually reflect the understanding of the Church Fathers, let alone the Apostles. I also realized that the Catholic understanding of the Eucharist is consistent with the way the sacrament has been understood from the beginning. This was a real revelation for me. In addition, as part of my Ph.D. studies, I got the chance to spend a summer at the American Academy in Rome. My formal studies there were in the history and topography of imperial Rome, but my informal exploration led me to a deeply devotional appreciation for the city of Rome and its churches.
I had been to Rome before. My parents took my brother and me on a trip to Italy when I was fifteen. I fell in love with Rome then, and that love has only grown over time into kind of a passion. But arriving in Rome that summer of 1995, I had a first impression like many people, I suppose. When I saw the grandeur of many of the churches of Rome — grandeur that I viewed as opulence — I had a negative reaction. "Wouldn't it be better to use all this money to feed the poor?" I thought. I would later realize that this is exactly what Judas said when a grateful Mary of Bethany poured out her expensive perfume on Jesus' feet (Jn 12:1–5). I came to understand (and appreciate) that the architecture and decoration of the churches of Rome are part of humanity's gift of gratitude to God. We offer the best of our creations to our Creator, in humble thanksgiving.
Studying in Rome that summer, I began to wrestle with what it would mean to be Roman Catholic. I had no great aversion to the idea, other than the fact that I would be giving up my status as clergy, but I had already discerned that I was not called to parish leadership or liturgical presiding. The more I studied and the more I explored the long history of the Church in Rome, the more I began to think, "I have to be a part of this." At least, that's what was going on deep down in my spirit. It wouldn't come to the surface until later, because at that time there were still too many obstacles. The Tiber seemed just too wide to cross. I had so many connections to Methodism, and I had convinced myself that belonging to a church where you get Communion every week would "cheapen" the sacrament (of course, I now know that the opposite is true, and I love to receive the Eucharist as often as possible).
I continued to study the Church Fathers, and I eventually settled on one who would be the topic of my doctoral dissertation. Novatian was a third-century priest of Rome who wrote an excellent (and orthodox) treatise on the Trinity and who was the acting bishop of Rome for over a year during a time of persecution. However, Novatian's story does not have a happy ending. When the persecution subsided enough to allow the proper election of a new bishop of Rome, Novatian lost the election, because he advocated excommunications for all those whose faith had lapsed under the threat of torture and death. His followers rejected the election of Pope Cornelius, called Novatian their bishop, and began a schism in the Church that lasted hundreds of years. The moral of the story is that the Church would come to the conclusion that the only thing worse than apostasy is schism, meaning the only thing worse than committing idolatry, is splitting the Church. I began to feel more and more the need to return to the original Church.
My conversion to Catholicism, however, was more complicated than simply joining with the Church of the Apostles. It was also about leaving something behind, leaving the denomination in which I was ordained. At this point, I was still determined to continue sticking it out in the United Methodist denomination, as long as I could make it work. This was for two main reasons. First, I was not yet ready to give up my status as an ordained clergyman. Second, I saw the denomination as a mission field and felt obligated to continue to try to save it. Eventually, I got to the point where I knew that my efforts were futile, and I now realize that it was rather arrogant of me to think I could change an entire denomination. It was time to leave. I had to admit that I was in a place that was not right for me and that I had to move on.
Crossing the Tiber
In reality, the decision to unite with the Roman Catholic Church was really just a matter of admitting in my head what my heart already knew. The Catholic Church was where I had started out (in baptism), and it was where I belonged. By this time, I had married an amazing woman, Susannah (Susie), who happened to be a cradle Catholic. She was a very good sport about getting married in a Protestant chapel (two, actually: we eloped in a Methodist chapel in Rome and then later had a wedding with friends and family in a Methodist chapel built within a skyscraper in Chicago), but she never felt at home in the United Methodist congregations. Of course, she wanted us both to be Catholic, but I had to come to that decision on my own. When the time came, at my instigation, we did what any self-respecting Protestants would do: we shopped around for a Catholic church. Eventually, we found a Catholic parish with solid preaching and good music, and we started going regularly. I had many meetings with the pastor, and he was very gracious in giving me his valuable time as I asked him all those questions that Protestants ask (interestingly, I now get invited to go into other parishes and talk about the answers to those very same questions).
My biggest stumbling block was probably the concept of praying to the saints. I had reasoned, like many Protestants, that if you pray to the saints, you are ascribing omniscience to them: if you think they can hear your prayers, then you are implying that they are divine, because the only way they could hear prayers is if they are all-knowing — but only God is all-knowing. I also reasoned that if you pray to the saints, you are ascribing omnipotence to them: if you think they can do something for you, then you are implying that they are divine, because the only way they could help you from heaven is if they are all-powerful — but only God is all-powerful. Even though I knew it was an ancient practice, I concluded that prayer to the saints was a form of idolatry. Maybe the Tiber was just too deep to cross. The help I needed came through conversations with a faithful, Catholic friend. She explained to me that praying to the saints is not a form of idolatry. Catholics do not think the saints are omniscient just because they can hear our prayers. Rather, it is a pure gift from God. She also explained that Catholics do not think saints are omnipotent, because Catholics ask for their intercession, not their intervention. If we can ask our brothers and sisters in the faith who are here on earth to pray for us (Jas 5:13–18), then why not ask those who are with God to pray for us?
I am still learning to incorporate prayer to the saints into my devotional life, but I am grateful to have a "cloud of witnesses" (Heb 12:1) to intercede for me. My grandparents had a special devotion to Padre Pio (even while he was still alive), and to this day my uncle carries on that tradition. I consider St. Pio a patron of our family. I also ask for the intercession of St. Francis of Assisi, St. Hildegard of Bingen, and St. Cecilia (because I'm a musician), St. James (I am a James, after all), and St. John the Apostle (for my vocation as a theologian). Of course, I also pray to our Mother Mary, and, when I'm reading a particular Church Father, I sometimes pray to him as well. Sometimes I even pray to my grandfather, Papa Lou. Because of the intercession of the saints, my devotional life is now deeper and richer than it ever could have been before.
I eventually came to understand that I was really a Catholic at heart all along. When the time came for me to be received into the Church, I sent a letter to the United Methodist bishop explaining why I was leaving the denomination. The envelope included my certificate of ordination (returning it results in the denomination's version of an honorable discharge). Turning in my credentials like that was very liberating. Now, I am happy to be a Roman Catholic layperson, recognizing what my calling is and what it is not.
Glad to Be Home
When I finally came back to the Catholic Church, my first reaction was, "So this is where all the Italians are!"
One of the first things that my wife and I did after I was received into the Church was to have a convalidation ceremony so that our marriage would be a sacrament (so, I've married the same woman three times — and I'd do it again in an instant). Now, as I think about being Catholic and as people ask me about my conversion, there are a few things I will always tell people, the reasons why I'm glad I'm Catholic: Walk into a traditional Protestant worship space and what holds the place of prominence at the front? The pulpit. That's because the preaching of the Word is the center of worship. Preaching is good, but of course preachers are only human. Now, walk into a Catholic church and what is front and center? The altar. That's because we are a sacramental Church. We are a Church that embraces the mystery of the living Word, the Lamb of God. Every time we celebrate Mass we proclaim the Gospel most perfectly (cf. 1 Cor 11:26).
While my personality doesn't normally tolerate mystery very well (I want to answer all the questions), the truth is that the more you try to get to the bottom of the mystery, what you really find is a deeper mystery. The mystery is not explained away, as it is in some other traditions. On the contrary, the mystery is embraced. In a real sense, my conversion (or return) to the Roman Catholic Church had to wait until I was ready to embrace mystery, to let go of having to have concrete answers to all the questions, and to trust in a God who is a mystery. Don't get me wrong, I still write books explaining the Trinity and things like that, but I have learned to be content with submitting to something greater than myself, without having to understand it all. It may seem counterintuitive, but submission is liberating.
I also appreciate the way the Catholic Church is (at least potentially) the "middle way" between the extremes: neither Fundamentalist, nor extreme liberal, but a "center" that embraces the best of both sides; neither all devotional, nor all social justice, but both faith and works; and so on.
Finally, I guess I just came to the point in my life when I longed to be part of the one Church that is connected by an unbroken chain going all the way back to Jesus and the Apostles. I became convinced of the truth of apostolic succession, a principle used in the early Church. It means that what is taught by the Church goes back to the Apostles, because they taught their successors, who taught the next generation of Church leaders, and so on. The institution of the Catholic Church may not be perfect, but I came to believe that it is the closest thing we have to what Jesus and the Apostles intended it to be, in large part because of the sacraments, especially the Eucharist. I just had to be a part of that.
To add blessing on top of blessing, a year after joining our parish, I was offered a full-time job as director of adult faith formation, and I got to live my faith as my day job, a dream I had all but given up on.
Called to the Classroom
Four years later, I left my parish job for a full-time teaching position. Ironically, I now teach early and medieval Church history at the same United Methodist seminary where I studied for my Ph.D. After ten years of waiting (and praying) for a full-time teaching job, I was hired by the seminary, even though they knew that I had become Catholic. I am now the one Catholic on a very ecumenical faculty, all of whom I respect very much and value as colleagues, even though we don't all agree on everything. I have found that I can love and appreciate the Methodists much better from the outside, as a Catholic, and I have plenty of opportunities to engage one of my passions: ecumenical dialogue. I also get to spend my days in the classroom and in the library, teaching and studying the history of Christianity and doctrine. The best part is, I get to take a group of students to Rome every year to see (and touch) the evidence of early and medieval Christianity firsthand and to meet people on both sides of the Tiber.
There is a bridge in Rome over the river Tiber, the Ponte Sant' Angelo, the bridge of the Holy Angel. It is lined with sculptures of angels designed by the great master Bernini. Right at the end of the bridge on one side of the river is the Methodist congregation of Rome. On the other side of the bridge is the Vatican. That bridge is symbolic for me, so much so that I used a picture of it as the cover art for my latest musical recording. The bridge is a symbol of both the separation and the connection between the Catholic Church and the Methodists. It is a symbol of the ecumenical dialogue which I value and also a symbol of whatever shared ministry we are able to do as we work together to care for the poor in this world. We all know that people walk that bridge (metaphorically speaking) in both directions. Somewhere, right now, there is a person writing about his conversion from Catholicism to a Protestant denomination. This is why the dialogue is so important — to increase communication and mutual understanding, to dispel the myths about Catholicism, and to figure out what we can learn from each other. I still consider myself "bilingual," because I can "speak" Protestant as well as Catholic. It is a gift I use in the service of the universal Church. Nevertheless, I know where my roots are and where my home is, and I thank God for leading me back to the ancient Church of the Apostles and the Fathers.