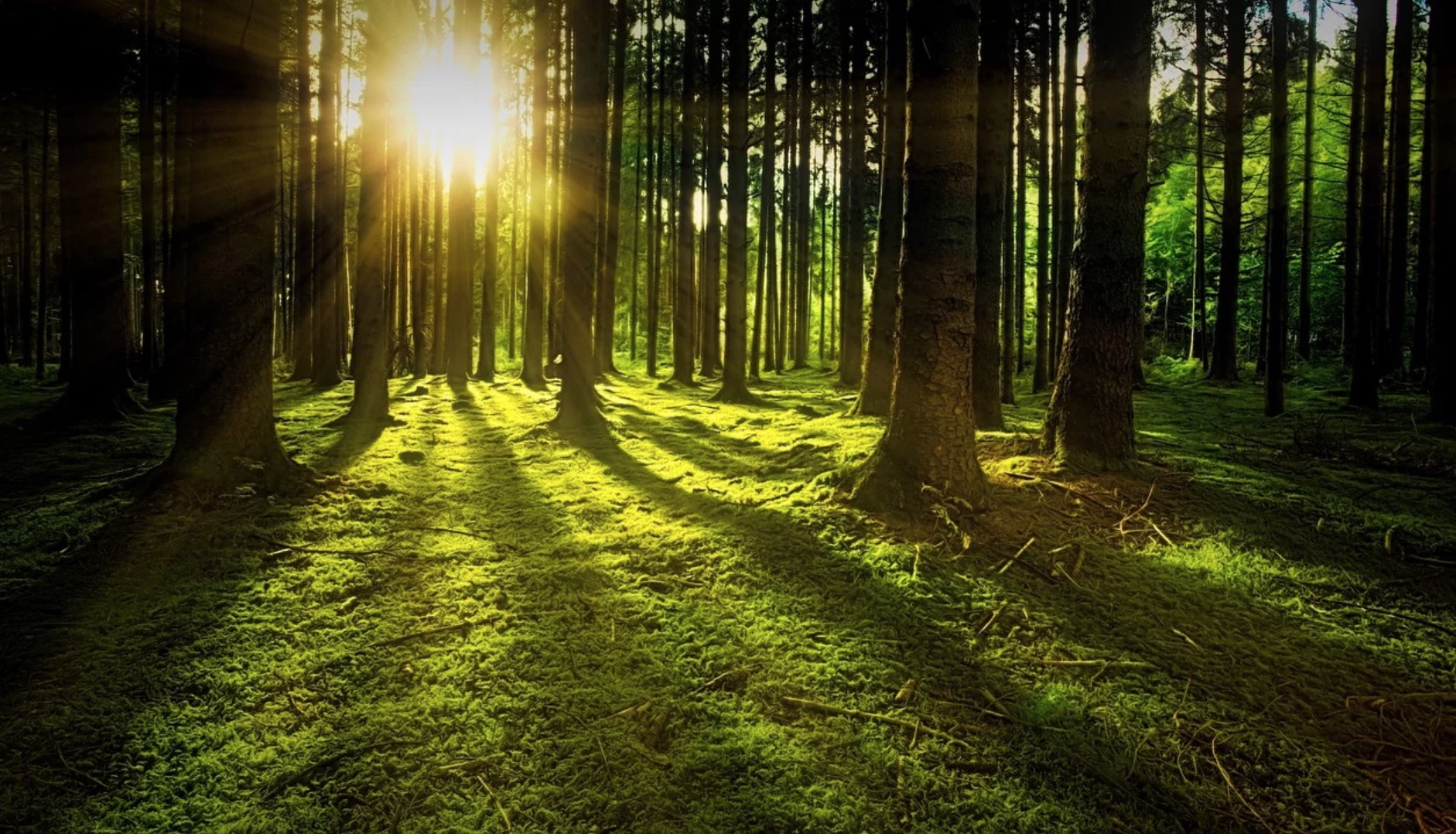 If I were to describe my faith journey in just a few words, I would say it has been like climbing a tree, starting from the ground up. Ground, meaning I wasn't born into a faith system, and a tree, because of all the many necessary branches that led me to where I am now. It is a place where I can see the beautiful path I have already traveled. It is also a place where the view just keeps getting more awesome. Let's start this story with my first memories.
My Childhood
I was raised in a small town in northern Canada. Our remote location and country lifestyle left my siblings and me quite sheltered. We heard no talk, good or bad, of religion or God while growing up.
I do, however, have two distinct memories of God in my younger years. The first one happened when I was a baby. I remember how the sunlight poured into my bedroom window just in front of my cozy crib. Its warmth and brightness seemed to enter as a guest that I had not yet met. I have never forgotten this extraordinary experience, even these thirty-seven years later. This memory has brought me moments of comfort throughout my life. For, He knew all the days of my life that stretched out before me (Psalm 139:16). He knew all the good I would do. He also knew the bad. Still, He chose to love me long before I could ever start loving Him back (1 John 4:19).
The second memory of God's intervention in my childhood was another very small one, but it still left a great and lasting impression on my heart. It reminds me of Jesus' beginning here on earth with just a small, private message from an angel to a young girl's heart, a heart that was willing. I too, received a small message, maybe even from a real angel. This story starts with my mother and father taking my two sisters and me on a holiday to tour the Queen Charlotte Islands off our beautiful British Columbian coast. As our family of five was sitting around the campfire one evening, my parents happened to make friends with our neighbor. She was a sweet elderly lady and asked if she could teach us children a card game called Solitaire. My parents accepted, and I'll never forget the words she whispered to me as her aged, twinkling eyes caught hold of mine: "Remember never to cheat … God is always watching you." I understood completely what she meant. Since that day, my contemplation of a God like that has grown into an understanding of a God Who is not only omniscient but also omnipresent and omnipotent.
The rest of my childhood was spent steeped in a coastal forest. We played through summer days riding horses and dreamed the winter nights away under His wondrous stars. If there was a God, He was beautiful. He was good. But for now, mom was our gentle queen, dad was our noble king, and we were their three blonde-haired, blue-eyed, happy country princesses.
The Tough Years
Our later teen years held many growing pains for my sisters and me. Perhaps it was a blessing in disguise to have to grow up all at once, as we now hold many sweet childhood memories in our hearts. Perhaps our hearts were too small and needed stretching. Nevertheless, it felt like mine broke into a million pieces when our world collapsed. Fortunately, God used His own heart to fuse mine back together. Let me explain.
I was seventeen years old when I was informed of my parent's divorce. They sold our family farm as I was graduating from high school and preparing to leave for college. My twin sister was leaving to tour Ireland, while our little sister had to stay behind to live with family friends in order to finish high school. She could not live with our mother, who had moved across the world to live with her new spouse, and she could not live with our father, who had taken on a new position at work that had him constantly on the road. I myself didn't feel prepared to get by on my own. I felt abandoned. I had no moral compass. This was a dangerous mixture, leaving me to search for something to fill a void that, as I eventually learned, only God could fill. Meanwhile, by the time I was ready to reach my hands out to God, three years later, they were scarred, soiled and void.
The Offer
The only good part of my wandering was the end of it. It was here in this wilderness that God was able to speak to my heart (Hosea 2:14). He chose to use the sunlight again, just like the first time, when I was a baby. But this time, I was old enough to understand who Jesus was.
It happened one day, as I was making my daily walk to school on another warm spring morning in the sunny Okanagan area of British Columbia. The blossoms had such a sweet fragrance that time of year. They should have brought a heart joy. Instead, they landed on someone who was in a heavy darkness. I felt broken, lost, and unlovable. It was here, in the shadows, that Love came to greet me again. As His sun hid behind the only cloud in the sky, I heard Him call me out from hiding. I recalled the signage in front of a church that I walked by every day on the way to school: "For God so loved the world that he gave his only Son, that whoever believes in him should not perish but have eternal life" (John 3:16). He pressed these words as a question into my heart, and all I could say in reply was a grateful "Yes."
The Honeymoon Stage
I started attending that little church. It was home to a Protestant Alliance congregation. There, I received my very first Bible. I was warmly welcomed into a Bible study. I received teaching and rendered worship on Sunday mornings. To sum it up in one word, it was romantic. I was falling in love with Jesus. Those days are filled with sweet memories of Him generously pouring His light, warmth, and healing into my drained soul.
It was during this time that I also met my husband, a strong, handsome, and loving man. We married on March 25th. At that time, we were unaware of that day being the Feast of the Annunciation, the Incarnation of the Word Who became Flesh. That knowledge would come later. For now, it was there, in the Protestant world, that our growing family was nurtured to know and love Jesus.
Crosses and Crossroads
As the years progressed, I came to learn that following Jesus is not as easy as knowing Him. When I was thirty-three years of age, I started to notice my mind and my heart struggling more and more to keep peace with each other.
Denomination was never an issue for my husband and me. We chose to attend the Mennonite Brethren church after settling in my husband's hometown. We had friends there, felt welcomed, and were comfortable. It was not a perfect life in the twelve years we attended there, but we were both loyal, and the church was our family.
Perhaps that is why it disturbed us so much when our church split. One third of the congregation left due to a new allowance of women pastors. We too, were confused, but believed a meeting with our lead pastor would assure us that Jesus would be OK with the change in teaching. The meeting turned out to be a traumatic one. He assumed we were just another couple coming in to accuse him of blasphemy. He reacted to us with harsh words and sent us out of the church in less than ten minutes, after sternly defending himself with several Bible verses. Our naïve view of church leadership was starting to crumble.He asked me what I thought of everything that was happening.... I told him that I was unsettled... after reviewing parts of the Bible where there seemed to be a pre-established Church order (1 Timothy 2–3; Ephesians 4:11). He...told me… Click To Tweet
I later ran into another acting pastor from that church. He asked me what I thought of everything that was happening and how I was doing. I told him that I was unsettled, especially after reviewing parts of the Bible where there seemed to be a pre-established Church order (1 Timothy 2–3; Ephesians 4:11). He laughed and told me that I would only find what I was looking for in the Catholic Church. I laughed with him, as everybody knew that Catholics were legalists who worshiped Mary, prayed to statues, and wore good luck charms. He then referred me to our church's website. It displayed both positive and negative views of women pastors. Both were based on Scripture. It seemed to suggest that we were to "define our own truth." Our mountain of truth was crumbling.
It was during this time that some of our trusted friends started pushing their own theology. No Trinity. Saturday Sabbath. Adult Baptism. Our more relaxed Bible study group recommended that we shut these friends out of our lives. Both sides quoted Scripture or maintained the lack thereof. My favorite well-known online Baptist preacher taught that God predestines people to go to hell. My favorite Evangelist author taught it didn't matter if you sinned before receiving the Lord's Supper. The controversies in Scripture and leaders seemed to be increasing in our lives.My pride had lifted me to dangerous heights. It was here, on this threshing floor, that I had no strength left to run. It was also here that God could finally catch my attention with His gentle touch. Click To Tweet
Fear drove me. My faith had not yet grown to believe in the unfathomable goodness and power of God. Compelled by my own scars from memories of my own abandonment history, I strove for knowledge. I was a mother, wife, and homemaker. I had a professional career. On top of that, I carried many extra burdens to gain approval and security. During my fourth pregnancy, I suffered a miscarriage. Not only was it painful in body and mind, I fell hard in a spiritual sense. My pride had lifted me to dangerous heights. It was here, on this threshing floor, that I had no strength left to run. It was also here that God could finally catch my attention with His gentle touch.
Amazing Grace
It was here, again, in this dry desert that my soul roamed for about a year. It was a quiet time, where I could hear tender words of mercy spoken to my soul. In this faraway land, I affirmed with God "all is gift." Once again, He tenderly carried me back to the land of the living and offered me new life.
It was then that I was invited to my little sister's baptism into the Catholic Church. In the beginning, I had felt an urge to protect her from taking a wrong turn. As she visited our home, she explained the Catholic Church is the only one that is apostolic. I shared my fears of entering what seemed to be a barnacle-harboring, medieval ship with pirates. However, this conversation left my heart feeling regretful. We talked some more and prayed together for a sign. When I dropped her off at the airport the next day, her departure room had only two people sitting in it: two nuns dressed in full attire. It was the first time I had ever seen a nun. God was drawing me to come and support my sister's baptism, which was to take place in a few months.
It was then, too, that I attended my first Mass, on Easter Vigil 2015. I had never before started a church service in the dark. As we made our way outside under the moonlit night, I felt like a kid again beside my sister. We kindled our little candles from the large one that represented the light of Christ. Back into the dark building we went, lighting it up like the first peeping stars of the night. Tradition didn't seem so bad. The music seemed to chant into a little lost corner of my spirit. I was still grieving the loss of my baby. The stained glass windows of the saints brought back shrouded hopeful dreams that I once had harbored of my little girl in heaven. The holy water sparkled as it greeted the joyful people around us. The liturgy seemed to make poems of different Bible verses. The old and the new seemed to rhyme. My heart was delighted; my mind was hushed.
I left there that evening with the Creed ringing in my ears: I believe in one, holy, catholic, and apostolic church. Wouldn't it be nice if this were true, I wished.
I Believe
When I got home, I told my husband about this beautiful experience. He once again reminded me of all the many heresies the Catholic Church taught: A priest must forgive their sins. The Lord's Supper was made to be a meal for vampires. The Pope never sinned.
Still, God breathed into me. He started by illuminating His Providence throughout history: "I brought forth Abraham. I Am the Exodus. I carried the Israelites. I lifted King David. I birthed my Church, and I am with her until the end of time."
All I could conceive in my mind at that time was the unfolding of His Word, starting from the beginning of the Old Testament right into His Church. Not once did this depend on our perfection or strength. Surely, this same God would not let the fulfillment of truth be covered in barnacles, scattered in thousands of denominations or hidden for the lofty to uncover (1 Timothy 3:15). This produced a holy fear in me that did not invoke a running or striving. Instead, I felt a peaceful surrender. Like Mary, who did not understand the angel's message (Luke 1:34), I simply confessed a misunderstanding of His Church. Like Mary, who believed no word shall be impossible with God (Luke 1:37), I merely accepted the authority of the Church because God told me to. I was excited to learn about the Church He talked so much about in the Gospels from His perspective. It was only after this gift of faith on God's part, and an act of faith on mine, that God began to transform my prejudices into beautiful mysteries that I could begin to understand and appreciate. He did so in His own time and in His own way. He truly knows us better than we know ourselves and helps us in our weakness (Romans 8:26-27).
This was once again a honeymoon phase, except this time I was falling in love with Jesus' Church. This compared somewhat to the unveiling of a wedding cake. I felt like all my Christian life was spent studying the recipe and shopping for ingredients. It is only after seeing the beautiful cake, the fullness of His Saving Word, that I could say with confidence: "Yes, He is truly lovely." However, I had to wait three years before I could eat this cake.
Waiting and Learning
My husband threatened divorce if I dared to start attending Mass, not to mention actually entering the Catholic Church. The priest I discussed the matter with, knowing my situation, counseled me not to attend Mass for the time being. He explained the priority of the Sacrament of Marriage. To contradict and injure one sacrament by receiving another (the Eucharist, as much as I craved it) is not God's way.
This was a time of profound confusion for me. I did not understand what God was doing. So many times I begged Him to relieve me of this tension. However, looking back, I can see that His power is made perfect in weakness (2 Corinthians 12:8-10). Wisdom knew this was a good time for me to learn how to trust, obey, and grow in patience and humility.
Extra Books?
He also used it as a time to learn what His Church really teaches. He started with a book by Henry Graham on the history of the Bible. I had tried to understand this before, but always found the explanations unsatisfying and perforated. The most trained Protestant theologians usually liked to offer an oversimplified "we got the Bible from God." I now imagine the can of worms that would have been opened if they had admitted it was the authority of the Catholic Church that decided which books would be included. It was particularly interesting to discover that the same movement that removed some books of the Bible after over a thousand years of Christian use, also wanted to remove our epistle of James and the beautiful book of Revelation. These were only just more contradictions to an extreme push back on the times desperately in need of balance. For example, if there was an emphasis on works, the cooperation of faith and works in James 2:22 would have been a more biblical solution than sola fide, which contradicts James 2:24 ("a man is justified by works and not by faith alone"). I was also surprised to find verses that actually encourage tradition, contradicting sola Scriptura. My personal favorites are 2 Thessalonians 2:15 and 2 Peter 15-16.I have to say that the spirit of the Reformation reminds me more of my parents' divorce (Malachi 2:16) than that of Jesus' cleansing of the temple (Matthew 21:12). Click To Tweet
Reformation or Divorce?
I have to say that the spirit of the Reformation reminds me more of my parents' divorce (Malachi 2:16) than that of Jesus' cleansing of the temple (Matthew 21:12). I imagine that zeal for God's house is what prompted the reformers (Psalm 69:9); however, God has always been jealous for His fiancée (Exodus 34:14), whom He purified time after time. The night before consummating His love for Israel, He prayed "that they may all be one; even as you, Father, are in me, and I in you, that they also may be in us, so that the world may believe that you have sent me" (John 17:21). If His bride, Israel, has become His Church, her body is His Body, and the Reformation is a scandalous divorce. For Christianity must witness to the world that all things hold together in Christ (Colossians 1:17).
Justice or Mercy?
Next came the foreign teaching of Purgatory. It was always explained to me as something added to the sacrifice of Jesus Christ. This was something obviously blasphemous to Protestants, and I now know it is just as blasphemous to Catholics. God used a near death experience of a famous neurosurgeon by the name of Eben Alexander to help me warm up to the Catholic understanding of Purgatory. It seemed to be a place of "extra time" to cultivate a desire to detach from the world and to love God. He even relates "visits" to heaven while in this place of growth. It seemed to be a place of mercy, especially in light of Hebrews 12:14, which tells us that nothing unholy can enter Heaven.Purgatory....seemed to be a place of mercy, especially in light of Hebrews 12:14, which tells us that nothing unholy can enter Heaven. Click To Tweet
The Eucharist and Mary
After that came the Eucharist and Mary. For me, Scripture was not enough to grasp anything tangible on either, although there were some verses that certainly seemed to point to something more than just Protestant views.
For example, I had never connected the end of Revelation 11 to the beginning of chapter 12, especially in relation to the fulfillment of the Ark of the Old Covenant (Exodus 25:11-21). Still, Mary seemed to be a stranger between myself and the God Who had recently told me nothing can separate me from His love (Romans 8:38-39). Yet, in His mercy, He introduced Mary's soul to me in a dream. I struggle with words to justify her to you, but I can say she magnifies (Luke 1:46) the secret in fulfilling our Christian mission. She shows us children of Eve how to carry Jesus well with humility and obedience. If it is easier for a camel to pass through the eye of a needle than for a rich man to enter the kingdom of God (Mark 10:25), there is no soul poorer or more humble than Mary's.
Moving on to the Eucharist, there sure seemed to be many literal terms on eating His flesh and drinking His Blood in the Gospel of John. However, the idea of eating another human being did not seem like a very important part of the Christian walk to me. I think that is why God chose to reveal Mary to me before the Eucharist. She helped me to get to know Jesus better and love Him for Who He is. She helped me to understand that He is fully human and fully God, and you cannot separate His humanity from His divinity. In other words, His Body and Blood, Soul and Divinity are God as well as man. All of Him is human and all of Him is God. When I began to penetrate this mystery, I began to be in awe of this God-Man. His Blood is far more precious than we can ever fully comprehend. His Flesh is far more heavenly than the manna that rained down in the desert (John 6:31-34). Both have destroyed the devil (Hebrews 2:14). It is here that I began to desire uniting my whole being to Him. This is the hope of our resurrection (John 11:25). This is His hope for His broken world, for His Body is made present in ours to be His hands. For the first time in my Christian life, my faith has satisfied me and equipped me to do His will (Hebrews 13:20-21).
Conclusion
As for my husband, his heart has slowly warmed up to the idea of the Catholic Church. Three years after my conversion, he started to support me on entering the Church, Easter 2018. Desiring baptism, he and our children were baptized Catholic the following Fall. We have been attending Mass together as a family ever since, and I trust that God, who began a good work in all of us, will bring it to completion on the day of Jesus Christ (Philippians 1:6).