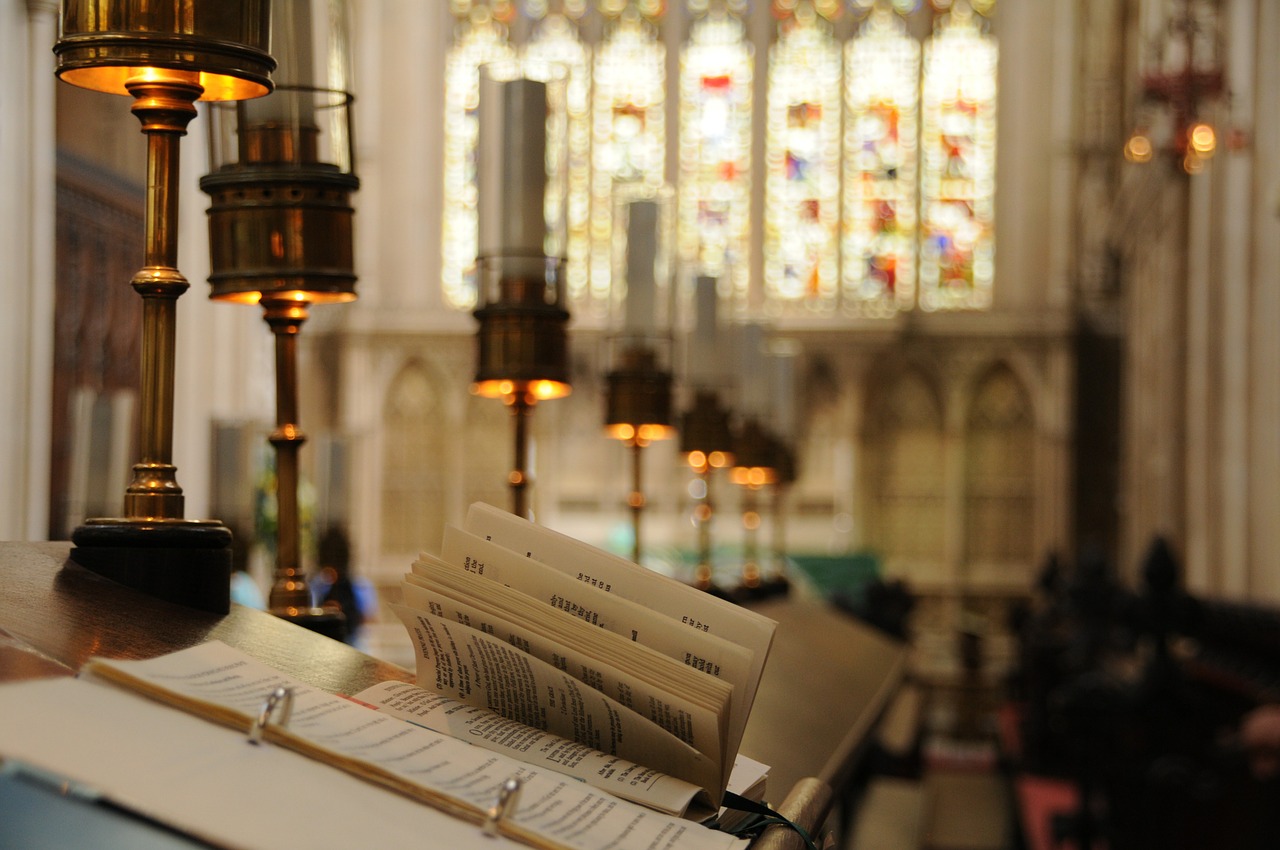 Matthew
"Catholics are not saved and probably are not Christians" — an ignorant statement, but it is an accurate summary of my "knowledge" about Catholicism as a child. My father, a Bob Jones University graduate and fundamentalist Baptist preacher, raised me with little knowledge of Catholicism, other than the assertion that it was bad and unbiblical. My rela- tives and my father's friends were all Protestant, and I knew few, if any, Catholics. Still, I am thankful to my father and the fundamentalist churches for instilling in me a strong respect for Scripture, a moral foundation, and the discipline of weekly church attendance.
Elisabeth
My father and mother were Episcopalians in the most traditional sense. My father is a 33rd degree Mason; he takes great pride in his English ancestry and the prevalence of Episcopalianism in the founding of America. He has little use for Catholicism within his own family. According to my parents, Episcopalianism left them during the 1970's. They remained devoted to the 1928 Book of Common Prayer and the traditional positions of the Episcopal Church. Unfortunately for them, the only church within driving distance still using the 1928 Book of Common Prayer was a tiny little Anglican Catholic Church in Akron, Ohio — 20 people strong on a busy Sunday. The priest who catechized me was mere steps away from true Catholicism, complete with Marian devotion and "smells and bells," as incense and high Masses have long been known in Anglicanism. My parents never officially joined the parish because it was far too "catholic" for them, but our family attended from the time I was three years old, and my parents still attend there.
Matthew
As a teenager, I rebelled against God and rejected Christianity. Even during my teenage rebellion, though, the solid foundation of faith that my father had laid pricked my conscience and eventually brought back His prodigal son. Towards the end of my senior year of high school, I began reading C.S. Lewis's theological works and was impressed. But I soon realized that the "mere Christianity" Lewis discussed was different — deeper and more historical — compared to the fundamentalist faith in which I had been raised. The historic and creedal underpinnings of Lewis's Anglicanism aroused my interest, especially when compared to the Baptist faith. I remember picking up a copy of St. Athanasius's On the Incarnation of the Word because Lewis had written the foreword. I no longer remember how I reacted to Lewis's introduction, but I was thrilled by Athanasius's theology. His statement that God became man so that we might become God struck me with fear and intrigue. The deification principle was unknown to me, as was most of Christianity's historic theology. Back then, I knew nothing about the Church Fathers. Neither the fundamentalist churches nor my father had mentioned them. With my limited insight, I began to search for a church that aligned more closely with Lewis's faith and the one outlined by Athanasius.
I first tried an Episcopal Church. The left -wing, politically correct slogans in the church hall and the liberal and political aspect of the Bible study caused me to leave prior to the holy communion service. Next, I visited an Eastern Orthodox Church and was fascinated by the Divine Liturgy, but it was too much for my Baptist background.
But one Saturday when I was browsing church ads in the newspaper, I came across the Reformed Episcopal Church, which described itself as "liturgical, reformed, historic, and creedal." That caught my attention! I visited the small, store-front church and found an Anglican church that was somewhat like what Lewis described. Though Church of the Epiphany was low-church, it used a version of the 1662 Book of Common Prayer, and I fell in love with the beauty and cadence of the traditional Elizabethan language of the Prayer Book. Also, the pastor offered Bible and Church history studies that were engaging and informative. I began to grow in my faith and understanding of historic, liturgical, creedal Christianity. Occasionally, the pastor and several members — including myself — would visit a neighboring Anglican church called St. Mary's, which we all agreed was too "high church" and "catholic," but we had a good relationship with the priest there, and we enjoyed discussing the liturgical and ecclesiological diversity within Anglicanism.
Elisabeth
I continued to seek out the 1928 Book of Common Prayer service throughout college and my immediate post-college years. From 2001 to 2002, I taught Latin at an Evangelical Protestant high school near Akron, Ohio. I was very restless, though, and chose to leave teaching to pursue a one-year post-graduate course of study that would provide the theological grounding for the Great Books education I had received in college.
During the summer before I left, I met a young man named Matthew at the tiny Anglican Catholic Church in Akron, Ohio, (seemingly against all odds, since we cut the median age of that parish in half!), and we quickly realized that we loved the same things and were reading the same things. For instance, he was somewhat sur- prised and quite pleased to learn that I was reading Augustine's City of God in preparation for my studies in Canada. We immediately found that we had common ground in many areas, particularly in the area of faith. He had just finished seminary studies at a traditional Episcopalian seminary and was heading to New Jersey that fall to pursue his PhD in English Literature.
We talked on the phone nightly throughout that year and found that we were reading the same authors at the same times in each of our respective courses of study, which meant that we could discuss the theological and philosophical concepts we were encountering. He was able to explain some concepts I was struggling with, and we both came to the realization that my stubborn Anglican doubts about Catholicism and his extensive background in the Church Fathers were actually a beautiful combination.
That year laid a strong foundation for his teaching and my learning about the Catholic Faith (though we did not see it that way and continued to worship at Anglican churches). It definitely gave me a deep respect for Matthew's knowledge. He never pushed an idea; he simply explained it carefully, often multiple times!
Matthew
In the spring of 2000, I was ready to graduate with a Bachelor's in English, and I was thinking about my next move. I prayed about it and decided that God wanted me to attend seminary. I was unsure if I was called to ministry or not, but I knew I would value the formal theological education. I applied and was accepted at Cranmer Theological House, a seminary of the Reformed Episcopal Church.
At Cranmer, named after the architect of the Anglican Book of Common Prayer, I received a strong grounding in biblical studies, liturgical studies, and ecclesiology.  The seminary was caught between its affiliation with the Reformed Episcopal Church — an historically low church, evangelical break-off from the Episcopal Church — and the high church, more-catholic mentality of a number of its professors and students.  My Baptist upbringing caused me to sympathize with the low church component at first, but my readings in the Fathers and the medieval church increasingly led me to see the cor- rectness of the high church position. I listened to both sides of the argument — which was instructive — and emerged from seminary with a high church bent.
Perhaps those who have not studied Anglicanism do not realize how "catholic" high church Anglicans can be. The Rosary, auricular confession, Marian devotions, apostolic succession, and a sacrificial notion of the Mass are a few of the beliefs and practices of some high church Anglicans. While I had not adopted all of those views yet, I was much more sympathetic to them after attending Cranmer House.
After graduating, in the summer of 2002 I met my future wife. I had returned from Texas to spend the summer in Ohio and, due to a scheduling conflict with my summer job (and the providence of God!), I could not attend the local Reformed Episcopal Church. My pastor advised me to attend St. Mary's Anglican Catholic Church, the one we had visited a number of times. A budding Anglo-Catholic, I found statues of Our Lady, icons of the saints, and a liturgy that was an Elizabethan translation of the Tridentine Rite with some additional elements from the historic Book of Common Prayer mixed in. I was happy theologically, and I was also happy because I had met a young woman at St. Mary's whom I had previously doubted could actually exist: a beautiful, intelligent, spiritually minded, liberal arts loving, young Anglo-Catholic traditionalist.
Elisabeth and I hit it off immediately. We both loved discussing theology, literature, philosophy — the permanent things. In addition, we were both politically conservative. The only problem was that she was heading to Canada for a year of theological study, and I was headed to New Jersey to begin my doctoral studies in literature. But that year turned out to be incredibly wonderful for our relationship and our spiritual development.
We were often studying and reading similar things: St. John Chrysostom, St. Augustine, St. John of Damascus, Fr. Alexander Schmemann, and other Eastern and Western theological writers (my doctoral study at Drew University combined both literary and theological topics). Our conversations on spiritual and theological themes would often last two to three hours. After a year of study, we both returned to Ohio for the summer and were engaged in July, a year after we met.
Over the course of the next year, Elisabeth entered law school in the Washington, D.C. area, and I returned to my doctoral studies at Drew. Our long-distance conversations continued, and we built an early foundation of communication about things that mattered.
Elisabeth
We married in the summer of 2004. Matthew took a job teaching Latin at the Evangelical high school where I had taught. And our spiritual journey continued. We attended the Anglican Catholic Church of my youth, all the while becoming higher and higher in our churchmanship. I began wearing a veil at that church merely as an acknowledgment of submission to Christ and to the spiritual authority of my husband (Ephesians 5:22–33). Little did I know how my view of that would evolve over time!
Eventually, Marian devotion became a serious question for me. I realized a stark lack in my faith. If God the Father and God the Son were the archetype of a family structure, and Mary provided the maternal figure, where was the maternal figure in my own faith life? Could it be true that the Blessed Mother — as I am now blessed and privileged to know her — was my mother as well? My husband bought me the book The Rosary Handbook by Mitch Finley. In retrospect, I believe this is where my openness to Catholicism began, but the journey would continue for some time.
During the spring of 2009, we were blessed to learn that we were pregnant with our first child. We attended a seminar that summer at the Rockford Institute in Rockford, Illinois and spent many hours in conversation with faithful Catholics and Catholic priests. While they had a great deal of respect for the Anglican liturgy, they rather knowingly implied that our current Anglicanism was part of our journey toward Catholicism. I personally could not imagine that they were correct, and I resisted mightily. I had been raised to believe that Catholicism was steeped in error: papal and Marian doctrines, saint worship, and — worst of all — the concept of the Real Presence. My father was always dismissive of these "heresies," as he called them.  Thomas Cranmer was a hero to him. It had never occurred to me that the Reformation wasn't simply a good thing, or that the Catholic Church was anything but riddled with error. But on our way home from that conference, my husband began discussing these questions with me. We both agreed that we were in the right place in the Anglican Catholic Church. Neither of us felt pulled toward Catholicism.
Matthew
In 2009, I visited St. Sebastian Catholic Church in Akron, Ohio because the Church was hosting a Hilaire Belloc impersonator. I had been reading deeply in Chesterton and Belloc and was particularly impressed with their promotion of distributism, a system which I saw as vastly superior to both capitalism and socialism. I had already realized the wisdom of traditional Catholic social teaching. Fr. Valencheck, the priest at St. Sebastian, welcomed me warmly. We talked briefly at the Belloc presentation, but in God's providence, Fr. Valencheck and I crossed paths several more times soon after that. I saw him, for instance, at a Shakespeare play and at a restaurant. God kept him and our conversation in the forefront of my mind. We would have many wonderful conversations prior to my conversion.
In the summer, the evangelical school where I had taught previously asked if I would return to teach both English and Latin. I agreed; the only university teaching position I had been able to land was an adjunct position, which was part-time with no benefits. Returning to an evangelical environment underscored my deep differences with that theological system. Several faculty members who respected my knowledge of the Church Fathers asked me to lead a faculty Bible study of the Gospel according to St. Matthew. My text was the Ancient Christian Commentary on Scripture — I had studied with several contributors to the series during my time at Drew University.  The series collects commentary from Fathers of the first eight centuries of the Church on passages of Scripture. One member of the study — a committed evangelical — remarked during the course of my study that the Catholic position on a number of topics, which I presented fairly and accurately, really made sense and was in agreement with Scripture and the early Church. Well, that was my conclusion, too!
By the fall of 2011, I was in serious conversations with Fr. Valencheck about converting to Catholicism. A practical obstacle was employment: My wife and I had one child — Eleanor — and another one due in February 2012. I knew that I would need to find a new job if I became Catholic.
Two 19th century works that I read at the time greatly influenced me. William Cobbett's A History of the Protestant Reformation in England and Ireland, a scathing critique of Anglicanism, caused me to realize its weakness and inherent liberalism. Cobbett, though he never converted to Catholicism, sympathized with Catholicism and pointed out numerous problems within Anglicanism, including its promotion of the state over the Church, its attack on the divine origins of the Church, and its contribution to the breakup of Christendom. As a staunch traditionalist and one who strongly identified with my forefathers, I placed myself mentally in the time of the Reformation: would I have supported Christ's Church or the Protestant rebellion and revolution? As you might guess, then and now I stand with the Holy Roman Catholic Church.
The other work that I read was the letter that the poet Gerard Manley Hopkins wrote on October 16, 1866 to his Anglican father announcing that he was leaving Anglicanism for Catholicism. It is a beautiful letter in spirit, but it is also filled with well-reasoned arguments as to why Catholicism, rather than Anglicanism, is correct. He lists his reasons for converting, and they are so strikingly similar to mine that I want to quote Hopkins:
My conversion is due to the following reasons mainly (I have put them down without order): (i) simple and strictly drawn arguments partly my own and partly others', (ii) common sense, (iii) reading the Bible, especially the Holy Gospels, where texts like "Thou art Peter" (the evasions proposed for this alone are enough to make one a Catholic) and the manifest position of St. Peter among the Apostles so pursued me that at one time I thought it best to stop thinking of them, (iv) an increasing knowledge of the Catholic system (at first under the form of Tractarianism, later in its genuine place), which only wants to be known in order to be loved — its consolations, its marvelous ideal of holiness, the faith and devotion of its children, its multiplicity, its array of saints and martyrs, its consistency and unity, its glowing prayers, the daring majesty of its claims, etc. etc.
I felt a kindred spirit in Hopkins, and his letter encouraged me during the times I faced the disapproval of those close to me, including my father.
Elisabeth
In the spring of 2010 we suffered a very difficult loss. Our beloved priest in the Anglican Catholic Church — a man who had been a father figure to us both and had counseled and married us — passed away. Three days later, we welcomed our first child. As a couple and as new parents, we were deeply saddened that the man who had loved us so much and had prepared us for marriage would never meet our baby. We also struggled as our little church family reeled and the search for a new priest went very badly — falling largely on my poor husband's shoulders because he was ordained a deacon in June, after Father's passing. Father's death forced us to confront the future of the Anglican Catholic Church, and it was bleak. While people stayed in the parish during this time of turmoil, there was no question that the structure for dealing with a situation like this simply did not exist. There are no "extra priests" in the Anglican Catholic Church. There was no seminary in our diocese, or even in a neighboring diocese.
That summer, we returned to the Catholic seminar that we had attended the previous year. Again we were greeted with knowing looks and gentle encouragement about our faith. This time, as we drove home discussing what we had learned, my husband began addressing questions about our faith that he had been pondering. I realized with a sense of panic that he was seriously considering converting to Catholicism! It was this conversation as we drove through Chicago that caused me to realize that the Anglican Catholic Church was lacking in one fundamental regard: It had no Magisterium to deal systematically with every aspect of the faith.
Both my husband and I were aware of that lack on one particular burning question. That was the question of life. He and I had always been pro-life, but we had not carefully considered the implications of that position on issues such as artificial birth control. As we did so, we found that the Catholic Church provided the faithful with the thorough framework they needed to form their own faith and to answer the questions of those outside that faith.
In the fall, I was close to losing my mind dealing with a child who never slept. I was becoming completely hemmed in and isolated. In the wee hours of the morning during a particularly bad night, I located and reached out to a local Catholic moms group to ask if I could become a member. Unsurprisingly, they had never heard of an Anglican Catholic. But when I explained my beliefs they let me join.
In the moms group, I was exposed to the Catholic Faith in ways I had never expected. These were wonderful ladies who were looking for ways to include their faith in every aspect of child rearing. I joined a women's study with them shortly after we found out we were pregnant with our second child. The study was Johnette Benkovic's Full of Grace. Nothing could have been more timely. I was overjoyed to find a study that did not dumb down Scripture or leave an entire study up to personal interpretation, unlike the many Protestant studies I had done. This was a study that married Scripture with the strength of Church teaching and the writings of the Church Fathers and the saints. The Catholic Faith began to make sense!
At the same time, I discovered Catholic radio (our Canton, Ohio station, 1060 AM, Living Bread Radio), completely by accident. What I read in the study was reinforced by what I heard on the radio. The questions I continued to have I could bring to my husband, who could explain them based on the Catechism of the Catholic Church (which he had read cover to cover during his attempts to answer his own questions), his study of the Church Fathers throughout graduate school, and his knowledge of liturgy and tradition. In retrospect, everything "just fit."
As I studied more about the communion of saints, the mystery of the Incarnation, its celebration in the Eucharist each Sunday, and the graces afforded to the faithful in the fullness of the faith, I became overwhelmed by what I had been missing. And the one person who stood out to me more than any other was Our Blessed Mother. Here was the mother figure so lacking in Protestantism. While I had prayed the Rosary before, I had not fully appreciated the role of Mary in salvation history. Suddenly I realized that she truly does show us her Son, and she does so lovingly and with every prayer for our salvation. Instead of seeing her as a distraction or as an idol, as I was encouraged to do in my Protestant upbringing, I began to understand that she is my mother. And I then understood veiling before the Blessed Sacrament in a whole new way. I saw the triumph of our Blessed Mother in her humility, which causes prideful Satan both to seethe and suffer defeat. By embracing her humility in veiling before her Son, I could hope to emulate her in some small way and to honor her in honoring Him.
I do not mean to imply that I had no moments of doubt. I harbored the mistaken belief that we could return to our Anglican Catholic parish to "visit" so that things would be easier for my parents. In this way, I thought I could stay connected to the Anglican Missal, which I loved. I struggled with the Latin Mass, which was the Mass my husband and I had been attending, because I initially missed the Anglican liturgy. And some of the Catholic doctrines continued to trip me up, especially the doctrine of purgatory. But continued attention to Catholic radio and to my husband and our priest helped me to sort out those questions, and ultimately to embrace the liturgy and our new home without reservation.
Matthew
After much prayer and many conversations with priests and with each other, my wife and I decided to take a leap of faith. We left our Anglican Church in November of 2011. By then, I had been ordained a deacon, and it was diffcult in some ways to leave. But my family and I had begun attending the Latin Mass at St. Sebastian, and we immediately knew we had made the right decision.
With the help of the Coming Home Network, I revised my résumé, and I began applying for other positions. On Christmas Eve 2011, a local state university, to which I had applied for a non-teaching position, called and offered me a job. I accepted, and on February 4, 2012, my family and I were received into the Catholic Church, just days before the birth of our son. I took the name of Athanasius because of his rock-solid defense of Jesus Christ against the Arians and because I had read his On the Incarnation at the beginning of my search for historic Christianity. My wife took the name Monica, after St. Augustine's mother, a wonderful example of someone who persevered in her prayers for the conversion of her son — as others, we found out later, had been praying for us. I believe that both Athanasius and Monica were praying for us and welcomed us home.
I am so thankful that my wife and I were true partners in this journey and entered the Church together. We talked and talked about our decision — much like we discussed theology when we first met. Our parents and many friends were not happy with our move, and we have lost some closeness to both family and friends. But my wife never wavered in her support of me and in her search for truth. I know that I am blessed beyond measure that we both agreed on this fundamental decision.
Elisabeth
It still amazes me, in reflecting on my life, to see that my conversion story began long before I was aware of it. I am blessed by God's patience with me and His gentle encouragement. I will forever be grateful to Our Lord and to His Blessed Mother and to those around helping to guide my journey home.
Matthew
I am excited to continue growing in the Catholic Faith. It is so large and so multi-faceted that I never grow bored — there are always more areas to study, more ways to grow. I try to integrate my faith into all areas of my life, including my employment, where we have recently enjoyed a wonderful blessing. I desired a position at a Catholic institution, preferably a university, which would allow me to exercise my faith and to use my doctoral degree. But with the stipulations that we wanted to stay in the Northeast Ohio area and wanted Elisabeth to stay home with the children, I assumed that I would not be able to find a suitable position. But God is good! I am now Executive Director of the James B. Renacci Forum and Center for Civic Engagement and Visiting Professor of English at Walsh University, a Catholic University of Distinction and one recognized by the Newman Society for its strong Catholic identity.
Currently, my wife and I are deepening our Catholic faith within our home. We now have four beautiful children who attend the Latin Mass and are learning the Faith. We are proud that our two older children know the Pater Noster, the Ave Maria, and the Credo in Latin and in English. We read them stories from the Bible and other theological works and pray as a family every night. Both Ellie and Matthew can lead the Rosary; they will stop wherever they are to say an Ave Maria when they see or hear an ambulance, and they cross themselves as we pass the many Catholic churches in our area. Bethany and Mary, our two younger children, will soon be joining their sister and brother in their prayers and theological readings as we strive to celebrate and practice the fullness of the Faith in our domestic church. Our family is blessed and grateful to be at home in the Catholic Church.
Elisabeth
Looking back over the last 15 years of my life, it is not hard for me to see that God was preparing me for my conversion very slowly. After all, He knows me best, and He knows I don't do well with sudden change! From my college education and search for a church home, to the timing of meeting my husband, to the journey we began and continued together as husband and wife, and the blessings God continues to heap on us, God has guided our steps and brought us home to the Catholic Church.
.