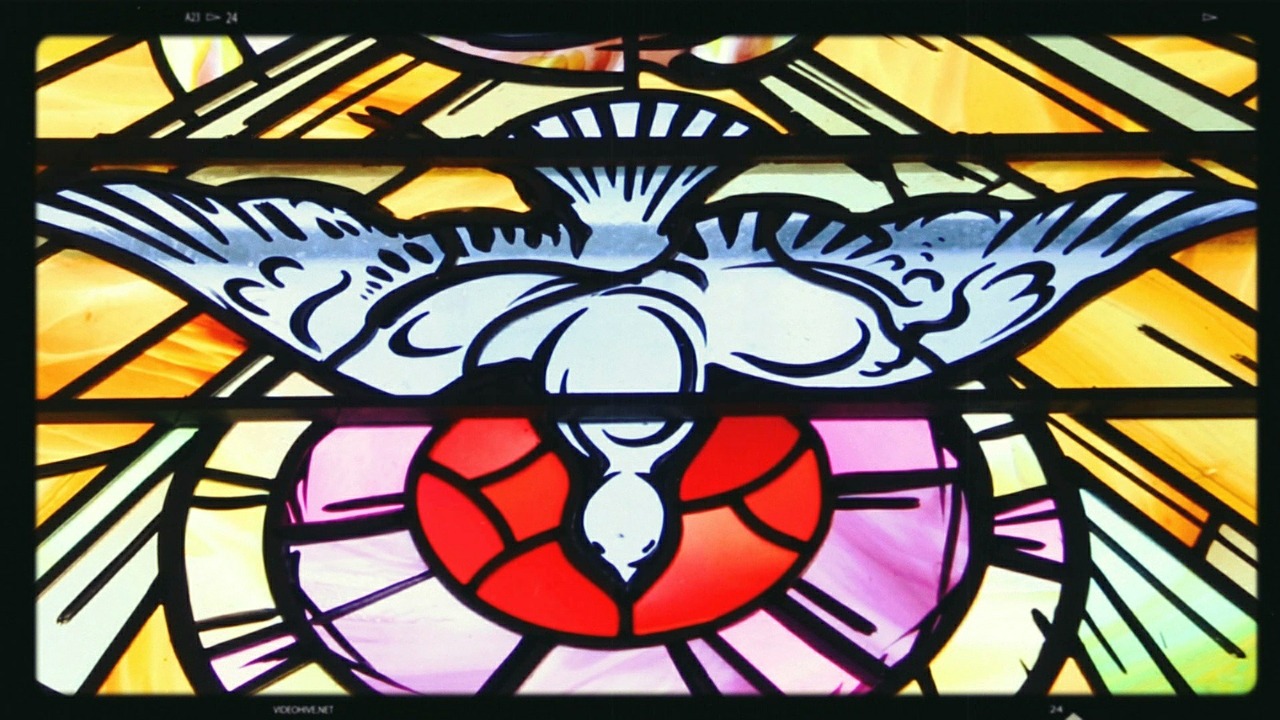 I grew up in a lower middle class home on Long Island in the 1960's and 70's. My father was of German descent and the youngest of ten children. My paternal grandparents were rather well off and ran a strict but devout Catholic home. Two of my father's sisters became Visitation nuns in Mobile, Alabama. One aunt was a cloistered nun, while the other became an extern sister. When I was a boy, our family visited the monastery several times, and I served as an altar boy while I was there.
My maternal grandparents were immigrants from Ireland, and they also were devout Catholics. Both my father and mother had a special devotion to the Blessed Mother, which in turn also had an effect on my faith walk. As a young child and teenager, I not only served daily Mass but attended weekly novenas and Benediction. In my late teens, I also took part in the Nocturnal Adoration Society devotions at a neighboring parish, although I must admit I was greatly influenced by the gatherings we would hold at the late night pizza shop on Saturday nights after devotions.
The Church, then, was an integral part of my life from an early age. I was well grounded in my family practices and beliefs. When I was in the third grade, I was the youngest boy in our parish to be selected to serve as an altar boy. I developed a love for the Mass; I loved serving it, and even took to learning the Latin responses seriously. My favorite priest in my early years of serving was Fr. Frank. He was Italian, with a thick accent, but was extremely fun-loving and easy-going. He was in charge of the altar boys, and I thought it a great honor when he presented me with the Altar Server of the Year award. I also had the privilege of laying out his vestments and chalice before Mass, a task he usually reserved to himself.
I attended the parish elementary school for all eight years, and then at my parents' urging, attended a Catholic high school rather than the local public high school. Maria Regina High School, now Bishop Kellenburg High School, in Uniondale, NY required a school bus ride of 1 hour and 15 minutes each way. Some of those rides to and from school were highlighted by some very memorable antics and pranks to which we would subject each other, but we took special delight in torturing our poor Jewish bus driver, Oscar, who remained good natured and tolerant of all 35 of us teenage Catholic delinquents for four years on that bus. Why he never requested to be assigned another bus I will never understand.
As a kid, I was unusually timid and shy until I got to know someone well and felt comfortable around him. During my time in high school I revisited a thought that had originally entered my mind while I was still in grammar school, and that was the priesthood. In fact, I recently found a letter from my pastor from 1974 recommending me to the Formation Director of the Diocesan Seminary at Douglaston, NY.
Drifting Away
Then I turned 18. About this time I met a beautiful young nurse who was a cousin to a family of friends I had grown up with. The idea of becoming a priest fell by the wayside as I pursued and eventually succeeded in getting this girl to date me. Having grown up only a block from the local volunteer fire department, and having family and friends who had been volunteer firemen, I joined the fire department at that young age, while attending St. John's University in Queens, NY. At this time, my faith was still important to me, but eventually I began to slip away from the Church. Between the party life at college and the bonding with my fellow firefighters, which usually was at a bar, I soon was engaging in behavior very foreign to my upbringing. My girlfriend, Eileen, and I had become engaged when I was 19, but she soon tired of my lack of focus, direction, and purpose in life and broke up with me. I was wallowing in a dark place that broke my parents' heart, dropping out of college, moving from one job to another, spending my free time at the firehouse or a bar. It seemed that I had abandoned all their hopes for me.
My father, who suffered from severe heart issues and had several heart attacks, became increasingly ill. Eileen had remained close to my father even after she and I broke up. They shared a special father-daughter relationship that was almost as close as a biological bond. Eileen went with me to see my father in the hospital. I stood at his bedside, fully aware that my lifestyle and the abandonment of my faith had literally broken his heart. There I experienced the most Christ-like expression of forgiveness I had ever encountered. Grasping my hand and removing his oxygen mask, with tears in his eyes he said, "I love you, it's not your fault." Shortly afterwards, he passed away.
An Interim Return
I once again found my forgotten faith, went to Confession, returned to the sacraments, held onto Jesus, and asked for guidance. Eileen and I got back together. I found a steady job as a paralegal in Manhattan. Eileen and I married less than a year later, seven years after our initial engagement and breakup. We eventually moved to upstate New York, where I became employed with the Sheriff's Office as a Corrections Officer, while Eileen took a break from nursing and went to work for the Postal Service. We became active in our local parish, working with the youth group. I became a lector, and we enjoyed the fellowship of other young families in the parish.
Eileen and I had very much wanted to start a family. We were not successful in conceiving and wound up spending thousands of dollars on doctors, medications, and specialists to no avail. Eileen had to undergo surgery to remove a mass of endometriosis. She followed up with outpatient treatments, but was still not able to become pregnant. We were heartbroken and dejected.
Eileen's family had close ties with the Columban Fathers, who served as missionaries in China, the Philippines, and other places around the world. Fr. Bob was a lifelong friend of Eileen's dad; he had served for forty years in the Philippines with the Columban Fathers. The idea of adopting came into play, and specifically of adopting from the Philippines. Eileen's sister had married a doctor from the Philippines and had family ties there. Through her, we began a long, arduous, expensive, and exhausting journey that would last two years. Finally, after seemingly endless interviews, paperwork, home visits, and outlays of fees and expenses, we received in the mail a picture of twin boys, two years old, that were eligible for adoption from an orphanage in Manila. Another year and a half passed before we finally received approval from the U.S. and Philippine governments to travel to the Philippines, bring them home, and pursue final adoption and citizenship status for our new family. When we arrived home with them, our parish youth group had decorated our home and arranged a reception to welcome Tim and Steve to the Raab family and the family of Saints Peter and Paul Church. Of course, their baptism was a special day for all of us. We were amazed at how quickly both boys became Americanized and soon they were active in school and especially sports. Both boys eventually became altar servers, and we settled into a routine of normal family life. Tim and Steve are now 29 years old and living and working in New York City.
Pillars of the Church
I was asked to serve on the parish council and was eventually honored to receive the St. Joseph the Worker Award from Bishop Grosz in Buffalo, NY.
I began to study the life of St. Francis and was captivated by his mission of imitating Christ in the spreading of the Gospel message with simplicity, a spirit of poverty, and penance. I knew this was a true example of the Christian life and an avenue of being united with Christ and his work of salvation.
I located and inquired of a Secular Franciscan Fraternity in nearby Erie, PA. I began to attend their meetings and entered a period of discernment, study and prayer. I was received into the Secular Franciscan Order in 2001, eventually assigned responsibility of Formation for the fraternity.
Then, later in 2001, the 9/11 disaster happened. I lost a close friend and two school buddies who were NYC Firemen. I had grown up watching those towers being built. Eileen and I knew of several other family members and friends who were directly affected by the attack. It shook both of us terribly. We traveled back to Long Island to attend the funeral of my friend, whose remains were recovered, offering some sense of closure for his dear family.
Then, in 2002, I was diagnosed with severe blockages in my heart. Two stents were quickly implanted. A year later, I required an additional stent. I was only 44, and this condition was hard for me to accept. Eventually, I was diagnosed with moderate to severe depression, which I later learned can be triggered by heart disease and the procedures to correct it. I entered counseling and took medication for a short time. I began to question my faith, its practices, and what I termed at the time the unnecessary "rules and regulations" that seemed to be hindering true freedom in my expression of faith. On a follow-up with my Primary Care Physician, who is a wonderful doctor as well as a godly man and a devoted Evangelical Calvinist Baptist, I relayed my feelings of continued depression and discontent. He suggested the possibility of a spiritual cause of my condition, which served to feed my already existing doubts in my faith. I now believe that these doubts had been triggered by my depression. I believe that the Evil One is very adept at perceiving and capitalizing on our human weaknesses and illnesses in order to feed our doubt and fear. In hindsight, the presentation of a solution that was well-meaning and well-intentioned became the vehicle for separation from the truth I had known for decades. Dr. Tim asked if he could pray with me, and I readily agreed; I suddenly felt free and relieved of the feelings that had weighed me down for months. A co-worker and a couple of friends encouraged me to attend services at First Baptist Church after I started making inquiries about their church following my doctor visit.
The Pillars Crumble
Strangely enough, Eileen had also about the same time entered a period of searching for "something more" and questioning her faith. We decided to attend a service at First Baptist Church (FBC) on a Sunday morning. What was really strange is that the Baptist Church is right next door to our Catholic parish, and in fact shares a parking lot with it. The welcoming and reception we received at that first visit was overwhelming; never had we felt more at home than when we walked through those doors.
The pastor was and is one of the most humble, godly men we have had the privilege of knowing. His love of the Lord and the care for his flock is something that is rare in our times. We enrolled in formation classes, and he took us down the Romans Road. Between the love we were shown and the simplicity of the faith that relied solely on Scripture, it was easy to agree to its tenets. We were re-baptized in May of 2004 and became active members of the congregation. We just walked away from the Catholic Faith that had nurtured and sustained us for over 40 years and never looked back.
The truly tragic part of this story lies in the decision of our twin boys to reject not only their Catholic faith, but rather all expressions of Christian faith — or any other, for that matter. They have gone the way of so many other young people in today's world who depend on their own devices for survival and do not give much thought to their souls or questions of eternity. Thankfully, we serve the God of miracles and hope, so our fervent prayers and our undying love remain for the two boys whom God gave us from a struggling orphanage in the Philippines. As my wife always says, "This is not the end of the story."
During my 13-year absence from our Catholic faith, we became faithful members of FBC. We took part in Sunday services, which consisted of a few worship songs and a 45-minute message from the pastor, using an expositional preaching style. On Sunday evenings, we hosted "house church," in which we studied Scripture and Christian books. The class period was followed by a time of fellowship and sometimes a couple of worship songs. All of our teaching and preaching venues emphasized the idea that a church hierarchy was not necessary and that we were all priests, called to spread the Gospel message. The tenets of sola Scriptura and sola fide were emphasized, along with the promotion of the Calvinist viewpoint in the belief and expression of our faith. A pre-millennial view of the end times was a prerequisite for membership in our congregation. Eventually I became a deacon and Eileen became a deaconess. I was assigned a group of twelve to fifteen church members, for whom I was responsible in a program of "soul care." Along with any practical helps we might be able to offer them in time of need, all they had to do was call us, whether it be a prayer request, a complaint, or a personal problem. I also became a chaplain for a Protestant-based disaster relief organization and deployed to minister to victims of Superstorm Sandy and flooding in the South.
We were, for the most part, happy and content in our Christian walk and in our serving and worshipping the Lord and promoting the Gospel message.
The Holy Spirit's Nudge
Have you ever had a nagging twinge or discomfort that would only occasionally and briefly rise to the surface, but you would end by dismissing it as an annoyance that could be ignored? I started to get that feeling. It was not a physical pain or something I could readily identify, but a subtle feeling, a tug at my heart, a question, a desire to return to a place of knowing that was secure. I began to realize this as a series of gentle nudges to take another look at my Catholic Faith, which had sustained me for 48 years, even during my early rebellion. My response was to dig in my heels and denounce Catholicism to anyone who would listen, especially when the opportunity presented itself in a group such as at house church. A fellow deacon referred to the Catholic Mass as impossible "hocus pocus"; another, as "darkness." I resisted with everything within me, denouncing the need for confession and any belief in the true Presence in the Eucharist, honoring Mary, purgatory and the need for works.
However, these tugs, these questions, these unidentifiable longings would not go away. The more I resisted, the more often they would appear. One day I was in the parking lot of a strip mall. I saw a sign that said "The Catholic Store." To this day, I am not sure why, but I parked the car and went in. I was looking around, and on a rack was a cheap pair of rosary beads. I think they were about $2.00. I picked them up, walked to the counter, purchased them, and slid them into my pocket. When I got home, I made sure to hide them from Eileen. I didn't want her to think I was "losing it."
About two weeks later, I was in Erie, PA. I remembered that, when I was active as a Secular Franciscan, there was a 24-hour Adoration Chapel downtown at St. Joseph Church/Bread of Life Community. I drove there and parked, asking myself all along, "What are you doing?" My curiosity had gotten the better of me. Was there still anything there? I decided in my mind to sit there quietly for fifteen minutes. If I felt or sensed nothing, that would be the end of it, and the word "Catholic" would be forever erased from my mind. I went in and sat down without kneeling or bowing. Fifteen minutes went by without my experiencing or feeling anything. I got up and left; case settled. However, a couple of weeks later, I was again drawn to that unassuming chapel for reasons I cannot explain. Again I entered. This time, I felt compelled to bow and kneel. I was there maybe five minutes, staring at the Monstrance, when I began to cry and say, "My Lord and My God."
The Return
OK, what do I do now? I was overwhelmed by Presence of Christ in the Eucharist. Peace, love, and other good  feelings filled my being. I knew it was true, and I could never deny it again. My first task was to talk with Eileen. I told her what I had been thinking, my questions, those annoying tugs and my longing for what I knew to be true. She said she never really left and was as eager as I to return to our true faith. She said it is who we are. It is who God made us to be, it is our Faith, our culture and everything in between. We had had some very meaningful relationships, and we have fallen in love with Scripture, but it was time to go home.
I prayed constantly for the Holy Spirit to take over in this suddenly precarious situation. I was petrified at the thought of leaving a congregation and faith that I had embraced and taught. I had been someone in whom the members had placed their trust and their hearts. This is a relatively small congregation in a small town. You do not drop off the radar here or in the lives of those you were involved with without difficulty and hurt on both sides. I decided that, despite any negative fallout, I had to trust God's leading. On March 18, 2017, I went to the Adoration Chapel and sat and prayed for a long time.
When I left, I drove a few blocks over to St. Peter's Cathedral in Erie. This is where my Secular Franciscan fraternity met. As it turns out, the Cathedral was offering 24 hours of continuous confessions in preparation for Easter. After sitting, preparing, and sweating for some time, I finally got up the nerve to enter the confessional. I was met by an elderly priest who bore a gentle smile and an invitation to sit. Haltingly, with the help of the Holy Spirit, I told my story, confessed my sins, and waited, trembling, for a response. Fr. Wardanski stood up without saying a word, embraced me, and said, "Welcome home." We both had tears in our eyes. I finally was able to gather myself together enough to finish my confession and obtain absolution. A wave of joy and grateful love filled my being. Fr. Wardanski said, "Mass will be starting shortly. Please stay and partake of the Eucharist in thanksgiving. Jesus loves you."
My Difficult Farewell
I went home, and within a few days submitted my resignation as a deacon. This was followed by an e-mail explaining our return to the Catholic Faith, and the need to revoke our membership in First Baptist Church. I sat agonizing over hitting the Send button. Intense emotion overtook me for several hours before I was finally able to hit Send.
After submitting the letter, I got in my car and headed for a Franciscan retreat center about 60 miles from our home. It was my intention to spend the remainder of the day in prayer at the Mt. Irenaeus chapel. Before I got halfway to the chapel, my cellular phone rang. It was the pastor of First Baptist Church. He said, "Jack, I just received your letter. I need to talk to you about this." I knew I owed both the pastor and the church as a whole a more personal explanation than a letter. I immediately agreed to turn my car around and meet with him later that day. As I entered the church, I wrestled with what I would say. Thankfully, the meeting was cordial and understanding, though remaining questions and a sense of disbelief seemed to persist in the pastor's mind. We embraced and promised to pray for one another. He did remind me to expect a barrage of inquiries from others within the church, especially the deacon board.
I subsequently agreed to several individual meetings with members of the deacon board and the associate pastor. These meetings ran the gamut from reserved understanding to outrage and disparaging remarks concerning Catholicism. This was and continues to be a painful process, because some members of the Baptist church refuse to accept our decision and departure. We continue to try to deal with each effort to get us to rethink our decision with compassion and understanding, while remaining firm in our commitment to our Catholic Faith. The difficulty in leaving the Baptist Church compares in pain and difficulty only with our decision to leave the Catholic Church some thirteen years earlier.
Life Renewed
So now we have been welcomed and registered into our new parish home, in a town we are in the process of moving to. Eileen and I are constantly grateful to the Holy Spirit for leading us home. The love and welcome we have encountered during this difficult transitional period is humbling, and we appreciate it deeply.
My father had been a proud and active member in the Knights of Columbus. I had joined in deference to him when I was 18. Recently, I reapplied and was accepted back as a member in good standing; this time it was in deference to the Catholic values and work of that organization.
I never thought I would be able once again to join my sisters and brothers in the Secular Franciscan Order after my disgraceful departure, but upon making an inquiry, the minister of the fraternity invited me to attend their upcoming gathering. When I entered the meeting hall, I was immediately embraced by the brothers and sisters I hadn't seen in thirteen years. I am now in the process of requesting reinstatement to the Order and am overwhelmed by the love and support of my Franciscan brothers and sisters.
The words of Jesus resonate in my soul: "I will never leave you or forsake you."