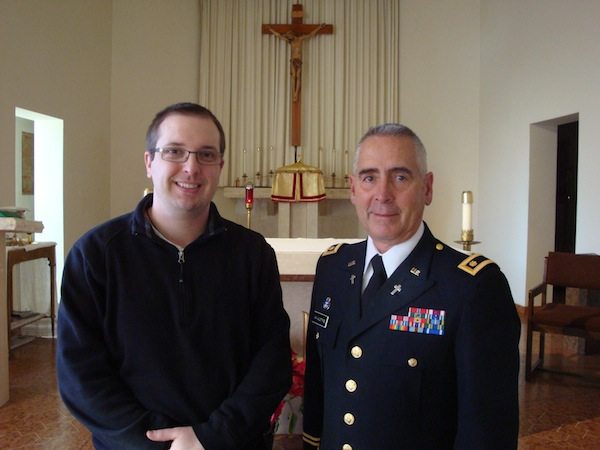 Childhood, Early Adolescence & Happiness (1980-1995)
I was born on April 5th, 1980, in Marquette, Michigan, to two loving parents and a sister already in the mix. After five years of growing up in northern Michigan, my family and I moved to Minneapolis, where my father was in pursuit of a new career.
I recall so many fond memories from my childhood: holidays, birthday parties, family trips, school, friends, pets, video games, and youth sports. My parents were very involved in my life and I wanted for nothing. Church, however, was a bit of a fringe activity. We attended a United Methodist church on a weekly basis for a few years. My sister, Andrea, and I didn't participate in Sunday school, so we were never confirmed. Instead, we alternated between sleepiness and fidgety boredom while sitting with our parents in the main sanctuary with the rest of the adults. When I was in sixth grade, my parents gave in to perpetual nagging from us kids and we stopped going to church as a family.
Despite that, my exposure to God wasn't nonexistent. Several memories stand out. I remember once getting a lengthy, picture Bible as a birthday gift from my godmother and reading straight through it in only a few months. I also remember as a young adolescent engaging in a lengthy religious discussion with a Jehovah's Witness who showed up at our family home. Most significantly, I remember the first time I ever attended a Catholic Mass, which occurred the morning after attending a friend's sleepover party. His family took me to a church and school they called "IHM" (ten years later I learned that IHM stood for Immaculate Heart of Mary and ten years after that I have only begun to understand what it really signifies).
When I was thirteen, my family and I were passing through Indiana on the way home from a road trip out east and we made a stop to visit the University of Notre Dame. I was blown away by that visit, which radically changed my outlook on education and the adventures that were possible after high school. I became a much more serious student after that visit.
High School & Self-Image (1995-1998)
By ninth grade, popularity and academic and athletic prowess had become the main barometers of my self-worth. Unfortunately, I developed quite a sense of pride and vanity. I excelled in all of my classes (especially Spanish), but I was such a perfectionist that I cried after receiving an A- in Honors Biology. I also excelled in sports, captaining my track and hockey teams. I was in the "popular crowd," and had a girlfriend (for a brief stretch at least). I had a lot of friends from sports as well as classes and generally developed a reputation that many high school students coveted (or so I thought). I barely studied religion in high school, although outside of school I did study Aristotelian ethics and humanism on my own simply out of curiosity. Even as a sophomore I knew that I wanted to attend Notre Dame. Its Catholic identity wasn't really a factor at all; its academic reputation, quality of student life (as reported by Princeton Review), and the memories of my first visit there drove my decision. I didn't know what to make of Catholicism at all. One of the essays on the Notre Dame application dealt with a "spiritual topic" of our choosing. I chose to write about my impressions of Siddhartha by Herman Hesse. However, shortly before graduating from high school, I came across an article in Time magazine about a Notre Dame alumnus by the name of Bill Tomes, who abruptly received a call from Jesus to minister to gang members in the slums of Chicago as a Catholic lay worker. I was totally blown away by the article. It raised a number of questions for me about the nature of faith and religion. I also took note of the fact that Bill was Catholic and underwent a profound mystical experience.
College, Struggles & Awakening (1998-2003) 
Insofar as students typically judge college experiences, it wouldn't be a stretch to say that Notre Dame was a big disappointment. I went through a lot of struggles at Notre Dame, yet amidst them I experienced a huge spiritual awakening. This awakening has indelibly affected my life and I will always be grateful to God for it.
I arrived at Notre Dame full of excitement and hope and ready to make my mark. Instead of a first-class education and high-minded moral values, I found unchallenging classes, fellow students prone to arrogance and cynicism, and some Holy Cross priests who, though personally likeable, were apparently oblivious to the drunkenness and buffoonery of students all around them. I seemed to be one of only a few people bothered by all this. Not getting along well with my roommates and unable to find friends, I quickly began to feel very lonely and isolated. I exercised regularly for the first few months, but as my unhappy state worsened, I instead turned to video games, pornography, and junk food as temporary escapes that inevitably compounded my sense of misery, guilt, and hopelessness. I made Dean's list my first semester but soon lost my motivation as a student and became very morose. I met a beautiful and charming girl in my Spanish class, but with my fracturing sense of self-esteem I didn't feel capable of pursuing a relationship. I joined a Christian fellowship group on campus and made a few friends but my dejected state continued into my sophomore year until I "escaped" to Mexico for a semester abroad. By this point I had decided to pursue a double major in Finance and Spanish.
Finding God Abroad 
Mexico was a pivotal experience in my life. Surrounded by Spanish, my greatest talent and passion, I felt totally invigorated by Mexican culture and was especially struck by how they lived their faith. In Mexico, I discovered a vibrant Catholicism at odds with the cynical and lackluster air that many ND students exuded about their faith. I researched Catholicism on my own for hours and hours in the computer lab, learning about Marian apparitions, Catholic faith and morals, church history, and a host of other topics. It was truly a self-directed crash course, full of gaps but driven by a lot of exuberance. I started attending Mass with a new perspective, visited the Basilica of Guadalupe, and was even inspired to pray my first rosary in Mexico.
I returned to Notre Dame for my fourth semester and fell back into a general state of unhappiness, but something very new was going on; I continued to attend Mass, started wearing the Miraculous Medal, and even attended the local Medjugorje conference. During this time I also learned about St. Faustina and the Divine Mercy devotion. My struggles with finding happiness at Notre Dame continued, but they were paralleled by a continuing and deep spiritual shift. I rode out the semester and went abroad again, this time to Chile. I hoped to undergo a profound personal and spiritual experience there just like I had in Mexico. I had very high hopes.
Chile, to my great surprise, ended up being an extremely difficult experience. Though I found myself with a challenging and interesting academic load, none of my classes were with my fellow Notre Dame students and I quickly found Chilean students to be much more distant and unwelcoming than their Mexican counterparts. I also had a bad living situation. I quickly came to realize that I really had no one in Chile but God to help me. Despite this, I frequently made poor and sinful decisions to escape my unhappiness. This obviously made things worse.
Amidst my difficulties and poor choices, God would make His presence felt again and again. First, it was through Catholic missionaries I met. Then, He spoke to me through my interactions with the poor in the streets of Santiago. But most powerfully, God manifested Himself through His Missionaries of Charity (the religious order Mother Teresa started). I volunteered weekly with them for four or five months in the western slums of Santiago, where they cared for terminally ill and abandoned children. Not only did the Missionaries of Charity give me deeper insight into the meaning of faith and love in action, but in the light of their powerful and authentic service to God, I came to believe that one day I would convert to Catholicism. Although I left Chile feeling angry at God for everything negative I went through, a profound lesson has emerged over the years out of the rubble of my Chilean experience: God is always there for us when everyone else seems not to be. He is always and truly there for us in our times of greatest need. Learning that lesson made my time in Chile every bit as valuable as the semester spent in Mexico.
Returning again to Notre Dame was practically unbearable. I had left Chile feeling abandoned by God and angry at Him (as well as myself). My spiritual life languished; I rarely prayed and only sporadically attended Holy Mass. My state of unhappiness worsened and, in February of 2002, I made the decision to take a break from Notre Dame. I withdrew from the university and returned to Minneapolis, where I worked at a bank for 9 months and also decided to get counseling. My counselor was an ND graduate who himself went through loneliness issues similar to mine while attending the university and he helped me a great deal. During this time I still rarely attended Mass, but counseling and simply being away from Notre Dame helped me pull myself together a bit more. I returned to school, completed my last semester, and graduated in May of 2003. My spiritual life, however, continued to languish.
Hitting Bottom, RCIA & Discernment (2003-Present)
After graduation, I got a job as a financial analyst with a large company and rather quickly discovered that a career in corporate finance was of little interest to me. I decided to stick it out for a year and a half, which was another mistake. Difficulties at work and the all-too-familiar escapes outside of work contributed to a level of unhappiness and despair that exceeded even my worst experiences at Notre Dame. Ironically, I found my resolve when I bottomed out in the late summer of 2005. During this time, I keenly felt the mistake of neglecting my relationship with God, which by this point had become nearly non-existent. I made two big decisions that created the foundation of my turning point: I decided to go back into counseling with the same psychologist who had helped me before and I decided to allow God back into my life and start anew with him. I became an RCIA candidate. My life immediately started improving from that point onward. I began working as a Spanish tutor and translator; I spent less time alone and made a whole new set of friends. Not only did I start to go to Mass more often, but I also felt it was time to officially join the Catholic Church. I would sum up my whole RCIA experience as a big hug and "Welcome back!" from God after having after having pretty much ignored Him for the prior two years. I was formally welcomed into the Catholic Church in April of 2006.
I continued to job hop in 2006 and 2007, but my life continued to improve. In the early spring of 2007, I began hearing the call to discern the priesthood. I was very surprised by the timing of this call, because I was in the midst of the most exciting professional venture I had ever undertaken (a Spanish language consultancy I cofounded with two business partners). The feelings would not go away and so I decided to reach out to my diocesan vocations director. After a few months, I felt the urge to explore religious order priesthood. After initially discerning with the Congregation of Holy Cross at Notre Dame, my focus switched to the Marians of the Immaculate Conception. After three years with the Marians (postulancy, novitiate and first vows), I discerned that God was indeed calling me to diocesan priesthood. Taking into account my strong interest in Hispanic ministry and my parents' retirement plans, I applied to the Diocese of Phoenix and was accepted in November of 2012.
At this point in my life, I find myself discerning with hope, joy, and an increasing confidence that God will take care of me. Despite a few twists and turns on the road to priesthood so far, God has continued to guide me in my spiritual life and has been clearly showing me those things I need to move away from in order to dedicate myself more fully to Him. My time so far  in priestly discernment  has been a period of tremendous discernment and spiritual growth. I am excited and hopeful about the future with Jesus and Mary at my side.