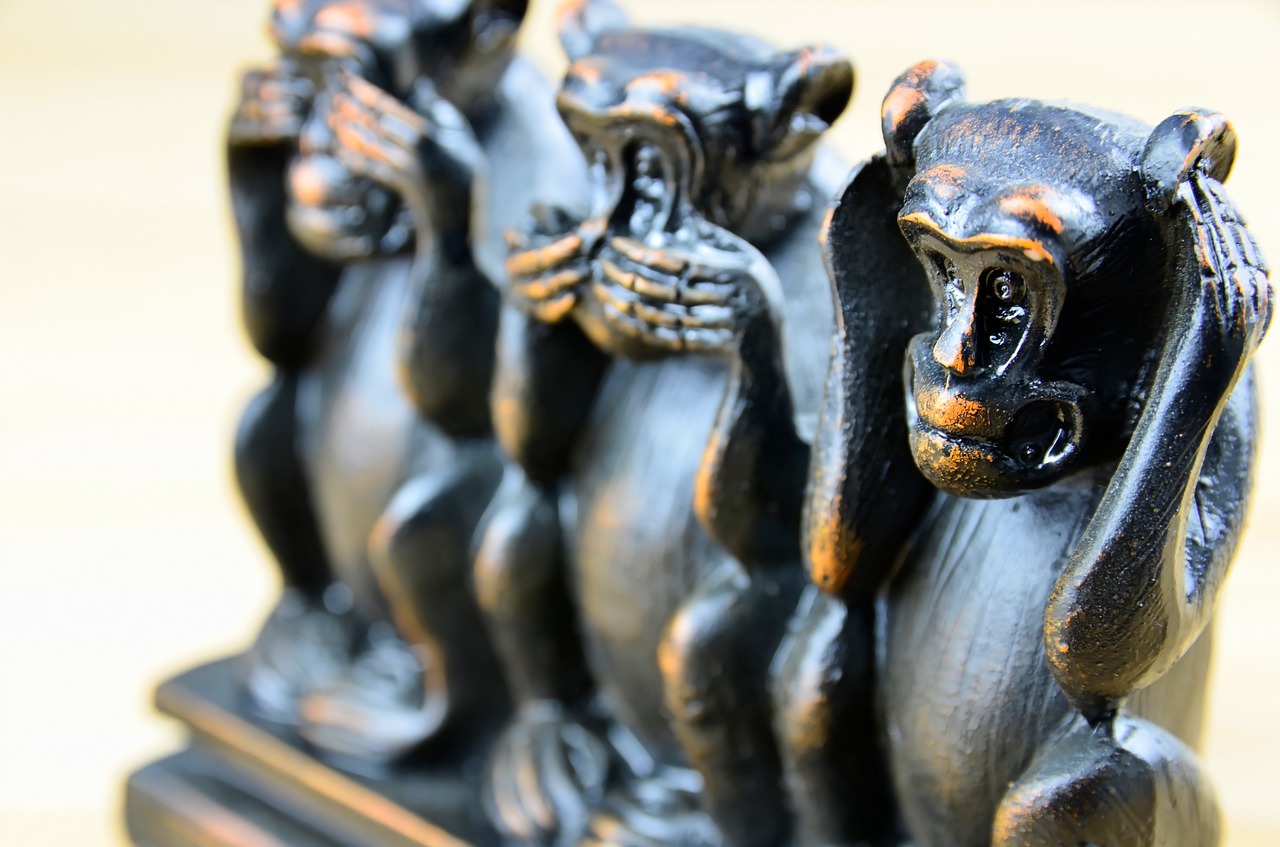 My husband, Mark, and I were never "cafeteria Catholics." We were simply on a diet; a reduced information one. Ignorance was the problem. And maybe some spiritual sloth. We occasionally prayed and less occasionally attended Mass. But as Peace Corps volunteers in the Marshall Islands, Micronesia where we met, that seemed evidence enough that we were among the good ones.
Born in the mid-1950s, we were Baby Boomers, bringing up the rear, where Catholic values started to go into hiding as our generation breathed in the exhaust of 1969 Woodstock's cultural fumes: sex, drugs, and rock 'n roll. It was the Age of Aquarius, where hedonism set the stage for the next generation: prayer removed from public schools, the birth control pill, wide disregard for Pope Paul VI's 1968 encyclical Humanae Vitae, radical feminism, abortion, and Phil Donahue's talk show. These were the manifestations of a redefined morality.
Childhood
I grew up in Dearborn, Michigan, where my Dad worked as an engineer at Ford Motor Company, and my mom stayed home like all the other mothers did in our St. Alphonsus parish neighborhood. One-car garages and big families meant we all walked to school and all our friends lived nearby. It was small-town living in a big city, just like all the other Catholic neighborhoods.
By 1975, when I graduated from high school, most of the nuns were out of their habits and many out of their vocations. There were less of them to staff Catholic schools, but in symmetry, less students were going to Catholic schools by then.
After a year of journalism at the University of Detroit, I switched to social science at Michigan State University. I was shocked in a humanities class to learn for the first time about the Church selling indulgences. I had never heard of such a thing. I also knew little to nothing about the Rosary, Eucharistic Adoration, and much of Catholic doctrine. I had never heard of Humanae Vitae, either. An MSU biology class convinced me that an unborn baby — a "fetus," as they called it — was not really alive because it had no memories or thoughts and simply survived off the body of another. Thus, when a roommate planned and followed through with an abortion, it seemed unremarkable, business as usual.
Every Sunday, I thought about Mass, but rarely bothered to go. There were times, however, when I felt darkness in places where God was not, such as at a gay bar with friends and an introductory class to transcendental meditation. Surely, there was a divine shield wrought by the prayers of my parents and my own sparse moments that ultimately repelled me from such places.
Mark's parents were teachers and converts to the faith, although their conversions seemed light on Catholic teaching, and they were very liberal politically. Mass was hit-and-miss for them, too. They were nomads, having lived in three states, Mexico, and Guam, while raising Mark and his two younger brothers. Mark graduated from the University of Oregon with a degree in political science.
The Peace Corps
After college, we both joined the Peace Corps and were sent to the Marshall Islands. Mark was an agriculture volunteer on an outer island, growing a vegetable garden where tropical fruit and seafood abounded. The islanders had no interest in vegetables. Mark had been fed poisoned fish while there, as a way to test whether he had intentionally broken a social custom or not. If he lived, he was innocent, and if he died — and it seemed he brushed up against it — then he was innocent.
At his earliest opportunity, Mark escaped to the main island of Majuro, the district center, and got their ill-functioning radio station in better shape. He trained locals as disc jockeys, to read the news, and announce the ship schedule. That is when we met. I was a youth worker; organized a women's softball league, taught exercise classes for senior citizens and a first aid class to young mothers. Mark became one of my softball umpires.
Ultimately, the bureaucratic Peace Corps ruled that Mark had to go back to his outer island or leave. In the meantime, we fell in love and within a couple of weeks decided we would get married (which we did a year later.) For a couple months before we decided to return to the U.S., Mark continued to run the radio station as an employee of the Marshall Island government.
Marriage and Family
My husband and I were both "somewhat Catholic," loved adventure, and believed we were destined to be together. We married at St. Alphonsus parish in Dearborn, Michigan, then settled down in Portland, Oregon. Mark worked at a news radio station, I worked in a medical billing office and got a master's degree in public administration.
Our marriage preparation consisted of listening to speakers on six Sunday evenings. Neither of us can remember anything about it. We thought we were living the great American romance and did not need to listen to anyone's advice on marriage.
Our son Aaron was born two years into our marriage. With three-month-old Aaron in tow, we became Jesuit Volunteers on the Flathead Indian Reservation in Ronan, Montana. I was the program manager of the Folkshop, a sheltered workshop for the developmentally disabled, and Mark helped run their satellite recycling and firewood store in St. Ignatius, fifteen miles away.
We loved being parents and part of another adventure, although we were learning that marriage was not the piece of cake we expected. There were ups and downs, which continued for many years. As Jesuit volunteers, we pledged to be committed to the four values of spirituality, social justice, community, and simplicity. Again, we patted ourselves on the back for obviously being good Catholics, but we still didn't know what that really meant.
From there, we became group home parents of a home for delinquent teenage boys in Kalispell, MT. Our second son, Luke, was born there. After him, two years later, Tyler. After the third year, we left the group home and lived in town. Mark worked in radio, and I started freelance writing. Were three little bundles of joy enough? I thought so.
Contraception Delusion
Mark was not so sure, but didn't want to pressure me. I decided to have a tubal ligation. Two days prior to the surgery, during the pre-op exam, the doctor explained that the failure rate was only 1 in 500. Not bad odds for the lottery, I thought. A failure could result in a life-threatening tubal pregnancy. I had a bad feeling and decided not to go through with it.
The next plan was birth control pills provided by my new physician, who was also our parish priest. Yes, you read that correctly. He was a priest who later received his bishop's permission to also become a doctor. He was preaching heresy, however. "It's not reasonable to expect couples to follow the Pope's teaching on birth control," he told me.
Well, he should know, I thought. After only a couple of weeks, I had problems with the pill, so I stopped taking them. The following month I was pregnant. When Mark learned of this, he announced, "I've been praying for this!" I wanted to know if he meant that figuratively or had he prayed behind my back? He really was literally praying for more children! Regardless, as a die-hard baby lover, I immediately began looking forward to another baby.
Mark was then laid off from his radio job. They could not afford two newsmen. Expecting a baby, with no insurance and no job, changed our outlook on life. We began to pray in a different way for the first time in our lives. Instead of asking for Mark to find a job, we prayed for God's will to be done. We asked God to direct Mark to whatever job was his will. The only thing we asked was that it would be a place where we could grow spiritually and would be a good environment to raise our children. We suddenly had an inkling that God was in charge, not we. It was the beginning of our real faith journey.
Without his applying, Mark received a job offer from a radio news director in Bismarck, ND, who had heard about him. (The Associated Press had named Mark Broadcaster of the Year in Montana.) So we moved there.
Jacob was born in Bismarck, on May 13, the anniversary date of Our Lady of Fatima's first appearance in Fatima, Portugal. It was also Mark's birthday and Mother's Day. Mark, too, had been born on Mother's Day thirty-three years earlier. Happy Birthday, Mark — from God!
During this time in our lives, I read about various Marian apparitions, and we were inspired for the first time in our lives to pray the Rosary — after we learned how, that is. We stopped missing Sunday Mass, and both started reading about the faith. We even started going to Confession, something we had not done since before college. Still, you don't go from point A to point B in one step. We were not yet fully converted — particularly when it came to family planning. I insisted that Mark have a vasectomy, thinking that four pregnancies were enough in today's world. Mark resisted at first, still wanting to be open to life, but finally relented.
Initially, I was oblivious that we had done anything wrong. But as I started making occasional visits to the Tabernacle at church, continued praying the Rosary, and desiring to do God's will, I came to understand internally, without reading or hearing anything, that I was wrong to have pressured Mark. I would later understand that the Church, which Christ had founded to guide us, had been given authority to teach on spiritual matters, which included procreation — and that that teaching had remained unchanged since apostolic times.
I shared these thoughts with Mark. "You were like Eve," he stated.
"You are right," I agreed. "But Adam was kicked out of the garden too."
Reversing a Wrong
We prayed in contrition and desired to be open to whatever God wanted in our lives, actually hoping for a failed vasectomy. But one night, I had a dream in which I saw two babies; one blonde and one dark-haired. I felt an intense love for these babies, as if they were my own. At the end of the dream, I understood that these were babies God had planned for us, but because we had taken matters into our own hands, they would never be born. I woke up feeling like a mother who just lost her babies. I knew the only way to get to them was to convince Mark to have a reversal of his vasectomy.
When Mark came home from work the next day, I approached him with the idea of a reversal. "No way!" he said and announced the subject was officially closed. I could not get in another word about it.
Now, it was my turn to pray behind Mark's back. "I want to do your will, God," I prayed. "I can't change Mark's mind, so I'm putting everything in your hands." Then, I just kept praying, often before the Tabernacle.
A couple months passed. Then, one morning after Mass, Mark casually wondered how much a reversal operation would cost. "$10,000," I announced. Before Mark had shot my idea down, I had called the doctor's office and had all the information.
"Well, I can't get off from work this month (December)," Mark said, "but next month I could get it done." I was shocked and thrilled.
"But what changed your mind?" I asked. His answer took my breath away.
"I had a dream last night," Mark said. "I saw two babies that God had planned for us."
"Mark, I had that same dream," I said. "That was the reason I wanted you to have a reversal." We were in awe as the immensity of what had happened sunk in. God had made his will known to us!
We did not have the money to pay for the reversal, but we decided that we could not let money stop us from getting the babies God had planned for us. We determined that we could probably make payments. (By the way, insurance covers sterilizations, but guess what they don't cover?)
Two months later, we were expecting a baby. We both independently had a strong feeling that it would be our first girl, and that God wanted us to name her Mary, after the Blessed Mother, who had interceded for us. We had never before considered that name.
Our blond-haired baby girl, Mary, was born on December 22, 1993. A few months before her birth, we inherited from Mark's grandmother the exact amount of money we needed to pay for the reversal in full.
Dark-haired Teresa was born on my birthday, April 18, 1996. I thought we must be done at six children, now that we had the babies from our dream. But Mark had often said he thought ten would be a good number. While praying about it, I recalled that, when St. Maximilian Kolbe was young, he received a vision of our Blessed Mother. She showed him two crowns of roses: one of red, representing martyrdom, and one of white, representing purity. She asked him which he would choose. He chose both. I wondered if, like St. Maximilian, we could volunteer to take on more than God asked? We prayed and remained open to life.
John was born on August 31, 1999 and Isaac on his sister Mary's birthday, December 22, 2001. There could be no greater blessing on our family than our children. The older ones delighted in their younger siblings, and the love was mutual.
Kenya Connection
As for Mark's frequent refrain that he thought "ten" would be a good number of children, he got his wish. Our next two blessings came to us from Kenya.
Our friend Evan came to our home for dinner during a mid-service break from his work as an English teacher in Kisii, Kenya — mission work sponsored by our Bismarck, ND diocese. "Is there anything you need?" Mark and I wanted to know.
A sly grin crossed Evan's face. "As a matter of fact, there is," he began. "I have a boy who desperately wants to go to school in the United States. Would you consider taking him in?"
"We can't," we said. We could barely afford our eight children ranging from a one-year-old to a nineteen-year-old in college.
"I knew that," Evan said, "but your name kept coming up when I asked others. One said, 'Have you asked the Armstrongs? They have so many they won't notice one more.'"
Then Evan brightened. "What if I got a family or two to help with the expenses?" He then told us about this boy, Calvin. "He is a good boy. His parents had died of AIDS, and he was living with his two brothers. I found out that he often went hungry and walked a long way to school. I invited him to stay at the school with me during the week so he could eat properly. He wanted me to bring him back with me to the U.S., but I am almost seventy years old, so that would be impossible."
At that point, it seemed unlikely that Calvin would actually get permission to leave the country. He was fifteen, had no birth certificate, and needed a passport and visa. We would have to become his legal guardians, and our medical insurance needed to cover him. St. Mary's high school, where our teenagers attended, would need to accept him on scholarship. There were so many hoops to jump through, it all seemed unlikely.
"We'll pray about it," we told Evan. "If it's God's will, it will happen." We never actually said yes. But each hurdle was overcome and in July of 2002 Evan sent an email: "Calvin just got his visa. He'll be there in two weeks."
I had thought we were being good Christians, but when I heard the rest of the story, I realized that we were the ones who had been blessed. God had chosen us to answer a seemingly impossible prayer. Years earlier, Calvin had read a novel about a boy who left Africa to go to school in the United States. It started a dream that Calvin began to pray for with the trust of a child, even though at thirteen, his childhood seemed to have been lost. Both his parents had died of AIDS, leaving Rogers, fifteen; Calvin, eleven; and Joash, nine, among Kenya's 650,000 AIDS orphans.
Calvin had no money, no parents, and only two pairs of pants. Yet on his long walks in the morning to St. Patrick's Elementary School, usually on an empty stomach, he often prayed to go to school in the United States. When we learned of Calvin's prayer after he was already with us, we were in awe that God had chosen us to answer such a seemingly impossible prayer.
Three years later, his younger brother, Joash, joined us. That, too, is an amazing answer to prayer, in which Joash missed Calvin and said his first Our Father, hoping to one day join him. After Joash joined us, although he had pledged never to try running again after two embarrassments (he went out for soccer the first year in Bismarck), by the time he left for college, Joash had broken all but one cross country record in the state. Both boys from Kenya are now married, each with one child. Calvin is a doctor and Joash has a science degree and is in the Marines.
As we look back — the youngest is a junior in high school now — our life has truly been an adventure. But growingly deeply in the faith and accepting so many children, has brought us blessings we never would have received otherwise. We went from missing Sunday Masses and not knowing how to pray a Rosary to doing both daily. And with the ups and downs in married and family life, we believe that it has been our faith that keeps getting us through to higher ground.