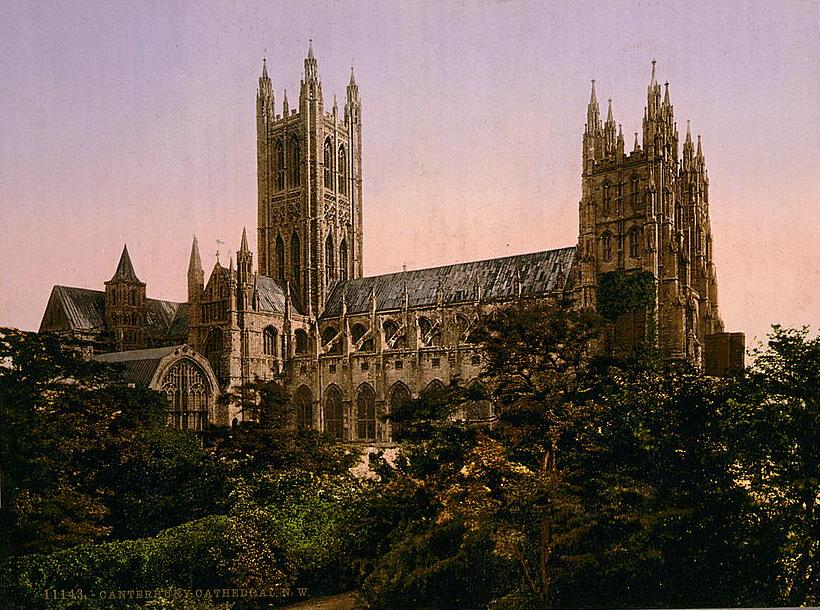 "The more real the English Church has been to you, and all your past experience in it, the more terrible the wrench." — Fr. Basil Maturin
I am thankful to have spent thirty-three years of my life as a member of the Episcopal Church. Since age ten, when my parents decided to attend the pretty stone church with the red doors, the centerpiece of an idyllic little Connecticut village, I felt very much at home. My Dad made it clear to us that, "We are not Protestant. We are English Catholic."
New things and those left behind
My parents made the difficult decision to leave the Roman Catholic Church in 1969. Dad would occasionally describe their reasons: Vatican II changes seemed like a betrayal of the Church they loved; priests started telling little old ladies (like my Memere) they were stupid to fast on Fridays; the church interior was whitewashed; most of the statues were removed. He would recall one old Catholic chum saying of these changes, "If I wanted to go to a Protestant church, I coulda gone down the street!" They felt strongly that the Catholic Church had left them, and believed they had found a "more Catholic" church in the Episcopal Church.
The second reason given for this decision was Mom's close scrape with death on the birth of their fourth child. Clearly, the Catholic Church didn't understand about things like "birth control."
Shortly after our becoming Episcopalians, Dad followed a call to the priesthood. My parents sold our little house they had just had built to help pay for nearly a decade of schooling ahead. Dad began collecting mysterious letters (GED, BA, MDiv) through constant study, while Mom took on various jobs to keep us all fed. It was a turbulent time for our family.
In spite of the craziness, I have many treasured memories of our Episcopal parish. The stone church building itself was beautiful in its traditional architecture and stained glass windows. There was beauty and dignity in all the details. The music of organ, choir, and hymns was prayerful and engaging. I still cherish many old hymns I learned there as a child. (Sometimes even now I find myself wishing to step inside and join in with the energetic singing among Episcopal laity.) Some of the reasons why Dad considered us "Catholic" rather than "Protestant" had to do with an appreciation of the importance and beauty of the liturgy, a sacramental understanding of things, and, most important, our belief in Jesus' Real Presence in the Eucharist.
I had lived my first ten years of childhood in the Catholic Church, receiving Baptism and First Communion. My only childhood experience of Confession was as a terrified child unable to recall the necessary words to say to the mysterious priest in the dark recesses of the confessional. I mumbled something about "forgetting words" and "stealing cookies," and was greatly relieved to have escaped with my life and a few Hail Mary's. From those earlier days I retained a sense of the holiness and deep reverence for God in the Catholic Mass.
 I trusted my parents had very good reasons for leaving all this behind. Our new church home had many similar traditions, so it did not feel completely foreign. When we first joined, I received a swift Confirmation with no instruction whatsoever as it was assumed I "already knew everything" as I had been raised Catholic!
At twelve, I experienced God's Spirit of Love in a powerful way after receiving the laying on of hands by our priest. Scripture seemed to open up for me as if it were a personal love letter from God. This experience is one I still return to as the most palpable experience of the reality of God's particular love for me.
A restless heart
Sadly, there was inadequate support for this new life in Christ. My adolescence was a bumpy one. My parents were maxed out. The social chaos of the 70s added to the chaos at home left me especially vulnerable. For a while, "Christian truth" was largely drowned out by the much louder voices of the toxic culture of public schooling and peers, even within our church community.
Dad graduated from seminary the same spring I graduated from high school. When he was assigned to a city parish, I went along for the ride. Though I found work and made "friends," it proved to be another toxic environment, and I became intensely lonely. I was "looking for love in all the wrong places," and my resulting depression deepened. I started asking, "What is love, really?" My friends didn't have any meaningful answers. More and more I realized I was not finding love where I had been looking for it. I started looking at college as a way out of this bad situation.
 Flipping through a college catalog, I noticed "Gordon College, a Christian college." I got excited. I had never imagined that such a thing existed. I can't say that I even understood that a Christian way of life would be much different from the one I was currently living. Weren't my old friends in the Episcopal Church Christian? It didn't seem to make a difference for how they lived their lives. In that moment, I had a glimmer of hope that at Gordon College "Christian" might mean there was at least a desire to seek God's will for your life, for God to make a difference in how you lived — somehow.
Needing to seek the will of God
Soon after applying to Gordon, I hit bottom. I finally cried out to God in my loneliness and despair. A poster Dad had brought back from seminary years earlier had hung on my wall throughout my turbulent teen years. It was an abstract face of a man. After I cried out to God, I noticed that this poster had fallen off the wall and was lying face up on my chaos-strewn floor. I picked it up and, through my tears, looked at it carefully for the first time. It was the face of Jesus. Looking even closer, I noticed it was a poster for Gordon College! By this small sign, God seemed to be showing me that Jesus had been with me all those years when I had thought myself so alone — that He knew my pain and loneliness. I understood that now I needed to continue to seek His will for my life. He had given me an unexpected gift in confirming my choice to seek a better life by attending Gordon College.
I remember the day Dad dropped me off at Gordon my freshman year, he a newly ordained Episcopal priest. Soon after, I met my future husband, Alan, also raised in the Episcopal Church. Since our courtship, Alan and I have been on this journey of conversion together. We were married in 1982. My father both walked me down the aisle and performed the wedding ceremony in our old beloved Connecticut church. A year earlier, Dad had been asked to serve as pastor of this parish where we had worshipped since I was ten. It seemed like a miraculous answer to prayer for my family, as this was truly our spiritual home.
Shook up
The remaining years at Gordon built on Alan's and my understanding of the differences between our liturgical sacramental traditions and various Protestant traditions. The major influence came through my favorite teacher and English Advisor, Professor Thomas Howard. In 1984, Howard's newly published Evangelical Is Not Enough suddenly appeared on Gordon College Bookstore's shelves, creating quite a stir at the college — and making a lot of sense to us.
 Howard became our champion of the "English Catholic" Faith. Alan and I felt privileged to be invited, along with a small group of peers, to the Howard home to learn more about our traditions. It was all stimulating and encouraged us greatly in the belief that we were indeed in a good place in the Episcopal Church.
However, in 1985, the year after our graduation from Gordon, Tom Howard shook up our world — along with the very Protestant Gordon College world — by announcing his conversion to the Catholic Church.
At the time, I was working as a graphic artist in the Gordon College Print Shop. I was required to typeset critical responses to my hero, Dr. Howard. Some were even from fellow Episcopalians who were on the Gordon staff. I was stunned. Gordon had recently invited Dr. Peter Kreeft as a visiting professor, who was also a convert to Catholicism. I was shocked by the caustic reactions, the necessity of Dr. Howard's resignation from Gordon, and the reality that Peter Kreeft, my philosophy major husband's personal hero, would now not be allowed to return to Gordon. He was viewed as a dangerous element, it seemed.
Alan and I puzzled over it all, devouring everything we could get our hands on written by either of these two fine men. We began to gain a much clearer understanding of the differences between "Catholic" and "Protestant." It started to look as if the Episcopal "Via Media" might be more like a "Lack of Clarity." And wasn't it Newman who came up with that Via Media idea, only to abandon it for the Catholic Church? We were realizing more and more that the Episcopal and Anglican churches could only with great difficulty not be considered Protestant, in essence. Though many of its members believe some basic Catholic truths, these same truths often seemed optional.
Born on the Wrong Island
The following year we decided to settle in Connecticut, as we felt a strong desire to be near family before starting out on our own. We wanted to be part of my Dad's parish. I was never much of an adventurer, and I was ready to start looking for ways to become a thorough homebody.
 Alan and I were blessed to be able to buy a tiny antique cape on a hill, surrounded by lovely woods, meadow, and old stone walls. I was quite happy to leave my new graphic artist job behind to stay home after the birth of our first child, Ben. We learned about home birth and so our second child, Sarah was born in that house. My Dad, our priest, came to our home after the birth to say special prayers, including the Magnificat. That beautiful memory still brings tears to my eyes!
We were blessed to be within easy driving distance of my parents, my brother and sisters, and their families. All were part of the same cozy little parish in our rural town. On sunny warm days, we could walk the mile from our doorstep to the church with the bright red doors. Dad was thrilled to be serving as pastor there. We were thrilled to be part of his flock. He baptized our children. He gave good counsel in homilies and personal visits. He was a faithful shepherd of his small flock. And we, the children and grandchildren, felt like members of the "royal family, often wondering if today one of us would be featured in Dad's homily. My father taught us to love God above all things, and Jesus in the Eucharist. Here was reverence for God. Here was family. Here was home.
It was an idyllic life in so many ways.
But Alan and I continued to feel the shadow of Tom Howard's conversion. He had been our primary hero of the Faith, other than my own father. Other heroes gained on our journey were mysteriously all from the Roman Catholic world. Even my Dad would hand along books on Catholic saints, like St. Thérése of Lisieux and the Curé of Ars. We were growing ever more uncomfortable with this reality; but we consoled ourselves with the thought that, like C.S. Lewis, we must have been "born on the wrong island." We figured God must want us to "bloom where we are planted." From where we stood, we just could not imagine it possible for God to want us to abandon the good life, and people, we had found here.
God was watching over
As Ben approached school age, we excitedly embarked on home educating (i.e. learning together with) our small family.
We planned on another homebirth for our third baby. Things didn't go as planned. I had just time enough to wake my sleeping husband before losing the ability to communicate. Our third child, Marc, was born shortly after our arrival in the ER. I was largely unconscious. While the doctors were fussing over the baby, the midwife noticed I was bleeding heavily. She got their attention transferred to the mother in distress. I ended up needing many blood transfusions.
 I was Life Flight-ed to a major hospital for shock resulting in renal failure. In the first twenty-four hours I was in ICU where they didn't think I was going to pull through. Over the next two weeks my kidneys slowly resumed function. Our new baby boy was healthy and able to be with me in the hospital after the third day.
All evidence pointed to the likelihood that I had experienced an Amniotic Fluid Embolism, a breach in the placenta allowing amniotic fluid into my bloodstream, poisoning my system. Apparently, a full diagnosis can only be confirmed by autopsy. In nine out of ten cases, death follows. God had saved me from a tragic death.
Clearly, God was watching over us.
Giving generously to God
While staying with me in the hospital for nearly two weeks, Alan diligently studied the literature on Amniotic Fluid Embolism. He came up with strong evidence that the likelihood of a recurrence in subsequent pregnancies was like "getting struck by lightning twice." He made his case to our insurance company after they informed us they'd no longer be able to cover maternity needs and convinced them to reinstate maternity coverage.
Shortly after the birth of our first child, I read in Newsweek about the Pope's support of something called "Natural Family Planning". Dissatisfied with our earlier efforts using contraception, the idea of a "natural" way to space babies was definitely appealing. I eventually contacted Couple to Couple League to order a book and sign up for their newsletter. I also found a local course to help us better understand implementation of this amazing natural aid for married couples. Over the next few years, I was amazed at the depth of wisdom about human sexuality, especially as it related to male and female differences, and the spiritual significance of the marital embrace. Beautiful! Over time, the concept of being "open to life" made more and more sense to us.
We were so exceedingly thankful to God for preserving my life and returning me to full health that it seemed only a natural response of praise and thanksgiving to trust fully and give generously to God. We gave much thought and prayer to our decision to conceive again.
Our Episcopalian family and friends thought us crazy to even consider the possibility of another pregnancy after all I had been through. My mother suggested, deeply concerned for my welfare, that we consider the solution they had resorted to earlier, after my mom's brush with death. We understood her concern. But steeping ourselves in an entirely different perspective — one which felt much more trusting of God and His will for our married life — made us desire to be fruitful in our married love in praise and thanksgiving for all God had done for us. To decide that we had given enough, and risked enough, that God was no longer to be trusted made less and less sense to us.
So, prayerfully, joyfully, we conceived our fourth child. Our Episcopal family did not understand.
New Catholic heroes
Our fourth child, Lydia, was born at home. Mom and baby were both healthy. During this time, I turned more and more to Catholic writers for spiritual support, and felt a growing thirst for the spiritual truths only found in Catholic writings. Our search for Catholic truth was increasing in fervency.
The old line to "bloom where we were planted" seemed to grow ever thinner, especially as marital fruitfulness was discouraged in this environment. When Alan and I again considered prayerfully the decision to be open to life, I believed we needed to seek out other Catholics locally to help us gain perspective against the anti-life attitudes that surrounded us. Alan found a Men's Bible Study at a Catholic church in another town. These men understood our struggle!
We began to discover a multitude of new Catholic heroes, many of them English: John Henry Newman, G.K. Chesterton, and some of the many "literary converts" described by Joseph Pearce in his book of that title. We realized that St. Thomas More and the other English martyrs were more truly English Catholic than any member of the Church of England or her American offshoot. God was making it ever more clear to us that we needed to be with Him in the Catholic Church.
Yet the decision to convert appeared an impossibly difficult one. How could we turn our backs on my father's church, on his priesthood? How could we live here in this small community and not attend Dad's church?
In February of 2003 I dared to speak to my father of my heart's desire to return to the Catholic Church. Dad's Mediterranean temperament got the better of him: "How could you think it was God leading you in this direction? God could not want you to destroy me, and my parish! I might as well retire right now! You must be listening to 'the other guy'!" I crumbled and promised I would not leave. I agreed that God could not wish to destroy my Dad and his devout little parish. I felt crushed.
Several months later, Alan's men's group invited him to join them at a Catholic Men's Conference at Franciscan University, Steubenville. He figured he couldn't go because of work and that we couldn't spare the cash. However, one of the men told him someone else had dropped out and offered Alan his ticket as a gift. Alan's assistant said he could cover the shop. Alan was thrilled to go.
At Steubenville, Alan was awed by the spectacle of a thousand devout Catholic men on their knees in worship. The moment of the procession with the Blessed Sacrament was the turning point in his journey home. He watched, stunned, as students responsible for keeping the aisles clear for the procession fell to their knees in Adoration of Jesus in the Sacrament, then proceeded backwards still on their knees worshipping their Lord in the Host. To this day, telling this tale brings tears to Alan's eyes. "This was Jesus. I had to go."
The following Sunday Alan and I attended Mass together several towns away out of respect for my father as small town news travels fast. Alan was clear that he must convert, no matter what the cost. I still felt torn. Above the altar of this little Catholic church was a stained glass window of Mary and Joseph's wedding; beneath was my highly unusual maiden name. By this sign, I knew God's will for me. I needed to be with my husband on his journey into the Church.
The Terrible Wrench
My Dad's explosion when Alan gave him the news came as no surprise. Alan insisted we would not convert without my father's blessing. Miraculously, Dad was given grace to give his blessing in the end. Greatly shaken by our decision, he asked that we remain silent on the subject. For the entire year of transition, Alan and I both kept this promise in honor of my father.
On September 22, 2003, Alan and I were to be received into the Church. I asked Dad to read from Scripture at our Reception. We knew it would be extremely painful for him, but he said he would, "If you let me read the next verse, too." I took a look. Phillipians 4:8. "Finally, brethren, whatever is true, whatever is honorable, whatever is just, whatever is pure, whatever is lovely, whatever is gracious, if there is any excellence, if there is anything worthy of praise, think about these things." The following verse was a beautiful gift to Dad and to me. "What you have learned and received and heard and seen in me, do; and the God of peace will be with you." I keep these words ever before me as a reminder of the great gift of faith I received from my father.
In the months that followed, we bent over backwards to minimize upset to my Dad and his parish. Every Sunday we attended two churches; early Mass several towns away, then our "home parish" 10 a.m. service. Alan and I no longer partook of my Dad's Eucharist, though we would kneel at the altar rail with our children as always, and receive Dad's blessing. Such a painful moment every week!
We knew we would have to move. There was no possible way to stay one mile from Dad's church and attend elsewhere without creating scandal. We had no idea where we would go. No clue where Alan would find work. We trusted that God would provide for us somehow.
A new adventure
It seemed as though Alan would get work in Rochester, NY, with the Catholic Education Foundation. We had gone house hunting once already, but a homework assignment to "familiarize yourself with the culture of Catholic Education" revealed the sad truth that all too often Catholic schools provide "sex ed" classes as toxic as any provided by public schools.
On the long snowy drive home from Rochester after Alan turned down this job opportunity, he was feeling pretty low, with no prospects for our future in sight. Just then, a friend called from Fresno, CA. "Did you get the job? No? I'm glad. Would you come to Fresno and work with me?"
When Alan called me a few minutes later with the news, I wasn't exactly thrilled. Remember, I am not the adventurous type. When musing about where in the world God would take us, I spouted out, "I'd never move to California! It's too far!" Well, guess what God had in mind?
Our four children were received into the Catholic Church in August of 2004. Our two oldest, Ben and Sarah, had each approached us about this, as they could see much of the truth and beauty of their parents' new Church.
Finally, in September of 2004 we said goodbye to our family, church friends (old and new), and our beloved little house and embarked on the adventure of our lives across the country in a big RV. I was five months pregnant. Many tears were shed at this parting. We enjoyed seeing many amazing and beautiful parts of our great country, but by the time we reached California, I was thoroughly exhausted. By God's grace, we survived the grueling ordeal of house hunting, while living on various Fresno streets in our RV. We even had time to find a midwife for the homebirth of our fifth child, Joseph. We had quite a good adventure in CA, in spite of my particularly intense homesickness.
We returned to Connecticut, but since our conversion we have moved three times. It has been difficult to feel the connection of parish community with all this moving, but we have met many beautiful Catholic souls along the way. Jesus is always present in the Eucharist and we always know that the Catholic Church is home, no matter where we travel. His amazing truth is available to us through the Catechism and the writings of Popes and saints. We are surrounded by a multitude of heroes of the Faith. It can be a real problem to not be overwhelmed by this wealth of good witnesses!
God has blessed our family in innumerable ways.
One night after supper, I asked Lydia and Joseph, "Do you realize that you probably would not exist if not for the Catholic Church?" No, they hadn't. I explained, in simple terms, why this was so.
It has been good for me to attempt writing our story — to take stock, to remember where we came from. It gives perspective. Relations with my parents are still strained whenever topics touching on faith are mentioned, but I am slowly learning the message of the Cross, best understood within the Catholic Church, to "consider it pure joy whenever you face trials of many kinds" and to "Always and everywhere give thanks!"
Blessed are those called to the Supper of the Lamb!