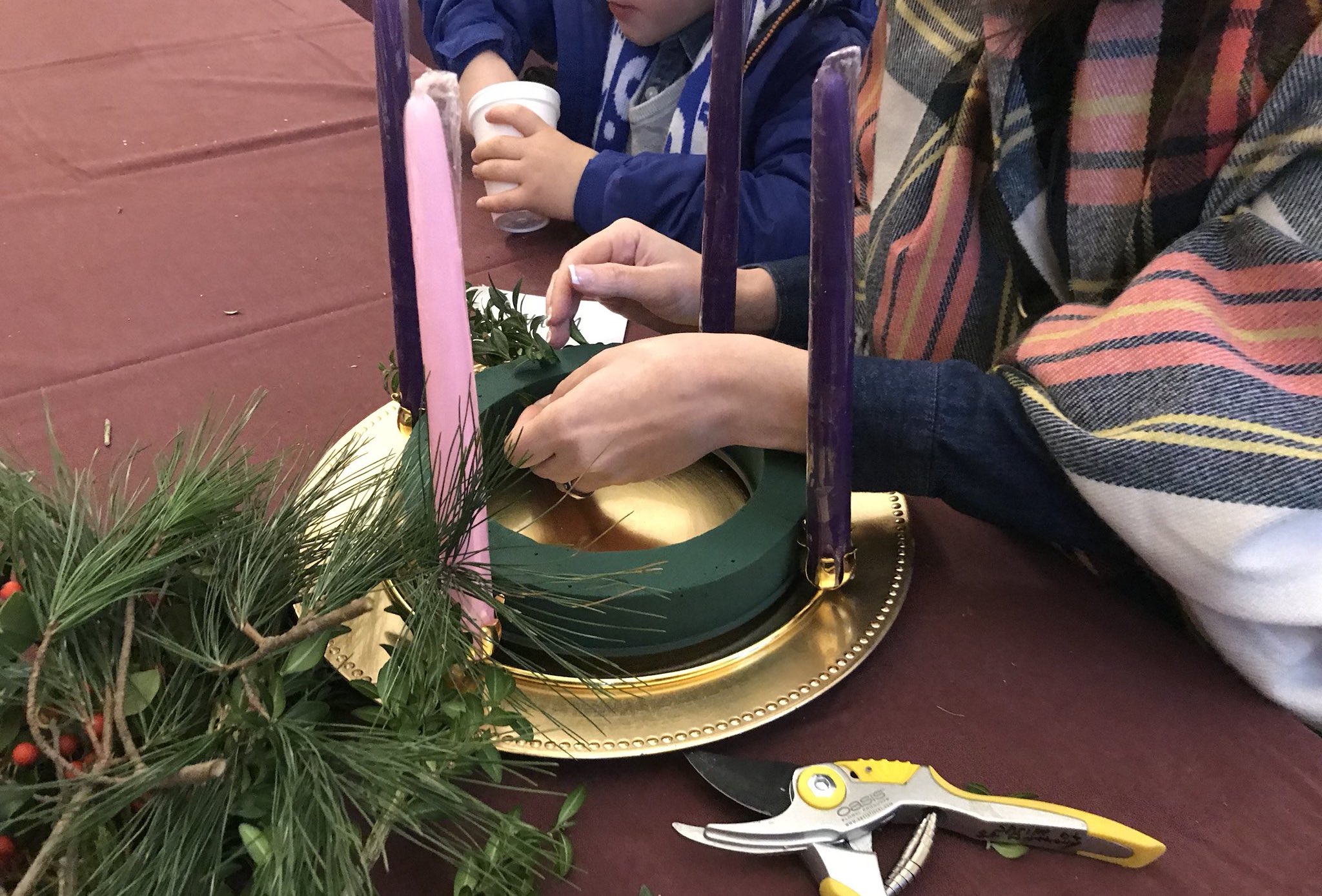 On the first Sunday of Advent in 2017, when I went to a Catholic Mass for the first time, becoming a Catholic was the last thing on my mind. The only reason I was there for the Mass was to see the Advent Wreath and lighting of the candle. I knew nothing about the Catholic Faith except for the things I had been told by anti-Catholic Protestants. Little did I know that I was in for one of the biggest surprises of my life — and a set-up by God.
A Faith of My Own
Born in 1951 and growing up in Seattle, Washington, I had been a Christian all of my life. Our family was Lutheran, so I was baptized as a baby, attended Sunday school, vacation Bible school, and church camp. I was confirmed when I was 14 and active in Luther League in high school. I had faith in God, but it was more my parents' religion than my own. There was a short period in college when I walked away from my faith and turned my back on God. When I returned to faith in 1971, it was during the Jesus People movement, and I became a charismatic. Suddenly, God was no longer just someone I believed in. It wasn't just about going to church on Sunday to give Him that slice of my life. Instead, He became integral my whole life, and I had a living, daily relationship with Him.
In the early years of the charismatic movement, the late 1960s and early 1970s, charismatic worship was new and fresh. We sang scriptural songs accompanied by guitars. We learned a lot about the Holy Spirit, His workings, and His gifts. After college I spent a couple of years in California at a Christian organization called Youth With A Mission, a worldwide organization that trains people to become missionaries and work around the world. These missionaries emphasize the need to cultivate a deeper relationship with God. As I had no money for the training, I volunteered in their office in California and learned much through exposure to visiting speakers, listening to teaching recordings, and having conversations with many students and leaders who were there.
On February 8, 1976, I flew from Los Angeles to Anchorage, Alaska, to be a bridesmaid in my college roommate's wedding. I went from temperatures in the 70s to 30 degrees below zero! This was a pivotal point in my life. I liked Alaska and was looking for an adventure, and my friend's parents invited me to stay with them for a while. I found a job and never left Alaska. I met my husband, Willy, there. We were married in 1977 and now have three grown children and four grandchildren.
During the time we were raising our children, our family attended a local Assemblies of God church, where our children flourished in their faith through the many ministries the church offered. Despite the busyness of raising three children, I always felt that God had a purpose for my life beyond that, but I didn't know what it was. From 1989 to 1999, I was involved with the music in our church, singing in the choir and playing piano for the worship services. This did not become the lifelong purpose it may have seemed to be during those ten years.
He Leadeth Me… Through Pain and Confusion
In the late 1980s, I became involved with an interdenominational charismatic group for women called Aglow, where my faith flourished and I grew spiritually. Aglow was a large part of my life for many years, and I started by serving on a local board and continued until I was the State Prayer Coordinator, then the State Leader.
During my time with Aglow, we went to many Alaskan Native villages, where we had vacation Bible school for the children during the day and ministry services for the adults in the evening. Through the local and state gatherings, national conferences and the village trips, I made many friends in Aglow in my state and across the nation.
In 1999, the door to music ministry closed for me, and it was a difficult and painful time coming to grips with the circumstances that led to a change in how and where I served God.
It was at this time that I went to the Aglow Conference for the first time in Orlando, Florida. Women came from all over the world! We had wonderful speakers, we enjoyed worship that brought us into the presence of God, and my experience there brought me into a new intimacy and closeness with God that I had never known before.
My husband retired in 2011, but in 2014 he took a "retirement job," where he worked Saturdays, Sundays, and Mondays; so he was unable to attend church. Things changed again. I started going to a church in Anchorage, but after about three years, I grew weary of making the 35-minute drive alone, then sitting alone through the services. Because of the distance, I didn't get involved in the church or make friends. I also had grown weary of the style of worship in the charismatic churches I was attending. Many of them reminded me of rock concerts with darkened rooms, flashing lights, the worship team front and center, and very loud music. There were also things happening in Aglow in our state that were difficult for me, and I found it very hard to move forward as a leader. November of 2017 was marked by snowfalls, especially on the weekends. I stopped going to the church in Anchorage because of the weather.
About this time, a good friend of mine, and one of the very few Catholic friends that I had, moved to my area. It was November, and I was thinking about Advent and Christmas. Growing up in the Lutheran Church, we always had an Advent wreath and candles, and I always loved the anticipation of Christmas and of celebrating the birth of Jesus. Most of the churches I had gone to all my adult life had not had an Advent wreath. Out of the blue, one day I said to my friend, "I just want to go to a church where they have an Advent wreath and watch them light the candle." She said that she needed to connect with the local Catholic church, and the following Sunday would be the start of Advent, and there would definitely be a wreath and candles, so why not go with her?
My heart sank. I was thinking, "WHY go with her — to a dead, ritualistic boring church service?" Nevertheless, I said yes. What else could I say? I couldn't tell her how I really felt about the Catholic Church. Up until this point, my only experience with the Catholic Church was a wedding and two funerals, besides the things I had learned from other Protestants.
The Father Ran to Meet Me
This was the beginning of God's great set-up for me. I was not looking forward to going to Mass, but I went. As we walked through the door to the nave (what we Protestants called the sanctuary), I was immediately taken aback. While I have always loved the Trinity, I have always had a special relationship with God the Father. In the churches I attended over the years, they would do just about anything to get the Holy Spirit to move. I was used to that, but encountering the presence of God the Father was a rarity. I always recognized the presence of the Father by the fact that — how can I describe it — His presence is heavy, weighty. I recognized it in that church by how I felt when I visited Jewish synagogues. As we walked through the doors of St. Andrew's, I was hit with the heavy, weighty presence of God the Father, and I was stunned by it.
Then the priests came in, and suddenly, I did not see what happened next as a "ritual." Instead, I saw how they revered the holiness of God so much that they approached Him with… protocol. That was something I would never see in my churches — a love and reverence for the holiness of God — and I loved it. When we started singing the liturgy, I almost melted! I was so touched by the beauty of the music and the words we were singing that I was moved to tears and kept on crying. The music sounded like something one might expect to hear in heaven.
A Brush With the Son
When it came time to receive the Eucharist, not knowing anything, I jumped up and followed my friend to the front. The woman gave me the host, but then she knew I shouldn't have received it, and let me know it. Busted!
When we left the church, I was in shock. I knew something profound had happened to me, but I didn't know what to do because I was NOT going to become a Catholic! But I decided I would attend there during the Advent season. This far I would go, but no farther.
The next part of God's master plan was the third time my friend and I went to Mass together. In the church foyer, they had set up a book fair. After Mass, my friend was talking to people, and since I didn't know anyone, I amused myself by walking around, looking at the books. I had never seen books like those. They were alien to me, with strange words and pictures. Then suddenly, I saw a book that stopped me dead in my tracks. Its title was Rapture: The End Times Error that Leaves the Bible Behind, by David Currie. I had spent my whole adult life in churches that espoused the Rapture teaching; still, I had had serious issues with it for years. The few times I heard someone teaching about the Rapture, I ended up with more questions and confusion than anything else. Unfortunately, there was no one to whom I could ask my questions about the Rapture, because everybody in attendance all agreed with it, whether they understood it or not. Here, for the first time, I was staring at a book that might have some answers! I didn't have any cash, so I went home and immediately downloaded it onto my tablet and started reading. David Currie's book was a turning point for me. He was knowledgeable and thorough and went through all the Bible prophecies, explaining how most of them have already been fulfilled.
Christmas came, and I still didn't know what to do. I didn't want to become a Catholic, but I was so drawn to the Catholic Church that I couldn't stay away. Then there was another step in God's set-up. Back in 2001, one of my friends, who is a Bible teacher, was invited to speak for two weeks at a Bible school in Magadan, Russia, and she invited me to come with her. Before I left, an Aglow friend who is Catholic told me about Father Michael, a priest from Alaska who was pastoring a church in Magadan. She told me what a wonderful priest he is, and I thought, "Wouldn't it be great to meet him!"
We were in a foreign country, I speak no Russian, and I had no idea where the Catholic parish might be. But we would see!
The Holy Spirit Makes a Move
One day in Russia, we were walking through a building to go to a meeting, when the person leading us pointed to a door in the hallway and said that that was the Catholic church. I immediately thought of Father Michael — and just then, the door opened and out walked a man in a long brown robe. I asked him if he was Father Michael. He said yes, and we had a short conversation. The Sunday following Christmas, who should come to celebrate the Mass and preach the homily, but Father Michael! I couldn't wait to go, and I was not disappointed.
Father Michael shared about a little five-year-old girl who would come to Mass in Magadan by herself, because her parents were not church attenders. Being so young, he didn't give her the Eucharist. One Sunday after Mass, she came to him and said, "Father Michael, why won't you give me Jesus? I just want Jesus!" Father Michael gave her Jesus.
What About Me? What Do I Want?
I thought about that incident, and I realized that I wanted Jesus, too! I had loved Jesus all my life, but I wanted Him more fully in the Eucharist. Then he talked about the Gospel passage of John 6:53–68, where Jesus told his followers that they must eat His body and drink His blood, and everybody but the Twelve left. Then He said to the Twelve, "Are you going to leave too?" Peter said, "Lord, where else can we go? You have the words of eternal life." Suddenly, those words sank deep into my heart, and it was at this point that I knew there was nowhere else I wanted to go — that this is where I belong, where God — Father Son, and Holy Spirit — was calling me and where I would find the Truth.
I was still reading David Currie's book, and one day I started reading about him and was surprised to learn that he had converted from the Presbyterian Church. He was the son of a Presbyterian pastor; his parents were teachers at Moody Bible Institute. I also discovered that he had written another book, Born Fundamentalist, Born Again Catholic. I couldn't wait to get that book, too. I immediately downloaded it and started reading. It was the perfect book for me to read at that time, since I still knew nothing about the Catholic faith and had many questions.
Currie wrote this book to explain to his Protestant friends and family why he became a Catholic. His reasons were presented clearly and systematically in a way a Protestant would understand — the perfect book for me to read at that time. He addressed subjects that separate Catholic and Protestant beliefs, including the Pope, the Eucharist, and the Virgin Mary. As I read his book, I slowly came to understand what Catholics believe, and for the first time, it made sense to me. There were still many things I didn't understand. I started reading other books as well, because I craved learning about Catholicism. I read Scott Hahn's conversion story and loved it. I read The 7 Secrets of the Eucharist and The 7 Secrets of Confession by Vinny Flynn. I picked up CDs about Catholicism in the church foyer and listened to them.
One of the things that I didn't understand was the relationship Catholics have with the Virgin Mary. In the churches I went to, we talked about Mary once a year at Christmas, and that was about it. I had an experience that changed all that.
In Alaska we get earthquakes. Once or twice a year, the house shakes a little for a few seconds, our hearts skip a beat, and then we go about our business. On November 30, 2018, we had an earthquake around 8:30 in the morning, when it was still dark in our far northern latitude. That earthquake registered 7.2 on the Richter scale — a big one! For a full minute, our house pounded up and down, the lights went out, things fell off shelves and crashed to the floor, and I had to hold onto the counter to keep from falling. When the earthquake stopped, the aftershocks started. Already traumatized, every 20 to 40 minutes, we would hear a deep rumble, the house would shake again, and fear close to panic would return. That night, I was lying in bed, exhausted. Every time I would start to relax a little, another rumble would come, the house would shake, and my heart would pound. I thought of all the people in south-central Alaska who, like me, were lying in bed with their clothes on, in case they had to leave the house suddenly, thinking, "We are all in this together!"
First the Blessed Trinity, Then the Blessed Mother
I tried to pray, but could not. I didn't know how to pray the Rosary, but I could say a Hail Mary. So I started saying Hail Marys, and pretty soon I started drifting off to sleep. I wasn't awake, but also not fully asleep, when I audibly heard a woman's voice say to me, "I love you."
My eyes flew open, and I thought, What was that?! It wasn't a voice that I recognized. Then it dawned on me. I had been saying Hail Marys, and she came to comfort me!
In September of 2018, I started RCIA. I cannot say enough about what a great experience it was! We had excellent teachers, and I learned so much about our Christian faith, what they believe, the sacraments, and all the wonderful things Catholicism has to offer. I especially liked the teaching about the Eucharist, which is one of the things that really drew me to the Catholic Church. In all my years as a Protestant, I knew there were deeper things to communion than what I understood, but I could never really grasp what they were.
When it was fully explained, I was thrilled to finally discover what Holy Communion really is and what it means to us as Christians. When I was a Protestant, we hardly ever talked about sin. Holiness is essential, but I didn't understand how to become more like Christ and deal with my sins. In learning about the Sacrament of Reconciliation, I began to understand the importance of confessing our sins to the priest. I didn't understand the necessity of penance until after my first confession, when I forgot to do it. When I went to Mass the next day, I could immediately tell something was wrong, and then I realized that I hadn't done the penance I had been assigned! It is a very important part of confession. I still struggle with understanding purgatory, something I didn't know about at all before. I recently took an online class from goodcatholic.com about what we believe, and I encountered one of the best explanations of purgatory that I have ever heard.
On April 20, 2019, at the Easter Vigil, I was confirmed at the age of 67. The confirmation name I chose was Anne. St. Anne, the mother of Mary, is the patron saint of seamstresses, of which I am one. St. Anne was the grandmother of Jesus and a name that has been given to many in my family.
I have been a Christian all my life, but becoming Catholic feels like coming home. St. Andrew is a wonderful parish, and I sing in the choir, go to weekly Adoration (where we pray before Jesus in the Eucharist), attend weekly Rosary prayer, and attend Bible studies. I figure I will be learning about God and our relationship to Him for the rest of my life, and that thought makes me very happy.
My husband has now retired again and attends a Protestant church in our area. He doesn't mind that I attend Catholic Mass, but he prefers to remain a Protestant. I join him at his church about once a month. I am the only Catholic in my family of Protestants, and my prayer is that someday I will have others in my family join me. Even if they don't, it is okay because they are Christians and accept the choice I have made. Even so, Father, make us one (John 17).