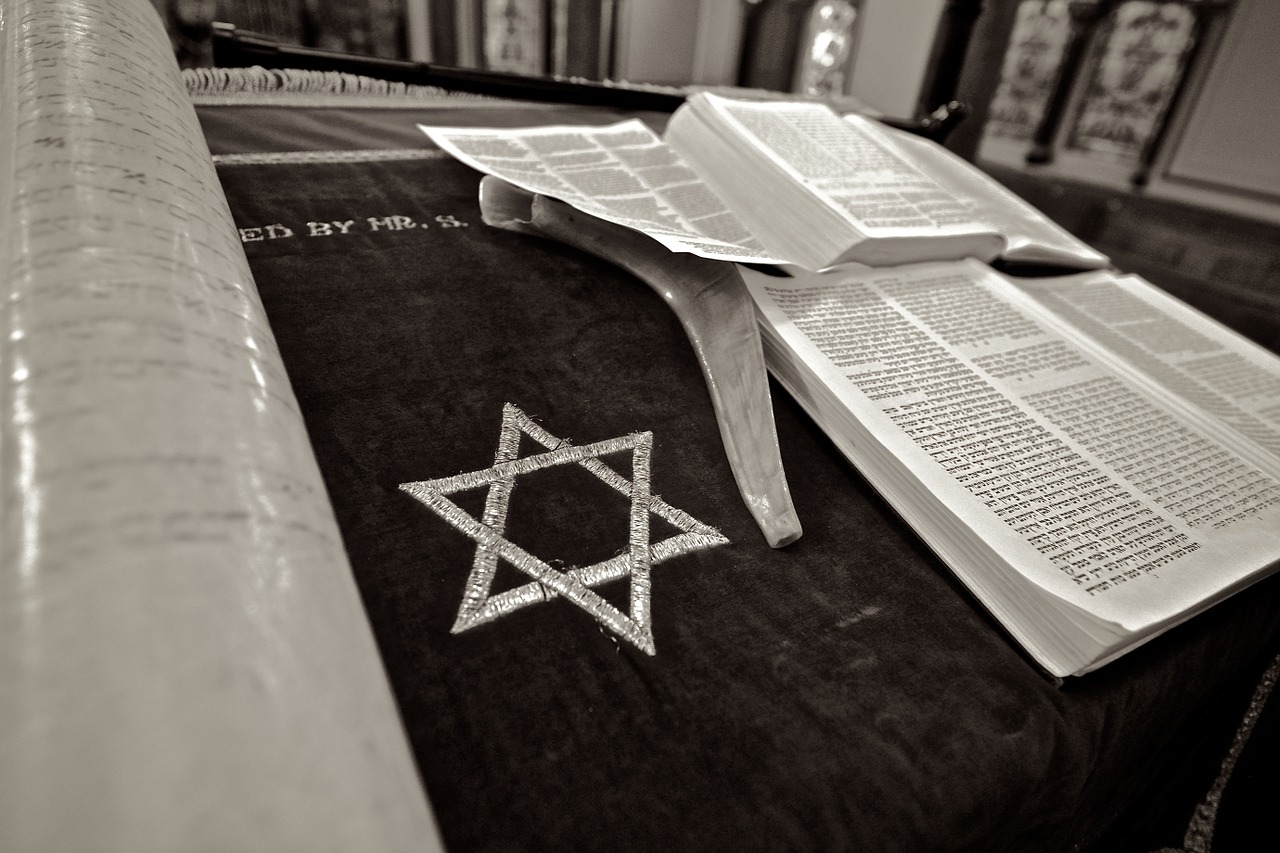 The Beginning of My Faith Journey
As a young Jewish girl growing up in South Florida, I knew from a very early age that God was real. At the tender age of three, I had an encounter with God, where He became fully present and manifested Himself to me. He was there, like a friend, totally real, totally loving. At that time, of course, I didn't know why He had chosen me and had come close to me in this way. I was so little, so young, and somehow that encounter was ingrained in me, etched into my soul. It wasn't until later in life that I would discover the reason that He had chosen to come to me, stay with me, even as later I chose to walk away from Him.
At the age of four or five, I was sexually abused by another child. The abuse happened more than once, over a period of time, until that family moved away. In the 1980s, sexual abuse was not something spoken about or that parents taught their children. In fact, in a tight-knit, conservative Jewish family like mine, this sort of topic was off limits. What happened to me didn't have a name, and I couldn't understand how a God who came to me in such a loving, tender and personal way could sit on the sidelines while this atrocity was taking place. I understood that He was present in those moments when the evil was occurring, but as a little girl, I could not reconcile His love for me with the outrage that had just occurred. Unlike some abuse victims, I did not choose to leave God in that moment. Instead, I accepted what had happened to me as part of God's will. I envisioned God as a faceless "entity." I de-personalized Him, because the pain of imagining a God who could allow such a thing to happen to a little girl was too overwhelming. I convinced myself that God's plan entailed my suffering, and that I was destined to die. I had no idea that someone, namely the Person of Jesus Christ, had already done that for me 2,000 years ago on the cross at Calvary.
My Life in the Temple
Rather than moving away from God, I pursued Him passionately. My parents were non-religious Jews who did not attend Temple, but I begged them to join our local congregation so that I could attend Hebrew school and Saturday services. My parents obliged, and every Saturday thereafter I faithfully attended Temple and Hebrew school. Because I had not been enrolled in Hebrew school from a younger age, I was placed in remedial Hebrew with some other students who were in the same situation. These Hebrew school lessons and time at the Temple would be crucial, as my soul soared to please God and become as religious as I possibly could. I studied my Hebrew day and night and became so proficient at writing and reading it that my teacher, Ms. Evelyn, moved me out of her remedial class and into a regular Hebrew school classroom. I was in the sixth grade, and I had finally entered into real Jewish life. I found my place as a Jewish child, and being in the Temple freed my soul from the pain of the abuse. The more I learned about the Jewish holidays, customs and observances, the more I wanted to take that knowledge home and implement it. But since the rest of my family was non-observant, I had nobody to share my faith with, so it became increasingly difficult to celebrate and live my Jewish faith. My house was not kosher, we did not celebrate the Jewish liturgy, and I had no mentor or guide. As a result, I spent more time in the Temple, around those kids whose families were deeply religious, and tried to find my place in God's economy. God was still an "entity" to me in those days, and I was a slave. But I had accepted my suffering for God and vowed to stay close to Him. Then came the big announcement: we were moving to California!
A Difficult Move
Moving to California was one of the most difficult times in my life. I was away from my family, my friends and, most importantly, my Temple. Jewish life centered around the Temple, and I was lost. But my parents soon found a local congregation to join, and I quickly became immersed again in Saturday services, Hebrew school, and started preparing for my Bat Mitzvah, a Jewish girl's entrance into adulthood. The community we had moved into had a very small Jewish population in comparison to my Miami upbringing, and it was difficult to meet other Jewish people like myself. I was getting used to my new sixth grade classroom when, only a few days in, I was physically accosted by a boy, who asked me where my "horns and tail" were. He stopped me in a remote part of the school and hit me while calling me a "kike," a name I had never before heard. I later learned that this was a derogatory and racist name for a Jewish person, and my heart sank in sorrow. When my father went to address the bullying with the principal, it became clear to him that she also shared the same racist viewpoint of that boy, and we soon found ourselves moving to another city. I continued to believe that I was especially chosen to suffer for God and wondered when He would take my life away from me. Living had just seemed too hard. I was only eleven.
One Saturday, in Hebrew school, I asked the Rabbi about Jesus, who He was and why we did not believe in Him. I believe now that this was a prompting of the Holy Spirit, as I had no prior knowledge of Jesus nor any friends or family who had ever spoken to me about Him. The Rabbi turned towards me in anger and told me,"Do not even say that name!" He would not engage with me about Jesus nor answer my questions. Instead, he walked away, while I stood wondering, Who is this Jesus and why can I not talk about Him?
For me, the truth was always paramount. I knew my life had a purpose and meaning, but it was hard to find it in the midst of so much pain and suffering. I had stayed within the confines of my Judaism because that was all I knew; it was safe there. Everyone in my family was Jewish, and growing up, I did not understand what a Christian really was. I was under the impression that all Gentiles were Christians, since they were not Jews, and Jesus was not someone that was relevant to me. In fact, just as the Rabbi demonstrated, Jesus' name was not to be spoken or inquired about. But by God's grace, this would not be the last time the Holy Spirit would nudge me towards Jesus Christ.
Question Everything
Unfortunately for me, I experienced sexual abuse several more times during this period. I was vulnerable and blamed myself for placing myself in these situations. At the same time, I continued with my Jewish studies, not revealing to anyone the pain and suffering that I had now started to internalize. God didn't seem to want to intervene in my life, and I was afraid to leave Him, so I continued on, but with a palpable separation, He being far up in the heavens and I being down here on earth. At this point, I had stopped attending Temple and had separated myself from it, along with any other form of Jewish life. It didn't seem to make a difference in my suffering, and because I believed that God had allowed me to be abused again as a teenager, I felt an even deeper conviction that my life's purpose was to suffer and die. I still kept God at a distance and did not allow Him to come near me. But God is a gentleman. He remained to one side, always there, always watching, waiting for the right time to make his move — His time and mine.
When I was a junior in high school, my grandfather died. Because he was not religious, we had to find a local Rabbi to conduct the service. The Rabbi returned to the house to say the necessary prayers while we were sitting shivah, the Jewish period of mourning. I was the only one in the room who knew the prayers.
"But you are a woman," He said. "You cannot be the one to say the prayers."
I was a savvy, intelligent and somewhat rebellious teenager at this point. And in that moment I felt there was only one appropriate rejoinder. "Rabbi," I said, "This was my grandfather and this is my house. So you can either say the prayers with me or you can leave — your choice."
I walked away and dropped to my knees in prayer. The Rabbi followed suit. It was just the two of us, and in that moment, I began to question everything. I felt that there was no way that God loved me less because I was a woman or because I was a teenager. I felt just as capable of saying those prayers as the Rabbi was, and I felt that God had chosen me and prepared me for that moment. And I thought to myself: Why would God make me so intelligent, fill me with so much knowledge and prepare me for this spiritual life if He didn't want me to participate in it? I also could not reconcile my belief that I was made to suffer and die against the backdrop of all that God had prepared in me. And like the Virgin Mary, I pondered all these things in my heart.
Life Away from God
After that, life became tougher. After a session of therapy, one of a series that went south quickly during my college years, I stood by a tree on the university campus and said out loud these words, "I was never abused. This never happened." I knew God was there and present as I pronounced those words. With those words I invented a whole new person, and in my mind I walked away and left Him behind. But God, as He had been for the whole of my life, became the "Hound of Heaven." Relentlessly pursuing me in every space and place that He could, it was as if I were a magnet to every Christian evangelizer on campus.
Because I had transferred there from a different college, I didn't know many people on campus. So when I was invited to church, I jumped at the opportunity to go and make new friends. However, once I arrived with the caravan at this church for the Passion Play that we were to attend, I started to sweat. I was a Jewish girl in a Christian church, and certainly God would be angry! During the entirety of the play, I uncomfortably wiggled in my seat, looking for an escape route. When the play ended, I was accosted by a sea of Jesus-loving women, who told me that there were "others" like me here, such as so-and-so, who was also Jewish. I closed my eyes and remembered my old neighborhood, what the Rabbi had told me about Jesus, and how being in this church might cause me to experience eternal damnation. So I quietly excused myself and began running for my life. Surely I was moving spiritually in the wrong direction.…
An Unexpected Encounter with Christ
I walked away from God for good (or so I thought) on September 27, 2007, the day my beloved grandmother died. She was the person who had stood by me and loved me unconditionally. After the funeral, standing at her gravesite, after the beautiful release of butterflies, I looked up to heaven and said to God, "I could handle the abuse, the suffering that came from it, and I haven't blamed you or asked you for anything. But you took away from me my only sign of stability, the person that loved me the most. I am going to go my way and you can go yours." That very day, I began my departure from Judaism and into unchartered waters.
I got married, had children and felt my life was finally complete. I was in no way an atheist, but I continued to keep God at a distance, knowing He was still "there," but choosing not to engage Him. Although I had verbally denied my abuse years before, its effects began to appear in my life in unexpected places. My marriage started to unravel, I started to unravel, and I desperately tried to find God anywhere and everywhere. I explored my Judaism first, specifically the Kabbalah, as I had always had a mystical aspect to my spirituality. After Kabbalah came the exploration of Eastern religions, but nothing felt quite right. I had hit a dead end, and the more I researched, the more I felt I was drowning. Where was God? This time He was silent.
It took my entire life to fall apart, for God to get me to the place where I could not go on another minute without Him. In an act of desperation, I reached out to a friend's mother, Karen, to ask her about attending church. I had no idea if she even attended church, but my husband and I had agreed that she was the greatest person we had ever met, and I wanted whatever it was that she had. I messaged her on Facebook and asked her if she went to church, and if so, would she take me. By 10 a.m. the next morning, I was walking into a non-denominational church, with no idea what was about to happen. The difference? This time, I was open.
The sermon was by a traveling preacher, and every word seemed meant for me. In tears, I scolded Karen for telling the preacher my story. She turned to me, sobbing, the tears flowing from her eyes in torrents that would not stop. "Melissa," she said, "that is the power of the Holy Spirit, that is the power of God. I never told him anything."
The preacher finished, and we walked out together, awash in tears. She took me to a spot away from everyone, and as we sat down on the couch, she asked if she could pray over me. It was the first time that anyone had ever prayed over me, and even more shocking to me, the prayer was not in Hebrew. She prayed over me in English, with a deep and abiding certainty, a conviction, and in that moment I experienced the love of God in a deep and personal way.
For so many years, I had viewed God as a thing, an "entity," a wrathful God. But sitting there with Karen, I was once again three years old, God was a real Person, and His name was Jesus Christ. A week later, I found myself, Bible in hand, answering an altar call, where I accepted Christ as my personal Lord and Savior and was baptized in His name.
I thought my journey back to God had been completed, but this was only the beginning.
St. Edith Stein and My Journey Home to the Catholic Church
I was living and breathing my new-found Christian faith along with my Jewish-now-Christian husband, when I felt a deep sense of longing to pray in a chapel setting. Although my new Christian life was everything I could then imagine, I still felt a piece of me was missing, and I didn't quite feel as if I were "home." So 2014 brought a year-long journey for me, as the Holy Spirit led me to seek out this "sacred place" to pray, but every time I tried to go to a church in the middle of the day, I got the same answer: "We are closed."
I had begun to write about this on my faith-based blog when a blogging friend of mine, Julie, sent me an email, telling me about St. Edith Stein, who was a Jewish convert to the Catholic Faith. In fact, she went on to become a nun! Julie was herself raised Anglican, but had a deep love for the Catholic Church. She encouraged me to read several books about St. Edith Stein's life. With the first one in hand, I opened the page and could not contain my tears. Edith Stein and I shared the exact same birthday, but even more abiding than that, her grandmother and my grandmother shared exactly the same name. This name, Adelaide, was not a common one, and there was no other way to describe the coincidence but the will of God. As I read these books, I wept again. Her life and mine were intertwined, with so many similarities and so many threads that bound us together. And then — there it was in the middle of the page: the Eucharist. What was that?
I was resolved to learn everything I could about St. Edith Stein and the Eucharist, so I sought out a Catholic friend at work to answer my many questions. One day, he told me that he was going to take me somewhere. We went over to a chapel at a local Catholic parish. It was during Eucharistic Adoration. I had no idea what I was looking at, but in the kindest, most gentle way, my friend sat whispering to me, explaining everything. I was anxious, but I knew there was something more here, so the very next day, on my lunch break, I ventured back into that chapel to meet Our Lord once again. I didn't say anything, just sat with the Lord and waited. Later, while driving away from the church, I saw a flash of light, and in an audible voice, I heard God say: "Melissa, it's time to come home." Not long afterwards, I attended my first Mass and began studying the Catholic Faith. In 2016, after participating in the RCIA (Rite of Christian Initiation of Adults) program, I became a Catholic.
There is a Purpose in Suffering
It wasn't until I became Catholic that I was able to understand my suffering through the lens of Christ. My healing from sexual abuse became my calling, my pain became my purpose. And along my journey, I met a someone who led me to an interview with another Catholic, the late night television show host, Stephen Colbert. This interview would help me enter into God's will and purpose for my life. It helped me to understand my suffering in a way that redefined who I was, setting the stage for my ministry in the Catholic Faith — a concept called redemptive suffering.
Mr. Colbert said the following in a 2015 interview he gave to GQ Magazine, "You gotta learn to love the bomb."… "Boy, did I have a bomb when I was 10. That was quite an explosion. And I learned to love it. So that's why. Maybe, I don't know. That might be why you don't see me as someone angry and working out my demons onstage. It's that I love the thing that I most wish had not happened."
I Love the Thing that I Most Wish Had Not Happened!
This statement changed my life forever. Now, not only had I finally found the truth of the Catholic Faith, but I had also found the true meaning of God's love in the crucifixion. Colbert, the youngest of eleven kids and raised in a deeply faithful Catholic family, had lost his father and two brothers in a tragic plane crash when he was 10 years old. But through his Catholic faith, he had learned the meaning of suffering. He wasn't just surviving, he was thriving, and understood his pain deeply through the person of Jesus Christ. And just as this had fueled him, it began to fuel me in a way that I cannot explain. I deeply embraced the crucifix, the life of the Church, and my calling to speak to those who have experienced trauma.
I finally understood that God didn't want me to suffer and die. Instead, I was especially chosen to carry the message of the one that did: Our Lord, Jesus Christ.