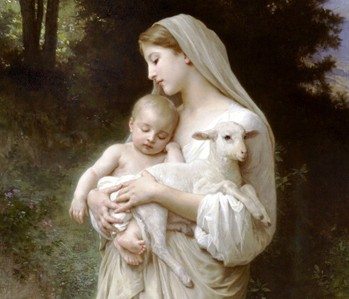 A feminist rebellion
I was raised in the Grace Brethren Fundamentalist branch of Protestant Christianity during the 1960s and 70s. I am grateful for a lot of the Bible-based teaching I learned there and from my mother; for the steeping and memorization of Bible passages; for all the wonderful stories that engrossed me; for the hearing the words of Jesus and His pure love. But my rebellious bent began to grow as I reached 15 and became skeptical about the manner of this branch of Christianity and the hypocrisy I witnessed around me and inside me. I wanted nothing to do with youth group. I had a strong dislike of the "saving of souls" that took place at the end of the preaching during particularly sad hymns. I took to sneaking out of the church and driving around in my parents' car during the service. My absconding intensified when my pastor claimed to know when the world was going to end and picked a day that came and went while he remained at the pulpit.
I left the Brethrens for good at 17 years of age and began propelling myself into nature mysticism and Eastern philosophy. In high school the Tao Te Ch'ing became my bible of sorts. Upon entering college at Ohio State University in 1978, I ran full into all secular philosophy, embracing my newly found "spirituality" in the liberal movements of the 70s and 80s. I fully immersed myself in the new Women's Studies program, Marxist ideologies, communist, and socialistic philosophies, literature of the empire, and New Age writings. Needless to say, I became an atheist; not a complacent atheist, but one who railed against organized religion of any kind. I was a banshee against Catholicism, in particular, as I considered the supposed suppression of women throughout the last 2,ooo years to be caused by Catholic propaganda and propagation. I — who was steeped in secular academic liberalism and its brainwashing — felt it was my mission as a woman to dismantle a large portion of Christian teaching.
I became a proponent of a woman's right to choose abortion, even condoning partial birth abortions. I went with a friend who had one and, as hellish as it was, I would not loosen my grip on her "right" to choose death and destruction for the child within. I also went with other friends to abortion clinics to support them and railed at the "right-to-lifers" outside. I was thoroughly in Satan's disco all throughout my college years. I pursued an English degree with a minor in philosophy and attended Columbus College of Art and Design. We were, after all, enlightened art types and had no tolerance for religion and that old morality imposed on us to maintain "an opium for the masses." We believed that we should do what we saw fit with our sexuality and, as a result, our minds were to become little deities of our whims, furthering us along the path of destruction at breakneck speeds.
I met my husband at the height of my liberalism and atheism. He was a fallen away, cradle Catholic and he embraced the same liberal ideologies I did (albeit, to a much lesser degree). He was not an atheist, however, and did not rail against religion or the Catholic Church.  Even though I thought marriage was an imposition of the Church and State, we decided to get married in 1989. Putting together our wedding ceremony was difficult. I did not want to have the words "God," "Father" or "Son" in my vows, because it was too patriarchal. My husband did not agree and we went back and forth until we had a ceremony put together. I finally agreed to leave "God" in, but wanted "the Father" left out. The Presbyterian minister (who performed our marriage ceremony at the Unitarian church) was exasperated. I choose a passage from Song of Solomon, which I believed to be a beautiful piece of literature on the subject of love. It seemed to be the last, remaining vestige of my biblical upbringing. After all, I was a spiritual person.
Changed by the child within
After the wedding, I did not change my maiden name, nor did I want to have children. Since becoming "enlightened" in the women's movement, I believed that children would take away my ability to pursue a career and my overall power as a person. In spite of this, my husband wanted children and gradually awakened my buried desire for them. We had our first child in August 1990, a little over ten months into our marriage. I remember seeing my son in my womb the first time on the ultrasound: his movements and head and curved spine. I was in awe and haunted. I couldn't get the image of him inside me out of my mind for days. I began having feelings I couldn't quite understand: I was irritated and enthralled, confused and hurt. This pain was unidentifiable. I didn't realize then that I was seeing through the veil of lies I had believed being "pro-choice." My son in the womb was not just a bunch of cells at ten weeks, but a child with a beating heart, a formed spine, a head, eyes forming, arms and legs, and tiny fingers and toes. I felt the lies deep within, with every movement my growing baby made.
I embraced motherhood in a progressive, enlightened way. I would "do" and "have it all." I would work and raise another life and have my life. It was all about me until I held that vulnerable baby in my arms for the first time and saw the little, worried expression on his face when he looked up at me and into the brand new world. Looking back, I see he had reason to worry, for it was going to be a rough ride for his soul with such a rebellious mother.
My early years of mothering were forging — and what forging I needed!  They caused me to get outside of myself with love for my child. My life became ordered around this love. I would do anything for him. I would die for him. I knew deep within my veins there was design in this miracle I tended: that this child was not haphazardly thrown together by evolution. I thanked God for my son and moved into the possibility of Him in my life. Little by little, as the result of this child, the sacred seeped into my life, opening me more toward God.
This, however, would take years, as I was fortressed in my brainwashing, my stubbornness, and my wayward thinking. But love, as I would learn, was stronger than all my beliefs. In his early childhood, I began teaching my son a little about all religions. He particularly loved the biography of Siddhartha Gautama — the "Supreme Buddha" — and the kindness he had for all creatures, especially the little injured bird. My son would learn "spirituality." I didn't want to force him into any religion like I was as a child. I continued reading New Age writings from Wayne Dyer, Eckhart Tolle, Chopra, Hicks, and Helen Schucman's A Course in Miracles, to name a few. By embracing their philosophies, I could believe in God. In fact, according to their ideas, I could become a god myself!
Saved by the Catholic school system
Then it came time for my son to begin kindergarten. We decided to enroll him at St. Peter Catholic School, since we believed the local public school was not up to our standards for his education. I remember asking the Catholic school principal if it was going to be okay to have my son attend her school since we were not Catholic and I believed in "spirituality" rather than religion. She replied, "I am not going to apologize that our school is Catholic."
I came home and told my husband that I enrolled our son at St. Peter's and that, since he grew up in that church, he had to become a parishioner again in order for us to get the hefty discount on tuition. My husband reluctantly agreed and, in the process, began to open his heart to the faith of his youth. My son went through the beginning years of school attending Mass and religion class weekly. My husband began taking him to Mass on Sundays. I was stunned. Little did I know that a few years later, at my husband's insistence, my eight-year-old son and newborn daughter would be baptized into the Catholic Church!
Never in my wildest, feminist dreams would I have thought I would be married — let alone married with a child and a man who went to Catholic Mass! This took some getting used to and gnashing of secular teeth. I was open to a great and loving God, but not to the God in the "institution of religion." Eventually, I decided that, as long as he didn't force it onto my son, my husband had the right to pursue his own spirituality. And pursue it he did! My husband returned to the church he had left as a teenager, embracing his faith more fully than ever. He went to confession regularly, began to pray, and attended Bible studies and retreats. We were even married in the church (a sacrificial gift I gave to my husband).
When I became pregnant with our second child in 1997, I began seeing and experiencing more of the creative love of God. I was linking beauty and love in the world to Him, coming from Him. This being "becoming" inside my womb, was like an ark sailing through the seas of the culture of death. As she grew, I opened more and more to the miracle of life. I, who had witnessed the unfathomable violence of abortion and deemed it "the right of the mother," and who claimed to be all about love and tenderness toward one another, saw how deeply into the lies and evil I was entrenched and how misled and wretched I was. I went through a very, dark time with this realization. I could only keep asking forgiveness, because it was so hard to believe that I could ever be forgiven. I had to know who Jesus was.
I knew enough to turn to the Gospels, and, in rereading them, became illuminated to the truth that Jesus is truly human and truly divine. I had never really seen Him in my upbringing. He had become one spiritual master among many in my young adulthood. I had never understood His becoming man in order to reach us and bring us from the deepest forsakenness of our sin, to gather us into His folds. The immensity of Jesus was forming in my soul. I began to hear Christmas music in my head. I couldn't stop humming and singing Handel's Messiah as I waited to hold my daughter in my arms. She was born in June of 1998 and this Hallelujah! floated through the heat of summer. "All glory to God for this gift of my child," I sang beneath the shade of beech trees. Now, as I think about the seven billionth child born and the grumblings about population control, all I see is the possibility of any one of these "surplus" babies eventually snowballing a billion souls into heaven with all the potential love being passed around.
A strange loosening began to happen in that fisted heart of mine. My son began to ask me to go to Mass with him — at first shyly, then intensely — until I finally relented and said yes. I went for my child's sake. I believed it certainly wouldn't harm me to sit in the beautiful church with the brilliant colors of stained glass windows displaying the story of God's relentless pursuit of fallen humanity; to listen to the gorgeous music from the choir; to hear our voices rising up like bright doves. After all, I did believe in God again. So I attended Mass often with my family for several years.
Recognizing the Eucharistic Lord
Then one Mass as the line for Communion passed my pew, the same way it did week after week, I began to feel Jesus stirring within me. At first, I resisted this presence, but, after the Eucharistic Prayer one day, I felt Jesus all around me and within me like a laden light. It was such an overwhelming presence full of peace and love that I wanted to be in Him always; I wanted to receive Him in Communion; I wanted to be on His holy ground. It was as if the door to heaven was ajar and from the outside, I could only glimpse the beauty and light and love. I grew restless and my desire for Christ burned from that day forward.
But the obstacles were still there: my pride, my poor intellectualism and ego, my Fundamentalist family's strong dislike of Catholicism and subsequent anger at my becoming Catholic. Satan himself was perched like a vulture. But this burning longing for Jesus, along with the prayers of my friends, my sponsor, and certain family enabled me with God's grace to get over enough of my obstacles to enter into the RCIA program. I was not an easy candidate. My questions and resistances of a male hierarchy and the institution of religion, compounded with the sex abuse scandal just erupting, caused my sponsor to wonder if I would show up at all for the Easter Vigil!  But through it all Christ kept loving me and calling me. I could feel His presence in my blackness. I wanted to receive His Real Presence in Communion so badly I crawled—with God's help—over hurdles of my own making. I was overwhelmed by His mercy. I was forgiven and offered eternal life with Him. On Easter Vigil, I said, "Amen" holding out my hand and heart and received Jesus, the I Am, the Most High.
Since that day ten years ago, I have pursued my faith by learning from the Scriptures, the rich heritage of saints and Catholic writers, and holy Mother Mary's rosary. I have been actively reading and learning from the wonderful array of Catholic and Christian blogs. I have been trying to learn to pray better and more often. I love going to Mass as often as possible. I teach 4th grade catechetics at our parish. I am incomprehensibly blessed with my two daughters, ages 10 and 13, and my 21-year-old son, who, years ago, through his love and desire to share his faith, saved me.
I am endlessly grateful for God's amazing gift of a child who led me back to Him.  He is currently a junior at Franciscan University of Steubenville, Ohio.
All praise and thanks be to God.