Today is a special re-air of a program broadcast on 05/25/2011 in which we interviewed Fr. Ray Ryland. We are sharing this program in honor of Fr. Ryland who passed from this life on Thursday, March 20th, 2014.
Fr. Ryland served as a naval officer in World War II before he attended Union Theological Seminary and was subsequently ordained to the ministry. He served for a number of years for the Episcopal Church until in 1963 he was received with his wife Ruth and their 5 children into the Catholic Church. Twenty years later, he was the second Anglican to be ordained a priest in the Catholic Church with a dispensation from the rule of celibacy. Fr. Ryland taught theology at the University of San Diego and the Franciscan University of Steubenville. He served as an assistant at St. Peter's church in Steubenville, Ohio. Most dearly for us, however, he was the Vice President and Chaplain of the Coming Home Network International since it was formed back in 1993. Fr. Ryland's conversion story is available in our book Journeys Home available through CHResources, but it is also told in his recently published memoir: Drawn From Shadow's Into Truth.
Enjoy this classic episode in which we discuss Colossians 1:24 and 1 Thessalonians 5:16-18.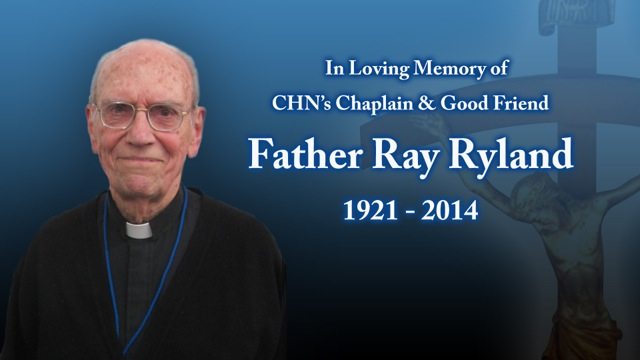 Colossians 1:24
[24] Now I rejoice in my sufferings for your sake, and in my flesh I complete what is lacking in Christ's afflictions for the sake of his body, that is, the church,
1 Thessalonians 5:16-18
[16] Rejoice always, [17] pray constantly, [18] give thanks in all circumstances; for this is the will of God in Christ Jesus for you.