Today's Topic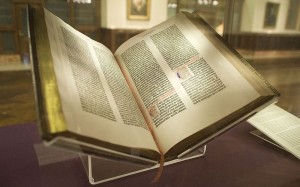 What is "the Gospel of God"? When St. Paul said he was not ashamed of the Gospel, or that he was "set apart for the gospel", what did he meant by "the gospel"? Do all Christians agree on what this means? And what does "the gospel" require of us? What must we believe? What must we do? Or does it even require that we do anything, except believe in Jesus Christ? Today Marcus Grodi and Dr. Howell begin a series of study on the book of Romans.
Listener Email:
DR. HOWELL & MARCUS,! IN YOUR STUDY LAST WEEK YOU DISCUSSED ROMANS 1:16, "FOR I AM
NOT ASHAMED OF THE GOSPEL: IT IS THE POWER OF GOD FOR SALVATION TO EVERY ONE WHO HAS FAITH, TO THE JEW FIRST AND ALSO TO THE GREEK." I'M A BAPTIST, AND WONDER WHETHER CATHOLICS UNDERSTAND WHAT PAUL MEANT BY "THE GOSPEL" THE SAME AS WE DO?
RICH
Scripture and Notes: Romans 1
[1] Paul,
a servant of Jesus Christ,
called to be an apostle,
set apart for the gospel of God
[2] which he promised beforehand through his prophets in the holy scriptures, 
[3] the gospel concerning his Son, who was descended from David according to the flesh 
[4] and designated Son of God in power according to the Spirit of holiness by his resurrection from the dead, Jesus Christ our Lord, 
[5] through whom we have received grace and apostleship to bring about the obedience of faith for the sake of his name among all the nations, 
[6] including yourselves who are called to belong to Jesus Christ; 
[7] To all God's beloved in Rome, who are called to be saints: Grace to you and peace from God our Father and the Lord Jesus Christ.
Quotes from the Catechism on relationship between "the Gospel", the Kingdom, and the Church:
763 It was the Son's task to accomplish the Father's plan of salvation in the fullness of time. Its accomplishment was the reason for his being sent (Cf. LG 3; G 3). "The Lord Jesus inaugurated his Church by preaching the Good News, that is, the coming of the Reign of God, promised over the ages in the scriptures." (LG 5) To fulfill the Father's will, Christ ushered in the Kingdom of heaven on earth. The Church "is the Reign of Christ already present in mystery." (LG 3)!
541 "Now after John was arrested, Jesus came into Galilee, preaching the gospel of God, and saying: 'The time is fulfilled, and the kingdom of God is at hand: repent, and believe in the gospel.'" (Mk 1:14-15) "To carry out the will of the Father Christ inaugurated the kingdom of heaven on earth." (LG 3) Now the Father's will is "to raise up men to share in his own divine life". (LG 2) He does this by gathering men around his Son Jesus Christ. This gathering is the Church, "on earth the seed and beginning of that kingdom". (LG 5)