"GOD SO LOVED THE WORLD"…THAT HE NOT ONLY REVEALED HIMSELF TO MANKIND, BUT HE GAVE MANKIND THE FREEDOM TO RESPOND.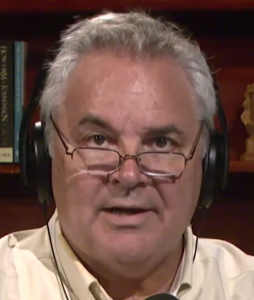 Every single human being has been created in the image of God, and, through the death and resurrection of Christ, has been redeemed. Every person has within their conscience a desire for God, or as St. Augustine put it, "Our hearts are restless until they find their rest in Thee." 
In His love, God has revealed Himself to humanity in three ways: (1) through HIs creation; (2) to His chosen people Israel; and (3) through the Gospel. In Romans 1:16-21, which we discussed last week, we see that because of these revelations, mankind is without excuse. As St. Paul wrote in verse 21: "So they are without excuse, for although they knew God they did not honor him as God or give thanks to him, but they became futile in their thinking and their senseless minds were darkened."
Today we will continue this discussion to see in more detail what has happened as a result of this.
EMAIL:
Dear Marcus and Ken:
Last week you passed quickly by this verse: "For the wrath of God is revealed from heaven against all ungodliness and wickedness of men who by their wickedness suppress the truth. For what can be known about God is plain to them, because God has shown it to them." This was in the context of God making Himself clearly knowable through His creation. Does this mean, therefore, that unevangelized primitives, like native American Indians, have reaped the wrath of God for their immoral behavior, even though they had never heard of the Ten Commandments or the Gospel?
Thank you,
Jenny
(A) INSTEAD OF LOVING GOD, MANKIND MADE FOR HIMSELF GODS:
22: Claiming to be wise, they became fools, 
23: and exchanged the glory of the immortal God 
for images resembling mortal man or birds or animals or reptiles. 
(B) AS A RESULT, GOD LET MANKIND REAP THE REWARDS OF THEIR FOLLY:
(I) THE LUSTS OF THEIR HEARTS TO IMPURITY:
24: Therefore God gave them up in the lusts of their hearts to impurity, 
to the dishonoring of their bodies among themselves, 
25: because they exchanged the truth about God for a lie 
and worshiped and served the creature rather than the Creator, 
who is blessed for ever! Amen. 
(II) TO DISHONORABLE PASSIONS:
26: For this reason God gave them up to dishonorable passions. 
Their women exchanged natural relations for unnatural, 
27: and the men likewise gave up natural relations with women 
and were consumed with passion for one another, 
men committing shameless acts with men 
and receiving in their own persons the due penalty for their error. 
(III) TO A BASE MIND AND TO IMPROPER CONDUCT:
28: And since they did not see fit to acknowledge God, 
God gave them up to a base mind and to improper conduct. 
29: They were filled with all manner of wickedness, 
evil, covetousness, malice. 
Full of envy, murder, strife, deceit, malignity, 
[30]they are gossips, slanderers, haters of God, insolent, haughty, boastful, inventors of evil, disobedient to parents, 
31: foolish, faithless, heartless, ruthless. 
32: Though they know God's decree 
that those who do such things deserve to die, 
they not only do them 
but approve those who practice them. 
    SIMILAR LISTS:
2 TIMOTHY 3:1-5
"But understand this, that in the last days there will come times of stress. For men will be lovers of self, lovers of money, proud, arrogant, abusive, disobedient to their parents, ungrateful, unholy, inhuman, implacable, slanderers, profligates, fierce, haters of good, treacherous, reckless, swollen with conceit, lovers of pleasure rather than lovers of God, holding the form of religion but denying the power of it. Avoid such people."
GALATIANS 5:16-21
"But I say, walk by the Spirit, and do not gratify the desires of the flesh. For the desires of the flesh are against the Spirit, and the desires of the Spirit are against the flesh; for these are opposed to each other, to prevent you from doing what you would. But if you are led by the Spirit you are not under the law. Now the works of the flesh are plain: fornication, impurity, licentiousness, idolatry, sorcery, enmity, strife, jealousy, anger, selfishness, dissension, party spirit, envy, drunkenness, carousing, and the like. I warn you, as I warned you before, that those who do such things shall not inherit the kingdom of God.
(C) YET, WE MUST BE CAREFUL IN OUR JUDGEMENT OF OTHERS:
1: Therefore you have no excuse, O man, whoever you are, when you judge another; 
for in passing judgment upon him you condemn yourself, 
because you, the judge, are doing the very same things. 
2: We know that the judgment of God rightly falls upon those who do such things. 
3: Do you suppose, O man, 
that when you judge those who do such things and yet do them yourself, 
you will escape the judgment of God? 
4: Or do you presume upon the riches of his kindness and forbearance and patience? 
Do you not know that God's kindness is meant to lead you to repentance? 
5: But by your hard and impenitent heart 
you are storing up wrath for yourself on the day of wrath 
when God's righteous judgment will be revealed. 
6: For he will render to every man according to his works: 
7: (a) to those who by patience in well-doing seek for glory and honor and immortality, 
he will give eternal life; 
8: (b) but for those who are factious and do not obey the truth, but obey wickedness, 
there will be wrath and fury.