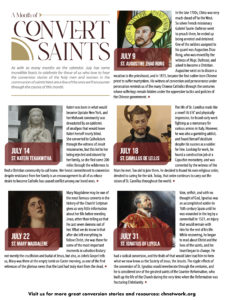 The Church's calendar has some great convert saints on it for the month of July! Many are familiar with the dramatic stories of St. Mary Magdalene and St. Ignatius of Loyola, but did you know about the mercenary soldier and compulsive gambler who had a major conversion while doing a construction project on a monastery, or the first native-born Chinese priest to suffer martyrdom?
We've assembled some of those stories in an infographic that you can download to print and share, and perhaps familiarize not just yourself, but your parish or classroom with these wonderful friends in heaven who model what it means to be truly converted to Christ.
St. Augustine Zhao Rong, pray for us!
St. Kateri Tekakwitha, pray for us!
St. Camillus de Lellis, pray for us!
St. Mary Magdalene, pray for us!
St. Ignatius of Loyola, pray for us!
All you holy men and women, pray for us!