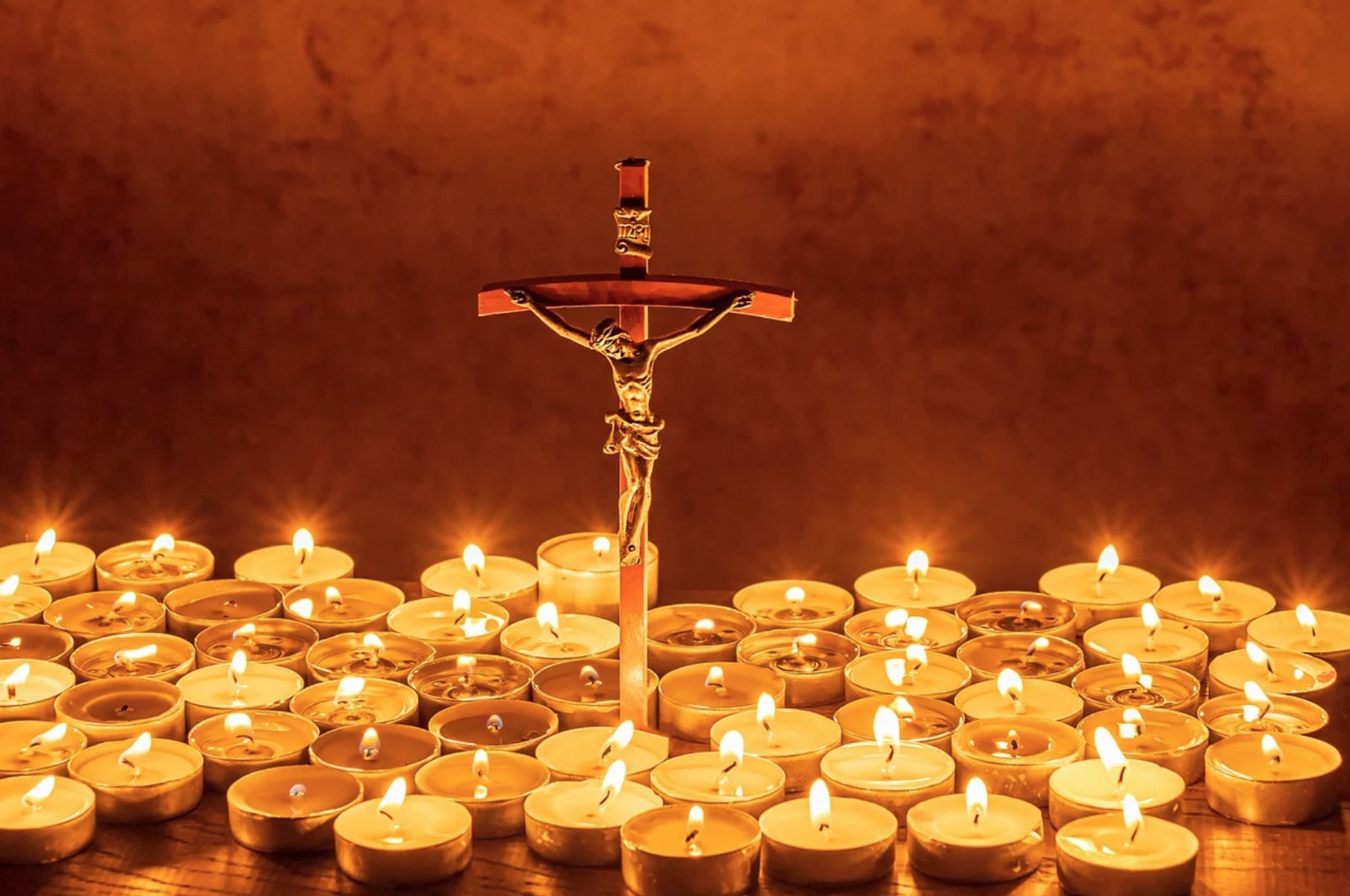 As we enter Holy Week, we are given the opportunity to reflect more deeply on the tremendous love of Jesus Christ and His sacrifice for us on the cross. Catholics view suffering in a way unlike many other Christians. Most non-Catholic Christians don't see the need for or value in suffering. I'd like to reflect a little on the role of suffering in the Christian life and its value when united with the cross of Jesus.
Sometimes crosses can come unexpectedly and not in the way we would like. Illness, unemployment, loneliness, underemployment, loved ones who lose their faith — these are all part of the human experience. This Lent, our world has been enveloped in a severe kind of suffering we didn't expect or choose through the devastating effects of the Coronavirus.  Through these sufferings, though, we believe that God can do a tremendous work in our lives, if only we let Him.
Sin, suffering, and death are almost as old as the human story. From nearly the beginning of time, man has stood in need of redemption. The fall of Adam and Eve dealt a grievous blow to our human nature and wounded it — but didn't destroy or completely disfigure it. On account of this original disobedience, sin and death became a part of our world, and we were unable to enter heaven. The Catechism of the Catholic Church tells us that because of the fall, "Adam and Eve transmitted to their descendants human nature wounded by their own first sin and hence deprived of original holiness and justice."1 Even though sin and death entered the world through original sin, God, in His grace and mercy, promised a Redeemer. Ultimately, the beauty of the Christian story is that Jesus on the cross would fulfill that promise and reconcile man with God.
Through the sacrifice of Jesus on the cross, man is brought back into friendship with His Creator and is redeemed. By having a spotless human nature and dying upon the cross, Jesus took humanity's fallen nature and raised it up to something even greater.2 It doesn't, however, end there. Lent and particularly Holy Week are appropriate times to reflect on how we are called to willingly embrace our own crosses as Jesus embraced His.
How do we even understand suffering though? Jesus' death on the cross gives meaning to suffering. Jesus helps Christians understand suffering because He "did not come to suppress suffering all at once, nor to explain it, nor to justify it. He came to assume it and to transform it."3 We can only understand the meaning of suffering by recognizing the supreme love of God, who, for us, "gave his only Son, that whoever believes in him should not perish but have eternal life."4 For Pope St. John Paul II, this Scripture passage introduces Christians "into the very heart of God's salvific work … Salvation means liberation from evil, and for this reason it is closely bound up with the problem of suffering … God gives his Son to the world to free man from evil, which bears within itself the definitive and absolute perspective on suffering."5 By Jesus' death upon the cross, He transformed suffering from something previously associated with evil into the means for man's salvation.
Why is suffering still necessary though? Didn't Jesus die on the cross to take away pain and suffering? Well, not exactly. We still live in a fallen world (thank you, Adam and Eve!) and still experience the effects thereof — which include sin and suffering. But, Jesus allows us to assist in a mysterious way in the redemption that He procured by His cross. St. Paul reminds us that suffering isn't optional: "I rejoice in my sufferings for your sake, and in my flesh I complete what is lacking in Christ's afflictions."6 Also, as John Paul II explains, "In the Cross of Christ not only is the Redemption accomplished through suffering, but also human suffering itself has been redeemed."7 Therefore, every Christian "is also called to share in that suffering through which the Redemption was accomplished … In bringing about our Redemption through suffering, Christ has also elevated human suffering. That means that each man, in his suffering, can also become a sharer in the redemptive suffering of Christ."8 Because of the one sacrifice of Calvary, we who are united to Jesus in Baptism can unite our sufferings with His sacrifice on the cross to be an acceptable offering to the Father.
How are we able to do that? Why does our suffering have meaning? It's because we are incorporated into Christ through Baptism and thus receive a share in His ministry. Through Baptism we are made part of Christ's Body.9 St. Paul writes that those "who have been baptized into Christ Jesus were baptized into his death."10 We are re-created by means of Baptism, which is a kind of participation in the death of Jesus upon the cross.11 So we the baptized are called to transform our lives into images of Jesus crucified.
The cross also is significant and integral to the Christian life because as Christians we are called to imitate Jesus. Part of that imitation involves sharing in His cross. The suffering of the cross is the ultimate model for the Christian to imitate to draw closer to God through His grace because the cross is the prototype of how to love. Jesus suffered and carried His cross and ultimately laid down His life on it. So when difficulties and trials draw near, we can respond to them not out of fear but with a certain kind of love since we are being given the opportunity to imitate our Savior, Jesus. St. Peter reminds us that "because Christ also suffered for you, leaving you an example, that you should follow in his steps."12 Jesus commands His followers, "If any man would come after me, let him deny himself and take up his cross and follow me."13
In imitating the suffering of the cross, Christians unite themselves with Jesus Christ. Though it's often not easy, and may even require heroic obedience, we should try to accept suffering out of love for God, following Jesus' example shown through the words He said right before the crucifixion: "I do as the Father has commanded me, so that the world may know that I love the Father."14 The cross has given us a beautiful reason to embrace suffering and has made it sacred since "it confers upon those whom it rends the most intimate resemblance to the sorrowful Son whose cross saves the world … a tortured heart committed to the Father is the most living image of the Redeemer."15 An authentic Christian thus should accept suffering with love since it is a beautiful gift from God that allows us to be transformed into more exact images of the Savior.
How then should we approach suffering? Because we should show love for God out of willing acceptance of suffering, a certain kind of joy should accompany affliction. About to suffer on the cross, Jesus spoke of His joy that He wished to share with His followers: "that they may have my joy fulfilled in themselves."16 Furthermore, St. Paul writes that he glories in nothing "except in the cross of our Lord Jesus Christ, by which the world has been crucified to me, and I to the world."17 St. Peter says something similar in reminding us to "rejoice in so far as you share in Christ's sufferings, that you may also rejoice and be glad when his glory is revealed."18 John Paul II stresses, "Joy comes from the discovery of the meaning of suffering."19
Another pope, Pius XII, writes that we "glory in a thorn-crowned Head … [it] is a striking proof that the greatest joy and exaltation are born only of suffering, and hence that we should rejoice if we partake of the sufferings of Christ, that when His glory shall be revealed we may also be glad with exceeding joy."20 Vatican II also reminded us of the importance of this mystery when the Council Fathers wrote, "On earth, still as pilgrims in a strange land, tracing in trial and in oppression the paths He trod, we are made one with His sufferings like the body is one with the Head, suffering with Him, that with Him we may be glorified."21
What a challenge! The next time we are presented with a difficult cross, let us remember that we should try to approach it with a kind of joy, since it is through this cross we are able to draw closer to Our Lord.
As we go through Holy Week, let's reflect on why the cross is not simply the means and symbol of man's salvation, but is also the enduring model for how we are to live authentic Christian lives. We are to take up our own cross and follow Him. Let's ask for God's grace to do that well. 
_________________________________________________
1  Catechism of the Catholic Church, paragraph 417. 
2 Ibid, paragraph 412.
3 Louis Evely. Suffering. Translated by Marie-Claude Thompson. (New York: Herder and Herder, 1967), p.  69.
4  John 3:16.
5 John Paul II, Salvifici Doloris, paragraph 14.
6 Col 1:24.
7 Salvifici Doloris, paragraph 19
8 Ibid.
9 1 Cor 12:13.
10 Rom 6:3
11 E. L. Kendel. A Living Sacrifice A Study of Reparation (London: SCM Press LTD, 1960), p 57.
12 1 Peter 2:21
13 Mark 8:34.
14 John 14:31.
15 Louis Evely. Suffering, p. 71. 
16 John 17:13.
17 Gal 6:14.
18 1 Peter 4:13
19 Salvifici Doloris, paragraph 1.
20 Pius XII, Mystici Corporis Christi, paragraph 2.
21 Lumen Gentium, 7.