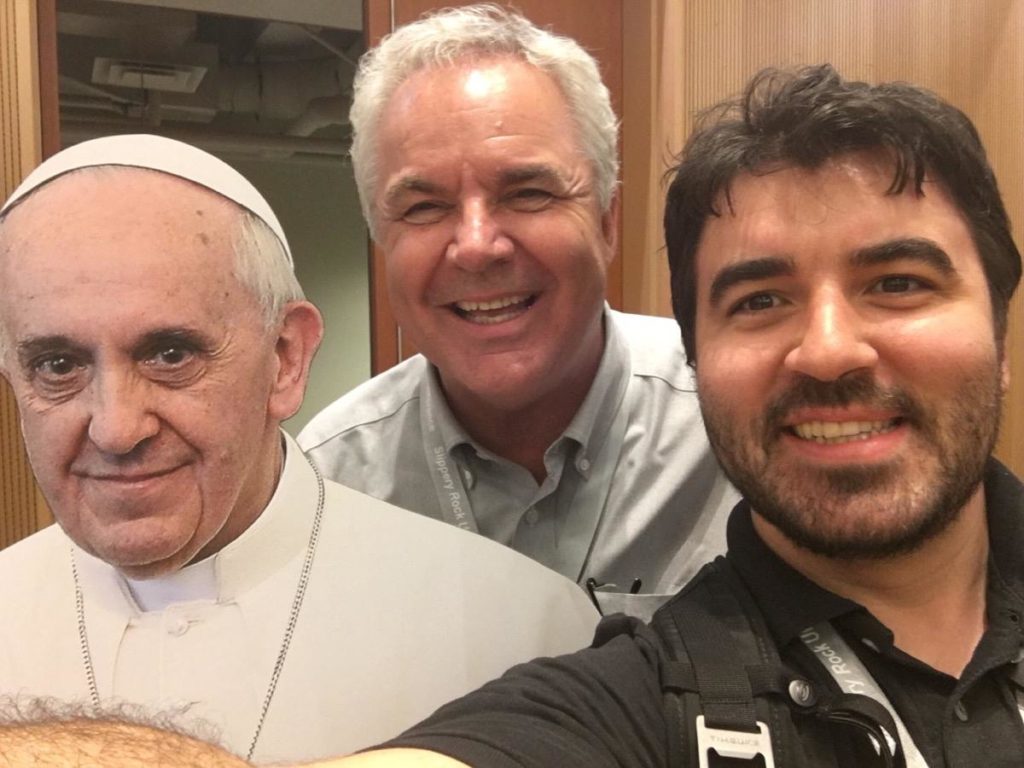 Welcome to another weekly digest from the Coming Home Network!
It began with Marcus and JonMarc Grodi returning from this year's G.K. Chesterton conference, where, as you can see, they ran into Pope Francis- or at least a cardboard cutout of him.
In this week's written story, Casey Phillips recounted his journey from Baptist preacher's kid to Catholic high school teacher.
Clark Durant was Marcus' guest on The Journey Home, and discussed how encountering Catholics of intellectual integrity in law school influenced his conversion to Catholicism.
This week's #WednesdayWisdom came from Vince Lombardi, arguable the greatest NFL coach of all time.
Meanwhile, for #ThrowbackThursday, we located a 2004 visit to The Journey Home by current American Solidarity Party presidential candidate and former Evangelical Episcopal priest Mike Maturen.
And the CHNetwork Community looked at the question of how protestants and Catholics handle differences of opinion regarding worship music styles.
*****
Elsewhere around the web…
As both Simone Biles and Katie Ledecky both dominated their events at the Olympics this week, Catholic News Agency featured an article on the Catholic faith of these two young women who have taken the world by storm.  They also profiled the Catholic faith of Walker, Texas Ranger star Clarence Gilyard.
For her feast day this week, Dr. Taylor Marshall looked at 5 reasons why Jewish professor Edith Stein became a Catholic nun.
The politically and theologically liberal Evangelical Lutheran Church in America approved 32 points of agreement with the Catholic Church at their annual gathering in New Orleans this week.
Stephanie Stovall reflected on her experience at a nondenominational day of reflection from her perspective as a Catholic mom.
At the National Catholic Register, Fr. Dwight Longenecker wrote about the role of emotions in worship.
And Joe Heschmeyer broke down C.S. Lewis' surprising argument for the papacy.
*****
To keep up with everything that's going on with us, be sure to follow us on Twitter and like us on Facebook– and explore the wealth of free videos, articles and podcasts available through chnetwork.org!