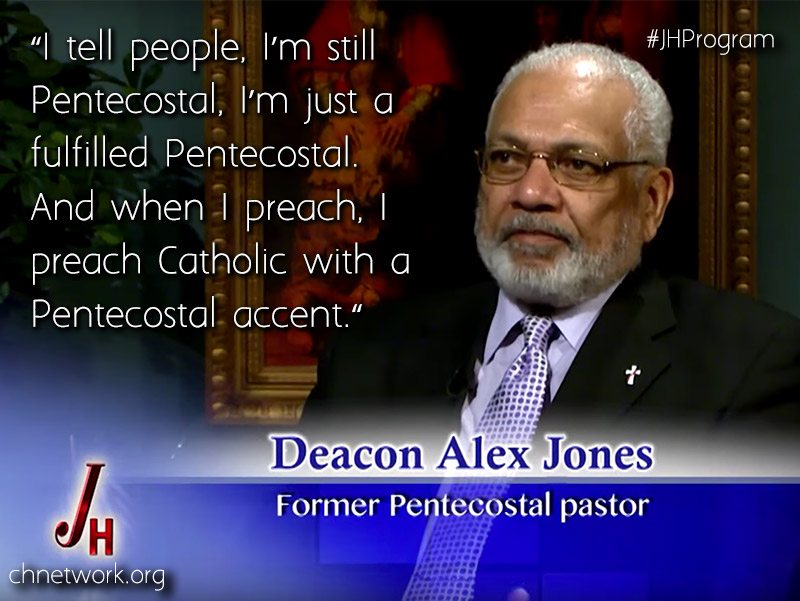 Here's a sampling of what went on with the Coming Home Network this week:
Deacon Alex Jones returned to The Journey Home to talk
evangelization, the Holy Spirit, and how the Church should transform the culture instead of just reflecting it.
On our Deep in Scripture podcast, Ken Hensley addressed the perennially controversial passage from Matthew 23:8-9, where Jesus tells us to "call no man father."
John Robinson, choir director at St. Paul's Church in Harvard Square, was our guest on the latests Signposts video short.
We beefed up our Pinterest presence with lots of shareable images for your social media channels.
For #ThrowbackThursday, we found footage of Marcus Grodi appearing as a guest on his own show to celebrate the 1 year anniversary of The Journey Home.
Our CHNetwork Community Members responded to the question: "What's your experience of door-to-door evangelism?"
And for this week's feast of St. Peter and Paul, we highlighted Steve Ray's popular Deep in History lecture, "Peter, The Rock, The Keys and The Chair."
*****
Elsewhere around the web…
EWTN's Joanna Bogle, writing from the UK, wrote that Britain needs more than #Brexit- it needs Jesus Christ.
Pope Francis expressed frustration at the way his comments on women deacons were misrepresented by the media.
ChurchPOP looked at how 5 protestant reformers defended the doctrine of the perpetual virginity of Mary.
The National Catholic Register profiled a 13th century friar whose apologetics machine was a precursor to today's computers.
Dr. Peter Kwasniewski looked at why Catholics and Orthodox use incense in prayer.
And Pope Francis kissed Journey Home alum Dr. Taylor Marshall's baby in St. Peter's Square.
*****
Be sure to click your way around chnetwork.org, browse our community, and share our continuously updated archive full of free content!  And watch our social media channels this weekend for great links to 4th of July-related resources…