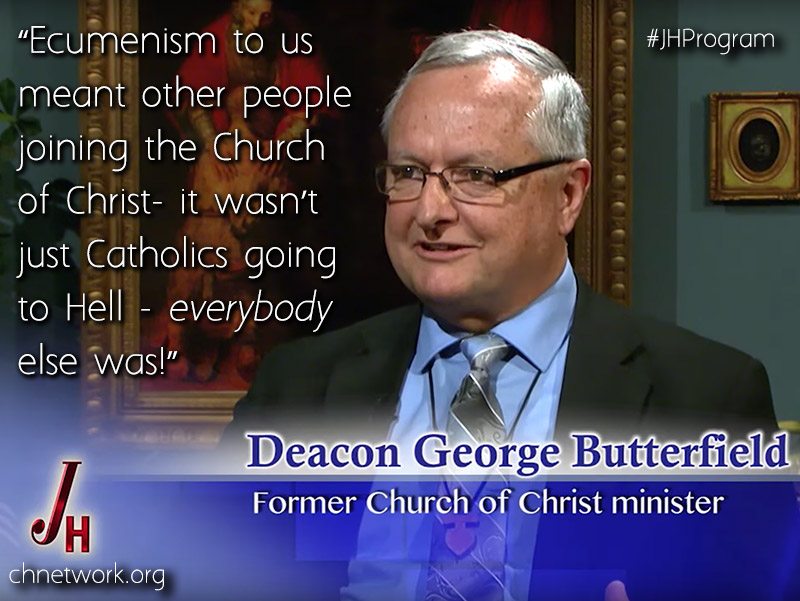 Hope you had a great week!  Here's a glimpse of what went on over the past few days at the Coming Home Network:
We shared a lively conversation with Deacon George Butterfield on The Journey Home, wherein he talked about his background in the Church of Christ and how the Lord drew him closer to the Catholic Church, beginning with her emphasis on living the Gospel through her social teachings.
Bond Strong shared her written conversion story, "A Methobapticostal Comes Home," and caused many of us to try to figure out what mishmashed name to put on our own spiritual heritage.
We opened registration for this Fall's Coming Home Network retreat in Biddeford, ME- if you're a convert or someone on the journey who is going through a difficult transition and would like to know more, visit our retreats page.
We asked our CHN Community members if they ever wrote in their Bibles, and the results were surprising.
Steve Wood and Marcus Grodi looked at St. Paul's manhood mandate in Ephesians 5 on the latest Deep in Scripture podcast.
We made available to watch and share online for the first time Patrick Madrid's 2010 Deep in History lecture, "The Fathers Know Best: Scripture and Tradition in the Early Church."  He never said you stole money…
And continuing with our Father's Day theme, we dug up an episode of the Journey Home featuring Kevin Lowry and his father, Douglas, for this week's #ThrowbackThursday offering.
*****
Meanwhile, around the web…
Scott Hahn recalled the time that legendary contemporary Christian musician Rich Mullins called him to ask questions about the Catholic Church.
The Congregation for the Doctrine of the Faith issued Iuvenescit Ecclesia, reminding us that both charismatic expressions of worship and hierarchical positions in the Church are both described by St. Paul as spiritual gifts.
Dr Regis Martin visited the site of England's conversion to Christianity.
Over at Aleteia, David Mills challenged Catholics to do something that many protestants do with great frequency: pray before meals in public.
The New York Times looked at ecumenical and interfaith efforts to curb predatory lending.
And The Integrated Catholic Life's Deacon Mike Bickerstaff, raised Catholic in the heart of the Bible Belt, reflected on the question: "have you been saved?"
*****
Be sure to watch our site and social network profiles this weekend- given our love for the Father's of the Church, you can expect lots of #ChurchFathersDay content…