Once again, The Coming Home Network International will be hosting a Friday night social at this year's Defending the Faith Conference at Franciscan University of Steubenville. The conference is being held from July 25-27, 2014.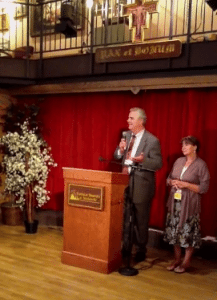 The annual social has become a tradition, and affirms the longstanding partnership between CHNetwork and Franciscan University. "Many of our members, including several former non-Catholic clergy, have come into the Church after experiencing a Franciscan University conference," said Marcus Grodi, CHNetwork President and Founder.
The social provides conference attendees with an opportunity to meet one another in a relaxed, informal atmosphere on Friday night. These connections are sustained throughout the conference weekend, and often beyond.
"We have long recommended that our members consider attending Franciscan University conferences, and Defending the Faith in particular," said Marcus. "For those who are interested in apologetics, or learning more about the faith, it's a great opportunity for growth."
The ties between the two organizations run even deeper than that. Prior to being established as The Coming Home Network, Marcus was the Director of Evangelization at Franciscan University and ran the Light and Life Foundation. He has both taught and taken courses at Franciscan. His son Jon Marc, CHNetwork's Manager of Outreach, is a current graduate student studying philosophy. Kevin Lowry, Chief Operating Officer, is a Franciscan University graduate.
This year's conference features a theme of "Standing for the Church with Boldness, Zeal, and Love." Speakers include Dr. Scott Hahn and his wife Kimberly, Dr. Donald Asci, Jeff Cavins, Dr. Paul Crawford, Mark Hart, Patrick Madrid, Fr. David Meconi, SJ, Bishop Jeffrey Montforton, Dr. Ian Murphy, Dr. Alan Schreck, Franciscan University President Fr. Sean Sheridan, Tim Staples and Dr. Benjamin Wiker.
The CHNetwork social will be held in the Gentile Gallery (downstairs in the JC Williams Center) following Friday evening's closing announcements, at 10:00 p.m. Please consider joining us to meet the CHNetwork staff, and possibly some new friends. We'll see you on campus!
*** For those considering attending the conference, please note that the early-bird registration is coming up on April 28th***