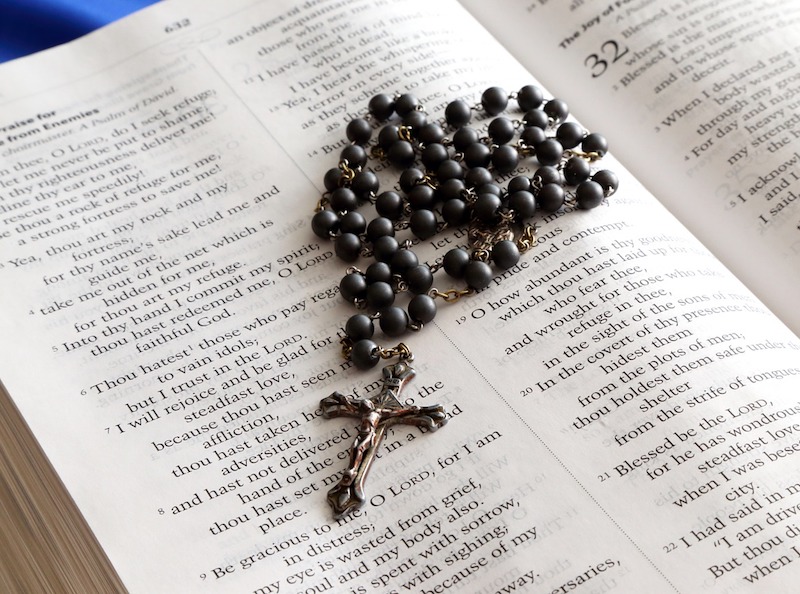 Hail Mary,
Full of Grace,
The Lord is with thee.
Blessed art thou among women,
and blessed is the fruit
of thy womb, Jesus.
Holy Mary,
Mother of God,
pray for us sinners now,
and at the hour of death. Amen.

The Hail Mary, traditionally known as the Ave Maria, is a Biblical prayer.
In the first half, the words are directly from the Gospel of St. Luke, while the second half reflects what this could mean to us, praying Christians in the Body of Christ, pondering these things in our hearts.
The account of the angel Gabriel announcing to Mary that she is to be the mother of our Savior is familiar to all Christians. We find here the first elements of the Ave Maria. The angel's words are "Hail, O favored one," (Luke 1:28 RSV), or as Jerome translated it in his 4th century Latin edition, "full of grace."
What does it mean to be greeted as one "full of grace"? At the very least, Mary is highly favored by having been chosen to bear the Son of the Most High. The Latin translation using "full" points to the overflowing abundance and perfection involved. God Himself will dwell in her womb, the Creator will come into the world. The Holy Spirit will overshadow and dwell in her. It is all of grace. By this grace, Mary is special and blessed. The Church's reflections over the centuries have their root in these words of the angel Gabriel, sent from God. She teaches us to look to Mary for our model of what we ourselves hope to become by God's fullness of grace.
Mary — and we too — have the next words of the angel to assure us of His help in this. "The Lord is with you" (Luke 1:28). How many times in salvation history have servants of God heard these words? In Genesis 26:24, the Lord appears to Isaac, saying, "Fear not, for I am with you". The Lord God promises to be with Jacob (Gen. 31:3), with Moses (Exod. 3:12), with Joshua (Joshua 1:5), and with Gideon (Judges 6:16). Jesus Himself tells his accusers, "He who sent me is with me; he has not left me alone, for I always do what is pleasing to him"(John 8:29). The Lord will be with Paul in the city where He has many people (Acts 18:10). This is His promise to the Church in Matthew 28:20, "I am with you always." And in Revelation 21:3, a great voice tells us, "Behold, the dwelling of God is with men. He will dwell with them and they shall be his people and God himself will be with them." The Lord is with Mary, according to the angel, and we know He is with us. His assistance in the Old Testament has been brought to great fulfillment by His very presence with Mary in her womb. "The Lord is with you," has been a pregnant phrase throughout salvation history. And now in the Church, His real presence is with us in His Eucharist.
"Blessed art thou among women," says the prayer, in the words of Elizabeth (Luke 1:42). All the promises of blessing in the Old Testament are fulfilled with the coming of the Savior. Elizabeth, filled with the Holy Spirit, continues, "and blessed is the fruit of your womb". Mary is blessed because of her child, Son of the Most High. Elizabeth recognizes this, saying in astonishment, "And why is this granted me, that the mother of my Lord should come to me?" (Luke 1:43). Both Mary and Elizabeth are pregnant miraculously, by the grace of God, emphasizing to us that our life in God is all of grace, all by His willing and doing. We, too, are totally dependent on His grace, His mighty acts, his fulfilling of promises. In the Incarnation, Mary is blessed to have the God of the universe dwell in her womb. In the Church, we are graced to receive in the Eucharist His presence, His very body, the fruit of Mary's womb.
The scriptural first half of the prayer ends with the name of Jesus (Luke 1:31). We are told in Acts that "there is salvation in no one else, for there is no other name under heaven given among men by which we must be saved" (Acts 4:12). Mary rejoices in God her Savior, and all generations shall call her blessed. Like Mary, we are to rejoice in God's salvation through Jesus. Like Mary, we are blessed in the Son of the Most High. And like her, we are to be conformed to his image. "For those whom He foreknew, He also predestined to be conformed to the image of His Son, in order that He might be the first-born among many brethren" (Rom. 8:29). Catholics believe that Mary's sinlessness is due only and completely to the grace of her Savior, her Son. She did not earn this great privilege, but was prepared by His saving grace to shine as a promise of what we will be, when "we shall be like Him" (1John 3:2).
The second half of the prayer is a prayer of the Body of Christ, His Church. "Holy Mary," we pray. When we call anyone or any thing holy, it is because of its relationship to God, who is "Holy, holy, holy" (Isaiah 6:3, Rev. 4:8). Vessels for the temple were considered holy because they were set aside for sacred use. We call the Bible the "Holy Bible," because it is the word of God. People become holy when they become close to God.  Mary listened to the angel's message, and she answered humbly, "Let it be to me according to your word" (Luke 1:38). She carried Jesus in her womb and gave birth to Him, she nursed Him and lived side by side with Him. Her holiness comes from her relationship to God. She responded freely and with total faith, giving herself completely to God. "Behold, I am the handmaid of the Lord" (Luke 1:38).  Her obedience of faith (cf. Rom. 16:25) made her holy. Her nearness to her Son made her holy. Our nearness and obedience to Her Son is to make us holy. "As obedient children, do not be conformed to the passions of your former ignorance, but as he who called you is holy, be holy yourselves in all your conduct, since it is written 'You shall be holy because I am holy'" (1 Peter 1:14-16).
Mary can rightly be called holy, but what about addressing a prayer to her?  As members of the communion of saints, we often ask fellow believers here on earth to pray for us. Catholic faith sees that those who have gone before us are nonetheless truly alive in Christ, "… who died for us, so that whether we wake or sleep, we might live with Him" (1 Th. 5:10).  Therefore, it is appropriate to ask for their prayers, also.  When we ask the Saints in heaven to pray for us, we are not offering them worship.  "Praying to" the saints means asking them to pray for us, not worshipping them as divine.
So we pray, "Holy Mary, Mother of God." Mary's title, Mother of God, does not mean she existed before God and brought Him into existence; it does not mean He is dependent upon her. The title grew out of the Church's struggle against the Arian heresy in the fourth century.  The Arians denied that Jesus was God. The Council of Ephesus in A.D. 431 declared that Mary was the "God-bearer" (Theotokos) as a way of teaching that Jesus was truly God. They intended to teach about Jesus, but they also taught about Mary.  Jesus is truly God. If Mary is the mother of Jesus, and if Jesus is God, then she is the mother of God.  He is one person, and she is His mother, and so she is the mother of God.  In this way, Jesus is recognized as both Son of God and Son of Man. The Reformers also accepted this title of Mary, for example in the Lutheran Formula of Concord  (1577).
"Pray for us sinners." Here we come back to the issue of praying to saints.  We, saints and sinners, are all in this Body of Christ together, whether we are living or "dead," because we all are united in Christ by the same Holy Spirit. The Holy Spirit made us saints, and also perfected our brothers and sisters, the Saints in heaven. Although we seem to be separated by both space and time, in Him we are united as members of Christ. There is no big difference between asking a breathing saint beside us to pray for us, and asking St. Francis de Sales or Mary to pray for us. We are all in Christ. He is alive, and we are all alive in Him.
Protestants are not accustomed to addressing anyone but God in prayer. That's why, at first, praying to saints seems idolatrous, even when a Catholic explains that we are really just asking—to pray means to ask—we are asking the saints to pray FOR us. Catholics know Mary is not God.  She is not the Savior. She is not the one Mediator.  Jesus is the only Mediator we need; we can always approach Him. He loves us tenderly. He also loves Mary tenderly. She is, like each of us, a member of His Church, embodying for all of us the prayerful posture, "Let it be to me according to your word" (Luke 1:38). She is a living example to us of receiving all the grace He desires to give us. She stands with us, in the Church, receiving grace upon grace. She also stands as our example of how powerful the grace of Christ is.
"Now and at the hour of our death. Amen." This is God's eternal now, in which our deaths, too, are present to Him. In Catholic faith, the communion of saints includes all the members of the Body, past, present, and future (to us) who are being built together by Him into a holy temple (cf. Eph.2:22), our prayers for one another being an aspect of each part working properly (cf. Eph.4:16). The prayers of Mary and the saints are certainly to be counted among those of the righteous, which we always need (cf. James 5:16).
The first half of the Hail Mary, then, is directly from Scripture. The second half is simply putting into practice what Scripture teaches about our life in the Body of Christ, which is His Church. As we pray this beautiful prayer, may we behold the glory of the Lord in his presence with us and, like Mary, be "changed into his likeness, from one degree of glory to another; for this comes from the Lord who is the Spirit" (2Cor 3:18).