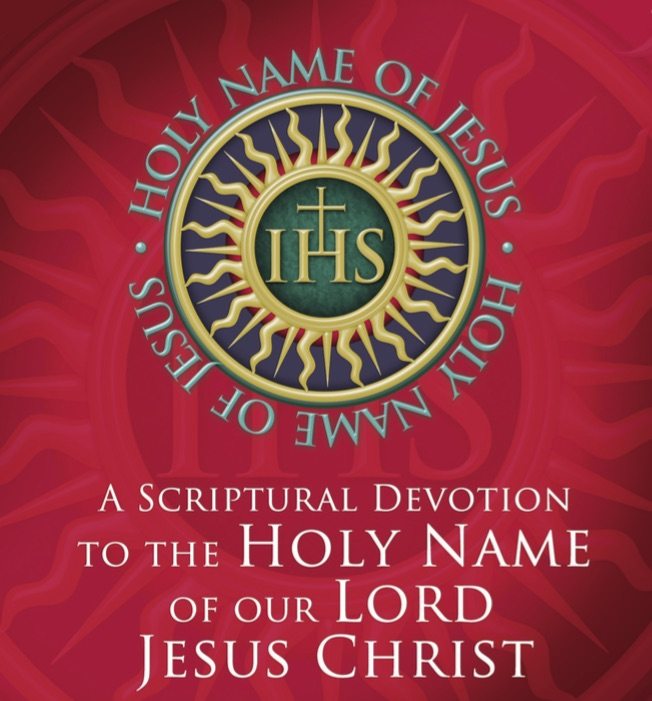 Our Lord Jesus told His disciples: "if you ask anything in my name, I will do it" (John 14:14). He gave them this blessed promise in the context of their instructions to be faithful imitators of His love and to be faithful, fruitful branches. They were to "ask" for assistance in the work to which He was calling them.
We—sons and daughters of God by Baptism, saved by grace through faith, striving to abide in His word and love—have this same calling and same promise. With this Scriptural Devotion to the Holy Name of our Lord Jesus, you are invited to offer to Him this devotion and then place before Him your petitions, willing to receive whatever He desires to give you, knowing that "…in everything God works for good with those who love him and are called according to his purpose." (Romans 8:28)
The CHNetwork is a network of Christians who have become convinced that the Catholic Church was established by Christ through the Apostles, that He protects and guides the Church into all Truth, and that He desires to give himself to us in the sacrament of the Holy Eucharist. Wherever you are on your own Christian journey, we invite you to consider these possibilities with us while we pray together for Christian unity (If you would like to talk more or ask a question, click here to connect with the CHNetwork). Any future progress toward unity and any authentic ecumenism in the meantime, will come out of our true devotion to Jesus Christ. In the words of the late Fr. Benedict Groeschel,
"The real foundation of real ecumenism is devotion to Jesus Christ… Devotion is a powerful personal conviction that our Divine Savior in eternal life knows me, knows you individually, knows us, not as the great choir, but one at a time. That He cares about us. That He sends us grace. That in the difficult times of life we can trust in Him and that He will lead us even through the valley of the shadow of death. That He expects things of us and that when we fail He expects our repentance.That He hears our prayers especially for those who are dear to us and for the world, and that in the hour of death when we close our eyes we will find Him — He will be there."
This Devotion prayer consists of a series of fifteen Scripture readings focusing on devotion to the Name of Jesus. You are encouraged to begin each day of this fifteen-day Devotion by first meditating on the cross of Jesus or upon Jesus Himself in the Blessed Sacrament, praising Him for His sacrificial love for you. After reading each Scripture, take a brief moment to prayerfully meditate on its meaning and then conclude by reciting the portion or portions of the text in bold. Then begin your time of prayer with the Prayer of Praise from Scripture, followed by your petitions with a humble and receptive heart, all or part of the hymn, and then finally the traditional prayers as listed.
The Outline for each day of the Devotion:
• In the Name of the Father, and of the Son, and of the Holy Spirit, Amen.
• Opening Prayer: 
Dear Jesus, my Lord and Savior, my God and my King, I praise and glorify You, worship and adore You. Thank You for the love You have shown me and the new life You have given me through Your death and resurrection. Lord Jesus, please calm my heart as I meditate on these Scriptures. Speak to me and draw me closer to You. I confess that many things in my life separate me from You. Please forgive me and cleanse me from sin. Lord Jesus, accept these prayers and petitions, offered in Your Holy Name.
Amen.
• The Scripture reading for the day, focused on the Name of Jesus (see below).
• Meditation
• Reading again of the bold portions of the day's Scripture reading.
• Recite the following Prayer of Praise from Scripture:
Praise the Lord!
Praise, O servants of the Lord!
Praise the name of the Lord!
Blessed be the name of the Lord from this time forth and forevermore!
From the rising of the sun to its setting the name of the Lord is to be praised!
­—Psalm 113.1-3
• Petitions and Prayers: 
• Closing Hymn of Praise: 
At the Name of Jesus C. Noel, d. 1877
At the name of Jesus every knee shall bow,
Every tongue confess him King of glory now;
'Tis the Father's pleasure, we should call him Lord,
Who from the beginning was the mighty Word.
Humbled for a season, to receive a name
From the lips of sinners, unto whom he came,
Faithfully he bore it, spotless to the last,
Brought it back victorious, when from death he passed.
In your hearts enthrone him; where, let him subdue
All that is not holy all that is not true;
May your voice entreat him in temptation's hour;
Let his will enfold you in its light and power.
• Closing Prayers:
Lord Jesus Christ, I rededicate myself to You, asking that You hear my petitions and grant them according to Your gracious will. Help me to always be faithful to Your commandment to love one another as You have loved us, and may I be empowered by Your Holy Spirit to proclaim Your gospel to every one I meet. This I ask in Your Holy and powerful name Jesus Christ, our Lord.
Our Father… Hail Mary… Glory Be…
Saint Barnabas… pray for us;
Saint Francis de Sales… pray for us;
Saint Edmund Campion… pray for us;
Saint Isaac Jogues… pray for us;
Holy Mother, Seat of Wisdom… pray for us.
In the name of the Father, and of the Son, and of the Holy Spirit. Amen.
The Scriptural Reading for Each Day:
DAY ONE: Psalm 86 (85): 6-12
"Give ear, O Lord, to my prayer, hearken to my cry of supplication.
In the day of my trouble I call on Thee, for Thou dost answer me.
There is none like Thee among the gods, O Lord,
Nor are there any works like Thine.
All the nations Thou hast made shall come
and bow down before Thee, O Lord, and glorify Thy name.
For Thou art great and doest wonderous things, Thou alone art God.
Teach me Thy way, O Lord, that I may walk in Thy truth;
UNITE MY HEART TO FEAR THY NAME.
I give thanks to Thee, O Lord my God, with my whole heart,
AND I WILL GLORIFY THY NAME FOR EVER."
DAY TWO: Luke 1.26-33
"In the sixth month the angel Gabriel was sent from God to a city of Galilee named Nazareth, to a virgin betrothed to a man whose name was Joseph, of the house of David; and the virgin's name was Mary. And he came to her and said, 'Hail, full of grace, the Lord is with you!' But she was greatly troubled at the saying, and considered in her mind what sort of greeting this might be. And the angel said to her, 'Do not be afraid, Mary, for you have found favor with God. And behold, you will conceive in your womb and bear a son, and YOU SHALL CALL HIS NAME JESUS. He will be great, and will be called the Son of the Most High; and the Lord God will give to Him the throne of his father David, and he will reign over the house of Jacob for ever, and of his kingdom there will be no end.'"
DAY THREE: Matthew 1.18-25
"Now the birth of Jesus Christ took place in this way. When his mother Mary had been betrothed to Joseph, before they came together she was found to be with child of the Holy Spirit; and her husband Joseph, being a just man and unwilling to put her to shame, resolved to send her away quietly. But as he considered this, behold, an angel of the Lord appeared to him in a dream, saying, 'Joseph, son of David, do not fear to take Mary your wife, for that which is conceived in her is of the Holy Spirit; she will bear a son, AND YOU SHALL CALL HIS NAME JESUS, FOR HE WILL SAVE HIS PEOPLE FROM THEIR SINS.' All this took place to fulfill what the Lord had spoken by the prophet: 'Behold, a virgin shall conceive and bear a son, and his name shall be called Emmanuel' (which means, God with us). When Joseph woke from sleep, he did as the angel of the Lord commanded him; he took his wife, but knew her not until she had borne a son; and he called his name Jesus."
DAY FOUR: John 14.12-14
"Truly, truly, I say to you, he who believes in me will also do the works that I do; and greater works than these will he do, because I go to the Father. WHATEVER YOU ASK IN MY NAME, I WILL DO IT, THAT THE FATHER MAY BE GLORIFIED IN THE SON; IF YOU ASK ANYTHING IN MY NAME, I WILL DO IT."
DAY FIVE: John 14.25-27
"These things I have spoken to you, while I am still with you. BUT THE COUNSELOR, THE HOLY SPIRIT, WHOM THE FATHER WILL SEND IN MY NAME, HE WILL TEACH YOU ALL THINGS, and bring to your remembrance all that I have said to you. Peace I leave with you; my peace I give to you; not as the world gives do I give to you. Let not your hearts be troubled, neither let them be afraid."
DAY SIX: John 15.16-17
"You did not choose me, but I chose you and appointed you that you should go and bear fruit and that your fruit should abide; so that WHATEVER YOU ASK THE FATHER IN MY NAME, HE MAY GIVE IT TO YOU. This I command you, to love one another."
DAY SEVEN: John 16.22-24
"So you have sorrow now, but I will see you again and your hearts will rejoice, and no one will take your joy from you. In that day you will ask anything of me. TRULY, TRULY, I SAY TO YOU, IF YOU ASK ANYTHING OF THE FATHER, HE WILL GIVE IT TO YOU IN MY NAME. Hitherto you have asked nothing in my name; ask, and you will receive that your joy may be full."
DAY EIGHT: John 17.9-19
"When Jesus had spoken these words, he lifted up his eyes to heaven and said, 'Father, the hour has come; glorify thy Son that the Son may glorify thee, since thou hast given him power over all flesh, to give eternal life to all whom thou hast given him…. And now, I am no more in the world, but they are in the world, and I am coming to thee. HOLY FATHER, KEEP THEM IN THY NAME, WHICH THOU HAST GIVEN ME, THAT THEY MAY BE ONE, EVEN AS WE ARE ONE… But now I am coming to thee; and these things I speak in the world, that they may have my joy fulfilled in themselves… I have given them thy word; and the world has hated them because they are not of the world, even as I am not of the world. I do not pray that thou shouldst take them out of the world, but that thou shouldst keep them from the evil one… Sanctify them in the truth; thy word is truth. As thou didst send me into the world, so I have sent them into the world. And for their sake I consecrate myself, that they also may be consecrated in truth.'"
DAY NINE: John 17.20-26
"I DO NOT PRAY FOR THESE ONLY, BUT ALSO FOR THOSE WHO BELIEVE IN ME THROUGH THEIR WORD, THAT THEY MAY ALL BE ONE; EVEN AS THOU, FATHER, ARE IN ME, AND I IN THEE, THAT THEY ALSO MAY BE IN US, SO THAT THE WORLD MAY BELIEVE THAT THOU HAST SENT ME. The glory which thou hast given me I have given to them, that they may be one even as we are one. I in them and thou in me, that they may become perfectly one, so that the world may know that thou hast sent me and hast loved them even as thou hast loved me. Father, I desire that they also, whom thou hast given me, may be with me where I am, to behold my glory which thou hast given me in thy love for me before the foundation of the world. O righteous Father, the world has not known thee, but I have known thee; and these know that thou hast sent me. I MADE KNOWN TO THEM THY NAME, AND I WILL MAKE IT KNOWN, THAT THE LOVE WITH WHICH THOU HAST LOVED ME MAY BE IN THEM, AND I IN THEM."
DAY TEN: Matthew 28:18-20
"And Jesus came and said to them, 'All authority in heaven and on earth has been given to me. GO THEREFORE AND MAKE DISCIPLES OF ALL NATIONS, BAPTIZING THEM IN THE NAME OF THE FATHER AND OF THE SON AND OF THE HOLY SPIRIT, TEACHING THEM TO OBSERVE ALL THAT I HAVE COMMANDED YOU; AND LO, I AM WITH YOU ALWAYS, TO THE CLOSE OF THE AGE.'"
DAY ELEVEN: Acts 2.37-39
"Now when they heard this they were cut to the heart, and said to Peter and the rest of the apostles, 'Brethren, what shall we do?' And Peter said to them, 'REPENT, AND BE BAPTIZED EVERY ONE OF YOU IN THE NAME OF JESUS CHRIST FOR THE FORGIVENESS OF YOUR SINS; AND YOU SHALL RECEIVE THE GIFT OF THE HOLY SPIRIT. For the promise is to you and to your children and to all that are far off, every one whom the Lord our God calls to him.'"
DAY TWELVE: Acts 3.4-8; 4.8-12
"And Peter directed the crippled man to gaze at him, with John, and said, 'Look at us.' And he fixed his attention upon them, expecting to receive something from them. But Peter said, 'I have no silver and gold, but I give you what I have; IN THE NAME OF JESUS CHRIST OF NAZARETH, WALK.' And he took him by the right hand and raised him up; and immediately his feet and ankles were made strong. And leaping up he stood and walked and entered the temple with them, walking and leaping and praising God. . . . Then Peter, filled with the Holy Spirit, said to them, 'Rulers of the people and elders, if we are being examined today concerning a good deed done to a cripple, by what means this man has been healed, be it known to you all, and to all the people of Israel, that by the name of Jesus Christ of Nazareth, whom you crucified, whom God raised from the dead, by him this man is standing before you well. This is the stone which was rejected by you builders, but which has become the head of the corner. And THERE IS SALVATION IN NO ONE ELSE FOR THERE IS NO OTHER NAME UNDER HEAVEN GIVEN AMONG MEN BY WHICH WE MUST BE SAVED.'"
DAY THIRTEEN: Philippians 2.5-11
"Have this mind among yourselves, which was in Christ Jesus, who, though he was in the form of God, did not count equality with God a thing to be grasped, but emptied himself, taking the form of a servant, being born in the likeness of men. And being found in human form he humbled himself and became obedient unto death, even death on a cross. Therefore GOD HAS HIGHLY EXALTED HIM AND BESTOWED ON HIM THE NAME WHICH IS ABOVE EVERY NAME, THAT AT THE NAME OF JESUS EVERY KNEE SHOULD BOW, in heaven and on earth and under the earth, and every tongue confess that Jesus Christ is Lord, to the glory of God the Father."
DAY FOURTEEN: 2 Thessalonians 1.3-5,11-12
"We are bound to give thanks to God always for you, brethren, as is fitting, because your faith is growing abundantly, and the love of every one of you for one another is increasing. Therefore, we ourselves boast of you in the churches of God for your steadfastness and faith in all your persecutions and in the afflictions which you are enduring. This is evidence of the righteous judgment of God, that you may be made worthy of the kingdom of God, for which you are suffering… To this end we always pray for you, that our God may make you worthy of his call, and may fulfill every good resolve and work of faith by his power, SO THAT THE NAME OF OUR LORD JESUS MAY BE GLORIFIED IN YOU, AND YOU IN HIM, according to the grace of our God and the Lord Jesus Christ."
DAY FIFTEEN: 1 John 5.13-15
"I write this to you who believe in the name of the son of God, that you may know that you have eternal life. And THIS IS THE CONFIDENCE WHICH WE HAVE IN HIM, THAT IF WE ASK ANYTHING ACCORDING TO HIS WILL HE HEARS US. And if we know that he hears us in whatever we ask, we know that we have obtained the requests made of him.'"