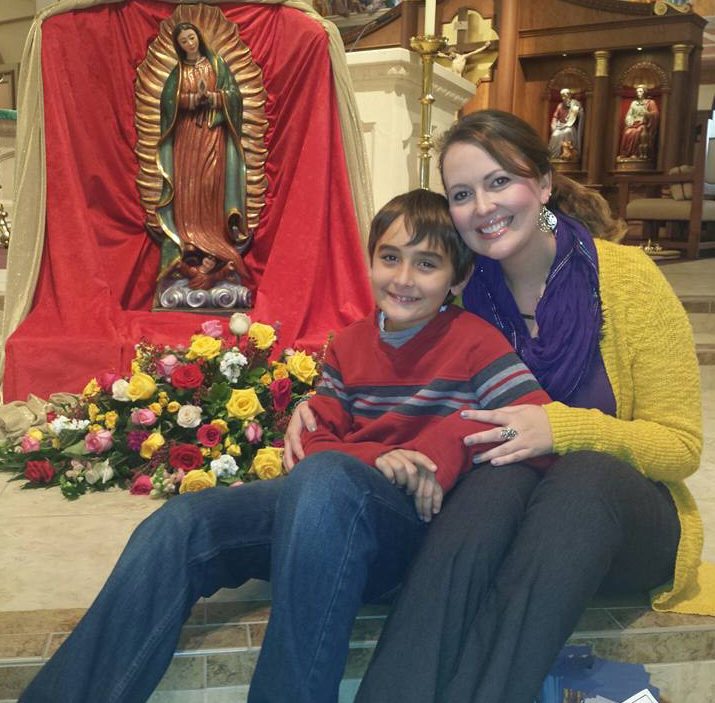 2015 was the most spectacular year of my life. Something inside of me came alive. Things I never thought I would have time for as a working single mom, things like volunteering two days a week at church, became part of my regular schedule. Energy to serve others suddenly poured out of me like never before. I can only give credit to the Holy Spirit, as He was definitely working in my life this year. God seemed closer than ever before. This was the year I officially became Catholic.
There are many places I could start my story. I could start it with the first time I experienced true brokenness at age 14. Or I could start it at age 20, when my high school sweetheart came back from the Iraq War with PTSD and said, "I don't love you any more. I'm moving to Ohio and we aren't getting married." Or I could start my story at age 21, in an abortion clinic, when I was contemplating ending my crisis pregnancy out of panic and fear. But I feel the Lord is leading me to begin my story when I moved to Austin, Texas in 2011.
Now I was raised Baptist, baptized at age seven, and attended both Baptist and non-denominational churches off and on throughout my young adult life, including Bible study, choir, summer church camps, and Sunday school. So naturally, when I moved to Austin to transition my teaching career to software sales, one of the first things I did was to do an online search for "churches in Austin." My quest seemed so daunting! I knew the Lord had brought me through many painful trials in my life, and I trusted that He would hear my prayer, so I thought surely I would find a church home for myself and my son pretty quickly. But that was not the case.
Here I was, in a big city of a million people, coming from a town of barely one tenth that size, and I didn't know a soul! I didn't really know anyone outside of work. So the casual, flirty, drinking atmosphere at work (yes, work), called "Startup Culture," became the norm for my social interactions. From beer Fridays at work, to weekend tailgaters, pretty soon the "party culture" used up most of my time, and I put my search for a church home on hold.
A couple years later, I realized I was stuck in the same old pattern that I had recently worked so hard to remove myself from. I reached out to the Lord to ask forgiveness and ended an unhealthy relationship with a guy at work. It was then, in 2012, that I prayed to the Lord and asked Him to reveal Himself to me and to give me a fresh start — as He has so lovingly done time and time again. I began to pray consistently for a church home where I could find community, grow in faith, and raise my son with the values that I always strove to return to, after being reminded that the things of this world can never satisfy me.
One day in 2014, after three years in Austin, I had a heart-to-heart talk with Jesus. I felt so alone! I realized how much time I had wasted. And yet, all I really wanted was a church family and a sense of community. I wanted friendships with people who believed the same way that I did.
Before I left my hometown in 2011, I had a great group of women friends in my Bible study, and we leaned on each other. But after three years in Austin, the exhaustion from simultaneously trying to be something to everyone, to fit in, and being a single mom attempting to have a social life, a sense of failure overcame me. I also lost my job at a small web design firm in 2014 due to budget cuts. It was a rough time and we had very little money. I had to seek help with paying my bills just to make ends meet. "That's it. I've failed," I told myself.
So what did I do when feeling like I had failed at everything? I prayed. And during my heart-to-heart discussion with Jesus, seeking answers and forgiveness, I once again offered up my request for a church home — which, at this point, seemed more like begging.
Then, a question popped into my mind: "Why am I Baptist? Is it just because my mom was a Baptist?" Then another: "What do Baptists believe?" Then another: "What do other Christian denominations believe?" and another: "Where did all these denominations come from?" and yet another: "Why are there so many of these denominations!?"
This prayerful line of questioning motivated me to begin researching. I somehow stumbled on a website called Catholic Answers (catholic.com), and it was there that I purchased a book that would help answer some of my questions: The Protestant's Dilemma by Devin Rose. Coming from an educator background, I'm pretty organized, so I created an Excel file full of website links that answered my questions I was researching on every imaginable religious topic.
Daily I would pray for a job. I tried to go to the Baptist church I had been attending in Austin to pray during the day, but the doors were locked. That's when I decided to write out a list of things I was seeking in a church home. I wanted a place where I could go inside and pray on days other than Sunday if I wanted. I wanted to kneel during the church service instead of it feeling like I was sitting back at a concert. I wanted to participate in ways other than worship songs, but didn't know how to or why. "Lord, where are you? Where can I find you?" I would pray. It was almost a spiritual "hide and seek." Although Jesus never hides from us, sometimes we have to "find" Him, because we drift too far off the true path.
One day, after attending church services at a few other Christian denominations, I decided to go to a church up the road named after a saint.
During my time of seeking, I knew nothing about the Catholic Church, saints, or Mary. And even though I had gone to a private Christian school in my elementary years, I had never known anyone Catholic. Growing up Southern Baptist, I only knew what I had heard. And what I had heard was that statues in church were "idols," Catholics "worship" Mary, and that Catholics believe good works will "earn" your way to heaven. That's what I had heard, anyway.
I had never been to a Mass in my life, so I didn't know what to expect. But when we went to Mass that day, everything I was seeking was there. My son and I were shocked: "What? They have incense! Oh look! People kneel for God!" The entire time we were there, we felt a sacred reverence for God. And something was taking place at the altar — something I knew right away was a dialogue between heaven and earth. (Later, I would acquire more insights from Scott Hahn's book, The Lamb's Supper: The Mass as Heaven on Earth). Afterwards, my son said to me, "Mommy, I think this is the church we were praying for." I agreed.
I immediately knew I was "home," but I still had many unanswered questions. Thankfully, I learned through continued research that RCIA (the Rite of Christian Initiation for Adults) exists to answer those questions. So in June of 2014, I decided to take those classes and find out if becoming a Catholic Christian was right for my son and me. The office staff arranged for me to meet with some people who would prove crucial in my life. Without them, I don't think I'd be where I am now. I finally found employment a short time later. Through that job, I met my Confirmation sponsor, Cristina, and my son's Baptism sponsor and future godfather, Paul. Pretty amazing, the way the Lord works. (I can't help but read that last sentence in Yoda's voice.)
Other people have chosen different faith denominations, and I respect their decision wholeheartedly. I personally value how my Baptist upbringing emphasized knowledge of Scripture. It's why my son reads his Bible so devotedly and why I have my favorite Bible verses memorized. Pope Francis emphasizes the importance of Scripture reading when he says, "I would like so much for all Christians to be able to comprehend 'the surpassing worth of knowing Jesus Christ' (see Philippians 3:8) through the diligent reading of the Word of God, for the sacred text is the nourishment of the soul and the pure and perennial source of the spiritual life of all of us" (Address of Pope Francis to Members of the United Bible Society for the Presentation of the Bible in Italian, September 29, 2014). I know that not all Catholic parishes have Bible study groups, and I'm fortunate that my parish has many ministries, including Bible study. But I've come to realize that a lot of what we "get out" of our faith is directly correlated to how much we invest into it. I've heard this quote before: "Does God feel distant? Guess who moved?" God is always there, even if we can't feel Him at times. In Psalms 42 ("As the deer longs for flowing streams") and 43 ("Vindicate me, O God, and defend my cause against an ungodly people"), even King David struggles with feeling alone and has to dig deep inside of himself to praise God. This tells me that David knew God was still there, even if hidden. He is talking to God, praising Him, even though he feels alone and sad. The Bible has been a great source of strength for me as a Christian, and one of the reasons I chose St. Paul as my Confirmation saint is the impact his letters have had in my own life.
My mom is still Southern Baptist. My dad is Episcopalian. My aunt and uncle are Methodist. I have friends that are agnostic and friends that don't go to church. I have co-workers that disagree with me on my pro-life stance and will debate me on it, but they still respect me as a faithful Catholic. We all respect each other, even though we believe different things. But the reason I wanted to share my journey to the Catholic Faith is to provide encouragement for anyone who might be interested in learning more about how I came into the Church, to accept the Catholic Faith, and to share how I have grown closer to the Lord through the RCIA process and "Jesus Is Lord" course. The Lord answered my prayer when I was looking for Him, so I encourage anyone to not give up on seeking God because, as Scripture says, "If you seek me, you will find me, if you seek me with all your heart" (see Jeremiah 29:13).
When my son and I went to our first Mass that day in May of 2014, that was it for us. It was the answer we had been searching for, and I felt the presence of the Holy Spirit there. It felt like the Lord was doing all the leading and we just followed. And later, when I received the Eucharist for the first time at the Easter Vigil in 2015, I felt like the Lord had been walking with me, revealing Himself to me the entire time, and I was finally at His table!
The Baptist Church doesn't have the Eucharist. They have "The Lord's Supper," but it's only done "in remembrance." They only use grape juice, it's not done every Sunday, and it's open to anyone. Growing up, I never knew which Sunday we would have "the Lord's Supper." But now, being Catholic, I can receive the Body, Blood, Soul, and Divinity of our Lord, the precious Bread from Heaven, every Sunday and even during the week. And as a single mom, I need His sustenance a lot.
Being a single mom and taking the two-hour-long RCIA classes on Monday nights wasn't easy. I rushed to pick up my son after work, tried to grab us both some food, and get him to his class. He would have to go to childcare after his RCIC (Rite of Christian Initiation for Children) class because my adult class did not let out until later. It was hard, but by attending, I discovered much about the Catholic Faith that those on the outside seldom hear about. My small groups were most impactful, along with the testimonies class members and others gave. I learned about Catholic belief and practice, such as why using artificial birth control is contrary to God's plan — something that I had always thought was "wrong" but never knew why! That is just one example of many, so it was truly comforting to find others who believed the same way and valued life.
Because I had endured a crisis pregnancy at age 20, I had been to an abortion clinic. And I believe, through my baptism at age seven, that the Holy Spirit, the Lord, and Mary all played a part in helping me change my mind and walk out. Because of that decision, I now have a thriving 11-year-old son. It hasn't been easy raising him on my own, with very little emotional, spiritual, or financial support. But the Lord has always helped us through every circumstance. In fact, one of the fruits of my move to Austin was becoming involved in the pro-life ministry here. I became a Day Captain for the 40 Days for Life campaign with the Central Texas Coalition for Life. Suddenly, my paths were becoming straight. I felt that I had a purpose and I didn't feel so lost.
Another important aspect of the Catholic Faith is healing. I've encountered the living God, and I can see that it has begun to heal me. After becoming Catholic, I was blessed to go on two retreats. One was the Christ Renews His Parish retreat, and the other was a Healing Retreat organized by Dr. Bob Schucts, author of Be Healed: A Guide to Encountering the Powerful Love of Jesus in Your Life and founder of John Paul II Healing Center in Tallahassee, Florida. I began to renounce a lot of the lies I had told myself, lies that I didn't even realize were there. I exchanged those lies for words of truth, the biggest truth being that I am God's beloved daughter. I'm still getting used to saying that, because for the longest time I felt worthless. I felt that becoming a single mother at age 20 would ruin my life and I would never be able to find a godly man. I had even married the father of the baby for six weeks before I discovered that he was already seeing another woman while we were married. That was such a painful time. I never knew what it was like to feel loved, to feel worthy, or to have a sacramental, loving marriage. All I was concerned about was my baby and putting food on the table. I was in "survival mode" for many years.
Thankfully, I graduated from college and became a teacher and now am an account manager. One of the biggest aspects of my healing was in my relationships. My relationship with my mother improved drastically, and while I still have an estranged older sister, I can see that the Lord is healing and reconciling the broken things in my life, in His own time.
When I applied for an annulment, a recognition that my short marriage was not really valid before God, it was during a very controversial time for the concept of Declarations of Nullity. Everyone, even Catholics, had an opinion on the matter. But to me, after 19 months of waiting for that final annulment paperwork to clear, after years of heartache and single parenting, it meant the world to open that letter and read that word, "invalid." It was a time for me to put my past mistake, of trying to marry because of a crisis pregnancy, behind me. It was a letter of hope, a letter that promoted healing. It gave me confidence that God does have a man for me, and not just any man, but a godly leader who wants to have a family and who would love my son as his own. Had the annulment not been suggested by the RCIA director, I never would have even thought to process it.
And healing doesn't affect just one person. When the Lord works, it has a ripple effect. Not only did I experience healing through obtaining an annulment decision, but my son's dad and new wife are now free to have their own marriage blessed and their new baby baptized in the Catholic Church. It has greatly improved my relationship with them.
But the best part is the healing my son has experienced. He and I both are in love with Jesus and with the Catholic Church. In fact, the first time he came back home after a visit with his dad, he told me that his stepmom took him to Mass in Lumberton, Texas. I said, "Really? That is awesome!" He said, "Mom, the Gospel message was about the weeds and the wheat." I said, "WOW! That was our Gospel message too, in Austin!" That's when it hit us: The Catholic Church is the universal Church. And in that moment, the Lord answered my prayer that my son would be able to hear the same Gospel message whether he was at mom's house or dad's house. We were overjoyed as we realized that the same Gospel message is given around the world on the same day.
I had no idea where my new-found faith would take us — from experiencing shame and loneliness, from seeking and years of wandering, to discovering Mary, to building new friendships, and to a community of people who do life together at my home parish. I feel so blessed! And to you Christians who live out your faith day in and day out, your example is what drew us closer to the Church, so we thank you, too.
In any denomination there are going to be those who just "show up" on Sundays, who don't really want to be there. And there are those who show up every Sunday but do so out of obligation, not trying to seek the Lord on a deeper level within their daily lives. And there are those who might be angry at the institution because people have disappointed them in the past. But here's what I have learned: People will always disappoint us, so don't put your faith in people. Put your faith in God. If you identify with any of the categories above — as I have at various points in my life — and you want things in your spiritual life to change, just pray and seek the Lord and give Him a chance. All it takes is prayer, a little searching, and a little (or more than a little!) patience. He is ready to give you a fresh start if you, too, are willing.
Our spiritual relationship is between us and God. Yes we also have communion with others, but only God knows the heart of a man and can see us for who we really are. It's in that individual relationship that Jesus calls us to himself. All of us are on different journeys in our relationship with God. Some might be hesitant to take that leap of faith, or they might question what other people will think. Others, like myself, find it both familiar, yet brand new, as God nurtures and grows their faith day by day. And there are some that have given up and have stopped seeking the Lord at all. But what I learned is that if you are willing to do the seeking, He is always there to be found. I found what I was searching for in the Catholic Church and in the sacraments. By partaking of the sacraments, the blessings in my own life have multiplied. From finding personal healing to being able to forgive those who have hurt me the most, Jesus is transforming my life into something better than I imagined. I have so much to be thankful for!
I will close with a quote attributed to Saint Augustine: "To fall in love with God is the greatest romance; to seek Him the greatest adventure; to find Him, the greatest human achievement."