A network of inquirers, converts, and reverts to the Catholic Church, as well as life-long Catholics, all on a journey of continual conversion to Jesus Christ.
Join & Get the CHNewsletter
Learn More
Marcus Grodi and Dr. Kenneth Howell take a slight detour from their study of Romans to address a listener email and examine James 2.
EMAIL: Dear Marcus and Ken, I regularly post comments on a discussion site which has a lot of Bible only Christians. … One of the things I notice with this group is they go to the OT a LOT and the epistles but seem to ignore the Gospels and any parts of the Epistles that don't jive […]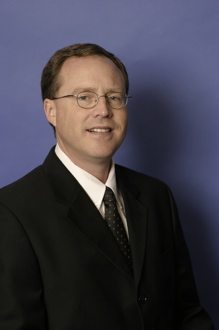 Browsing the religion section of the local used bookstore, I caught sight of a peculiar volume, the black and red ink on the spine contrasting sharply against the drab surroundings. "Now, there's an oxymoron!" I thought to myself as I reflected on the book's title, which read Catholic and Christian. Intrigued by the apparent paradox, I reluctantly grasped the book from the shelf and began reading, beginning with the ornate back cover. The author was a certain Dr. Alan Schreck, a professor of theology at Franciscan University of Steubenville. His objective was simple—to clarify Catholic doctrine for the many Catholic and non-Catholic Christians who misunderstand it. At $4.50 the paperback seemed a bargain I couldn't afford to ignore. Little did I know that this meager investment would pave the foundation for my journey home to the Catholic Church.
Today's Scripture: Romans 5:3-5 [3] More than that, we rejoice in our sufferings, knowing that suffering produces endurance,  [4] and endurance produces character, and character produces hope,  [5] and hope does not disappoint us, because God's love has been poured into our hearts through the Holy Spirit which has been given to us.  Mentioned on the […]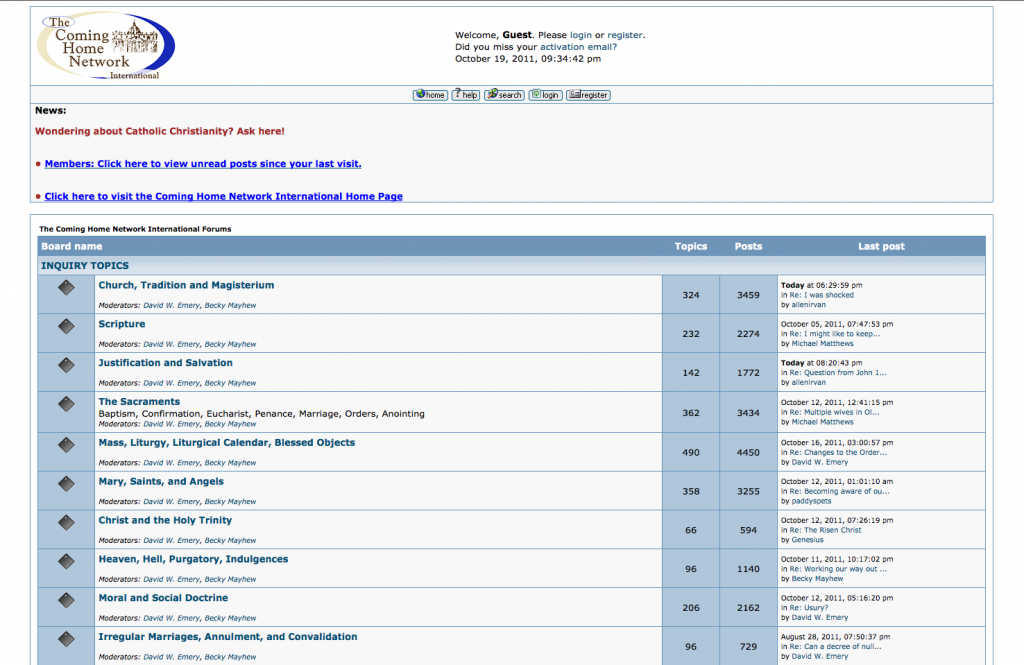 A member of our discussion forum named "Sunshine" asks: "How to be saved?" Sunshine: So, are you saying that no one actually receives Christ himself except those receiving the sacrament? David W. Emery: Perhaps we should rather say that Christ's work of atonement was accomplished, but his work of healing and sanctification continues so long […]
Tim was raised a Southern Baptist. Although he fell away from the faith of his childhood, he came back to faith in Christ during his late teen years through the witness of Christian televangelists. While in the Marine Corps, he became involved in ministry with various Assemblies of God communities. During his final year in […]
Marcus and Father Mitch answer open-line questions from the Journey Home Audience. They also talk about Pope Benedict XVI's encyclical Spe Salvi "Saved in Hope". Fr. Mitch earned his Ph.D. in Old Testament from Vanderbilt University as well as a Ph.D. in philosophy. He is an accomplished linguist, speaking several ancient languages including Latin, Koine Greek, […]
Father Anderson was raised a Presbyterian and invited Jesus into his hear at the age of 14. As a young man he was always interested in seeking and following the truth. After attending Oral Roberts University, he first entered the Episcopal Church but later the Charismatic Episcopal Church, where he was ordained a priest of […]