A network of inquirers, converts, and reverts to the Catholic Church, as well as life-long Catholics, all on a journey of continual conversion to Jesus Christ.
Join & Get the CHNewsletter
Learn More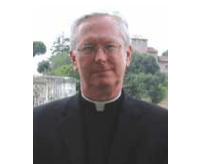 Once a minister of the Episcopal Church, I am today a Roman Catholic Priest, serving as pastor of the parish of St. Elizabeth Ann Seton in the Diocese of Fort Worth, Texas. As it turns out, becoming a Catholic priest brought me "full circle." Allow me to share with you how and why.
How does one determine truth? This was the core of my own journey to the Church, and though I won't repeat the details here, I must admit this journey, for me at least, did not cease once I became Catholic. I knew my old Protestant ways of determining truth did not work and led only […]
Lovelace was reared in an evangelical Protestant home in Alabama. As a young woman she served for five years as a missionary in Japan. She married Thomas Howard in 1965 and became an Episcopalian and raised their children in that denomination. In the 1980's, when she learned of Tom's journey to the Catholic faith, she […]