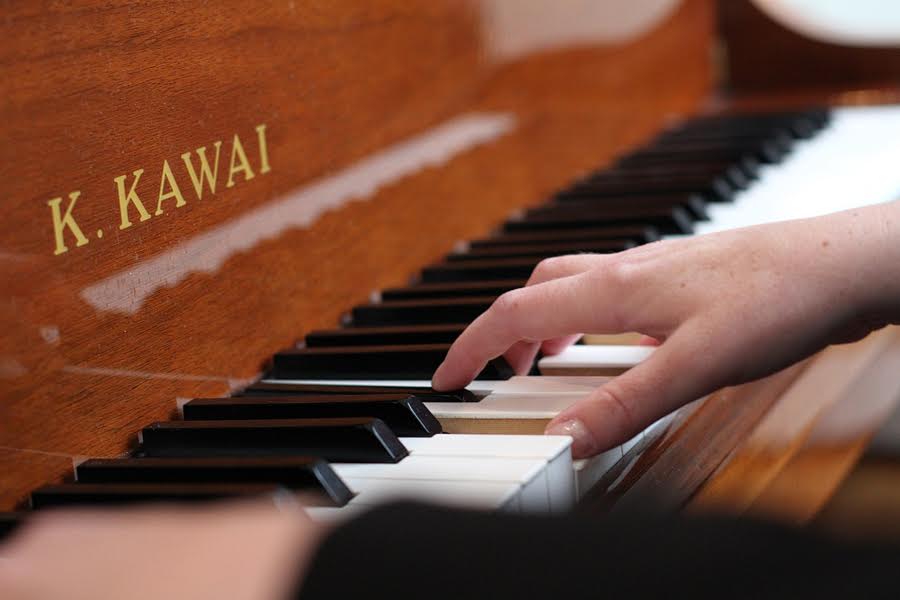 It is a Tuesday morning in 1997. Time for prayer and praise. Sitting at the piano, I praise the Lord for what today may bring. I thank the Lord for those who support me and the prayer team that is praying for me this day. Satchel in hand with granola bars for the hungry, a New Testament, and 35 cents for a phone call, I board the bus for downtown St. Paul.
As I walk the streets, I pass by the monuments erected for Father Lucien Galtier, the founder of St. Paul, Minnesota. Reflecting on my earlier research, I ponder again the grace given him. A French missionary, he successfully united Indians and soldiers to worship together, of all places, in a Catholic Church! On this day, however, becoming Catholic was nowhere in my trajectory. My focus was on worship, evangelism and Christian unity. I naively felt Catholics were "saved," although not as astute with the Bible and the Holy Spirit as we at the Vineyard Christian Fellowship.
I had a heart for the afflicted and the weak, and for Christian ecumenical unity; this was my mission.
I continue my stroll, seeking God's next divine appointment. I may meet "Stevie," a homeless man who coined me "the preacher lady of St. Paul." I may meet a new face on a park bench or on a street corner. I will sit and listen to her. She will share her pain and sorrow, and I will identify with her feelings, for I too have suffered losses. St. Teresa of Calcutta's message reassures me to think only of the one before me, to see only Jesus. I did see Jesus in them, and I sought to show them the healing Jesus, the One who could give them power to be free of addiction.
Today, I may go to the Cathedral of St. Paul and admire the architecture, the glorious stained glass windows of the saints, feel the strength and peace of that place. Naively I would think, "I wonder if these Catholics really get what this is about?" Ah, but what I didn't know: I was the one who did not fully get it — not yet anyway.
My Christian Roots
Growing up a Christian, I never stopped reading the Bible, even though I had long ago left my Seventh-day Adventist (SDA) upbringing. I knew Jesus loved me, and I read the Bible every day. But as a young adult, theological questions plagued my mind, questions such as: "If mandatory rest on the Sabbath is true, then why haven't believers been observing this day all these centuries?" The core question for me revolved around my father, who had died when I was a little girl. I never had peace that he was merely sleeping until the day Jesus would return again, as the SDA Church constantly asserted. To me, this would presume that God did not create us as souls, but as mere flesh. While I did not doubt my belief in Jesus, my soul was not at rest in the SDA church. My grandfather's active Baptist presence seemed to give me permission to ask questions about my faith. Conversations with him conveyed to me that the SDA Church did not have the corner on Christianity, and that I needed to pursue the truth wherever it was to be found.
Music lessons began at age four, and by age ten I was composing music. Writing music was the journal of my Christian journey, where I poured out my questions and prayed to the Lord. It was in music that my relationship with Jesus seemed most tangible. I wanted to go to college for both ministry and music, but a music scholarship and need for finances dictated that I attend the University of Northern Iowa.
It was in college that my theological questions came to the fore. As I processed my beliefs, I realized that the SDA faith was not what I believed. I decided not to return there, but to seek the truth wherever it was to be found. My hunger for truth grew immensely. When opportunities presented themselves, I visited Baptist and Lutheran church services and various campus ministries.
Between when I graduated from college and started serving homeless people in St. Paul, I discovered and joined the Vineyard Christian fellowship (VCF). This denomination loved Jesus and was expressive in their love for people. VCF was attractive to me because of their passionate worship, which was of a genre similar to the music I was writing. My distant faith in Jesus grew to understand the Bible more clearly, and I became passionate for Jesus. I was baptized in the Holy Spirit, and my heart burned to evangelize.
In a surprise moment, I heard (at least in my mind) God speaking to me, as I read Isaiah 61, telling me to move to St. Paul, Minnesota to "set captives free, beginning in St. Paul." In my vision, I saw what I perceived to be homeless and drug addicted people in dark alleys. With my pastor's endorsement, I moved to St. Paul and connected with a Vineyard Christian Fellowship there, who further mentored me into what eventually became a full-time ministry to reach the "poor in spirit." My ministry grew, acquiring a team, financial support, and a board of directors. Witnessing God working in and through my life, an associated non-denominational ministry licensed and later ordained me into the ministry. I felt my path was set, and I determined that I would never consider deviating from it. As if in confirmation, my desire to follow Jesus more closely with the poor increased. Doors opened for me to work with different agencies, homes for single mothers, high security women's prison, and hospice.
Cincinnati
As opportunities increased, I moved to Cincinnati. A Presbyterian church welcomed and supported me, now that I was an ordained non-denominational minister. I met monthly with one or more pastors or elders, who prayed with me and advised me. An interdenominational community team, board, and advisory board developed; my ministry, "Agape Extension," was established. As a chaplain, I was blessed to bring the healing of Jesus to those incarcerated, hospitalized, in nursing homes and hospices. Souls were not only coming to Christ, they were being set free of emotional wounds, the result of abuse. What amazing grace!
At the Presbyterian church, the messages were compelling and there was a liturgy: a call to prayer, the Apostles Creed or the Nicene Creed, and holy communion. My soul was at rest — due, as I initially thought, to the mere organization of a service instead of the ever-changing meeting I was accustomed to in my earlier charismatic environment. But it was within the Creeds and prayers that I discovered a solid foundation. There was no denying that God is in these statements of faith. I did not realize it, but I was being formed. The Creeds were transforming my soul. I prayed them almost daily before a crucifix at home — a formation of my soul, indeed.
"You pray like Sister Mary" (a visiting nun) — "except you wear makeup!" expressed several women at the jail during my pastoral visit. I was stunned. Catholics pray like this? One of the inmates also told me that they prayed as I had taught them, looking out their window at a cross atop a Catholic Church. Many of the women were raised Catholic and explained they were now connecting their wounds to the wounds of Christ on the cross. They affirmed that Jesus was setting them free through the prayers I shared with them!
From the time I was baptized in the Holy Spirit, the Lord began dealing with me and healing my own memories. Along with the death of my father, other family dysfunctions and abuse were affecting my perceptions of others and my self-worth. Rather than go through a few months of healing, as I desired, the Lord introduced a process, a lengthy journey. I was led to lift up my painful memories to the cross of Christ. Not an empty cross, mind you, but a crucifix. I had a dream about His nail-pierced hands and a painful memory; I awoke free of the pain. From that point on, God's grace led me to lift those wounds up and out of my soul, into His hands. I would wait and listen to Him — at His cross. As I became free, I shared my liberation with everyone who asked me to pray with them.
As I listened to the pain of others, I heard unimaginable stories. Questions began: Why, God? Why all this suffering? I read books by Henri Nouwen, who also served the poor. His words in Out of Solitude implored that the poor do not want just a hand-out, they want a hand-up. For me, this hand-up was to help them lift their pain to the cross. After meeting with someone, I would lift his pain to this cross in intercession. As an after-effect, my music expressed healing and intimacy with God the Father. In song, I was calling out to Him in prayer for myself and others.
After visiting patients at a hospital, my questions continued. "Why, God did you allow" (Joe, or whomever) "to endure this abuse? Now he has this incurable illness and has only months to live." I would sit for lengthy periods before an unusual crucifix in the Franciscan nursing home, offering Joe's sufferings to Jesus.
Meet the Poor Clares
Although I had questions in those days, I also had peace. Simultaneously, a new restlessness emerged that I could not explain. I was growing uncomfortable with the Presbyterian Church and any Protestant church I visited. I could not explain my feelings to my friends and colleagues. It would be risky.
Simultaneously, the music stirred anew within me. It was neither a hobby or an asset. I was compelled to write these sung prayers about the healing presence of Jesus. I needed to compose like I needed to eat.
We were led to have occasional conferences for those who desired Christian healing prayer. So I led groups in prayer like I did for individuals, only I added this music that the Lord was inspiring me to write, which largely focused on His presence in our hurtful memories. At the close of one of those meetings, an attendee invited me to a Mass at a monastery, home to a group of nuns who "loved the poor."
Stunned, I thought, "A monastery? — yikes." I replied, "Well, no. I'm not Catholic … 8 o'clock — in the morning?"
In a few days I attended my first Mass, sitting in the very back. I sat there to get a look at my surroundings. And there it was — that same cross I had been praying before all these months, the Franciscan "San Damiano" Crucifix. The nuns were more than welcoming, they were full of radiant joy! I wanted this joy so much, and it was beckoning to me.
A new chapter had begun in my life, and I would never be the same. I was told about this man, Francis of Assisi, who, like me, loved the poor.
Divine Impact
An opportunity came for me to go to western South Dakota for a few months. This proved to be an extended retreat to ponder my radical moment with the Poor Clare nuns. I could not deny that my life was impacted. My heart was believing in this radical journey, but my head was very far behind.
Desiring to get to the bottom of this riddle — as soon as possible, for I wanted my "set life" back to where it was — I began to fast in earnest. I drove up a mountain to pray. Walking, feeling more lost, alone and aimless than ever in my life, I called out to God: "Lord, if this is real, please show me. I am honestly unsure of my future. My closest friends will not understand.… What do You want of me?" I am not sure what I was expecting for an answer, but it was not what I received. A quiet presence came, and I had a vision. There was Francis; he took my hands. My mind recalled the years of ministry up to that point, now recognizing that my own ministry had some similarities to that of this saint, and that I was loving as he was called to love. The tears, the joy and the peace that settled upon me then were amazing!
What to do now? The fear of losing friends, colleagues, and my community loomed. This ministry had spread into several denominations, many churches, and ministries. It affected hundreds of lives. Was God calling me to just throw that all away? Seemingly in the middle of nowhere, I came upon a monastery. I went into the church. I sat in a pew just to breathe. The solitude embraced me. I looked up at the crucifix. A voice rang in my mind: "Your home is with Me. My cross is your home." WOW!
For the next several days, dazed as if I were in an interminable dream, I would return repeatedly to that monastery, and my impression of that statement would be renewed each time. The losses of my life came forward as I encountered a replica of the Pietà. Mary — she felt such loss! Although Mary was holding our Lord, inexplicably I felt she was holding me. "How could this be?" I asked myself. The redemptive joy of sharing in the sufferings of Christ both in my past and those which were to come were as visible as the bright sun. Clearly, I was not alone.
St. Francis
Now back in Cincinnati, I faced many firsts. I wanted to know everything I could about St. Francis! Entering a Catholic store for the first time in my life, I emerged with St. Francis: The Early Writings. I was falling in love with Jesus all over again — but through this saint! I thought, "Is that possible?"
I visited one Catholic church after another. Although I did not understand all that was happening, I needed to know ever more. At one parish, there was a message in a bulletin about Protestants. As a non-denominational minister, I never thought of myself as a Protestant. But this message presented the history of Protestantism and the precept that Catholics are still called to love them despite "our differences." I thought, "Well, if I am not Catholic, I must be a Protestant. And if I am a Protestant, am I really in protest?" I thought: "No, but I need to understand more."
I was led to John 6:22–66. On a certain level, I had believed that what Jesus said here was real and true, and naively thought that most Christians accepted it as true, because no one in my experience ever talked about this chapter! I realized that I needed to take this passage seriously and literally if I was going to understand Catholics even a little. Witnessing Mass again, it all began to make sense. Further, it convicted me. The Old and New Testament Scripture readings, the Psalms, the Creeds, and prayers — all of it convicted me. I wanted to become Catholic.
In a Catholic bookstore, looking for the Catechism of the Catholic Church, I was imagining it to be a thin book. The clerk showed me this gigantic green volume. "Whoa!" I thought. "That is huge! Do they really have that much to talk about?"
Initially, I thought reading this enormous book would be boring. Surprise! I was not bored, and I kept going to my knees. All my questions about the Catholic Church were answered. All the lies were dispelled. I repented of my judgment towards Catholics. The truth was overwhelmingly awesome: so much history, so much truth!
The Church Fathers had laid a strong foundation for Christianity. What an overwhelming amount I had been missing! I looked into the Church's teaching on moral issues — abortion, birth control, marriage, etc. These issues were important to me, because the denominations I encountered were weakening in their resolve to hold to a biblical standard. The Catechism not only describes its position, but teaches it expansively. I was encouraged in this discovery. Based on my encounters with other Catholics, I had no idea there would be solid moral teaching in the Church. I repented of my judgment of the Church in this matter as well.
Sojourn in Philadelphia
I had a dream and was led to move to the Philadelphia region, where soon I met a charismatic Catholic priest. Wow, I did not know the Church had those! He invited me to lead worship for their "intercessory prayer group." I met other charismatic Catholic priests, and doors opened for me to share my ministry. I was not yet Catholic, but these dear priests and parishioners welcomed and respected this female minister. 
One of the priests confronted me about becoming Catholic. The fear of losing financial support from other Christians who would not understand my conversion threatened me. But his approach brought a conviction to my heart. "Riding the fence" was not a long-term solution. I had to ponder how to do this. Shortly thereafter, the tragedy of the 9/11 attack happened, and for some reason many priests were re-assigned, some moving to other states. The doors closed; I was again brought to prayer and fasting about the Lord's will for my life.
Israel
For several years, the Lord had been frequently impressing upon me about serving people in other nations, and in faith I soon obtained a passport. With my Catholic connections dispersed, I was perplexed. Was that whole Catholic–St. Francis thing a mere chapter? What is next?
After leading worship in several places throughout New England, doors opened again. This time, I found myself called to Israel! I lived there over four years, serving, living and befriending Israelis, Jewish, and Arab people, Christians of several denominations and Messianic Jewish congregations. My learning curve was steep, hearing more Hebrew than English. I learned to keep a kosher kitchen, much about the Jewish feast days, the New and Old Testament biblical sites, and much of the modern Jewish culture.
The concept of Messianic Judaism was brand new to me. Some congregations keep most of the Jewish feast days, with the difference that Jesus, "Yeshua," is their Messiah. I was in awe because I learned of our Christian roots and experienced them first-hand in the Catholic Mass!
To live so close to many holy places was indeed enough to bring me to daily wonder and awe. But the joy of living there was talking with the local people. I met Franciscan friars there and secretly felt Francis himself was chasing me! The roots of our Christian faith were visible, yet it was a culture striving simply to exist.
My years in Israel gave me time to pray. I spent many hours in prayer, fasting, and seeking the Lord for guidance in my life. What a grace to seek Him in His Holy Land! Through learning about Judaism, I began to see that how we worship has been important to God from the beginning. He is the One we worship, and it is He who began a ritual of how to pray, repent, give offerings, and seek Him. How we worship really seems to matter to Him!
The other obvious matter was the reality of how divided Christian denominations are from one another. The Lord said He wanted us to be one, but in Israel this seemed impossible. There were so many divisions, even among those of the same party. Certainly God has a plan — but where?
I spent hours in deep prayer, reading the Holy Scriptures, especially what I knew as the "Apocrypha," the books not found in the Protestant Bible. I became glued to Sirach, who seemed to have a counsel for every aspect of life!
A turning point came while immersed in Josef Pieper, a Catholic philosopher. His book, On Hope, challenged me and opened to me a whole new world. Concisely, being a follower of Jesus was not meant to be wrapped up in what I do, but about who I am, that I am "on the way" to somewhere. Pieper opened up to me that the virtue of hope meant that we must not presume that we have arrived at salvation, because in hope we remain "on the way." (On Hope, English edition, 1986, Ignatius Press, pg. 11)
The blessed fruit of this discovery of hope was becoming comfortable with mystery: the Christian journey was not all set in stone. There are changes along the way, and it was okay for me to change. I did not need to plan every part of my life. I could just "let go and let God." A childlike wonder came upon me, and I was overwhelmed with joy.
Being a musician was no longer my identity, as it had been in music school. Instead, it was the message of what was moving within me; it expressed a new identity. In that time, I would sing directly from the Bible, and often from Colossians 1:27: "To them God chose to make known how great among the Gentiles are the riches of the glory of this mystery, which is Christ in you, the hope of glory."
During this time, I tried to put my ordination in God's hands. I truly wanted to be released from what now felt like a weight I was not meant to carry. I besought Him as to how to move on. As much as I wanted an answer "now," the answer was not forthcoming. At least, not yet.
I was ordained through the organization Resurrection Apostolic International Network. The leaders were supportive of my international work and even my time with Catholics. They grew from a healing ministry into a prophetic ministry. Although quite effective in Christian unity and touching thousands of lives and nations, I was now very far from fitting in with them. Questions were constant in my mind: Who decided which prophetic word was true? On whose authority? And if a leader falls into sin, who will correct him or her? The lack of accountability could produce a negative effect on believers as a whole. I did not doubt God's call on my life, but I had never been comfortable as an ordained minister.
Finding My Way Home
It came time to return to the United States, and I ended up in Nashville, where I recorded and released the CD "Fly Free" in 2008. Ministry took off again, and I was blessed with radio airplay, concerts, and a continuing walk with Jesus in my music writing.
However, the empty place in my soul re-emerged and became inescapable. I sat in a Catholic church parking lot on several occasions, sensing the Lord's strength and peace, but I could not yet understand my calling, and I could not bring myself to enter. After some prayer with an advisor, I was led to move to New England. It was there that the music writing beckoned me still deeper.
"You're calling me home / to the house of love/ I turn my heart and soul / to where I belong / You're calling me home / to the place of rest / I let my tears release / for now I am found! / You're Calling Me Home!" (Calling Me Home ©Two by Two Express/ASCAP/CCLI)
As new songs came into being, I tried to be as true as possible to what I was "hearing" in the music. In a leap of faith, I resigned from ordained ministry. My prayer walks were long, and it came to me that I needed to be honest about the truth I knew, about who God made me to be, about my faith to live it fully.
One morning, on my way to walk the beach, my eyes fell upon a Catholic church, and this time I went in. I began attending daily Mass. It was no longer St. Francis alone calling me. It was the Holy Eucharist! I was not receiving Him in holy Communion, yet He came to me spiritually. I knew that He is present in this Sacrament, and I knew I had to take this next journey into the Church.
I wanted to enter as soon as possible. I found EWTN on TV, and there was radical Mother Angelica, along with Marcus Grodi and The Journey Home! During this season, I met with an RCIA leader. During many intense hours together, she asked me a multitude of questions. She learned that I knew a tremendous amount about the Catholic Faith and was definitely ready to be received into the Church that upcoming Easter. I went to my first confession. It blew my socks off; I was so blessed by that powerful encounter! After years of praying for healing for myself and others, I had never felt as released and healed as I did in that confession! Jesus was so near to me, and I knew I was on my way home!
For work related reasons, I needed to move that very spring, so it was determined that I should wait on joining the Church. Months later, I entered a vibrant RCIA program in southern New Jersey. The Easter Vigil the following year blew me away! Another Wow! New musical friendships emerged, as well as openings in Catholic parishes to share my latest music and the liturgical songs I was composing.
As a Catholic, I have found increased spiritual strength and renewal through receiving the holy Eucharist. Receiving the Lord sacramentally has indeed brought me closer to Him. It is in that moment that I can listen to Him and what He has to say to me. I have an inner strength that previously was not there. The icing on the cake is that my music has yielded another two volumes, including a new Mass setting and Psalms!
Continuing to turn on EWTN and still usually seeing The Journey Home, I learned more about the Coming Home Network. It is a beautiful organization. Every person I have met has been a welcoming blessing. I am so grateful for their presence both on EWTN and online. They work patiently and tirelessly for those seeking, converted or somewhere in between. Their retreats are amazing! I encourage all converts to go. It is healing and empowering to share one's story and share in one another's trials and victories. Perhaps the unspoken witness is to experience the truth that we are not alone. Indeed, our numbers are growing!