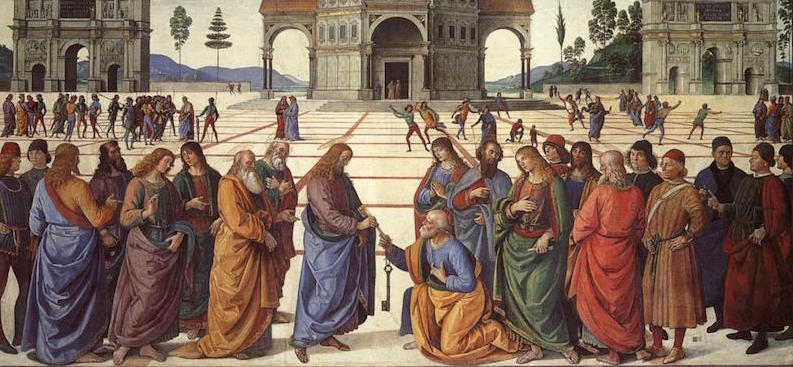 It was not easy to do so. After nearly thirty years of service, worship, and growing in Christian discipleship within the context of the Anglican Communion, this once Anglican Evangelical found it to be the call of Jesus Christ to move to the Roman Catholic Communion. The certainty of the call and decision came after twelve plus years of intense study in Scripture, theology, church history, Christian spirituality, and Christian ethics. The seeds for the invitation to enter into a more concentrated study twelve plus years ago were planted even longer ago than that, reaching back into my late adolescence and developing throughout my college career.
Through the witness and teaching of a high school church school teacher, I came to both understand and encounter the living and risen Jesus. At age sixteen I made a firm commitment to answer the call of Jesus Christ to "seek first the kingdom of God" and to enter into serious Christian discipleship. From the start of this journey I developed a profound love for the Scriptures alongside an ever deepening love of God and Jesus of Nazareth. As I would eventually learn Saint Jerome (who was an early and serious student of Scripture and translated the Bible from the original languages into Latin, creating the Roman Catholic Vulgate) was to say: "Ignorance of Scripture is Ignorance of Christ." This was my early and ever since continuous experience of the Scriptures. It is the word of God written and witnesses to the living and risen Word of God, Jesus of Nazareth, the God-Man, Son of God, Son of Man, Messiah of Jewish Expectation, fulfiller of the Abrahamic covenant, the inaugurator of the kingdom of God, God's new society, the true, authentic witness of genuine humanity and what God means for us to be as human beings, the Lord of the Universe, the Saviour and Redeemer of the World, the One who has done for us what we could not do. I continue to go to Scripture, just as I go to the celebration of the Eucharist, and for the same reason I pray: to encounter, to hear, to know, and to better serve Jesus and the world. The Scriptures "incarnate" in a certain and physical way Jesus and makes him Present just as he becomes physically present in the consecrated and transformed elements of bread and wine at the Eucharistic celebration, the Lord's meal given to us and for our growth in relationship with him.
Taking study of the Scriptures seriously and foremost alongside increasing study of theology, church history, and Christian ethics, I began a process that would form my spiritual life and theological understanding in the essential orthodox and classical Christian tradition beginning with Jesus and extending through two millennia to the present day. In this process I was to be helped by the Holy Spirit to avoid "cheap grace," compromised "civil religion," a false bifurcation between gospel proclamation and social responsibility and ministry, between the evangelical and the catholic, between the liturgical and extemporaneous, between faith and reason, between Christian faith and practice and substantive, solid scholarship, and I was helped to avoid minority and unbiblical eschatological diversions. I was helped by God's grace to avoid a Biblicist, fundamentalistic faith and practice as well as to avoid being pulled into the skeptical, faith diminishing, even sometimes faith denying, revisionist and Gnostic spirituality and non-theistic philosophy that is becoming the character of much of what once was classical, orthodox Christianity and wrongly thought necessary to being a Christian in the modern/post-modern world of the contemporary Western culture.
From early youth my spiritual nature was attuned to the grandeur and greatness of the reality of the created order and the vastness and complexity of the universe. I have had since quite young a profound intuition for the presence of Reality and a longing to know and thus search for the really real and for truth. It is this fact of my person and experience that attracted me to the study of philosophy when a college student. It meant that if I were to be a Christian and take that identification and commitment seriously, I had to genuinely have "faith seek understanding" and test the truth claims of Christian faith for their validity, coherence, comprehensiveness, and truth. Engaging this call and process meant taking seriously the testing of faith intellectually, emotionally, psychologically, and spiritually. It has meant at times crossing over to the other side and looking at the issues as sympathetically as possible from the perspective of the most challenging criticisms rendered against the faith and getting inside the point of view and reasons why many think it necessary to radical revise Christian faith and understanding, if not deny its validity all together.
This was possible because if God is God, and all truth is ultimately grounded in God who is Truth, the search for the truth wherever it would lead would be not only aided by God's Holy Spirit — whom Jesus said was sent to lead us into all truth — but would come, did come, as the call of God.
The journey at times was not at all easy, was sometimes nearing the perilous, could be frightening and unsettling, and yet the challenges, difficulties, critical engagement brought good fruit and rewards.
While still a high school student I found Anglicanism, particularly Anglican evangel-icalism in its classical and open form, to be quite agreeable to my heart and mind, body and soul, and in keeping with the call of Jesus to love God with all one's heart, soul, mind and strength (Mark 29-30), Jesus echoing the great Shema of Israel (Deuteronomy 6:4-5). Exposure to Anglican worship via family members when a child gave me a profound sense of worship being meant to recognize and offer worth to God and God's grandeur and sovereignty in and through liturgical worship that balance of word and prayer, that was the balance of the offering of praise through music and song and reflection, meditation and contemplation, and that mediated and expressed a true and deep sense of "the beauty of holiness." It was not without some deliberate intention on the part of the Holy Spirit to impact my initial Christian formation as a teen and young adult with Christian writers such as William Temple, C. S. Lewis, Charles Simeon, William Stringfellow, John R. W. Stott, J. B. Philips, Jim Packer, Robert Webber, Donald Coggan, Stuart Blanch, and Michael Green, all Anglicans. And to these came across my path Anglicans who had moved on to the Catholic Church, such as John Henry Newman, G. K. Chesterton, Ronald Knox, and to have these joined by Catholics such as Thomas Aquinas, Anselm of Canterbury, Tertullian, Origen, Justin Martyr, Gregory the Great, Benedict of Nursia, Bernard of Clairvaux, Aelred of Rievaulx, Augustine of Hippo, Teresa of Avila, John of the Cross, Thomas a Kempis, Julian of Norwich, Fulton Sheen, Peter Kreeft (at one time an evangelical in the Reformed tradition), and Thomas Merton. And, my earliest exposure was not without an ecumenical dimension in that other writers who were influential in this period were from various Christian traditions and communities of faith, such as Dietrich Bonhoeffer (Lutheran), Karl Barth (Reformed), Jim Wallis (Plymouth Brethren), John Bunyan (Baptist), Charles H. Spurgeon (Baptist), Richard Foster (Quaker), John Howard Yoder (Mennonite), Peter Marshall (Presbyterian), Soren Kierkegaard (Lutheran), Reinhold and H. Richard Niebuhr (Evangelical Synod).
Midway during my college career I moved from the American Baptist Church to the Episcopal Church, being confirmed in the latter after graduation from college. Testing of a potential vocation to ordained ministry and priesthood beginning in my college years and into the two years to follow graduation when confirmed was God's call to teach and preach and celebrate the Eucharist and administer the sacraments. It was during my sophomore year, while studying in the library, during a break from the books and walking through the stacks, that I discovered something called the "Oxford Movement." At first it was difficult to comprehend what the movement concerned and what was the motivation for it and what its aims were. I had, at that point very little exposure to the sacramental life of either the Anglican church or the Catholic Church, and even less exposure to British cultural and political history (and the latter would soon be remedied and helped to form me into an Anglophile and as a result I continue the study of the British and Irish isles to the present day). But persistence paid off and I discovered there were some significant realities about Anglicanism that I knew little about and that my exposure to Anglican evangelicalism was restricting my knowledge of the larger Anglican community as to its wholeness and that my knowledge of the history of Christianity was too limited, beginning as it did at that time with some knowledge of the European and English Reformations and forward from there in time. This discovery would set off a lifetime of study into the realities of both evangelical Christianity and catholic Christianity. And my knowledge of the latter would be given a significant boost through in-depth study of Thomas Aquinas throughout the remainder of my college career (and which has continued from then to the present with consider-able consistency). Beyond the exposure to Aquinas pre-college and from college classes in philosophy, this interest was aided by the discovery that two of my closest college friends had a mutual interest in Thomas Aquinas. Friday or Saturday night excursions into Chicago would often find us discussing Thomas Aquinas over wine or beer into the early hours of the morning. The seeds for my eventually balancing out my Anglican evangelicalism with Anglo-Catholicism were getting sown.
The gradual balancing of my spiritual and intellectual life as a Christian and an Anglican evangelical with an appreciation for and appropriation of Anglo-Catholicism were helped along by two relationships that occurred during the two year period when I was between college and seminary. The first was came in relationship with the Anglican priest who was the rector of the Anglican parish I affiliated with in my hometown after graduation and marriage. The second came from my marriage, as I had married a com-mitted and serious Christian woman who was a Roman Catholic, and not only a Roman Catholic but also a full-blooded Sicilian. Both of these persons encouraged my contin-ued reading of Thomas Merton and various other Catholic spiritual writers [adding persons like Walter Hilton, Richard Rolle, and the Cloud of Unknowing to my list of exposures and influences]. At Saint Mark's parish I experienced for the first time with depth Eucharistically centered worship marked catholic liturgical elements than what I had known during my college years in the low, evangelical parishes I attended in Lake Forest, Illinois, and on Mackinac Island, Michigan, with their Sunday worship a rotation of worship by means of "Morning Prayer, with sermon," and "Holy Communion, or the Lord's Supper, or the Lord's Board."
While working in city government and being active at Saint Mark's, in an Anglo-Catholic diocese, my call to the ordained ministry and priesthood was confirmed. Several seminaries were considered, two of them being distinctively Anglican evangelical, two of them a blend of the evangelical and catholic, and one essentially Anglo-Catholic. One of the evangelical seminaries was brand new and as it was untested my bishop did not encourage going there. The strictly catholic seminary was just too far beyond where I was at the time. One of the evangelical seminaries, along with one of the blended seminaries, was geographically at a distance that made it less desirable. In keeping with good "Anglican balance and compromise" I elected to attend, with my bishop's approval, the blended seminary nearer geographically and so it was back to Chicago, this time for graduate study in theology and preparation for ordination as an Anglican priest. I was actually considering eventual study to earn a doctorate and work as a theologian and teach theology. Clarifying the call to an ordained vocation meant shift-ing from my earlier consideration of going on to graduate school and earning a doctorate in philosophy and teaching in a university or college. The theological orientation and the work as a theologian were never without also viewing it entailing some mini-stry and involvement in a parochial setting and other aspects of ministry and church life. The seminary experience confirmed to me the practical need of theologians and those who teach theology to have some significant experience in parochial ministry in order to be more effective equippers of future clergy for the church. It was decided that following graduation from seminary and ordination some time would be spent in parochial ministry both for the pastoral experience as well as the practical necessity to earn and save some funds for further graduate education.
The seminary experience was overall very positive and stimulating intellectually, culturally, socially, and spiritually. It was a period of growth and exploration, challenge and contemplation, stress and disquiet to be balanced by new grounding and the developing of an ever increasing spiritual center enhancing the growth of the soul beyond just the physical and temporal aspects of life. The one discovery that needed some balancing came as the result of arriving at the seminary and discovering that it was not as blended an institution as it once had been. The school was considerably more Anglo-catholic liturgically and theologically than was anticipated and the academics were heavily weighted toward the skeptical, revisionist, liberal, tending to non-theistic end of the spectrum. Classical Christian orthodoxy, even of an Anglican variety was not well represented, and Anglican evangelicalism was almost none existent except among some of the students. Only the dean and a former Archbishop of Canterbury who was often scholar-in-residence seemed to have any sympathy for either Anglican orthodoxy or Anglican evangelicalism. The upside was to be permitted real intellectual exploration and the sympathetic "crossing over" spoken of earlier. Thus, the academics were engaged with real earnestness on my part and various perspectives taken seriously and examined in considerable depth and with a critical mind. The liturgical worship also proved to be a strong and somewhat unexpected benefit as it went beyond the catholic and contemplative elements experienced in my home parish. It would prove to be something very much missed when I did get to spend a year in England, as my middler year of theological study, at an open Anglican evangelical theological college.
In order to balance out the academics and to obtain a first hand contemporary know-ledge of Anglican evangelicalism broader than what I had been exposed to, it was arranged with the dean and the seminary to spend a year of study in England at a theological college with an Anglican evangelical orientation. In retrospect it wasn't actually needed so much for academic balance and academic reasons, given the strong foundation I had already received in philosophy, theology, Scripture and biblical criticism, church history, and literature and literary criticism in college at one of the better American evangelical colleges and divinity schools as an undergraduate. Some of the academics in England did built on this foundation and extend and deepen it, but some of it was inferior. The biblical study and church history work was excellent, demanding, challenging, and thoroughly engaged with the pulls and tugs present in both theological academia and ecclesiastical life. These studies proved beneficial. The study in systematic theology and ethics was quite inferior, less than adequately engaged, and proved to be of little value. My spouse found the philosophy course taught by the one theologian I did not study with while in England top-notch, but he left at the end of the academic year for a premier evangelical institution in the United States. We both understood why, in part, given the theology department he had to work within, that he found the call to America and California attractive on many levels.
The real benefit of spending the year in England came to be in the larger exposure it did provide to Anglicanism generally, in its "home turf" of the Church of England, and exposure to Anglican evangelicalism specifically. What was discovered was that evangelicalism in Anglicanism was ever so much more fragmented and fractious than was anticipated and that it represented the desperate, often hard to harmonize, continuum of practice and theological belief to be found across both American evangelicalism and American fundamentalism. As tends to be case, with each of the subsequent "Protestant" iterations to subdivide off classical, mainstream, reformed Protestantism of the sixteenth century, what could be observed was ever greater diminishment of the place, importance, and necessity of "church" whether as an institution, a spiritual community or fellowship, or as a base for mission and evangelism. Alongside this were the some-times near lack of appreciation for the historic Church and its history and witness which has carried classical, orthodox, evangelical and catholic Christian faith down to the pre-sent day. It was found that for Anglicans who generally tend to hold a value for the historical church and its continuation through time and space – including Anglican evangelicals who seek to show how the English Reformation and the Church of England was a reformation of the Catholic Church based in the theology, practice, and experience of the Church of the Fathers and the first four centuries following Jesus — that there was often a real disconnect with that history, especially in terms of either the display of a lack of comprehensive knowledge of that history, in terms of a selective appropriation of that history which tended to utilize only the "bits" that supported certain Reformation values and principles, theology and teaching. This was by no means universal, and fortunately so, but it was pervasive in a significant portion of the college community and church communities Joann and I were privileged to observe in the course of my study in college, explorations in town, and travels across England and Wales.
It was frequently the case, but again not universal, that one encountered Anglicans who seemed little different from being Baptists, Presbyterians, or Plymouth Brethren, such that one came away wondering why they were Anglicans rather than being Baptist, Presbyterian, or Brethren. This is not said out of disrespect, for we also discovered these persons to be genuinely faithful, loving, practicing Christians with whom was shared a unity and fellowship in a living and lively faith and that the unity in Christ transcended the varying orientations, but at the same time served to better understand the tension that still exists in parts of Great Britain between Protestants and Catholics and the division and tension that is currently being tested by a variety of topics and concerns at present in the Church of England and the Anglican Communion. A significant learning was to discover that Anglican evangelicalism — within a single denomination, within a single church — is far from homogeneous and appears to have at work in it the typical and usual forces that serve to continually fragment Protestantism, evangelicalism, and fundamentalism, historically and contemporarily. After years of reflection on this and continued observation of Anglicanism whether the Anglican Communion, the Church of England, or the Episcopal Church USA, it has come to suggest itself  as real evidence that what has held such a diverse and comprehensive body as "Anglicanism" together was and is very much dependent on it having originated in the context of a monarchy and state where the Mother Church was by law established and, for the time being at least, and this is now being severely tested unlike any time previously in Anglican history, it endeavors to persist and endure given the ties Anglicans Christians world-wide have, or have tended like to have in the past, to the community of faith that is forced to live together in radical and sometimes extreme diversity not on the basis of faith, or Bible, or creed, or prayer book, but on outside forces that have nothing to do with theology or ecclesiology forcing a common life in one church. These forces are political just as were the most significant forces in the case of England that were to being the Church of England into being in the first place. Given that the Anglican Communion does not have such forces elsewhere outside of England, and that the diversity of challenges to the unified life to be identified under the name "Anglican" is now being tested unlike any time previously, it is to be seen if either an Anglican Communion or a Church of England will be able to emerge anything like they were before the onset of the current crisis.
The experience in England was not only helpful for the knowledge it gave of Anglican-ism and for material to continually reflect on as the church culture has continued to develop, unfold, evolve, take shape from the 1970s to the present time; it was helpful in a personal way in two regards. As already briefly touched upon, the experience helped to deepen my desire for more and not less liturgical worship, a desire to know more about liturgy and sacramental theology and the theology of worship generally, historic-ally, pastorally, spiritually, and contemporaneously. Thus, when I returned to the states and to my American seminary, I was ever more open to receiving readily knowledge of Roman Catholicism and Eastern Orthodoxy, both of  which Anglicanism had derived and drawn from. I would become more accepting of and ready to assent to catholic sacramental understanding and to want to incorporate that into my priesthood, pastoral ministry, and leadership in corporate worship of the parish community. The resultant study and knowledge would help to open me up to want to explore other aspects of catholic theology and practice, leading to my wanting to know more about things such as, why scripture and tradition vs the sola scriptura of much of Protestantism (and as much this subject because many Anglicans do not hold to sola scriptura and I would come to appreciate and be able to accept why and embrace a change of perspective myself), why the Roman Church holds the teaching it does on Mary, purgatory, the infallibility of the church's Magisterium, transubstantiation, alongside a desire to know what the church authentically held and taught on subjects such as grace, faith, works, salvation, justification, sanctification, the Presence of Christ, and the reading and study of the Scripture by laity. As an Anglican, even as an Anglican evangelical, I had come to see the reality and importance of the communion of saints and the Church Triumphant and the Church Militant joining with one another in prayer and spiritual moral support. When worshipping as a college student with friends who were Plymouth Brethren — to have this underscored when I began to worship regularly in Anglican churches — I had developed a sense of Jesus' Real Presence in the Eucharist, but of course without much in the way of theology to understand or explain this. So over the years I would carefully consider and scrutinize Eucharistic theology and examine all the traditional theories and explanations in order to determine what seemed to best fit the biblical evidence and accorded with philosophical realism.
Given the era in which I entered seminary, several issues were already on the "burner," so to speak, around which controversy swirled and which were considered by many as innovations which were not developments of the apostolic heritage, the "deposit of the faith," given to the apostles and the church by Jesus. The most controversial at the time in the American branch of Anglicanism, the Episcopal Church USA, was the ordination of women. Second to this with somewhat lesser intensity though still very controversial was "prayer book" revision which entailed a new and significantly different Anglican Book of Common Prayer for the America church with regard to large parts of the contents that would come to comprise it. More than the issues themselves, which when I was about to enter seminary were topics I had never even envisioned let alone considered as needing to have an opinion or view or position on, the issues raised for me the question who had the legitimacy to make such rather sweeping and different decisions such as this?
Before the Christian world divided East and West after nearly a thousand years, it was quite clear how such decisions were to be made and were the authority lay. Such decisions would be made by the universal, ecumenical church by means of the instruments given and available to the church: church counsels, the bishops of the church, and for the West in particular, the Latin Church, the office of the Bishop of Rome, the Papacy. At the stage of entering seminary, I know enough early church history and theology and had a relatively good initial acquaintance with the Church Fathers, etc., so as to know that the processes which went to work in the early church — to make really significant decisions in either the doctrine or discipline of the church — were made carefully and always arrived at as an outworking of what was already latent in the tradition, experience, and Scripture of the church. Developments were just that, developments, not creations or innovations out of nowhere. But where, I wondered, in a greatly divided church without any real unity, particularly given the break that erupted in the West with the European and English Reformations, and all the subsequent breakdowns that followed in the aftermath of those two disruptive phenomena in Western Protestantism (and which continues unabated today), could the "local" church make such decisions? I became strongly convinced of the need for the Christian world to work for unity and to bring the church back into being one church. It needed to be one for such needs as this, and even more it needed to be one for the witness and power it would given to Christian mission and evangelism in the world. Scripture had taught me, while still a Baptist, that Jesus founded one church and meant for there to be only one church (ref: John 17). His requirement was that the church be one and not divided as it is. While in college I came to realize that the oneness of the church had both an "unseen" and a "seen" dimension to it; and I came to see that the idea of John Wycliffe (who I regard as making some positive contributions in some other areas) was wrong in positing the idea of only an "invisible" church known only to God. Saint Paul and the New Testament, I clearly understood, never spoke of the church in such terms! It was not biblical and it simply is not a logical or practical notion. It tends to diminish the reality of God at work in the empirical world and it tends to deny that humankind can see and know the work of God in real space and time. It is a variation of Gnostic application to spiritual realities that are at the heart of the Incarnation and God's use of the physical world sacramentally, and thus, when applied, undercuts and denies the Incarnation and the sacramental. A visible and identifiable church is necessary to reality and mission and ministry in the real world and is itself an indispensable and powerful witness itself to the reality of the gospel and what God was and is doing in and through Jesus Christ and in bringing into existence the kingdom of God Jesus inaugurated in Galilee, and what God is doing through the agency of the church and real flesh and blood human beings. Careful, in-depth Scripture study was the primary contributor to forming this set of conclusions and adding to it was careful study of church history and theology of the church as well as help from less likely sources such as reading C. S. Lewis', The Pilgrim's Regress. The church, or Kirk, in Lewis' allegorical novel is in picturesque ways shown to be critical and significant in the process of leading a person or "pilgrim" to heaven. Lewis' The Pilgrim's Regress in this regard is a corrective to one of the few weaknesses of Bunyan's The Pilgrim's Progress.
Accepting and understanding the commitment to live under authority within the con-text of the church as Christian community and under its leadership, ultimately under Christ, I decided I could for the time being, while in seminary and for a significant time after, utilize the Gamaliel principle from the Acts of the Apostles [5:33-39] to permit my living with any changes the American Episcopal Church might make until such time the ecumenical community of all of Christianity could come to embrace them, which it would, if they were of God. Looking back I realize this approach was both a rather naïve and unworkable position to take as well as perhaps a misuse of the Gamaliel principle. But the question would remain about such significant decisions and who could and should make them and the question would receive continuous study and reflect with ever greater depth as time passed.
The ongoing continuous study coupled with lived experience in church life, both denominational and ecumenical, in the course of ordained and pastoral ministry served to heighten for me issues related to the oneness of the church and its broken unity and the need for the ecumenical movement to succeed, to become more intentional and effective, and to realize greater substantive theological, biblical, and ecclesiastical work and communication to overcome what does divide Christian from Christian. As I came to know the documents of the Second Vatican Counsel of the Roman Catholic Communion, I realized that the Catholic Church was authentically serious about real ecumenism and the realization again in space and time of the one church Jesus envisioned and prayed for in John 17. And, this quest for one church was nothing like the unbiblical caricature some fundamentalist Christians made and make of the idea of a "world church" under the leadership of the Anti-Christ in their equally unbiblical eschatological teaching and pre-millennial tribulationalism. (I had, while still a Baptist evangelical, learned that isogesis is entailed in such interpretations of Scripture instead of it being authentic exegesis, and all subsequent further training in biblical hermeneutical method served to make clear the same. Saying this is not meant to be uncharitable to fellow brother and sister Christians with whom I find I have to disagree on biblical and theological grounds despite our sharing Christ.) So, as part of my ordained ministry I became involved in local ecumenical efforts both at the parish and local community level and representing the dioceses (particularly Kansas and Minnesota) of which I was a part. Yet, over the same decades I have served in active ministry it appeared the commitment to ecumenism was increasingly diminishing on the part of Protestants and evangelicals. And, in parallel to this apparent diminishment of commitment, some Protestant bodies made decisions and undertook actions that served to further frustrate and make difficult the ability to achieve unity and oneness, real communion between all orthodox Christians. It now could be that — due to some innovations either now at work or not yet even envisioned — some Protestant bodies could simply end up in time removing themselves from identity entirely as Christian they appear to go ever further to remove elements that can legitimately be said to comprise such an identity. This is the concern of a number of mainstream Protestants at the present time, with the crisis in the Episcopal Church and the Anglican Communion being the scenario where are found behaviors that give rise to such shift in identity not being merely theoretical but real and where the resultant division of concern is getting the greatest public expression and attention at the present time.
Despite the cultural entailments of contemporary faith communities and their recent and current status and commitments vis-à-vis ecumenism, I none the less have sought and prayed for (and continue to pray for) the unity and oneness of Jesus' church. As an Anglican I sought to balance the commitment to in seeking rapprochement between Anglicans and mainstream Christians and evangelical, charismatic, and fundamentalist Christians and between Anglicans, Roman Catholics and Orthodox Christians, and between these and evangelical, charismatic, and fundamentalist Christians. Not a lot, in my experience — albeit it limited compared to others — has been realized as a result except at a very local level, Christian to Christian and parish to parish/local congregation to local congregation, and in limited areas of social ministry generally.
And over the same period of time I observed John Paul II (and now Benedict XVI likewise) to make a strong effort in ecumenism and I have known in my experience the strongest commitment to come from local Roman Catholic clergy and congregations I have known over the last three decades in a variety of communities. Coming to teach in a Roman Catholic liberal arts college and work alongside Roman Catholic scholars and other scholars representing a variety of faith traditions [and not all of these Christian, but some from the other great Abrahamic faiths and from Eastern religions] also served to show me that the ecumenical effort is worth not giving up on and there is ever more reason to continue the effort. Somewhere along the line I came to realize that the strongest commitment to both dialogue as well as practical ministry and mission carried out jointly by Roman Catholic and other Christians and people of good will was coming from the Catholic side and increasingly it was becoming harder to get my own Protestant side to even talk about such let alone join in. And still further along, if I could not help to impact my own communion to more seriously undertake the work of ecumenism and Christian unity and work to achieve full communion between Christian comm-unions and communities, I came to see that I could, if God were to call me to do so, make the ecumenical move as an individual and realize communion with the original and historic church of Jesus. Later I would learn that this was part of the impetus for John Richard Neuhaus, one time a Lutheran theologian and ordained minister, for mov-ing to the Roman Communion.
Observation, experience and study all came to suggest something was not quite the way it should be in "Protestantism" and with diminished effective ministry in the West and in America — in particular shown by increasing less positive impact on the culture, shown by diminishing membership and failing efforts in evangelism — with more and more of the limited number of people who are desiring "church affiliation" merely "church shopping" for services – such as are valuable to families with children and diminished identity by "denomination" and especially so in Protestant and evangelical, charismatic, and fundamentalist circles (with Roman Catholics and Eastern Orthodox not entirely immune from the same dynamics but less so) — shown by what appears to be much of mainstream Protestantism selling out core and essential values to try to insure denominational survival and stay declining memberships — thus presently less and less of what fully comprises the Christian gospel and invitation to faith and relationship with God in Jesus Christ, and coming increasingly to merely mirror the passing "spirit of the age," and with evangelical, charismatic, and fundamentalist churches similarly trying to respond to the challenges posed by the surrounding culture and they responding by less substantive teaching and worship and replacing these with what is more and more simply entertainment and "pop-theatre/concert" to draw in crowds (which tends to then have the unintended consequence of not being able to hold people once the excitement and novelty and entertaining begins to wear thin, with studies showing as big an exodus out the back door of "mega-churches" as come in the front door overtime), it all came to suggest to me there was something quite flawed about Protestant Christianity and its permutations over history.
This is not to wholly criticize or reject some of what may be in fact some good in some of this, say in some contemporary Christian music, some aspects of the charismatic renewal, more expressive faith, etc. — some of all these being quite all right and much of the rest of it not so — but Christians need to be discriminating and more so than what sometimes appears to be the case in some places. Christians are "to test the spirits" and to know what is good by the "fruit it bears" in terms of Christian conversion/transformation, deepening discipleship, of growth in sanctity (holiness), of expanding love of God, of human beings, and of creation and service to the same, of efforts to genuinely improve the world – working  for justice and peace and to ending poverty and hunger and lack of human dignity — and of effective evangelism and authentic expansion of the membership of the kingdom of God [which is more than just pastors and priests and congregations swapping "sheep"]. The vast culture of the West is in need of being evangelized and in need of the Christian world to have a positive impact on cultural development. John Paul 2 the Great clearly understood this and Benedict XVI just as much if not even more so.
Parallel to these existential experiences and observations gained from simply living life, from seeking to be a faithful disciple and priest/pastor, and from endeavoring to dis-cern how to respond to what God in Jesus through the Holy Spirit was asking of me, I have engaged in continued and ever developing study, research, and knowledge arising from me from the seeds that had been planted in my youth, in my seminary training, and in my early adulthood and ordained ministry, and which continue to be sown with further seed and sought to be nourished and nurtured by God. The study and research has increased in intensity over time and as opportunities came to afford more opportunities and avenues to do so. And when I had come to realize a significant level of maturity, and had become rather well established in the routine and considerable demands of parish life, marriage and family life, increased opportunities began to present themselves.
With a teaching ministry never out of mind and potential work as theologian as a potential and possibly part of my calling, my ordained vocation, the means to realize such would be modified over time. With two children entering the picture and a spouse returning to college to become a registered nurse and with my having full-time work and familial responsibilities, part-time graduate education in systematic and philosophical theology were begun at a local Lutheran seminary. Here I was afforded the considerable resources needed beyond what I could provide from my own library, etc. This would begin the twelve plus years of study that would deepen my spiritual life, enhance my prayer, meditation and contemplation, would broaden and make more accurate and comprehensive my knowledge of Roman Catholic theology and practice, and would expand my knowledge and understanding of God, Jesus, the Holy Spirit, and Scripture. My clarity about the implications and entailments of all of this for church life, pastoral care, ministry and mission, evangelism, social outreach and service and contribution to the world and to culture would likewise increase.
Just before and near the same time I began to worship with my spouse and son when opportunity permitted at their Roman Catholic parish. I would come to establish an association with a Cistercian abbey and make visits to a nearby Benedictine abbey and university. Little by little I realized there was little or no reason I could not become, should not become, a Roman Catholic Christian.
I came to see that despite what benefits the European and English Reformations had brought, there was also a great deal more that was lost and should not have been. I came to see that much of what I had been taught about the history of, the causes of, and the reasons for, the Protestant Reformation were simply inaccurate and misleading. I came to see that while reform had been needed, this was recognized by Catholics at the time that chose to stay with the Church as much as it was recognized by the Catholics who morphed into Protestants and entered into schism and also usual various forms of  heresy. The Catholic Church went on to reform itself [as it continues to renew and reform itself] from within. It was to learn that the Catholic Church and Catholic Christians own the abuses, wrongs, and things that needed reform in Catholic history and for the faithful living out of church life and the mission given to the Church by Jesus. I also came to see that what Protestants object to in Roman Catholic theology and teaching, practice and devotion, is neither unbiblical nor without roots in the early church and were part of the core of Christian faith and practice from the beginning. I came to see the necessity and legitimacy of the historical continuity of the Roman Catholic Communion as the church with the best claim to be the authentic continuation of the Church which Jesus founded in Galilee and which he had put into the care of Simon Peter, the other apostles, the latter which came to include the Apostle to the Gentiles, Saint Paul of Tarsus.
As all of this began to take form and substance, paralleling a change in parochial call, I was extended an opportunity to begin to teach at the college level. Beginning part-time the one semester to become full-time thereafter, I began teaching philosophy in a local Catholic women's liberal arts college and would do so for five years. This served to expand my resources for study, research, and interaction with both theological and philosophical scholars, and to also realize exposure to Roman Catholic culture, worship, and praxis in other ways beyond my spouse's parish and other parishes she, the family, and I might visit. With still some questions remaining about Marian teaching and devotion and purgatory, I saw there was no real reason not to perhaps make the move to the Roman Communion. I began to explore the possibility first with some of the faculty at the college, with the pastor at my spouse's parish, and then with the local Archbishop and the Dean and some faculty at the local diocesan seminary. Addition-ally, after teaching for a couple of years at the college, I moved from the seminary and study of theology to the local state university and began graduate study in philosophy. I was seeking to discern whether to go the route of a theologian or a philosopher of religion. The intensified study in philosophy only served to underscore the fit of my Christian faith and commitment to Christ to the Roman Catholic Communion and ethos. Theological study had introduced me to a variety of Catholic theologians, including among those Rahner, Kung, von Balthasar, Yves Congar, Karol Wojtyla, Henri de Lubac, Edward Schillebeeckx, and Joseph Ratzinger. I was particularly drawn into the writing and work of the latter. I also became acquainted and read the work of Ian Ker on John Henry Newman. Graduate study in philosophy did nothing to diminish this sense for the "rightness of the fit."
In the course of this study I came to see the necessity of a teaching office in the Church to ensure that the essential core of the Christian faith did not get lost, was not corrupted, effected and/or diminished by error creeping in, and I saw that this was in keeping with what was God's commitment and commission given to the Church and to humankind. Just as God in Jesus founded one church and not many churches, so too following the Scriptural evidence it was to become clear that God likewise would not permit forces to undercut the essential and core revelation given in Jesus Christ. God would not permit any ultimate harm, error, distortion, to be finally destructive of the revelation, any more than he had not permitted the same to occur with the previous revelations God had made to Abraham and to the Jewish covenantal People of God. God would not permit the revelation to be lost in the course of human history in which the Holy Spirit is at work endowing people with grace and in which the Church was charged with the mission to extend the invitation to enter into fellowship and communion with God in Jesus and to entry into participation in the kingdom of God which was and is being built up by the human beings who, by the same grace and gift of God, answer the invitation in faith and baptism. The means of God's grace cannot be frustrated though an individual is free to reject the grace and invitation of God. The Holy Spirit and the Church are given the means to dispense these faithfully and with-out cost to humankind across the earth. And, so unlike the Baptist view of church history I was given in my youth, where the Christian faith was thought to nearly to  complete fail and fall into apostasy and error right after Jesus' physical life on earth and was only to be authentically recovered in the era of the Reformation with the birth of the Anabaptist movement, and with the Anabaptist perhaps only to be found preserved or recovered among groups recognized as heretical by the vast majority of Christianity in the same era, groups such as the Cathars, the real facts of the faith's perseverance and being passed on faithfully was very different from this Anabaptist understanding and presentation. The presentation would not stand up against the factual evidence provided by history of the Catholic Church and the Orthodox Church.
I came to understand heresy correctly as the taking of half of theological truth and the dispensing with parts of it that one may determine on the basis of one's private interpretation (which is unbiblical; see 2 Peter 1:20). The Scriptures require, being sui generis, interpretation; but whose interpretation, who may authentically interpret the Scriptures? And though the Scriptures require interpretation this does not conflict with large parts of the Bible being quite clear. Yet the entire Bible is not clear either as to meaning or application and thus from the beginning of the production of Scriptural texts, first in Judaism and then in the early Christian community on, the science of biblical hermeneutics developed. (And, as an aside, I received two important contributions with regard to the Bible, one from the Baptists, and the second from Anglicans. The Baptists helped to acquaint me with the content and the layout of the Bible [as they had it in their Protestant versions], and the Anglicans contributed a substantial and well developed, even ecumenical Scriptural hermeneutic that embraced the best of the science of biblical critical study and provided that in faithful service to the church. This is something I came to discover to be paralleled in Roman Catholic biblical scholarship and over the centuries there have been considerable positive exchanges in this regard between Anglicans and Roman Catholics, and that is said without diminishing other positive ecumenical exchanges with regard to biblical scholarships as it has been contributed to by the Orthodox, Protestants, and evangelicals.)
When the Christian movement and church began, the first Christians, being Jewish, had only the Hebrew Bible as their Scripture. And, this principally came to them in the ver-sion known as the Septuagint (commonly identified by "LXX"). This was a translation of the Hebrew language Bible into Greek and for most Jews, particularly those in the Diaspora and thus living outside of their Palestinian homeland who generally spoke Greek [and Greek was often the everyday common lingua for many in the homeland alongside Aramaic], this proved to be a quite accessible and useable version. The LXX contained more than the 39 books commonly found in Protestant versions of the "Old Testament" and found in what came later to be the official canon of the Hebrew Bible for Judaism. From the earliest Christians through to Roman Catholic and Eastern Orthodox Christians of the present day continual use of the books found in the LXX version of the Old Testament has been made and defined as the canonical Old Testament, with the early and undivided Church adding to these books the writings com-posed by Christians in the apostolic era. The composite collection was to be declared canonical by the Church, and is comprised of what is now generally known in the greater part of Christianity as the Old Testament (or, Hebrew or Jewish Bible) and what is now generally known as the New Testament (or, the Christian Scriptures).
The traditions concerning Jesus were in the very beginning essentially all oral and transmitted orally and in keeping with the seriousness with which oral memory and transmission was taken by the "ancients" these traditions can be regarded as highly reliable for this reason as well as along this reason the fact that the original eyewitnesses to the life of Jesus and the events surrounding him were able to verify the veracity of the tradition as it was passed on orally and then as it came to be written down. For the first thirty years or so after Jesus' death, resurrection, and ascension, there was no "New Testament." The New Testament would come to be produced from approximately the 60s of the first century (AD or BCE) until approximately the year 100 (AD or BCE). It would be another two centuries more or less until the official canon of the New Testament as we now know it would be set. In the meantime, the early Christians made use of some early Christian writings as Scripture in worship and catechesis that did not come to be included in the New Testament, such as a work known as the Shepherd of Hermes among others. And, some books that came to be included were for some considerable time not universally accepted by the Church and were in dispute as to whether they should be considered inspired and canonical and meeting the requisite criteria, books such as The Apocalypse of John (The Revelation of John), the Letter to the Hebrews, and the Letter of James, among others. As the last chapter of the Gospel of Saint John states, not everything that Jesus did or said made it into the Gospels or the Scriptures we know as the New Testament. The Evangelist John records both the enormous-ness and sheer impossibility of a task to write down everything and he does so with a touch of hyperbole (John 21:25). What the Beloved Disciple John does say made it into his Gospel, and by a kind of legitimate extension the same could be said of the rest of the New Testament or the Bible as a whole, is what was helpful to one to come and believe the Jesus in the Messiah, the Son of God, and that through believing we may have life in his name
(John 20:31).
Thus, the Scriptures contain a great deal that is able to call us to exercise the gift of grace which bestows faith and the finding life in Jesus, and while Scriptures are "inspired by God and [are] useful for teaching, reproof, for correction, and for training in righteousness so that everyone who belongs to God may be proficient, equipped for every good work" as Saint Paul says in the first instance referring to the Jewish Scriptures (2 Timothy 3:16-17), as the New Testament did not yet exist, the Scriptures do not contain everything either concerning Jesus or is helpful to fuller initiation into the Christian life, experience, and discipleship and the catechesis of Christian into greater depth into the faith. The "more" lies beyond Scripture and is found is found in what has been embraced, recorded, preserved, and passed on in the traditions (the living experience) of the Church, which is what Roman Catholics refer to as the Tradition. It was this living tradition that was part of the initial Christian experience and passed on, and, say, known when the community gathered for Eucharistic worship, and it is this that helped the first Christians understand the Gospels of Matthew, Mark, Luke, and John, and the letters of Paul and other early Christian apostolic authors when they received them in their respective communities and this is what aided them, along with the Old Testament (the Jewish Bible), in interpreting and applying these writings accurately and faithfully to there lives and to their knowledge of Jesus and the Christian faith. And, just as it would be nearly impossible to record all Jesus himself had said and done, it would be even less practical to record everything the apostles said to their newly founded communities, local churches, and to be able to have all of that helpful and critical information transmitted to the rest of the contemporary church, or the church to grow up and expand in time, and so much was based on in the living tradition and culture of the church. And the same is just as true today as then, the best way to understand, interpret, and apply the Scriptures, the Bible, the written word of God, is to do so within the fullness of the context of the living tradition of the Christian church. And where is the living tradition of the church mostly fully and completely found historically, linearly, numerically and existentially but with the Roman Catholic Church, the core body of the one, holy, catholic and apostolic Church founded by Jesus and advanced by the apostles and their successors, the bishops of the Church. The bishops of the universal Church, with the successor to Peter, are the guardians of this deposit of faith and are to be the faithful "passers-on" of the Scriptures and the Holy Tradition.
Schism from the Church diminishes the capacity of the parts of the Church that break away from the core to exercise this critical function. And it has become clear to me that as the schismatic parts of the church not only fell into various forms of heresy (and remember the definition of heresy given above), other down sides to schism are seen not only in this critical function being diminished but also in the reality for their to grow up in the schismatic parts of the Christian community, among the separated brethren, competing interpretations of Scripture and with no satisfactory means to resolve these. And when outright skepticism creeps in, when actual apostasy and denial of the faith breaks out and seeks to become normative teaching in replacement of the authentic, normative faith, and when dynamics get contributed from cultural phenomenon such as from the Enlightenment which have followed in the wake of the Renaissance and Reformation in Europe, which at first can be appropriated for their valuable and helpful contributions to then turn destructive of both the advances they helped to gain and destructive of truth and reason and faith and even threaten real science, the lack of a Magisterium, a faithful and accountable body of bishops and official teachers, means chaos can and will result. The history of Christianity and Protestantism in particular provides numerous examples of this sad and unnecessary outcome. One of the sad realizations to come to me over time as an Anglican Christian was to realize that too many American Anglican bishops were not taking seriously their role to fully ensure the contents of the deposit of faith and pass it on, and the fact that there is in the Anglican Communion a lack of real mutual accountability for the office of bishop as the guardian of the deposit of faith and as the teacher of the faith and lead evangelist in the Christian community of faith. The pressures of peer collegiality further serve undermine and diminish in significant ways, within the peculiar Anglican structure and hierarchy, to, this critical and important function given to the bishops and the church's authorized teachers. It is what has to result in the absence of the communion having a Magisterium. We are seeing the results of such all across Protestantism, evangelicalism, and fundamentalism today, in varying degrees according to the varying traditions, but nonetheless pervasive across these Christian communities of faith, communities that are heirs to both the positive and negative of the Protestant Reformation and its excessive emphasis on radical individualism and subjectivity, and who are also heirs of the best of the Enlightenment (along with the Catholic Church) but are also the heirs of the worst of the Enlightenment and who (unlike the Catholic Church), have been the more negatively effective by this aspect of the Enlightenment. I have come to realize it would be one thing if such protection did not exist anywhere in Christianity, but such protection does exist and has always existed and it is found only with the largest, most historical, most authentic claimant to be the one continuing and faithful Church of Jesus, the Roman Catholic Church. Thus, the Scriptures, faith, logic, empirical facts, and the increasing awareness of the call of God to move to where I could be both more effective and faithful in ministry and Christian discipleship, and at the same appropriate more fully and completely the deep well of the spiritual traditions that most authentically nurture ongoing conversion/transformation, growth in sanctity, and best further along one's grow in the readiness to know the Beatific Vision of God in eternity, all these came to coalesce and in chorus were compelling me to answer more faithfully Jesus' call. All of this coalesced to serve in as compelling a manner as did the first comprehensive material, empirical and spiritual,  which had acted as the "hound of heaven" in its relentless pursuit to urge me to respond to the grace God was pouring out and giving in part as the gift of faith in order to place my faith, trust, and belief in Jesus as the definitive revelation of God and God's love and as my only rightful Lord and Savior at age sixteen, the same and only one to whom I should and could rightly give allegiance and commitment to as a disciple. He was now as then the sole means to life and to finding the true self God had implanted in me with my creation, the means to realizing the true end as a human being in all its fullness, authenticity, and eternal happiness and joy. He is the foundational means to knowing and having an authentic relationship with God my Creator, Benefactor, Lover, and Good alongside being the Truth and that in which I live and move and have my being. The "hound of heaven" had returned and with another intense intent, that I should answer a call to more fully realize authentic Christian life, spirituality, discipleship and ministry and this now in the context of the Roman Catholic Church.
Yet as I was about to make the decision and make a move to the Roman Communion in which the Catholic Church can rightly be said to subsist, and as I was about to seek full communion with the Bishop of Rome, the embodiment of the office given to Peter and the head of the teaching office, the church's Magisterium, given by God to insure faithful, reliable and authentic teaching that is without error and passing on of the Christian faith, the original deposit of faith as its been developed under the guidance of the Holy Spirit, practical circumstances arose which meant delaying the decision and the move. Perhaps in part it was a lack of nerve and/or faith on my part, given it did entail a significant large change from where I had been and perhaps even was at that moment. I did recognize I needed to be absolutely sure and to know that if I moved I was doing so for the right reason and was genuinely responding to God and not some lesser agency which I might mistake for God. And, I recognized I still had some lingering hesitation about the teachings concerning Mary, not her being Theotokos, θεϖτοκοσ, the "bearer" of "mother" of God, but such things as "mediatrix" which I had only begun to study, and I still wanted to live with the understanding and appreciation of purgatory I had arrived at a little longer. Given the church asks full assent of the mind to such, I realized some time to be able to insure full and unreserved consent was not only appropriate but necessary.
The practical circumstance to arise came with my spouse's graduation from nursing school and licensure at a registered nurse. At the time Joann graduated, quite unusual and uncharacteristic no health institutions in the metropolitan area where we had been living for fourteen years were hiring nurses, and most were laying nurses off. This meant considering a change of locale if Joann were to exercise her vocation and career as a nurse. [You will note that she and I consider her nursing a vocation, a calling, a ministry, as well as a career.] This situation becomes the focus of much prayer, investtigation, deliberation and discernment. The outcome was we would consider relocation and look for work elsewhere where we might both be able to fulfill our respective vocations/ministries. Chicago seemed a natural place to look. An appropriate position was offered to Joann in Evanston and so she proceeded to relocate first and the two children and I were to follow as soon as my term teaching was completed and I could give notice with regard to my ordained ministry responsibilities as they existed at the time, as I had now moved at my bishop's need into specialized ministry as an interim minister doing conflict intervention and helping congregations resume to the primary reasons for their being. For the next six years, beginning with a two year stint in the Chicago metropolitan area, both Joann and I would realize work in our respective vocations but this also was to entail moves every two years for the whole family given the nature of the ministry I had responded to doing.
The lack of rootedness in place, contrary to basic Benedictine principles, meant I could not comfortably see myself take up entering into the process to move to the Roman Communion in one place while realizing I might not be able to complete the process in the same place. And moving every two years meant focusing more intensely on both ministry and family life given that the uprootedness had both positive and negative challenges for the whole family and especially our school age children. In the midst of the fifth year and into the sixth of this rather different arrangement of life, we perceived it was not altogether good or practical to continue this way, nor was it necessary or required in order to be faithful to our respective callings as Christians. We sensed that this was not how we were called to be living indefinitely and required to carry out our respective ministries. The period of the six years of this rather nomadic existence did afford me, along with the five years of more settled geographic place that was to follow, the occasion to resolve any final uncertainties, doubts, etc. I had had and which had led to the stall in making the move "across the Tiber." The five years that resulted with relocation from the Midwest to Florida restored the rootedness everyone needed, afforded Joann and I outlets for our vocations, gave the space and time to deal with some unforeseen realities that arose, such as Joann being diagnosed in our second year in Florida with breast cancer. Joann was able to resume regular participation again in a Catholic parish and on a long term basis which came to afford her more in-depth participation over time and which continues to expand. The same time afforded me more opportunity to study in depth all things pertaining to Catholic Christianity and to be able to be more conversant and articulate with regard to the same. At the same time it permit-ted Joann and I to work on a strategy for my exiting active ministry in the Anglican Church and make the rather dramatic transition that would be entailed in practical terms in order to be able to enter the Catholic Church, and at the same time to work and meet familial and other obligations. Like the trite, cliqued, overused truism expressed in the saying, "the best laid plans of mice and men," life does not, of course, follow any carefully worked out scenario that we as human beings devise. We continue to have to live by faith as well as by sight. As dates that had been set and were neared and reached to execute certain parts of the strategy and plan, challenges also quite naturally arose that gives one pause and leads one momentarily and appropriately reevaluate things. The difference this time was that unlike the move from Minnesota to Chicago, we were settled geographically and we were both in a confident place with regard to the call of God, with everything now resolved and discernment and prayer, along with the counsel of many others, enabled this time my following through, first making the needed approaches in the necessary places, and then executing the decision. And while circumstances arose that gave some pause, paralleling these this time there arose circumstances that also served to give additional encouragement, to act as kind of doors opening when other doors were being closed, and which served to deepen our mutual nurture and faith at the very moment we were stepping out in faith.
For example, through a colleague at work and a fellow parishioner of Joann's, Joann learned about a faith renewal weekend program that existed in her parish known as CRHP, "Christ Renews His Parish." The timing couldn't have been better for Joann spiritually and in relation to her desires and goals she had for herself in terms of discipleship, ministry, and being ready to move into greater participation in her faith community. Upon returning home from her weekend it was evident the positive experience this had been for her, so much so that I wanted to know if it were possible for me to attend the men's weekend to follow in six months, even if I were still an Anglican and functioning as an Episcopal priest. The answer was, "yes," I could register and attend her priest/spiritual director was to inform her when she put this question to him. In the interim between her weekend and mine, we experienced with the rest of the world the dying and death of John Paul 2 the Great and the election of Joseph Cardinal Ratzinger as Benedict XVI. Having two men whom I hold in great esteem follow one another as the Roman Pontiff seemed to serve as another kind of confirmation that the timing of the move was right, it was to use biblical phrasing, "the fullness of time."
To learn if the "Pastoral Provision" providing for Anglican and other married Protestant clergy to enter the Catholic Church and, also if called, to be ordained to the Roman priesthood would continue in his Pontificate, I wrote to Benedict XVI at the Vatican and very soon thereafter received a confirmation in the affirmative that it would continue. In the same letter I was encouraged to approach the Bishop of Saint Augustine. I did soon receipt of the letter from the Vatican and was given a positive, warm, prayerful, pastoral reception and was graced to come to know a deeply spiritual, prayerful, gentle, wise man as the Bishop of Saint Augustine, Victor Galeone.
Then I made my CRHP weekend and it proved to be a powerful and deepening en-counter with Christ and Mary his mother. Now I found myself blessed with a sizable group of men who shared similar values spiritually and who were seeking to live faithfully as disciples of the Lord Jesus. The group was mostly and is mostly Catholic layman representing a variety of backgrounds, occupations, experiences, and ages, but there is a remarkable oneness and bonding that has occurred and continues to occur and deepen with this group as part of the process that follows up our initial weekend and as we prepared to put on the next weekend. And in the group there is one of the parish parochial vicars, one of the assisting priests, who serves as the Spiritual Director for the men, and who has a wonderfully deep faith and witness, a deep and radiantly love of Christ and the Scriptures, and who is an extremely gifted both as a teacher of the Scriptures and as a preacher. Very prayerful and down to earth, he has become a powerful role model alongside the other assisting priest who serves at the Spiritual Director for the women's CRHP, and alongside the parish pastor. Joann's CRHP spiritual director has agreed to and is serving as my personal spiritual director as I prepare to apply formally for consideration under the "Pastoral Provision" and as I embark on that process if I am accepted. On the same weekend were also present as fellow initiates the two parish deacons who are also remarkable men of God and have strong witnesses and ministries which comprise their lives and journeys in Christ. It is a very rich and nurturing fellowship of men.
I have moved to the Roman Communion whether or not I would subsequently be approved for ordination as a priest. I am seeking first to be a faithful disciple of Jesus and to continue foremost in realizing ongoing conversion/transformation and growth into sanctity. Should Jesus and the church call me to continue a similar ordained sacra-mental ministry that I knew as an Anglican priest and to continue as an authoritative ordained preacher and teacher for the Roman Communion as has been the hallmark of my Anglican life, I will faithfully say yes to Christ just as I did when he first called me.
When Jesus first called me I was not aware of the possibility of serving him in  and through the Roman Catholic Church, that was hardly on my horizon and certainly was not something I could ever envision that I would be even contemplating doing, let alone about to embark on actually testing that potential vocation as I now am. In retrospect I realize that what I was seeking to do thing then in answering the call in the Anglican Church is consistent with and could be more fully and truly realized in his Catholic Church, the Roman Communion.
When we begin to seriously follow Jesus we cannot anticipate where he will ultimately lead any of us. The journey we are to pursue is revealed only stages at a time. And like what we learn from countless stories and experiences conveyed to us in the Scriptures, God is a God of surprise, a God of the seemingly impossible, a God who is engaged creatively with humankind to bring us to the fullness of what we are meant to be with our creation. At best, Paul says – now "we see in a mirror, dimly, but then we will see fact to face. Now I know only in part; then I will know fully, even as I have been fully known" (1 Corinthians 13:12). Everything is given for the journey, faith, hope, and love and the greatest and most important of these is love.
These along with the other gifts of the Spirit, such as the fruit of the spirit [ref: Galatians 5:22-23], etc. with other encouragements found in the Scriptures and in participating in the actual living, loving, growing Christian community sustains one as one seeks to "press on toward the goal for the prize of the heavenly call of God in Christ Jesus" and holding "fast to what we have attained" (Philippians 4:14, 16). "Not that I have already obtained this or have already reached the goal; but I press on to make it my own, because Christ Jesus has made me his own" (Philippians 4:12).
The present continues with it challenges. Just a few weeks after I made my CRHP weekend, Joann and I learned on All Saints' Day, 1 November 2005, that her breast cancer, which has shown no signs of being present from after her surgery in the fall of 2001 until All Saints', had reemerged and was present not only in some of her organs but in bone tissue as well, specifically her spine. From November 2005 to the present she weekly undergoes chemo-therapy and it appears the desired results are being realized. While this life, this bodily existence is terminal for all of us, its termination may be closer for some of us than others of us. Some, like Joann, have the advantage of knowing the terminus point may be sooner than later, but none of know for sure when that point will be arrived at. For some of us it could arrive when we do not in the least expect it. All the more reason we do have to live by faith and make the most of the time we are given.
In keeping with the discerned call of God and ever more aware of the contingent nature of our human existence, Joann and I proceeded to realize my reception into the Catholic Church. On Friday, 3 March 2006, during a morning celebration of the daily parish Eucharist I was received by Father Anand (parochial vicar, men's CRHP spiritual director, and brother in Christ), assisted by Father Bernie (parochial vicar, women's CRHP spiritual director, and brother in Christ), as well as assisted by Deacon Michael and Deacon Jim (CRHP brothers and brothers in Christ). Despite having a severe cold in the days leading up to 3 March I found my health rallied and improved for the occasion. I don't know when I have seen Joann look more happy, elated, thrilled, and her face marked with profound delight and love as we stood side by side, she my sponsor, and I was received into the Catholic Church and was confirmed in my Christian faith and commitments derived from answering Jesus' call and baptism. It had been a powerful, meaningful, and significant occasion earlier to have participated earlier the week previously in the Rite of Reconciliation with Father Anand, the first time I had ever done so despite having been an Anglican and my having heard confessions in my capacity as a priest. The day was made all the more special with the presence of my adult children, son Trevor and daughter Jemma, the presence of a number of Joann's and my CRHP sisters and brothers, the presence of some new friends I have already made in the parish such as through my going to some adult Christian education events, and also the presence of three of my former parishioners from the Episcopal parish I had served in Welaka, Florida for nearly five years until 30 November 2005. Father Anand completed the joy and beauty of the occasion as he is especially able and gifted to do in the wonderful and meaningful way he prayerful conducts liturgy. And, later I was to realize that 3 March was significant in another way and appropriate for this occasion, as it is one of Feast Days on the Church Kalendar when Saint Aelred of Rievaulx is commemorated. Aelred has been an influential writer, on the nature of Spiritual Friendship and as an author of helpful documents in defining the essence of spiritual growth as it can be realized within the community of Cistercians and Trappists, in the "School of Love."
And, as significant and meaningful was the presence of the Christian community on the day I was received, Joann and I have been blessed to experience in profound ways the importance and support of the Christian community in relation to the battle with cancer. We have been and are being sustained by the prayers of numerous Christians, Catholics, Anglicans, Orthodox, Protestants, Evangelicals, Charismatics, and Fundamentalists, and some of Jewish faith, as well as one Muslim I am aware of. We know the support of the prayers of lay persons, ministers, pastors, clergy, sisters and nuns, monks and brothers, deacons, priests, and bishops, here, across the country and around the globe. And the pastoral support and prayers of the Bishop of Saint Augustine and the deacons and priests of Saint Joseph's, Mandarin, have been especially meaningful and appreciated. CRHP brothers and sisters has been beyond belief: weekly meals on Wednesdays the day Joann under goes her chemo-therapy treatments, some weeks when needed help with transportation, the gift of two work details: one, to clean the yard and pressure wash the exterior of the house, and two, to do a thorough cleaning of the interior of the house. From these and other Christians there have been other meaningful and significant gifts and indications of support, from cards, flowers, candy, special outings for Joann, and even various forms of monetary assistance. Not only has all of this opened wider Joann's and my experience of Christian community and to deeper levels than hitherto known before and experienced, it has been and is a strong witness to our son and daughter who have not experienced before firsthand as directly what is the character and quality of authentic Christian community. It appears to have penetrated them deeply and given them something significant to contemplate and consider. It has had the effect of what previously was merely described to them in words to them actually seeing it demonstrated as a real and living reality.
It was, in many ways, not an easy thing to do, that is, move from being an Anglican evangelical to being a Roman Catholic, but on the other hand, in Christ, now looking back, it was also not a hard thing to do and easier as it turned out than I would have supposed it could have been had I planned to do so myself from the start of my journey. Here I try to convey something of my journey to help others understand the character and contours that have resulted in this spiritual journey and call in Jesus Christ as it has been perceived and lived.
If life and time are permitted me, I hope to be able to write and speak more specifically on many of the topics that this journey touches on that are not always without either controversy or misunderstanding across the larger Christian world. Already and quite unexpected, just this last week, I was invited to become part of the newly forming parish adult education committee and asked to take on as an assignment the composition of a paper to be given as part of an education program in May on Sacred Scripture. I have been asked to take on as my topic as one of the presenters the quite appropriate subject for me: the Protestant principle of sola scriptura versus the Catholic principle of Scripture and Tradition as witness to the Revelation of God in Christ. To be included are some time limited reflections on why the interpretation of Scripture cannot be reduced to individual, isolated, subjective, private interpretation but has to be interpreted within the context of the living Tradition of the Church. I hope I am up to the task, but it seems a natural given that at one time I studied hard in order make the case to defend sola scriptura and critique the notion of Scripture and Tradition and interpretation by the Church's Magisterium as flawed and faulty, to have as a result of continued in-depth research and study to have moved to the opposite position, having had to first critique sola scriptura as flawed and wanting and making the case for the appropriateness of the Catholic, Orthodox, and Anglo-Catholic position of Scripture and Tradition. It is an honor and privilege and a welcome occasion to be able once again to have the opportunity to speak and teach again theologically in a setting other than preaching in the context of the liturgical celebration. It's been five years since the last occasions to do so and teach and back then it was possible to realize such opportunities regularly if not often weekly. I pray for God's grace and the aid of the Holy Spirit as I seek to faithfully answer this calling.
I am reminded in sharing this narrative of my journey of five significant passages of Scripture that remind me of the calling received from Jesus, passages which I quote in closing:
"Train yourself in godliness, for, while physical training is of some value, godliness is valuable in every way, holding promise for both the present life and the life to come" [1 Timothy 4:7a-8].
"Do not neglect the gift that is in you, which was given to you through prophecy with the laying on of hands by the council of elders. Put these things into practice, devote yourself to them, so that all may see your progress. Pay close attention to yourself and to your teaching; continue in these things, for in doing this you will save both yourself and your hearers" (1 Timothy 4:14-16).
"But as for you, continue in what you have learned and firmly believed, knowing from whom you have learned it, and how from childhood you have known the sacred writings that are able to instruct you for salvation through faith in Christ Jesus" (2 Timothy 14-15).
"As for you, always be sober, endure suffering, do the work of an evangelist, carry out your ministry fully" (2 Timothy 4:5).
"In your hearts sanctify Christ as Lord. Always be ready to make your defense to anyone who demands from you an accounting for the hope that is in you" (1 Peter 3:15).
Scripture quotations are taken from, and references to Scriptural passages not quoted are referenced to the New Revised Standard Version Bible, Oxford University Press, 1989.