A network of inquirers, converts, and reverts to the Catholic Church, as well as life-long Catholics, all on a journey of continual conversion to Jesus Christ.
Join & Get the CHNewsletter
Learn More
Matthew grew up in a Protestant family. His mother had been Baptist and his father had been Catholic. They brought Matthew up in a Charismatic Episcopal parish. In high school, he got involved in the rock music culture. In a few short years he didn't want anything to do with Christianity. When he was 17 he got involved […]
Dr. Hahn discusses how his study of typology and the interconnectedness of the Old and New testaments pointed him, at every turn, toward the historic Catholic Church. He shows the place of tradition in Christian life and how scripture is fundamentally connected to liturgy. He concludes with a discussion of the sacramentality of marriage and the powerful daily liturgy we are called to in the domestic church.
Marcus Grodi reflects on the Sunday readings for September 28, 2014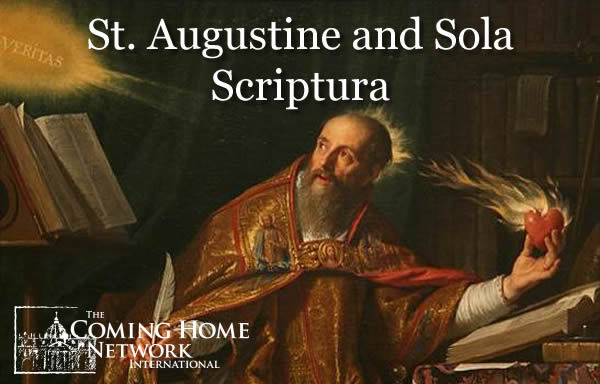 As far as I am aware, Augustine never addressed the issue as it was formulated in the Protestant Reformation. He did, however, reflect on the authority of Scripture, especially the authority of various interpretations of Scripture so that his reflections can be relevant to the issue of sola Scriptura in the modern world.
Fr. Tyson grew up in a Lutheran family on Luther's Small Catechism. As a teenager, he began to question such Protestant pillars as "sola Scriptura" and the equating of concupiscence with personal sin.  He thought to himself, if we can't cooperate with God, because of total depravity, what it the purpose of living a moral […]
Devin was reared as a child as an atheist. In high school he became a militant atheist. In college, he began to have panic attacks. He prayed to God, "I don't believe in you. But if you're real help me!" He then picked up a Bible and began to read. After some months, a breakthrough […]
Today is another special re-air of an episode of Deep in Scripture broadcast on 1/11/2006. We are sharing this program in honor of Fr. Ryland who passed from this life on Thursday, March 20th, 2014. We explore the question: "Why should we trust this collections of old books?" and look at 2 Timothy 3:14-17, 1 Corinthians 11:1-2, 1 Corinthians 15:1-5, 2 Timothy 2:2, 2 Thessalonians 2:25, and 1 Timothy 3:14,15.