A network of inquirers, converts, and reverts to the Catholic Church, as well as life-long Catholics, all on a journey of continual conversion to Jesus Christ.
Join & Get the CHNewsletter
Learn More
Jay grew up in an active Catholic home and community in New York. After they moved to Pennsylvania and a new culture he began to drift away from the faith as a teen. He would go to Mass with his parents but also attended Baptist worship with his girl friend. Later he became convinced, by […]
As a young boy, Wesley was brought up in a Nazarene church. There he learned the importance of freewill and holiness in the Christian life. Later his parents moved and they began attending a Calvinist Baptist congregation, where he was taught the sovereignty of God, predestination and total depravity. When he was about 12, the […]
Raised Jewish, Rosalind Moss came to know Jesus Christ as her Lord and Savior and later became an Evangelical minister. She was challenged to examine the history and teachings of the Catholic Church expecting to be reaffirmed in her belief in its errors.
Ian, as a little boy, developed a love for the Scriptures and had read the entire Bible by the time he was eight years old. Sadly, at this point he became an agnostic because he felt that God, Jesus and the Gospel were too good to be true. By the time he was fourteen he was […]
Matthew grew up in a Protestant family. His mother had been Baptist and his father had been Catholic. They brought Matthew up in a Charismatic Episcopal parish. In high school, he got involved in the rock music culture. In a few short years he didn't want anything to do with Christianity. When he was 17 he got involved […]
Dr. Hahn discusses how his study of typology and the interconnectedness of the Old and New testaments pointed him, at every turn, toward the historic Catholic Church. He shows the place of tradition in Christian life and how scripture is fundamentally connected to liturgy. He concludes with a discussion of the sacramentality of marriage and the powerful daily liturgy we are called to in the domestic church.
Marcus Grodi reflects on the Sunday readings for September 28, 2014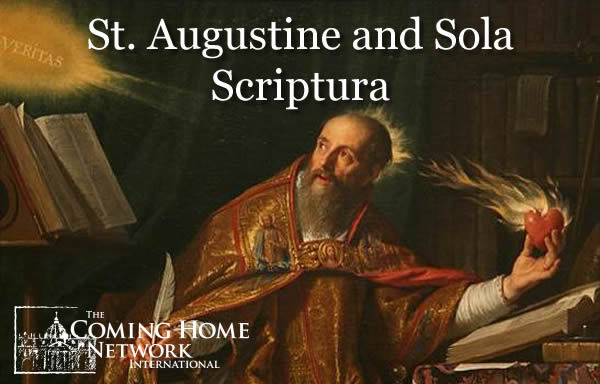 As far as I am aware, Augustine never addressed the issue as it was formulated in the Protestant Reformation. He did, however, reflect on the authority of Scripture, especially the authority of various interpretations of Scripture so that his reflections can be relevant to the issue of sola Scriptura in the modern world.
Fr. Tyson grew up in a Lutheran family on Luther's Small Catechism. As a teenager, he began to question such Protestant pillars as "sola Scriptura" and the equating of concupiscence with personal sin.  He thought to himself, if we can't cooperate with God, because of total depravity, what it the purpose of living a moral […]