A network of inquirers, converts, and reverts to the Catholic Church, as well as life-long Catholics, all on a journey of continual conversion to Jesus Christ.
Join & Get the CHNewsletter
Learn More
Ian, as a little boy, developed a love for the Scriptures and had read the entire Bible by the time he was eight years old. Sadly, at this point he became an agnostic because he felt that God, Jesus and the Gospel were too good to be true. By the time he was fourteen he was […]
Ryan was born, along with his two sisters, in West Virginia, in a believing Methodist family. In college at Duke University, he was active in InterVarsity Christian Fellowship. In the fellowship, he taught a course on the Chronicles of Narnia, by C. S. Lewis, for seven semesters, where he met his future wife. After college, […]
Deacon Rick was brought up Catholic but by high school he had lost his faith. He believed in God but religion was the last thing on his mind. While in college, he began to read the Bible for the first time, while attending a Church of Christ fellowship.  After giving his life to Jesus Christ he dropped […]
David was raised in a Protestant family. His father was a Presbyterian minister. In college he met a Catholic girl who he attempted to convert. She gave him a book of Catholic apologetics called "The Question Box". This answered most of his argument against the Church. He began to attend Mass and was drawn to […]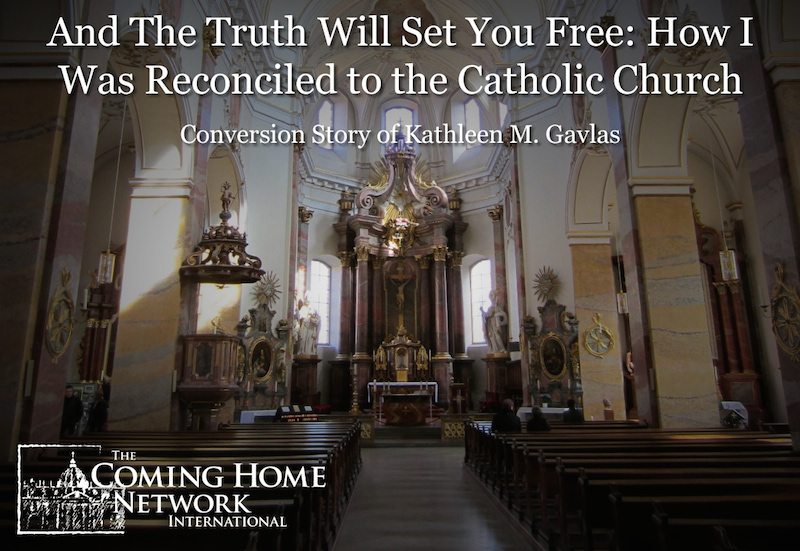 I have to begin my conversion story by relating something of my family life. My father worked for the government as an air traffic controller. They transferred him wherever they wished even though he had a family. So, we moved from state to state when I was a little girl. My youngest brother and I were born in Minnesota, our home state. I was born in 1948 in Minnesota and baptized October 31 that same year in Selma, Alabama, which tells how often we moved. My other brother and sister were each born in a different Southern state. Because of our constant moving, establishing a stable spiritual home was quite difficult for us.
Deacon David was born and raised Lutheran. His grandmother made sure that he was at Sunday school every week. He would read the Bible under his covers at night. Even with this background, after confirmation, he stopped attending church. For about 15 years he drifted spiritually. At one time he wanted something to hang from […]
Fr. Oswalt grew up in a nominal Methodist family, with parents who believed that the Catholic Church was evil. Even so, by the time he was 14 he felt a calling to be a priest. In high school a friend invited him to take photos at his wedding in an Episcopal parish. He felt very much […]
Leslie grew up in an active Catholic home. As a child she loved everything Catholic. The many social changes of the 1960's and the distractions of college drew her away from the faith. After college she obtained a position as a TV talk show host. Soon after she found she was pregnant. Seeing no other alternative, she […]