A network of inquirers, converts, and reverts to the Catholic Church, as well as life-long Catholics, all on a journey of continual conversion to Jesus Christ.
Join & Get the CHNewsletter
Learn More
Joey was raised in the non-institutional, non-instramental Churches of Christ. His family was very active. If the church doors were open, they were there. He was baptized in the eighth grade and began to preach when he was a junior in high school. After college, he began full-time ministry. Because the Churches of Christ were […]
As a young boy, John's family attending the Church of Christ. The family was told to leave when John's dad began to teach in Sunday school that people in other denominations could be saved. From there they joined a Disciples of Christ congregation, where he learned Bible stories but not much doctrine. Later, his parents sent […]
Deacon Rick was brought up Catholic but by high school he had lost his faith. He believed in God but religion was the last thing on his mind. While in college, he began to read the Bible for the first time, while attending a Church of Christ fellowship.  After giving his life to Jesus Christ he dropped […]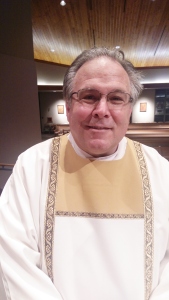 I was baptized and confirmed in a nominally Catholic home. My dad's 30-year career in the U.S. military and the diplomatic service led us overseas among many moves as our 6-child family grew up, spending years in Panama, Cuba, and Colombia. Despite a Jesuit education into high school, by the time we returned to Washington, D.C. in the late 1960s, I was a high school student growing rapidly disillusioned with my faith and with the Catholic Church.
Randy is in training to be ordained a Catholic deacon.
I left and came back.
That simple 5-word phrase describes a set of life decisions, over an 11-year period, resulting in my departure from and return to the Catholic Faith.
Panel discusses the Protestant doctrine of "sola Scriptura". The participants are Dr. Kenneth Howell, former Presbyterian minister; Bruce Sullivan, former Church of Christ minister, Dr. Paul Thigpen, former Pentecostal minister, Richard Lane, former Lutheran, Dr. Scott Hahn, former Presbyterian minister and Marcus Grodi, former Presbyterian minister.