One of the most significant differences between the Catholic faith and most other Christian traditions is the central emphasis on the sacramental life.
---
Certainly many Christian denominations have sacraments or ordinances, and it was John Calvin himself who emphasized that the key Marks of a true church was the faithful proclamation of the gospel and the right celebration of the sacraments. But how the Catholic Church has always understand the important centrality of the Sacraments is radically different than how sacraments or ordinances are understood, especially among Protestant churches.
The Sacraments of the Catholic Church are not merely additional rituals or "rites of passage", but a different way of looking at an individual's relationship with Christ and His Body, the Church. We are changed through the Sacraments, becoming new creations in Christ, as the baptized, the confirmed, the forgiven, the healed, the participating, the married, the ordained, and healed receive grace, the very divine life of Christ. What are the sacraments? Are they authentic and biblical, and what difference do they make?
Going Deeper
Personal Testimonies
Looking into Scripture
Other Voices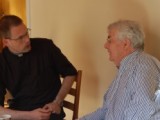 Recommended Books & Documents
Source: Peter M. J. Stravinskas