Millions of Christians around the world accept and defend the Bible as the one inspired, infallible Word of God, but few can answer the question, "Where did we get the Bible?"
---
I've even known some Christians who seriously assume the Bible dropped down from heaven, "on the wings of a snow white dove", into the hands of the apostles gathered in the Upper Room—and not in Hebrew or Greek, but in King James English ("If the King James was good enough for Jesus, it's good enough for me!").
Most of us might laugh at this, but it is a serious and important question: where do you think the Bible came from? Who were the actual writers of each biblical book? Who decided which books were to be included in the Old and New Testaments? Who even decided to start adding a set of New Testament books to the Old Testament? Which translation is the most trustworthy?
Questions of interpretation and authority aside for now, how do we know that the Bible (or any particular translation or combination of books) is what we believe it to be? This is a crucial question we invite you to consider with us.
Going Deeper
Personal Testimonies
Looking into Scripture
Deep in History
Other Voices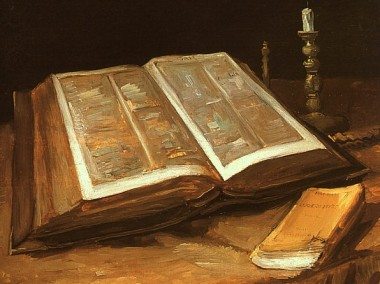 Recommended Books & Documents
Source: Catechism of the Catholic Church