A network of inquirers, converts, and reverts to the Catholic Church, as well as life-long Catholics, all on a journey of continual conversion to Jesus Christ.
Join & Get the CHNewsletter
Learn More
Marcus and Ken continue their discussion of Romans 3:9-31, taking a question regarding Circumcision and Baptism.
Marcus and Ken continue their discussion of Romans 2:25-29, Romans 3:1-8.
Marcus and Ken take a listener question about the feeding of the 5,000 and continue their discussion of Romans 2:6-24.
"GOD SO LOVED THE WORLD"…THAT HE NOT ONLY REVEALED HIMSELF TO MANKIND, BUT HE GAVE MANKIND THE FREEDOM TO RESPOND. Every single human being has been created in the image of God, and, through the death and resurrection of Christ, has been redeemed. Every person has within their conscience a desire for God, or as […]
As St. Paul wrote in verse 21: "So they are without excuse, for although they knew God they did not honor him as God or give thanks to him, but they became futile in their thinking and their senseless minds were darkened."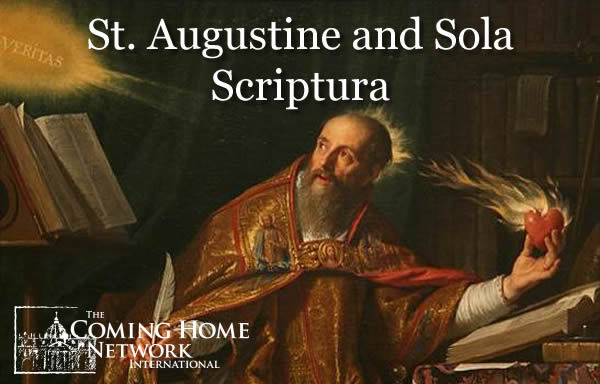 As far as I am aware, Augustine never addressed the issue as it was formulated in the Protestant Reformation. He did, however, reflect on the authority of Scripture, especially the authority of various interpretations of Scripture so that his reflections can be relevant to the issue of sola Scriptura in the modern world.
Marcus Grodi and Kenneth Howell discuss what happens when people reject God in rejecting his revelation through natural revelation, the prophets, and through the Gospel itself.
What is "the Gospel of God"? When St. Paul said he was not ashamed of the Gospel, or that he was "set apart for the gospel", what did he meant by "the gospel"? Do all Christians agree on what this means? And what does "the gospel" require of us? What must we believe? What must we do? Or does it even require that we do anything, except believe in Jesus Christ?
Today Marcus Grodi and Dr. Howell begin a series of study on the book of Romans.
How do we tell a world, how do we tell our neighbors, the truth about Jesus Christ and the gift of salvation, when the world, even our neighbors, no longer share the common Christian assumptions? How do you tell them about Jesus when they no longer accept the possibility of a Creator God? Or how do you correct Christians who have inaccurate views of the faith, of Jesus, of the Church, which they only hear you through the lenses of their prejudice, or ignorance? And when does our own pride get in the way when we are trying to help others break form the sin of pride? This is what we will start discussing today on Deep in Scripture.