A network of inquirers, converts, and reverts to the Catholic Church, as well as life-long Catholics, all on a journey of continual conversion to Jesus Christ.
Join & Get the CHNewsletter
Learn More
Marcus Grodi reflects on the Sunday readings for September 28, 2014
EMAIL: Dear Marcus and Ken, I regularly post comments on a discussion site which has a lot of Bible only Christians. … One of the things I notice with this group is they go to the OT a LOT and the epistles but seem to ignore the Gospels and any parts of the Epistles that don't jive […]
Marcus and Ken continue their discussion of Romans 3:9-31, taking a question regarding Circumcision and Baptism.
Marcus and Ken continue their discussion of Romans 2:25-29, Romans 3:1-8.
Marcus and Ken take a listener question about the feeding of the 5,000 and continue their discussion of Romans 2:6-24.
"GOD SO LOVED THE WORLD"…THAT HE NOT ONLY REVEALED HIMSELF TO MANKIND, BUT HE GAVE MANKIND THE FREEDOM TO RESPOND. Every single human being has been created in the image of God, and, through the death and resurrection of Christ, has been redeemed. Every person has within their conscience a desire for God, or as […]
As St. Paul wrote in verse 21: "So they are without excuse, for although they knew God they did not honor him as God or give thanks to him, but they became futile in their thinking and their senseless minds were darkened."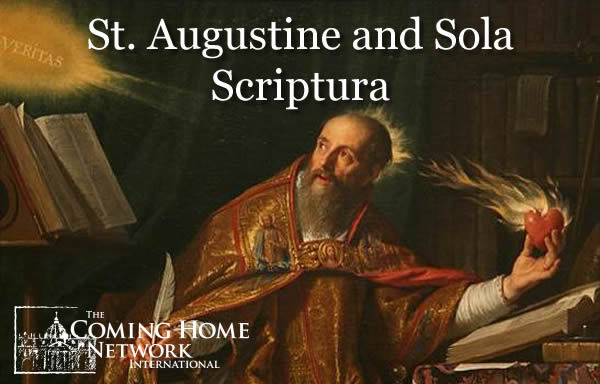 As far as I am aware, Augustine never addressed the issue as it was formulated in the Protestant Reformation. He did, however, reflect on the authority of Scripture, especially the authority of various interpretations of Scripture so that his reflections can be relevant to the issue of sola Scriptura in the modern world.
Marcus Grodi and Kenneth Howell discuss what happens when people reject God in rejecting his revelation through natural revelation, the prophets, and through the Gospel itself.