A network of inquirers, converts, and reverts to the Catholic Church, as well as life-long Catholics, all on a journey of continual conversion to Jesus Christ.
Join & Get the CHNewsletter
Learn More
As an active Protestant Christian in my mid-twenties, I began to feel that I might have a vocation to become a minister. The more I studied, the more perplexed I became. At one stage my elder sister, a very committed Evangelical Protestant with somewhat flexible denominational affiliations, chided me with becoming "obsessed" with trying to find a "true Church." "Does it really matter?" she would ask.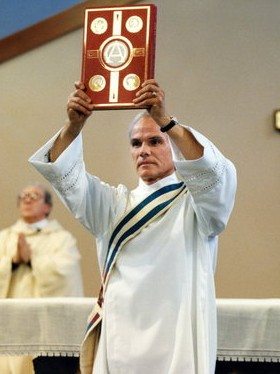 A former Presbyterian minister, Fr. Slider Steuernol entered into the Catholic Church and became a married, Catholic priest in 1996.
"The Episcopal Church's endorsement of abortion in 1967 signaled the beginning of my journey towards the Roman Catholic Church. Up until this point, I was quite content as a married Episcopalian clergyman who, since my ordination in 1958."
"If someone offered me a $10 million contract today to play major league baseball and give up the priesthood, I would not do it. There is no price tag I could place on the peace and joy I feel in my heart being a priest for Jesus Christ."
"From my Navy days fighting terrorism in the Middle East through my years debating politics at Oxford, Christ called me ever closer to His Church and finally into His priesthood."
Former evangelical Protestant, Monsignor Stuart Swetland, discusses his struggle through many religious issues as he made his journey home to the Catholic Church.
"I am a former Protestant minister." The words sounded as if someone else had spoken them. I was in the office of the pastor of the local Catholic parish. At that moment, I realized that my whole life was defined in terms of what I used to be. A silent wave washed over me: I used to be employed; I used to be a homeowner; I used to be confident and focused.
I was a child of the manse. My father was a Presbyterian minister and my mother the director of Christian education. I had a good Christian upbringing and after college served as a lay Presbyterian missionary in Caracas, Venezuela.

An excited Southern Baptist associate pastor, Fr. Gray Bean, eventually saw the logic of his Protestant doctrines falling one by one. Eventually through the Eucharist, Gray was led into the Catholic Church. Soon after, he was recruited for the seminary and is now a Catholic priest.