A network of inquirers, converts, and reverts to the Catholic Church, as well as life-long Catholics, all on a journey of continual conversion to Jesus Christ.
Join & Get the CHNewsletter
Learn More
Fr. Rohen is a retired US Army Captain, having served as a military chaplain. He graduated from Moody Bible Institute, in Chicago.
My father is of Jewish upbringing, and my mother was raised Protestant, but both gave up the practice of any religion when they reached adulthood. Accordingly, I grew up without religious instruction, having limited exposure through relatives both to Judaism and to Protestantism. My fondest childhood memories are of Christmas at the warm and cheerful home of my maternal grandparents. The enormous tree, surrounded by endless presents, was the highlight of my existence, and the usual collection of Christmas carols, some with occasional references to a newborn king, afforded what seemed to be the most fitting orchestration for this annual event.
Taking dramatic steps of faith runs in the family. In the eighteenth century, my ancestors left Switzerland for the new colony of Pennsylvania to find religious freedom. The two Longenecker brothers were Mennonites — members of an Anabaptist sect so strict that it had been persecuted by John Calvin.
As an active Protestant Christian in my mid-twenties, I began to feel that I might have a vocation to become a minister. The more I studied, the more perplexed I became. At one stage my elder sister, a very committed Evangelical Protestant with somewhat flexible denominational affiliations, chided me with becoming "obsessed" with trying to find a "true Church." "Does it really matter?" she would ask.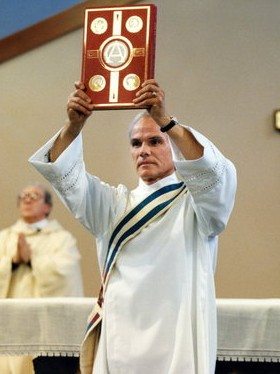 A former Presbyterian minister, Fr. Slider Steuernol entered into the Catholic Church and became a married, Catholic priest in 1996.
"The Episcopal Church's endorsement of abortion in 1967 signaled the beginning of my journey towards the Roman Catholic Church. Up until this point, I was quite content as a married Episcopalian clergyman who, since my ordination in 1958."
"If someone offered me a $10 million contract today to play major league baseball and give up the priesthood, I would not do it. There is no price tag I could place on the peace and joy I feel in my heart being a priest for Jesus Christ."