A network of inquirers, converts, and reverts to the Catholic Church, as well as life-long Catholics, all on a journey of continual conversion to Jesus Christ.
Join & Get the CHNewsletter
Learn More
David's books are "Born Fundamentalist, Born Again Catholic,"  "Rapture: The End-Times Error That Leaves the Bible Behind" and "What Jesus Really Said about the End of the World."  
As I began to describe my works-laden justification, Mr. Pharis told me bluntly, "You're not getting into heaven." … He got my attention. I was not saved!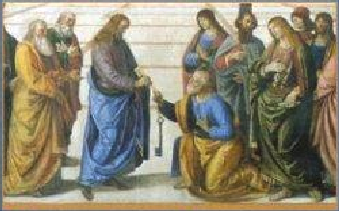 The day President John F. Kennedy was shot is one of my most vivid childhood memories. I was in sixth grade playing on the playground when the rumors started. Just before the dismissal bell at the end of the day, the principal made the announcement over the PA system: JFK had been assassinated.
School was dismissed in eerie silence. Tears welled up in my eyes as I walked the half mile home that afternoon. My sorrow was almost overwhelming for a sixth-grader, not only because our President was dead, but primarily because in my heart of hearts I believed that he was in hell.
Fr. Rohen is a retired US Army Captain, having served as a military chaplain. He graduated from Moody Bible Institute, in Chicago.
Rick was born into a Methodist family, which left because of a parish scandal. At the age of 13, bought a King James Bible after watching a TV evangelist. Later he joined a Baptist church but left it in college because of questions over fundamentalism. He then attended a Presbyterian church, which had no problems […]
Dr. Accetta was raised Catholic attending Mass every Sunday and praying the Rosary every day. In Medical School, he stopped practicing his faith and became an agnostic. While in residence he met his wife who was a devout Evangelical Protestant. His return to faith began with an interest in the medical evidence in the Shroud […]
Marcus and David answer open-line questions from the audience. David was reared in a staunchly Fundamentalist home. He remembers being upset the day President Kennedy was assassinated because he believed that since he was Catholic he would go to hell. While attending an Evangelical seminary David began to compile a list of Bible passages that […]