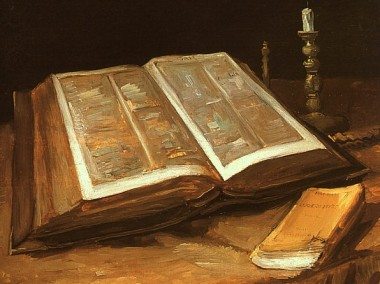 Click here to view this Sunday's readings.
Imagine a close friend inviting you to join an exclusive, invitation-only club. Since you trust him, you join, and for months you are elated and content. You enjoy the weekly meetings, and the occasional club dinners and outings, and are proudly grateful for the privilege of being a member of such a prestigious fellowship!
And then during one weekly meeting, you start hearing things that bring you up right, to the front of your seat. For the first time you are hearing that membership in the Club requires radical changes to your life outside the Club! Membership means changes in how you live your life at home, in your marriage, at your workplace; it requires alterations to how you spend your money, how you treat you neighbors, even what you can or cannot do in your private time!
As you listen and move even more precariously to the front of your seat, you realize that this information isn't exactly new—it was being said all along; it's just that you weren't expecting it and therefore weren't really listening. But as you listen now, shocked, horrified, you want to stand up and shout, "You duped me! This is not what I expected!"
Well, this is essentially the message we hear in the first reading for this Sunday from Jeremiah. At age 20, Jeremiah was called by God to be a prophet during the closing days of the southern kingdom of Judah. It was a tumultuous time, and what God called Jeremiah to say was not well received! He was persecuted, ridiculed, rejected, beaten, and put in the stocks. Yet, God still called him to tell the people of Judah, not a comfortable, acceptable message, but the truth that Jerusalem would be captured by Babylon and all the people of Judah carried away into exile!
Scripture says that Jeremiah turned to God and exclaimed:
"You duped me, O LORD, and I let myself be duped;
you were too strong for me, and you triumphed.
All the day I am an object of laughter; everyone mocks me.
Whenever I speak, I must cry out, violence and outrage is my message;
the word of the LORD has brought me derision and reproach all the day."
Jeremiah's first thought was to turn back from his calling, to give up! He said:
"I will not mention him, I will speak in his name no more."
But then, from within himself, from within his burning heart, he remembered. He said:
"But then it becomes like fire burning in my heart, imprisoned in my bones;
I grow weary holding it in, I cannot endure it."
Accepting the Call of God to be a member of the great Club of Prophets turned out for Jeremiah to be far more demanding than he had expected. 
This was also true for the apostles who followed Jesus. They had left their nets and other occupations to follow this winsome but mysterious teacher, this good teacher who also had the power to heal diseases, still storms, multiply loaves, even drive out demons. They were content and privileged to be hand-chosen members of His intimate Club. But then He began saying strange things that made them uncomfortable. 
One particular day, Jesus and His disciples were traveling through the district of Caesarea Philippi, and He asked them "Who do you say that I am?" Simon Peter responded, "You are the Messiah, the Son of the living God," and Jesus answered, "Blessed are you, Simon son of Jonah! For flesh and blood has not revealed this to you, but my heavenly Father. And so I say to you, you are Peter, and upon this rock I will build my church, and the gates of the netherworld shall not prevail against it."
All was great for this little band of intimate members of Jesus' Club! But then Jesus preceded to say some things that made them uncomfortable. This Sunday's Gospel Reading states that "Jesus began to show his disciples that he must go to Jerusalem and suffer greatly from the elders, the chief priests, and the scribes, and be killed and on the third day be raised."
Scripture then indicates that "Peter took Jesus aside and began to rebuke him, 'God forbid, Lord! No such thing shall ever happen to you.'" On the surface, it sounds like Peter's main concern was for the welfare of Jesus, but it may have been that the newly installed leader of the apostles was thinking along the same lines as the prophet Jeremiah: "Wait a second! You duped me, O LORD, and I let myself be duped!" What Jesus had just proposed was surely going to disrupt the pleasantries of their private "Club" meetings!
But following in the lines of the Call of Jeremiah, Jesus confronted Peter for allowing himself to become a channel of distraction. Jesus "turned and said to Peter, 'Get behind me, Satan! You are an obstacle to me. You are thinking not as God does, but as human beings do.'" 
Then Jesus explained precisely what membership in His "Club" would require, if they truly wanted to continue following Him. Jesus said:
"Whoever wishes to come after me must deny himself, take up his cross, and follow me. For whoever wishes to save his life will lose it, but whoever loses his life for my sake will find it. What profit would there be for one to gain the whole world and forfeit his life? Or what can one give in exchange for his life? For the Son of Man will come with his angels in his Father's glory, and then he will repay all according to his conduct."
This is truly what membership in this "Club", the Church of Jesus Christ, requires. Through new member classes, baptism, and confirmation, we became full-fledged members of His Church, but this membership requires radical changes in every aspect of our lives—even self-denial, and accepting whatever crosses Christ calls us to bear. It means not trying to save ourselves through our own efforts and fulfilled ambitions, but letting go of our lives for His sake. And Jesus clearly stated that one day when we meet Him, at the end of our lives, He will repay us according to our conduct as member's of His "Club".
This is not new information; it's been said over and over every time we gather, for Club meetings on Sunday mornings, or other liturgical gatherings. But have we been listening, and if we have, do we find ourselves exclaiming, "Wait a second, I've been duped! And I've let myself be duped!"
Saint Paul, in the second Reading, didn't lessen the impact of Christ's statement. In every one of his Epistles, Paul emphasized that being a member of the "Club", the Body of Christ, an adopted child of God through baptism, requires radical changes in our lives—we can not avoid this. To the Roman Christians, he wrote, 
"I urge you, brothers and sisters, by the mercies of God, to offer your bodies as a living sacrifice, holy and pleasing to God, your spiritual worship. Do not conform yourselves to this age but be transformed by the renewal of your mind, that you may discern what is the will of God, what is good and pleasing and perfect."
Just like Jeremiah, we can be tempted to back away from the demanding life of following God; to avoid mentioning Him; to conform, instead, to the world around us. But following Jesus—being a Christian—means, like Jeremiah, having a fire in our hearts; being so wearing of holding our faith in, that we become will to offer our entire lives as a living sacrifice to Him, realigning our thinking away from the mindset of the world and into His direction, so that we can hear and follow His voice, which is good, pleasing, and perfect.
We have not been duped, only changed, as Saint Paul said, "whoever is in Christ is a new creation; the old things have passed away, behold, the new things have come." And this is not through our own efforts, but by grace—through the sacraments, and specifically the Eucharist, for Jesus promised that "whoever who eats my flesh and drinks my blood has eternal life."
May a fire burn within our hearts leading us out of complacency and conformity to the world, and into true discipleship, grateful for all that He has done for you and for me.