A network of inquirers, converts, and reverts to the Catholic Church, as well as life-long Catholics, all on a journey of continual conversion to Jesus Christ.
Join & Get the CHNewsletter
Learn More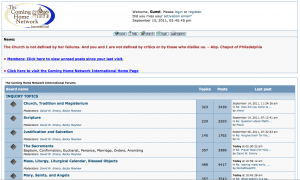 David W. Emery:
Purgatory is a place of expiation, not of merit. Once a person dies and leaves this earth, the time for earning merit is over, so there is nothing to "work our way out of." Nothing a soul can do will speed its release from purgatory, but only the prayers and sacrifices of others on its behalf.
Ohaillin:
I never understood purgatory until I read somewhere that it is that final step of sanctification before entering into the presence of God. This fit nicely into my theological understanding coming from a classical Pentecostalism rooted in the Wesleyan Holiness tradition.
Click here to view the full discussion on the CHNetwork Forums…