A network of inquirers, converts, and reverts to the Catholic Church, as well as life-long Catholics, all on a journey of continual conversion to Jesus Christ.
Join & Get the CHNewsletter
Learn More
 Now Available as audiobooks and ebooks!

How Firm a Foundation and Pillar & Bulwark are two exciting novels by Marcus Grodi that chronicle the trials and tribulations of protestant minister, Stephen LaPointe, as he wrestles with growing doubt about his ministry and family. He loves the Lord Jesus and the bible, but how can he be sure that what he is teaching is true? By what authority does he preach? How can he be sure that his is the correct interpretation of the bible on issues of salvation, baptism, sacraments, prayer, life issues, and others. Ultimately, what might be the costs of seeking such answers?
Both Pillar and Bulwark as well as a completely re-edited edition of How Firm a Foundation are now available from store.chnetwork.org, Audible.com, Amazon.com, BarnesandNoble.com, and iTunes. Be sure to connect with the CHNetwork through Facebook, twitter, and our e-mail lists for more information about these exciting books.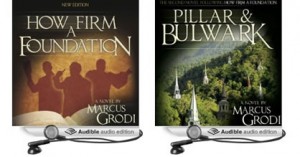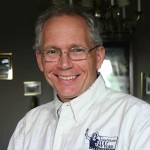 The novels were professionally performed and recorded by Kevin O'Brien, founder and artistic director of The Theatre of the Word Incorporated and host of the EWTN series of the same name. Visit www.thewordinc.org for more information about his work.
Endorsements:
"Marcus Grodi weaves the web of story with consummate skill and interweaves the threads of theology with seemingly seamless ease. His new novel warms the heart, informs the head and invigorates the spirit." Joseph Pearce, Literary Converts and Tolkien: Man and Myth, A Literary Life
"Readers of Marcus Grodi's earlier work will recognize immediately the special touch of this writer, namely, a narrative which, grounded in the common stuff of our mortal life, with all that this means of happiness, sorrow, perplexity, doubt, struggle, and fulfillment, brings the reader on through to what T. S. Eliot called "The Permanent Things." Deo gratias for that great Pillar and Bulwark." Dr. Thomas Howard
"A rather famous storyteller once said that fictions are 'God's grandchildren.' Marcus Grodi knows this truth, and his drama follows the lines of the art that made the world. Here, in Pillar and Bulwark, is providence, with all its patterns and surprises, drawing lives together even as it seems to push them apart. God's drama keeps us turning the calendar pages from day to day. That rare novelist who successfully imitates God will also keep us turning pages. This book is a page-turner." Mike Aquilina, The Fathers of the Church
"Marcus Grodi, a Christian man for all Seasons and all Media has written another  thriller set in the world that he knows intimately , the world of spiritual struggle in the setting of Family and Faith that does not leave space for easy choices. You the reader may well find yourself in this compelling novel." Rev. C. J. McCloskey III, fellow, Faith and Reason Institute, Washington, D.C.; author Good News, Bad News: Evangelism, Conversion, and the Crisis of Faith
"Marcus has written an engaging story with a vital message. The characters will come alive because they reflect in a novel manner the real experiences of real people! Rather than spoil the story for you, let me just urge you to buy and read a copy. Like me, you will enjoy it so much you will want to pass it along to a friend." David B Currie, Rapture: The End-times Error that Leaves the Bible Behind
"Pillar and Bulwark is beautiful narrative of conversion that weaves together elements of Truth in a captivating vision. A story of love and sacrifice, it captures the experience of many who find themselves on a journey to the fullness of faith." Dr. Kenneth J. Howell, senior fellow, Newman Center, Univ. of Illinois, Chicago; author Ignatius of Antioch & Polycarp (Early Christian Fathers)
"The Psalmist asks, "When the ancient foundations are being destroyed, what can the righteous do?" In a masterwork of fiction, Marcus Grodi gives us strong Christian men and women whose long- held traditions are being shaken to the very core. Listen to their inner- most thoughts as they struggle to answer life's most vital questions. Only a 'Pillar and Bulwark' will stand-up to the attacks they must endure. A riveting read!" Rob Evans, The "Donut Man"
"Here is a story that is full of life even though it starts in a graveyard. It captures the mindset of a huge cross-section of America that gets swept away by apocalyptic and anti-Catholic hysteria. And yet the book offers its lessons gently and warmly. You will understand why anyone who sits down with Marcus Grodi immediately feels comfortable." Dale Ahlquist, president, American Chesterton Society; author G.K. Chesterton: Apostle of Common Sense
"Marcus has done it as few others can. He has woven top-notch apologetic lessons with a riveting story. The read is so good, you sometimes don't realize how much truth you are learning." Dr. Ray Guarendi, psychologist, radio show host, author You're a Better Parent Than You Think!
"Those who were privileged to read Mr. Grodi's "How Firm a Foundation" will be eager to read its sequel, "Pillar and Bulwark." Yet the latter book stands on its own as an engrossing story. Mr. Grodi is the authority on the subject of non-Catholic clergy pilgrimages into the Church. Under his leadership his Coming Home Network has given guidance and encouragement to almost two thousand clergy inquirers, in addition to hundreds of lay inquirers. Weekly he proclaims the Catholic faith to millions of viewers on his long-running tv program, "Journey Home." All who love the Church must be grateful for Mr. Grodi's far-reaching evangelization." Fr. Ray Ryland
How Firm a Foundation and Pillar & Bulwark are published by Marcus Grodi's apostolate The Coming Home Network International.