A network of inquirers, converts, and reverts to the Catholic Church, as well as life-long Catholics, all on a journey of continual conversion to Jesus Christ.
Join & Get the CHNewsletter
Learn More

We are proud to announce the upcoming release of Coming Home Network President Marcus Grodi's second novel Pillar and Bulwark, set to be released late 2011. It is the highly anticipated sequel to his first novel, How Firm a Foundation, a new edition of which will also be released soon.
How Firm a Foundation tells the story of a Protestant minister striving to serve Jesus under the weight of an escalating crisis: How can he be certain that what he is preaching is eternally true and not just his opinion? Pillar and Bulwark continues this exciting story of conversion and faith.
Both Pillar and Bulwark as well as a completely re-edited edition of How Firm a Foundation will be released late 2011. Be sure to connect with the CHNetwork through Facebook, twitter, and our e-mail lists for more information about these exciting books.
Visit Marcus Grodi's personal website for more information about his novels and other projects.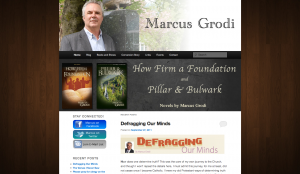 Endorsements for Pillar and Bullwark
"Marcus Grodi weaves the web of story with consummate skill and interweaves the threads of theology with seemingly seamless ease. His new novel warms the heart, informs the head and invigorates the spirit." Joseph Pearce
"Readers of Marcus Grodi's earlier work will recognize immediately the special touch of this writer, namely, a narrative which, grounded in the common stuff of our mortal life, with all that this means of happiness, sorrow, perplexity, doubt, struggle, and fulfillment, brings the reader on through to what T. S. Eliot called "The Permanent Things." Deo gratias for that great Pillar and Bulwark." Dr. Thomas Howard
"A rather famous storyteller once said that fictions are 'God's grandchildren.' Marcus Grodi knows this truth, and his drama follows the lines of the art that made the world. Here, in Pillar and Bulwark, is providence, with all its patterns and surprises, drawing lives together even as it seems to push them apart. God's drama keeps us turning the calendar pages from day to day. That rare novelist who successfully imitates God will also keep us turning pages. This book is a page-turner." Mike Aquilina
"Marcus Grodi, a Christian man for all Seasons and all Media has written another  thriller set in the world that he knows intimately , the world of spiritual struggle in the setting of Family and Faith that does not leave space for easy choices. You the reader may well find yourself in this compelling novel." Fr. C. J. McCloskey III is a priest and prolific writer. He is a fellow of the Faith and Reason Institute in Washington, D.C.
"Marcus has written an engaging story with a vital message. The characters will come alive because they reflect in a novel manner the real experiences of real people! Rather than spoil the story for you, let me just urge you to buy and read a copy. Like me, you will enjoy it so much you will want to pass it along to a friend." David B Currie